Report
Russell takes maiden victory as Hamilton backs up Mercedes 1-2 in Sao Paulo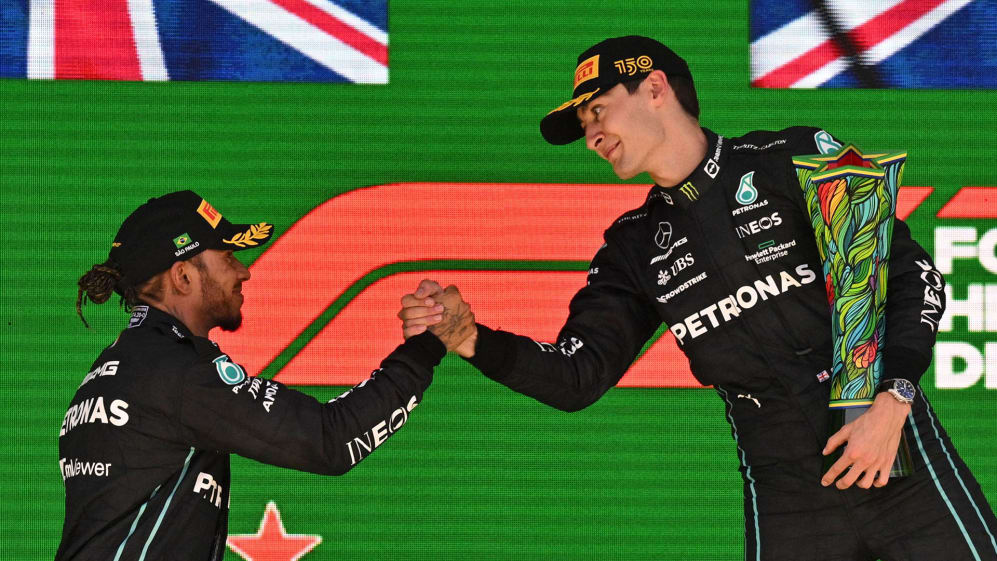 George Russell took his maiden Grand Prix victory in some style at Sao Paulo, Mercedes taking their first win and one-two of the season with Lewis Hamilton finishing second over Ferrari's Carlos Sainz.
Courtesy of their Sprint result and Carlos Sainz's five-place grid penalty, Russell led Hamilton away at the start, with the Safety Car quickly deployed for a collision between Daniel Ricciardo and Kevin Magnussen that sent both cars out at Turn 8, bringing out the Safety Car.
The Lap 7 resumption saw Max Verstappen and Lewis Hamilton collide at Turn 2 before Charles Leclerc was sent into the Turn 7 barriers by Lando Norris. Neither of the four cars retired but Verstappen and Norris both took five-second penalties for their incidents.
Hamilton recovered soon after his scrap with Verstappen and the seven-time champion ran second behind Russell when a stoppage for Norris, on Lap 52, brought out a VSC-turned Safety Car.
Under immense pressure, Russell retained his lead over Hamilton on the Lap 60 restart and delivered his first win by a margin of 1.5 seconds over the seven-time champion.
FORMULA 1 HEINEKEN GRANDE PRÊMIO DE SÃO PAULO 2022
Brazil
2022
Race results
POSITION
TIME
POINTS

1

George

Russell RUS

Mercedes

1:38:34.044

26

2

Lewis

Hamilton HAM

Mercedes

+1.529s

18

3

Carlos

Sainz SAI

Ferrari

+4.051s

15

4

Charles

Leclerc LEC

Ferrari

+8.441s

12

5

Fernando

Alonso ALO

Alpine

+9.561s

10
Carlos Sainz was made to work for the final podium spot as, despite being on medium compounds, Perez defended his podium spot for a number of laps after the Safety Car restart. Charles Leclerc asked his team to swap positions with P2 in the championship at the fore of his thinking, but Leclerc was told to settle for fourth.
Perez's final stint on medium tyres not only cost him a podium, but saw him drop to seventh as the team allowed soft-shod Verstappen ahead in P6. Despite that, Verstappen could not catch P5 finisher Fernando Alonso – though he also declined to hand the place back to his team mate.
Esteban Ocon, who was told not to fight team mate Alonso at the final Safety Car restart, ended up eighth having passed Valtteri Bottas (P9) late on. Lance Stroll rounded out the top 10 ahead of his medium-shod team mate Sebastian Vettel by the chequered flag.
Zhou Guanyu declined to pit for softs in the final Safety Car restart and ended up 12th for Alfa Romeo ahead of Mick Schumacher – both drivers promoted as Pierre Gasly took a five-second penalty for speeding in the pit lane and ended up 14th for AlphaTauri.
Williams were next up, with Alex Albon ahead of Nicholas Latifi, while Yuki Tsunoda started in the pit lane and ended the race 17th.
AS IT HAPPENED
Sao Paulo has seen high drama since F1 landed earlier this week, with Kevin Magnussen having taken his maiden pole position for Haas on Friday, before George Russell won Saturday's Sprint and Lewis Hamilton finished third to lock out Mercedes' first front-row start of the season; Carlos Sainz's five-place penalty promoted the seven-time champion up a place on Sunday's grid.
Alex Albon was the only hard-tyred starter, from P19, with Charles Leclerc, Carlos Sainz, Kevin Magnussen, Mick Schumacher, Lance Stroll, Fernando Alonso, Nicholas Latifi and pit lane starter Yuki Tsunoda taking mediums – and the rest beginning the race on softs.
A feverous atmosphere gave way to the start, and when the lights went out it was Russell who got away best with Hamilton holding station in second and Verstappen staying ahead of a battling Sergio Perez, Lando Norris (who locked up into Turn 1) and Charles Leclerc.
The Safety Car was then brought out as Magnussen was tipped into a spin by Daniel Ricciardo at Turn 8, where the Haas driver went backwards, hit the McLaren, and sent him into the awaiting barriers – ending both drivers' races early.
"Damn shame, Kev", the Dane was told.
The Safety Car circulated until the end of Lap 6, after Alex Albon chose to swap his hards for new mediums – and Leclerc was reassured that a reported engine issue would not plague him for the rest of the race.
Russell again left the field away, with Verstappen right on the tail of Hamilton, and going into Turn 1 the pair were side-by-side. They then made contact at Turn 2, causing damage to the Dutchman's front wing. Seconds later, Norris and Leclerc collided, sending the Ferrari front-first into the barriers at Turn 7 – but he carried on.
Verstappen took new mediums and a new front wing in a stop that lasted just 10 seconds; Leclerc went for new medium compounds.
"That was not a racing incident, mate," said Hamilton, while Verstappen lamented a lack of space and said: "Where did he expect me to go?!"
Leclerc's own comments, meanwhile, had to be bleeped out on the world feed, and soon, five-second penalties would be handed out to Verstappen and Norris.
Hamilton hadn't picked up major damage and swiftly made it back up to P5 courtesy of moves on Mick Schumacher, Pierre Gasly and Sebastian Vettel. The other Mercedes of Russell had opened up his lead to over a second as the race reached Lap 15.
Hamilton was on the war path, evoking memories of last year's Interlagos charge, as he then pried P4 off Norris on the 15th lap – when Alonso opened up the pit window in earnest by swapping his mediums for another set to emerge in 16th between Verstappen and Leclerc.
Losing time to the front-runners on medium tyres, Sainz was forced to stop for softs with a stuck tear-off in his rear-right brake duct – as he rejoined in P12 to promote Hamilton back up to third. The Spanish driver passed Albon, Stroll, and Schumacher to place eighth by Lap 22.
Russell and Perez continued to circulate in the lead, with the former telling his Mercedes pit wall that he intended to extend his first stint, while Hamilton was making gains from P3.
Leclerc, having already pitted for mediums after his tussle with Norris, swapped to softs on Lap 23 – dropping him back to 17th behind Tsunoda. A two-second pit stop on the following lap saw Perez switch from softs to mediums, the Mexican emerging behind Bottas in P6 – but losing time in trying to pass the Alfa Romeo. Verstappen also pitted, his stop however lasting 10.7s.
Russell was forced to pit to cover the Red Bull off and, although his stop lasted a second longer, the Mercedes emerged in front of the Red Bull.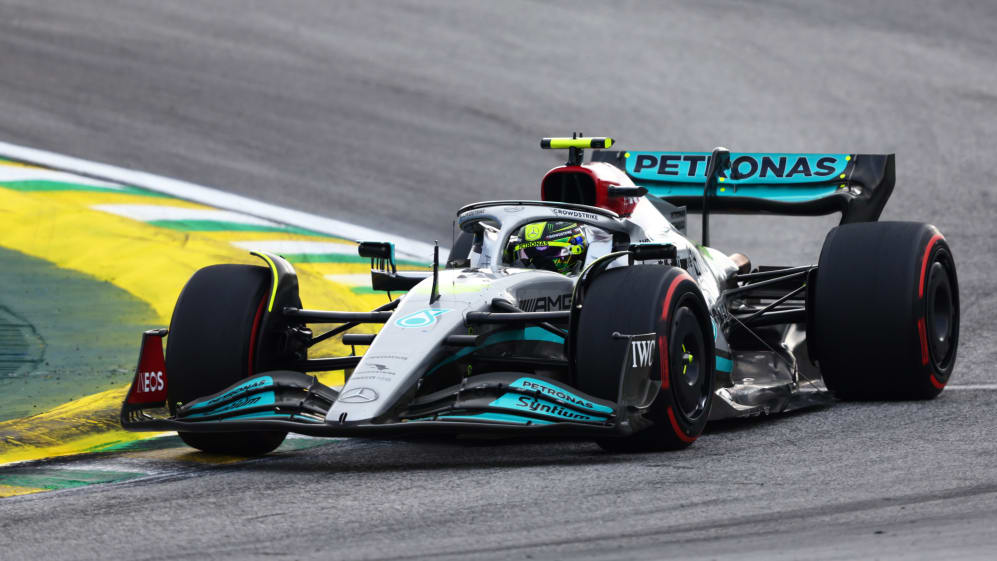 Having run the longest on soft tyres, Hamilton pitted from the lead for medium tyres on Lap 30 and emerged fourth, behind Sainz. Now on mediums, the seven-time champion was perhaps hoping to make this a one-stopper with the expectation that his rivals would have stop again.
At the halfway point, Russell therefore led with a five-second margin over Perez, while Sainz was falling behind the lead pair and Hamilton closing in to the third-place Ferrari. As for Leclerc, he was down in P13, while Verstappen was 15th having passed Albon and Tsunoda after serving his penalty.
Sainz took a second pit stop, for new medium tyres, on Lap 37, with the Spaniard emerging fourth and 30 seconds off the lead.
Despite losing time to Hamilton behind and Russell ahead, Perez chose not to react to Sainz's stop and he continued on his medium compounds. Russell also continued, with an eight-second lead by the end of Lap 40.
Verstappen's early second stop had brought him back to 10th after a number of midfielders had pitted, and the champion was closing in on Leclerc – who lost time in prying P8 off Norris. The Monegsaque would be told to pit a third time on Lap 45, dropping him from eighth to 14th.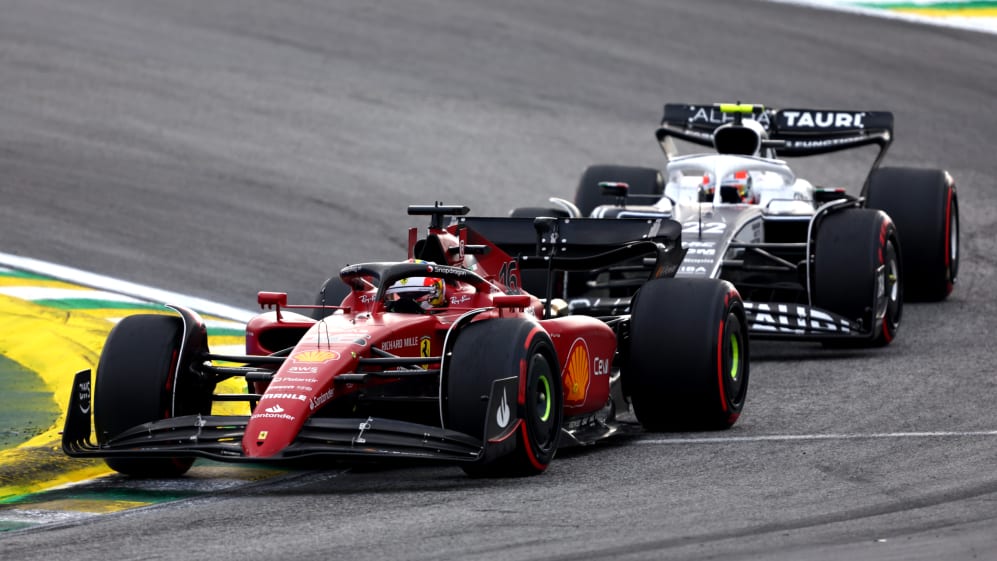 To the crowd's delight, Hamilton closed in on Perez on Lap 44 and made his move for P2 by the time the pair made it to Turn 1 on the following tour.
Verstappen was also making moves, having made it past Alonso and Norris for P6. His team mate Perez chose to pit a second time for medium tyres on Lap 48 in another rapid stop that saw him fall behind Sainz. Of course, the Mexican had a tyre advantage on his Spanish rival.
Hamilton took that as his cue for a second stop – despite having gone longer in his first stint – to take soft tyres.
"My tyres are good!" he exclaimed furiously after the team implored him to stop – but it was clear that Hamilton's side had to cover off that Perez stop. He emerged third and now had an eight-second deficit to Sainz – and a two-second lead on Perez.
With 22 seconds on Sainz, Russell chose Lap 50 to make his second stop, returning to softs, and he emerged around two seconds in the lead over the medium-shod Ferrari.
The leaders had played their cards but jeopardy soon reared its head as Lap 52 saw Lando Norris stop at the exit of Turn 10 with a loss of power, to bring out the Virtual Safety Car.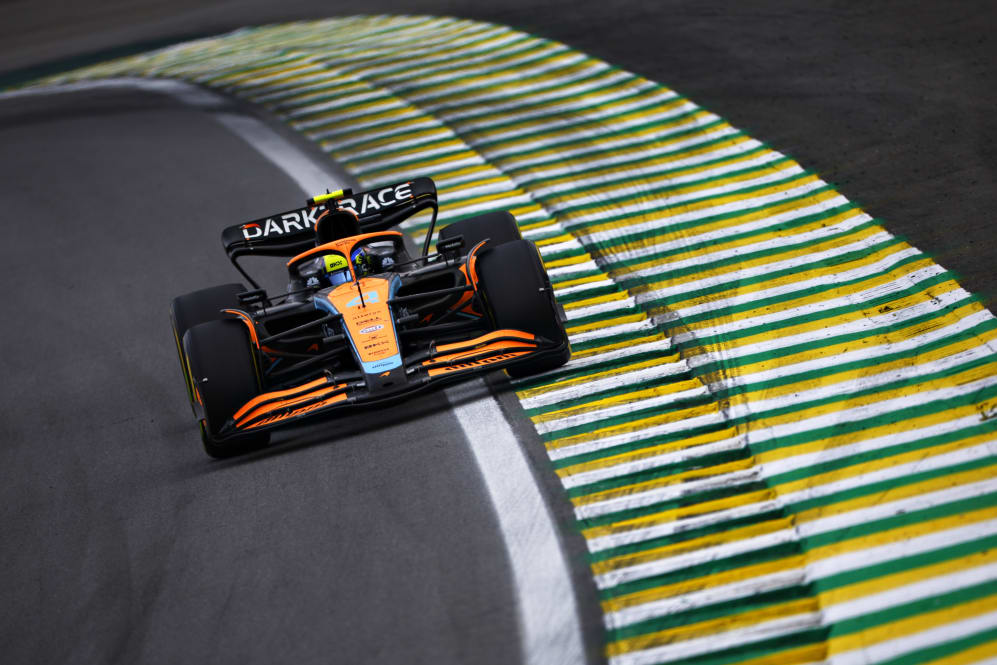 With Norris's car proving a stubborn obstacle for the marshals, the Safety Car needed to be brought out on Lap 55. The airwaves then lit up...
"You are racing, just be respectful," Russell was told after pondering the rules of Mercedes engagement to his pit wall. In P8 ahead of Alonso, Ocon was told in no uncertain terms not to fight his team mate at the restart after the duo's pair of clashes in the Sprint.
Lapped cars were permitted to overtake the Aston Martin Safety Car on Lap 58 and the race would resume on Lap 60.
Mercedes' case was helped as Perez – on mediums – defended P3 from Sainz in trademark fashion, with the Ferrari driver challenging the Red Bull through the Esses and down to Turn 4 until Lap 63, when the deadlock was finally broken and Sainz swept past into Turn 4. Leclerc easily made it by for P4 soon after.
In the restart, Ocon was almost caught out by a locking-up Bottas but kept himself in check and eventually let Alonso past, with the Spaniard passing Perez for P5 on Lap 65.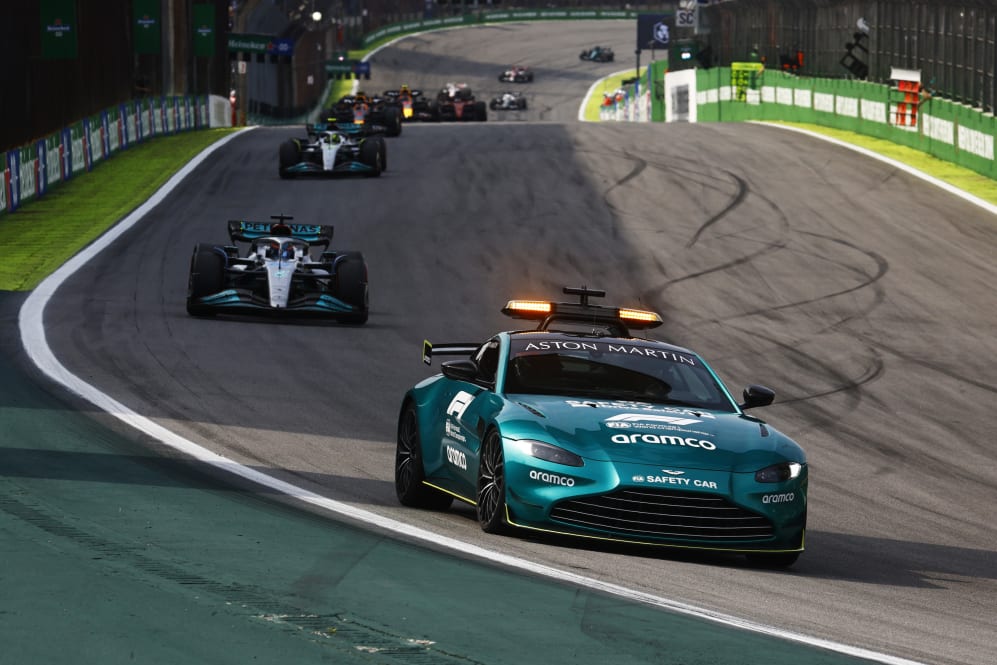 Verstappen was released past his team mate to "take some points off Alonso and Leclerc" at the start of Lap 67, and the Dutchman closed into DRS range of Alonso but could not make the move stick. Despite being told to hand the place back, Verstappen declined, and finished sixth.
"I told you already, you guys, don't ask that again to me – are we clear about that? I gave my reasons, and I stand by it," the Dutchman said as he crossed the line.
Having pitted three times, Alonso meanwhile rounded out the top five behind fellow three-stopper Leclerc – who, in a battle for P2 in the championship against Perez, pleaded with the team to let him have P3 at Sainz's expense. Ferrari deemed the swap "too risky", leaving Sainz in P3.
As for Russell, he not only held off Hamilton in the restart but hung on to keep the seven-time champion behind by more than 1.5 seconds by the chequered flag. As Russell crossed the line for his maiden Grand Prix victory, he shed tears – with Toto Wolff appearing on his phone via video call to congratulate the Briton in the cooldown room.
Hamilton settled for second, but was elated with Mercedes' first one-two finish of the season.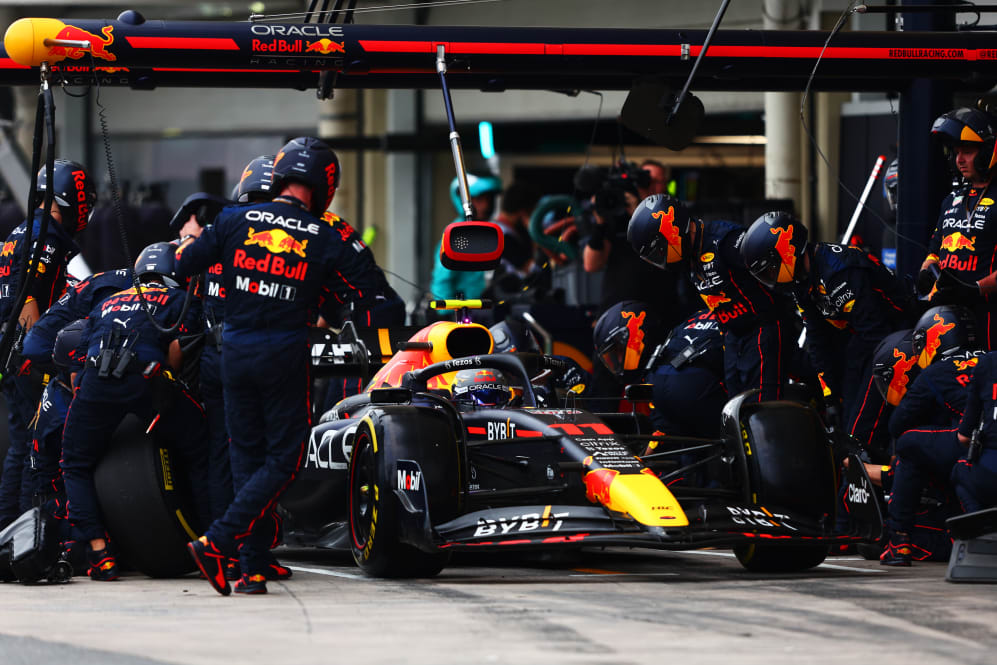 Perez's final stint on medium tyres therefore saw him settle for seventh ahead of Ocon, who had made it past Bottas in the final stages of the race. With Bottas ninth, Lance Stroll rounded out the top 10 for Aston Martin – the Canadian having begun on mediums but swapped to softs for his final stint, which gave him an advantage over 11th-placed team mate Vettel.
Vettel ran as high as fifth, even passing Norris early in the race, but fell back, having been undercut by numerous midfielders around Lap 25 – which left the four-time champion out of the points. Medium tyres for his final stint cost him during the Safety Car restart.
Zhou Guanyu finished 12th, a slow second pit stop doing little to help his case, while Mick Schumacher was 13th for Haas, having hit the top 10 briefly in the middle of the race.
With a five-second penalty for speeding in the pit lane, Gasly ended up 14th for AlphaTauri – Zhou and Schumacher the pair to benefit from that.
Albon drove to 15th for Williams, having shrugged off his starting set of hard tyres after just four laps, while Nicholas Latifi took 16th. Yuki Tsunoda ended up 17th having started in the pit lane, with Norris, Magnussen and Ricciardo the three retirees in Sao Paulo.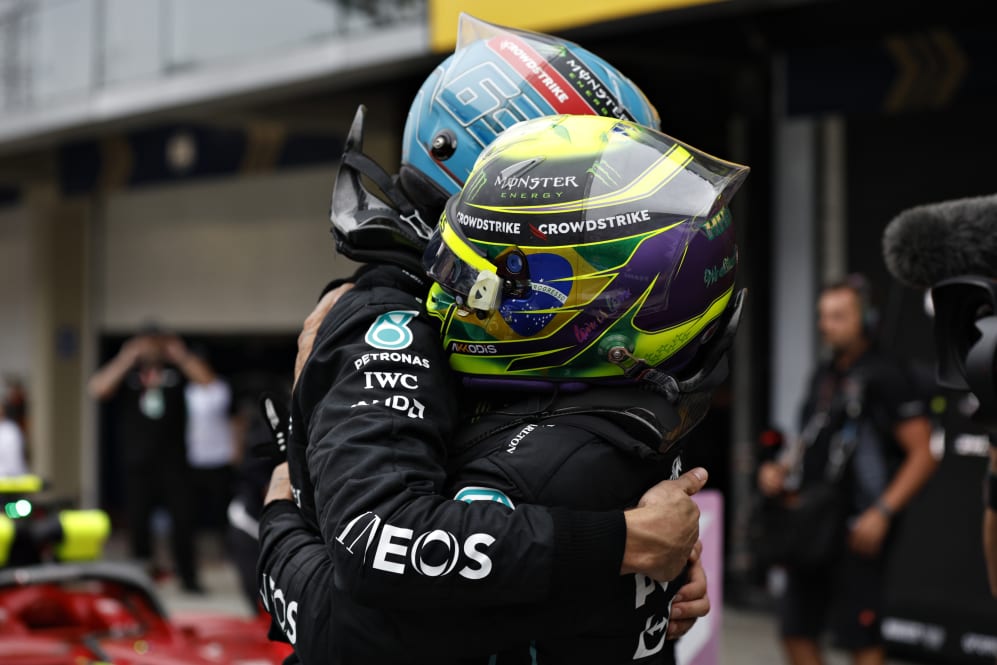 Key quote
"What an amazing feeling," said Mercedes' race winner George Russell. "Just a huge thank you to the whole team for making this possible. It's been an emotional rollercoaster this season.
"This race, a really tough race. I felt in control, Lewis was super-fast and when I saw the Safety Car, I thought, 'Oh Jesus, this is going to be a really difficult end', and he put me under so much pressure – but [I'm] so happy to come away with the victory."
What's next?
The 2022 season finale is set to take place in Abu Dhabi next weekend, on November 18-20. Mercedes have their win, but who will end the year with the final say? Head to the RACE HUB to see how and when you can catch the action.