Report
Russell top for Mercedes as Leclerc crashes on final day of F1 running in 2019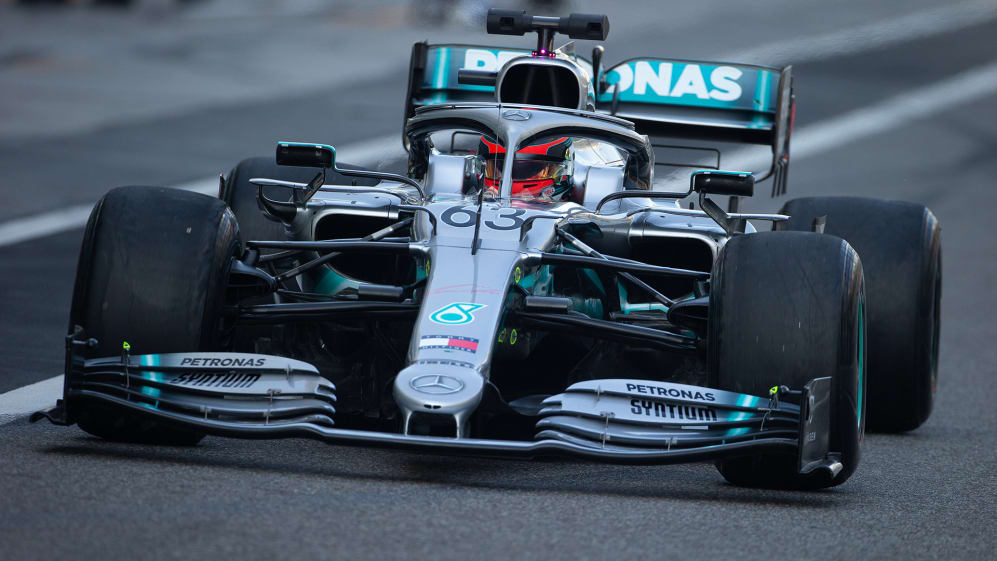 Tyre testing is not supposed to feature many dramatic moments, but after Sebastian Vettel's spin on Tuesday, Charles Leclerc crashed on the final day in Abu Dhabi.
Leclerc caused what proved to be the only red flag of the entire test when he crashed at Turn 13, causing a 25-minute delay while his car was recovered back to the pits. After sliding wide, the 22-year-old caused enough damage to prevent himself from taking to the track again, ending Ferrari's running two hours early.
FIRST LOOK: Esteban Ocon tests for new team Renault
Leclerc had already completed more than 100 laps before his incident, and registered the second fastest time overall with a 1m37.401s – around half a second quicker than Sebastian Vettel managed on Tuesday – to sit less than 0.2s behind George Russell.
Having driven for Williams on the opening day, Russell was behind the wheel of the Mercedes on Wednesday and posted a 1m37.204s on the 2020 C5 tyre compound, the softest of the range.
Lance Stroll was third fastest for Racing Point on a 1m37.999s but he was involved in a bizarre incident at the start of the day also including Carlos Sainz. Stroll was moving slowly down the pit lane ahead of Sainz, and the McLaren driver was keen to get past so pulled to the inside to overtake. Sainz forgot to factor in the added space needed as he was carrying an aero rake and duly damaged the rake against Stroll's car, limiting the Spaniard's early running.
Sainz still recovered to complete over 100 laps as all but Roy Nissany hit three figures on Wednesday, with Sainz 1.5s adrift of Russell and 0.6s back from Pierre Gasly on the 2020 C5. All of the top five used the softest compound for their best laps, although Leclerc's time was on the 2019 version.
READ MORE: Bottas fastest, as Ocon returns in opening day of 2019 post-season tyre test
After completing just 77 laps on his first day in the car, Esteban Ocon managed 128 laps and was sixth overall as he continued work for Renault, just ahead of Alex Albon. Albon followed a similar pattern to team mate Max Verstappen in carrying out plenty of mid-range compound running and posting a best lap on this year's C4 tyre, featuring further down the timing screens.
Pietro Fittipaldi was eighth as he gained more experience for Haas, finishing 2.4s slower than Russell and just 0.1s off the best lap time posted by Romain Grosjean on Tuesday.
Only Williams split running between their two drivers on Wednesday, with Nissany getting his second taste of the car during the morning. The Israeli completed 38 laps before handing over to Nicholas Latifi and improved his own best lap time by nearly a second, but was still 3.7s adrift of the 2020 Williams driver as Latifi amassed 107 laps in the afternoon.