Feature
RUSSIA PREVIEW: The stats and info you need to know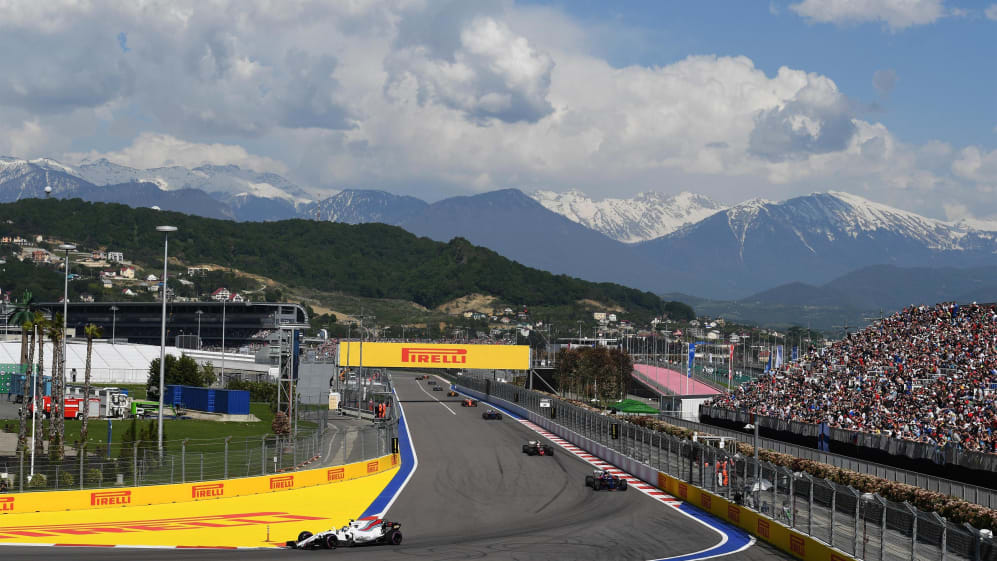 Formula 1 is Black Sea-bound, as the drivers and teams head to Russia and the roads that wind through Sochi's Olympic Village...
Lewis Hamilton heads to Russia with the wind blowing merrily away in his sails after unexpected wins in Italy and Singapore put him 40 points to the good over Sebastian Vettel in the title race. So will he sock it to Vettel and Ferrari once more in Sochi? Or is this the moment the Scuderia start their fightback? Let's look at the key data you need to be on top of for this weekend's showdown.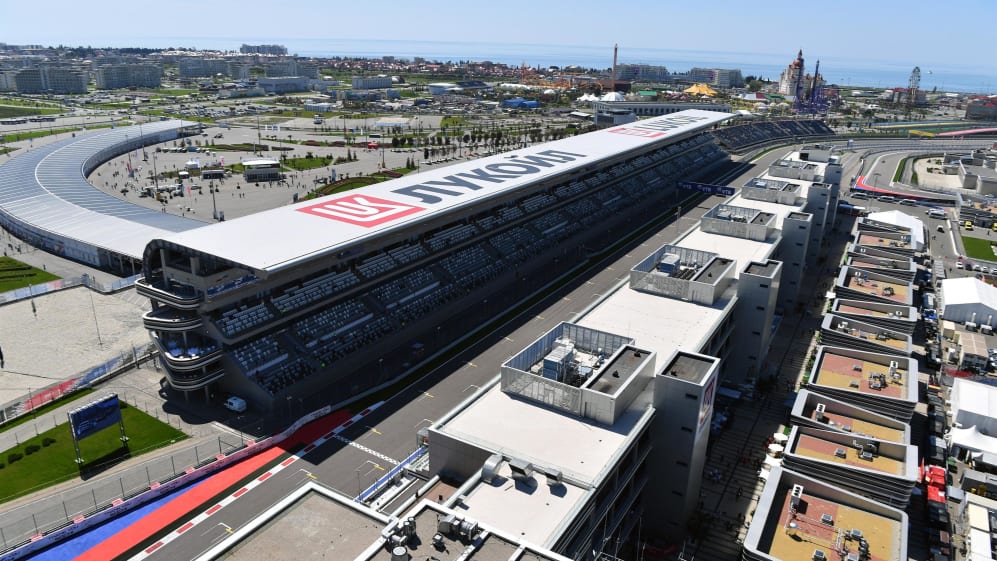 The form book
Coming to Sochi, things are not going well for Ferrari. They were meant to win in Italy, but Lewis Hamilton and Mercedes did. They were meant to win in Singapore… but Lewis Hamilton and Mercedes did. And now they arrive in Russia, at a track where Mercedes have been unbeaten in four attempts, Hamilton having won the first two Russian Grands Prix in 2014 and 2015, before Nico Rosberg and Valtteri Bottas took up the mantle for the Silver Arrows in 2016 and 2017. So is 2018 set to be another Hamilton 'dunk'?
Perhaps… but there are some mitigating factors. One of those is his team mate Bottas' form at the track. Put simply, Bottas goes like a demon around Sochi. Apart from the Finn's 2017 win, he shared the podium with Hamilton and Rosberg in 2014 while driving for Williams, was fourth in 2016, and would likely have finished third in 2015 if a horribly clumsy lunge from Kimi Raikkonen (witness it below) hadn't wiped him out of the race on the last lap. However, with his championship hopes not looking very, er, hopeful, Bottas has publicly stated his intention to play the team game for Mercedes for the rest of the season. That means that if there's a chance he can help Hamilton rather than taking the glory for himself, he probably will.
Ferrari, meanwhile, had their best Russian Grand Prix showing last year, with Sebastian Vettel missing out on the win by just 0.6s after a thrilling last-lap hunt down of Bottas. If Seb can regroup following his disappointing races in Monza and Singapore, there's still every chance he could do the business in Russia – especially given that he's already poached wins at happy Mercedes hunting grounds like Canada and Silverstone this year.
Don't bet the farm on Red Bull winning here though. It's almost certain that both Max Verstappen and Daniel Ricciardo will be receiving grid penalties at Sochi, with Christian Horner revealing after Singapore that the team preferred to run fresh 'Spec B' Renault engines in Russia rather than the more powerful but more diva-ish 'Spec C' that both drivers used in Monza and Singapore. Even without that, though, Russia is a bit of a bogey track for Red Bull, with fifth their highest ever finish here.
The stats that matter
Sochi is the third Olympic venue to have been used to host a Formula 1 Grand Prix, the other two being Canada's Circuit Gilles-Villeneuve (Montreal, 1976) and Spain's Circuit de Barcelona-Catalunya (Barcelona, 1992).

As a company, Mercedes-Benz really do have a 100% win record at the Russian Grand Prix. At the 1913 and 1914 races, both the winners drove Benz cars (Mercedes-Benz only became a thing following Benz's merger with Daimler in 1926).

History suggests that a one-stop strategy is the way to go in Sochi, with no-one having ever finished in the top four at the Russian Grand Prix after doing two or more pit stops.

In qualifying for the 2017 race, Sebastian Vettel, Kimi Raikkonen and Valtteri Bottas were all separated by just 0.095s.

Drivers need to beware on Lap 1. In the entire history of F1 at the Sochi Autodrom, 50% of retirements have come on the opening lap. You can see a fair old few of those in the video below, from the chaotic 2016 start...
In the first 68 years of the Formula 1 World Championship from 1950 to 2017, there was never a Grand Prix where the top six in qualifying finished in that order in the race. In 2018, however, it's now happened twice, in Monaco and Singapore.

The pole position in qualifying for the Russian Grand Prix will be Pirelli's 200th. Goodyear, the only other tyre manufacturer to hit the double century mark, netted their 200th pole at the 1988 French Grand Prix, eventually going on to take 358 by the time they bowed out of F1 at the end of 1998.

Since the summer break, Valtteri Bottas has failed to come within 0.362s of Lewis Hamilton in the Q3 segment of qualifying. That's a similar scenario to 2017, when Bottas failed to get within 0.332s of Hamilton in Q3 for six races after the summer break.

The next lap that Lewis Hamilton leads in 2018 (assuming he does lead one more) will be his 300th for the season.

Despite having always driven for Red Bull at the Russian Grand Prix (as opposed to the lower-performing Toro Rosso and HRT teams he drove for previously), Daniel Ricciardo has never finished in the top six in Sochi – the Aussie's worst performance record for any track on the calendar. In fact, while Red Bull have never managed a podium finish in Russia, both Force India and Williams have.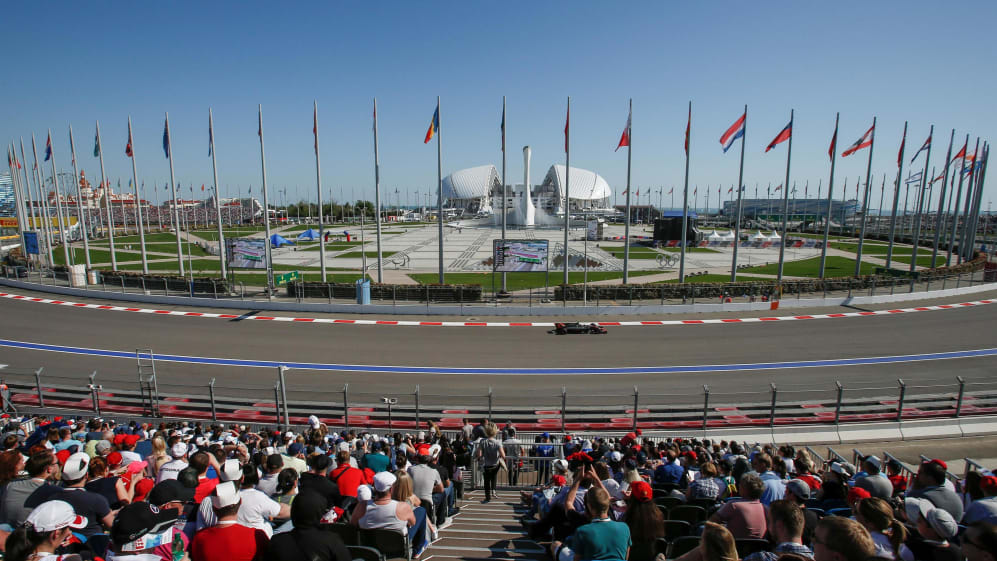 The circuit
With a series of roads built around four of the venues used for the 2014 Winter Olympics as his canvas, Hermann Tilke carved out a neat little track for the drivers to play with in Sochi. Actually, little isn't quite the word – at 5.7km, Sochi is in fact the fourth longest circuit on the calendar, after Spa, Baku and Silverstone.
Ahead of its debut in 2014, the corner that grabbed headlines was Turn 3, a 750-metre long, constant radius left-hander that leads into the tight right at Turn 4. Remember that Raikkonen/Bottas incident we mentioned earlier? That's where that action went down, while in 2016, Daniil Kvyat incurred the ire of Sebastian Vettel after the Russian impressively managed to hit him twice in the space of 10 seconds between Turns 2 and 3.
To talk about something other than crashing, though, Sochi is a track many of the drivers enjoy racing on, with plenty of medium-speed corners for them to chuck their cars into, while the final sector, which begins with the tricky braking point for Turn 13, is an interesting technical challenge for them to get their teeth into.
"Sochi is a pretty unique circuit," reckons Red Bull's Daniel Ricciardo. "It's very flat and open. In some ways it feels like driving flat out in a car park, but it's a surprisingly enjoyable lap. Apart from the long straight, there's a lot going on and it's a layout that keeps you thinking.
"It's definitely grown on me since we started racing there. The track surface has also improved over the last few years. When we first went there, the track was very slippery but the grip levels have improved as the track has rubbered in, making it a more enjoyable circuit to drive."
The tyres

It was soft, ultrasoft and hypersoft tyres that were called upon for Singapore, and the same selection gets the nod for the Russian Grand Prix. That means there's once again a step between the compounds – the red supersoft being passed over – while Sochi's low-abrasion surface means Pirelli can offer up the stickiest pink hypersoft rubber, as the brand's Head of Car Racing Mario Isola explains…
"With another step between the compounds and the same nominations as Singapore, we hope to see the same sort of strategic variations that we had at the last race, but in a very different context at the Sochi circuit. This is a low severity track, with a smooth surface featuring low wear and degradation, and it's in theory the ideal playing field for the hypersoft.
"However, as this tyre has never been run in Russia before, the teams are going to have to understand its characteristics as quickly as possible during the free practice sessions in order to see how it would fit into a potential race strategy. It's going to be interesting to see how the pink hypersoft will work on this track, especially through the demanding Turn 3."
The forecast
There has never been a wet Russian Grand Prix, and it doesn't look like there's going to be one in 2018 either, with barely any chance of rain across all three days of running in Sochi. Temperatures should be pleasantly warm too, with highs of 22 degrees Celsius on Friday rising to 24 degrees across Saturday and Sunday.
When does the Russian Grand Prix start?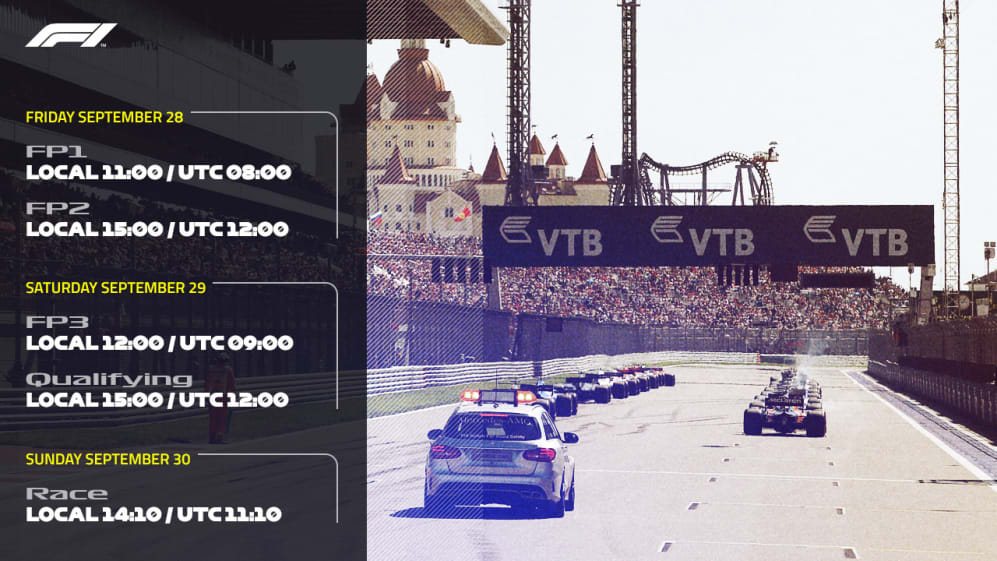 Fantasy F1 – get in the game!
Have you picked your Fantasy F1 team yet? If not, don't panic – you have until just before qualifying to get involved and try to win some amazing prizes.
It's free to play. Click here to sign up!
Watch full F1 Race replays or Highlights on F1 TV Access. Sign up now. Only available in certain regions (view full F1 TV Content Schedule here)