Sainz and Leclerc already looking forward to Imola after Ferrari seal double-points finish in Bahrain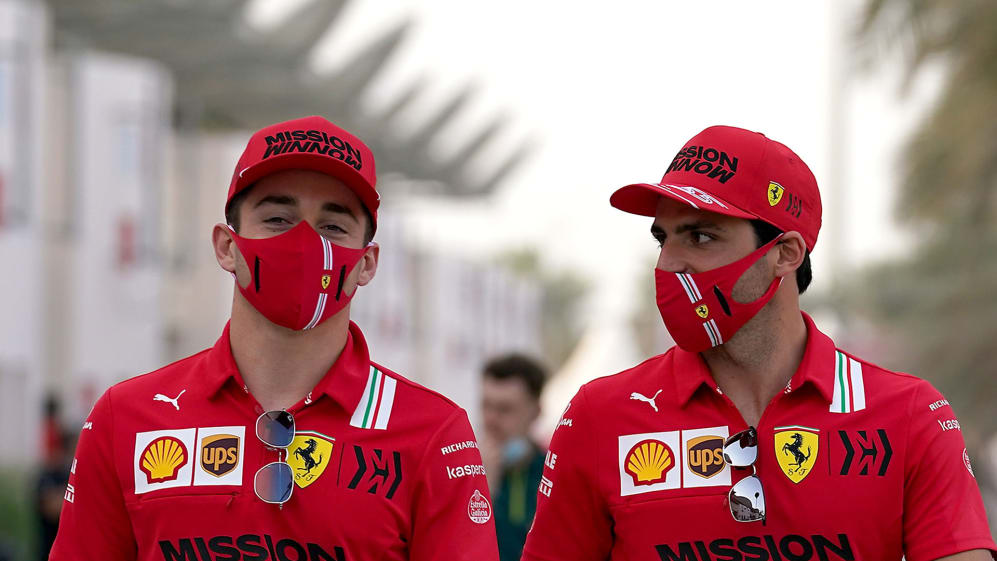 Only five times in 17 races last year did both Ferraris finish in the points. But the team's new alliance between Charles Leclerc and Carlos Sainz delivered at the Bahrain Grand Prix 2021 season opener, as the pair finished sixth and eighth respectively – and were encouraged by what they'd seen on track.
Leclerc had led the way in qualifying for the team, taking an impressive P4 on the grid, as Sainz was P8. And although Leclerc would eventually have to cede position in the race to the McLaren of Lando Norris and the Red Bull of Sergio Perez, the Monegasque said that the performance of the SF21 had taken a useful step over last year's car.
READ MORE: Hamilton wins epic season opener by just 0.7s after thrilling battle with Verstappen in Bahrain
"It's been a good race overall," said Leclerc. "We were lacking a little bit of pace in general compared to Lando but otherwise it's been quite a good race, and especially a good progress compared to last year, which is what I want to keep in mind for this race.
"It's only a sixth place, but compared to last year, it's a good result, so I'm really looking forward to the next races now."
Sainz would eventually finish two spots behind Leclerc in the eighth position he'd started in. But having been passed on the opening lap by the Alpine of fellow Spaniard Fernando Alonso and the Aston Martin of Lance Stroll – Sainz then brilliantly repaying the favour against Alonso later on in the race – the Ferrari new boy said his slow start had been a conscious decision, while adding that he'd been encouraged by his end-of-race pace.
WATCH: Alonso, Sainz and Vettel enjoy epic battle in Sakhir
"It's pretty good, especially because, all things considered, I had a very strong end to the race," said Sainz. "I was very quick on the medium and the hard tyres. I had a poor start, basically due to a couple of mistakes, but also me consciously taking it maybe a bit too easy in Lap 1, just wanting to make sure I made it through that Lap 1 and making sure that I was getting to know the car in dirty air conditions.
"It's a completely new experience, completely new car, so I wanted to take it easy and wanted to make sure I did the whole race. Then once I got myself into clean air, honestly I was very quick, so I'm not going to complain, I'm going to take it and take it as a learning curve and keep improving.
"Definitely it will come," added Sainz, when asked if he'd up the aggression in the coming races.
"Especially because it was a conscious approach. If I was lost in Lap 1 because I don't feel the car, then it's something to worry about, but I've always been super good in the starts with the McLaren and here, I'm still wanting to get to know the car in dirty air before I started attacking like I was in the McLaren. So it was kind of a conscious approach, and I will get on top of it soon."
READ MORE: Norris had 'flashbacks' to maiden podium as he charged to P4 in Bahrain
A haul of 12 points from Bahrain put Ferrari a useful P4 in the constructors' standings, as the team now return to home soil for the Emilia Romagna Grand Prix at Imola on April 16-18.