Sainz and Norris left baffled by lack of pace as reliability issues hit McLaren in Sakhir Friday practice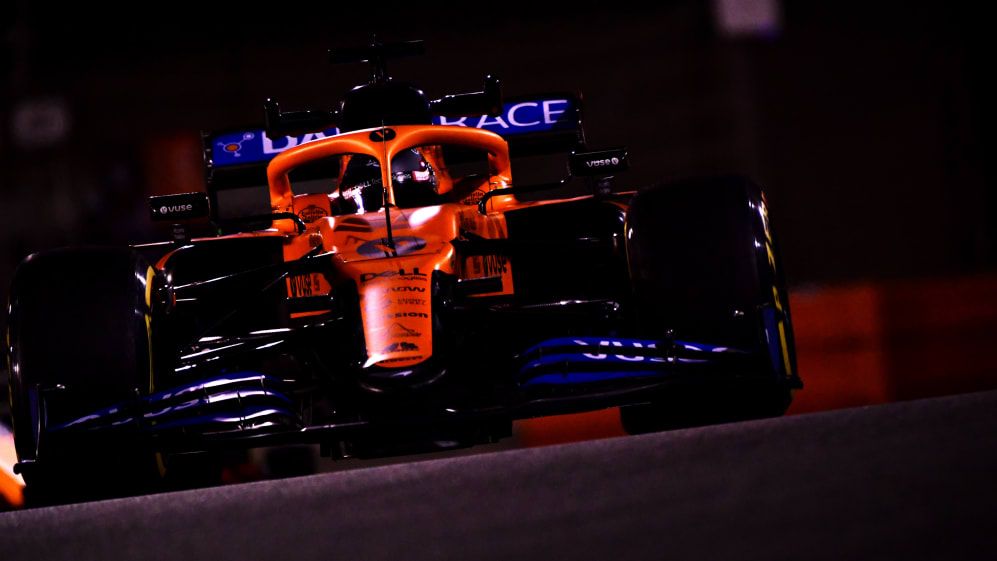 McLaren had a tricky Friday ahead of the Sakhir Grand Prix as both Carlos Sainz and Lando Norris suffered reliability issues in FP2 which hampered their running, and neither could understand where their competitive performance had disappeared to after a brilliant Bahrain GP showing last week at the same track, albeit on a different configuration.
Halfway through his long-run simulation in FP2, Sainz encountered a gearbox issue while Norris ran over a kerb early in FP2 and damaged his floor, before a power unit issue sent him swiftly back to the pits. Sainz ended FP2 10th fastest and Norris 17th, with the former more concerned by a perceived drop in pace than a lack of reliability.
READ MORE: Mercedes sub Russell beats Verstappen to complete clean sweep on Friday at Sakhir GP
Asked why he struggled to break into the top 10, Sainz replied: "I don't know, I'm a bit puzzled, surprised, with how much it can change from one weekend to another but it is what it is. Formula 1 always has these kind of surprises around the corner from you and now we need to react, to find ways and see where we can get some performance back.
"The frustration doesn't come from a small reliability issue, it comes from seeing how much pace we've lost from last weekend to this one in a matter of five days. Just a slight wind direction change, being a bit gustier, a different track configuration, and all of a sudden you're looking from being easily in the top five last weekend to finding one tenth to be in the top 10.
"Surprised, a bit disappointed, but at the same time there's still one night ahead of us try and find out where we can find those tenths," he added.
Norris echoed his team mate's comments as he too was left searching for that lost performance, having finished fourth last time out in the Kingdom.
READ MORE: Bottas rues 'waste' of first practice and has his best FP2 lap times deleted on tricky Friday in Bahrain
"Some things are kind of expected but yeah, when you're as far off almost as where we were today then you scratch your head a little bit. It's weird…"
The Briton took partial responsibility for the issues, namely the floor damage, that stymied his progress in FP2 – adding that the power unit problem set him back further from gaining an understanding of this high-speed layout.
"I mean I'm partly to blame for some of it; I made a mistake out of Turn 2, I ran a bit wide on the exit kerb, which damaged the floor, which meant we had to change that.
READ MORE: 'We still need to find more' – Verstappen not satisfied despite P2 pace in Sakhir GP Friday practice
"And then we had a power unit [problem] after that, which meant I couldn't run again. So yeah, not ideal because today has been quite tough in terms of trying to get a good balance in the car and understand our pace because we seem to be struggling a little bit especially comparing to last weekend, so I just needed those laps… to try different things and get a good reading on the balance," he surmised.
After finishing fourth and fifth in Bahrain, McLaren have a 17-point buffer sitting third in the standings – but that looks under threat after Friday practice at Sakhir.