Report
Sainz fastest on disrupted second day of pre-season testing in Bahrain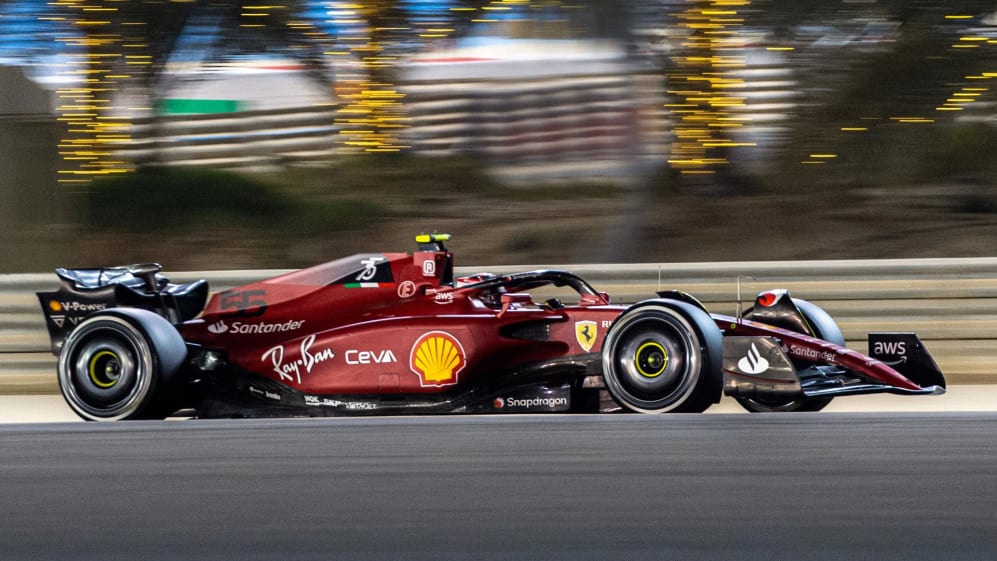 Ferrari's Carlos Sainz set the fastest lap on Day 2 of pre-season testing in Bahrain on a day punctuated by a number of red flags.
At lunchtime Sainz took over from team mate Charles Leclerc and set the benchmark of 1m 33.532s on soft tyres, midway through the afternoon. He finished half a second ahead of Max Verstappen, the Red Bull driver finishing P2 on Friday.
With 40 minutes left, the reigning champion battled wheel-to-wheel with Sainz, the pair putting on a late-braking display late in the day.
Aston Martin driver Lance Stroll finished third to drop Lewis Hamilton to fourth, the Mercedes driver having taken over from George Russell, who finished 13th with 67 laps in the morning.
READ MORE: 'Typical Mercedes, typical George' – Sainz shrugs off Russell's claim that Ferrari are strongest in pre-season testing
Esteban Ocon, fifth, crawled to a halt with just over 90 minutes of the session remaining – the morning leader bringing out the fourth red flag of the day with more than 100 laps under his belt. He did emerge later on to bolster his lap count on what was a more promising day for Alpine.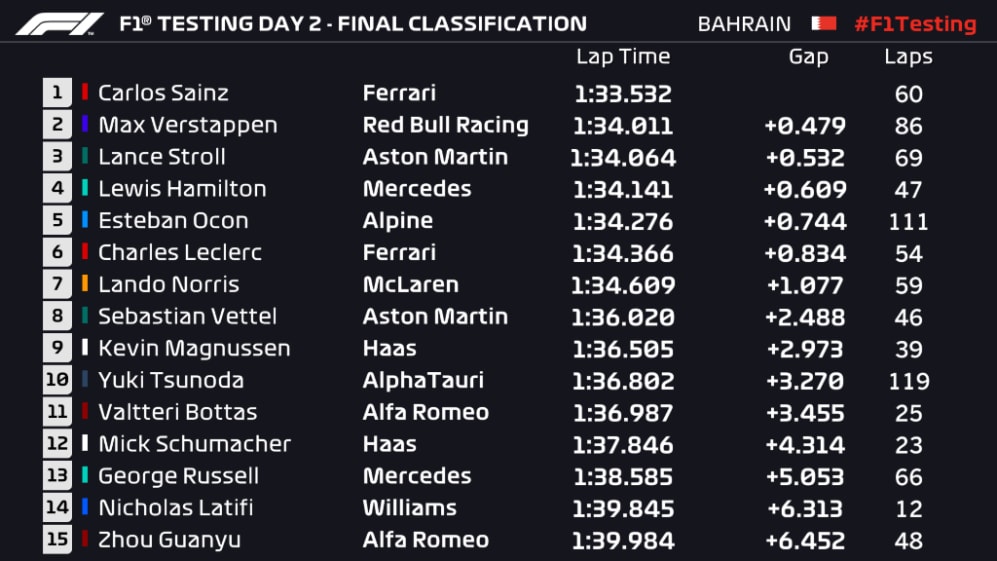 In P6 was Ferrari's Leclerc, his time good for runner-up spot in the morning before conditions began to cool and times tumbled.
McLaren's Lando Norris was briefly interrupted by a stoppage at the pit exit to bring out the fifth red flag with just over an hour remaining. In P7, he again took the wheel for the whole day in the absence of an unwell Daniel Ricciardo.
READ MORE: Norris says brake problems have hampered McLaren in Bahrain testing – and warns 'it's not going to be an easy fix'
Sebastian Vettel finished eighth after taking morning duties for Aston Martin, a reliability issue seeing him stop off-track. When he did emerge to complete the morning session, the FIA's red-flag test cued a swift retreat to the pit lane for the four-time champion. As the day ended, another red flag emerged – this time resulting in a practice rolling start for the field to end all but Haas's session.
Kevin Magnussen made his return to the cockpit, and then continued running after the chequered flag was flown, as Haas make up for lost time having encountered freight delays that stopped them from running on Thursday morning.
Magnussen would actually end up setting the fastest lap of the day, posting a 1m 33.207s during his solo laps of the Bahrain International Circuit in the evening.
Team mate Mick Schumacher was 12th, meanwhile, an exhaust problem seeing the young German step out of the car prematurely before lunch.
Rounding out the top 10 was AlphaTauri's Yuki Tsunoda, more than 100 laps to his name over the day.
In the morning, Valtteri Bottas brought out the third red flag of the day, stopping off-track just after the FIA's red flag test to end the session early. The Alfa Romeo driver handed duties to Zhou Guanyu for the afternoon, the rookie driver finishing 15th and last in the table – but clocking up a solid half-century of laps.
READ MORE: Bottas 'much happier' after Alfa Romeo enjoy productive opening day of Bahrain test
Behind Russell was former team mate Nicholas Latifi – the 14th-place Williams driver bringing out the first red flag of Friday when his car's brakes went up in flames and caused him to spin then hop out at Turn 12. Williams' running was effectively ended by the resulting damage, though they cited a "minor" issue for the brake fire.
The heat is certainly on in Bahrain, and with just one day of pre-season testing left, teams have it all to do to perfect their machines ahead of the Bahrain Grand Prix on March 20. Perhaps, we'll also see some new updates adorn the cars on Day 3.
F1 TV Pro subscribers can watch Bahrain pre-season testing live and on demand, access exclusive live timing, as well as Tech Talk debriefs. Subscribe now and save 20% on your Annual F1 TV Pro subscription. Offer Valid in selected territories on web and apps until March 13. T&Cs apply
Coverage of the Official Pre-Season Test is also available live in selected territories via your F1 broadcaster.