Sainz hails Ferrari progress after double Q3 at Monza, as Leclerc frustrated by power unit issue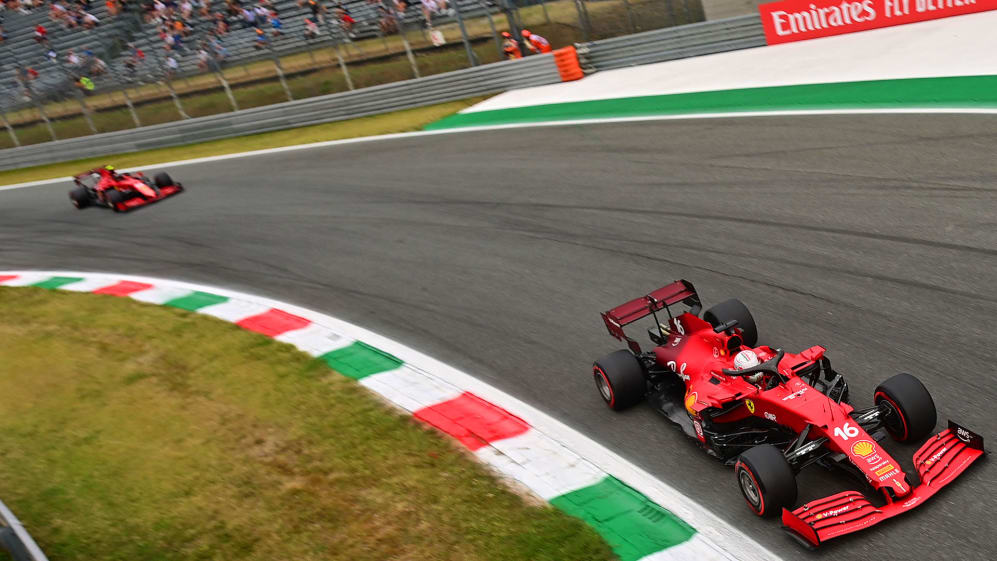 Twelve months on from a humiliating failure to get either car into Q3 at Monza, Carlos Sainz has praised the team's progress after taking P7 in qualifying at the Italian Grand Prix, one place ahead of team mate Charles Leclerc – who was forced to overcome power unit issues to claim his eighth place on the grid for Saturday's F1 Sprint.
Last year saw Sebastian Vettel qualify P17 and Leclerc P13 at Monza – mercifully at a time when Ferrari's loyal tifosi weren't allowed into the venue. But with both cars comfortably making Q3 at the expense of rivals such as Alpine and Aston Martin – both of whose drivers dropped out in Q2 – Sainz was pleased with Ferrari's efforts.
READ MORE: Bottas beats Hamilton in Monza qualifying to claim top grid slot for F1 Sprint
"It's good progress compared to last year," said Sainz. "You need to remember last year, one car was out in Q1, the other one was in P13, so in a matter of a year, we've progressed in this sort of track that we know it doesn't suit the characteristics of the car. But we still want more and we will keep working for it.
"Unfortunately since the beginning of Q1, we saw that we were a bit too far away from the top five, and unfortunately in a track like this where we want to do so well in front of the tifosi, we were going to struggle to be in the top five.
"But we managed to keep improving throughout the session," added Sainz, "we managed to put together some good laps. Very close between Charles and me, there or thereabouts, so it shows that the car is where it is. We want more for the future, but today it's what we have."
Leclerc would eventually qualify just 0.048s behind Sainz – a fact made more impressive by the revelation that he'd been struggling with a power unit issue during qualifying, which appeared to affect the 2019 Monza polesitter's engine braking on his Ferrari SF21, judging by his radio messages to Ferrari in the session.
HIGHLIGHTS: See all the key moments from qualifying at Monza
"Today for me was a very difficult day," said Leclerc. "We had an issue in qualifying, during the whole qualifying… but we are looking into it for tomorrow – and hopefully fixing it because otherwise it could be very difficult to do the race like this.
"I won't go into details but [it was] something on the power unit that was happening. I don't really know what was it, but it was very difficult to drive."
The Ferrari drivers will line up on the fourth row of the grid for Saturday's F1 Sprint – while rivals for P3 in the constructors' McLaren claimed fourth and fifth in qualifying with Lando Norris and Daniel Ricciardo.