Sainz: McLaren need low-speed performance gains to keep Renault at bay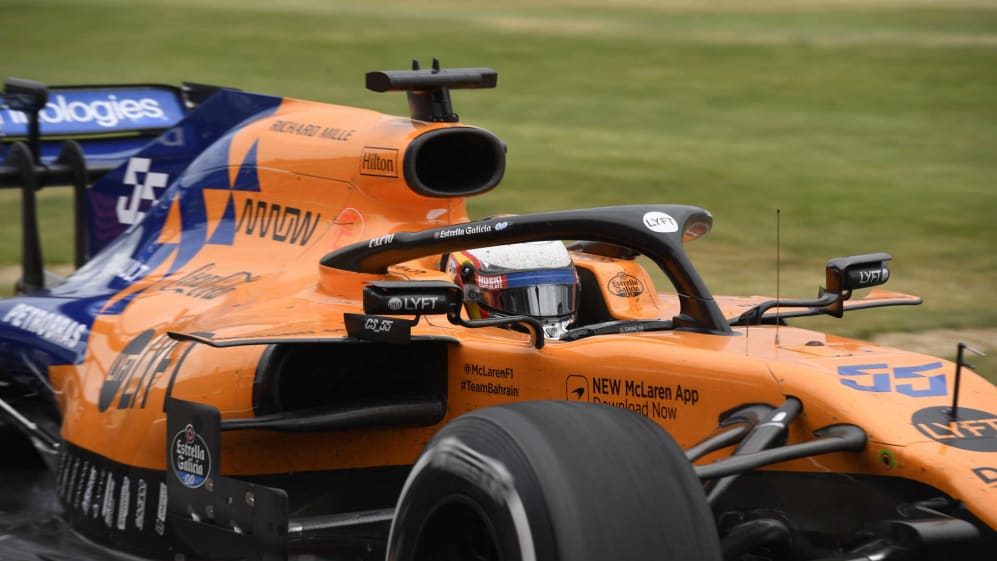 With Renault back in the points at Silverstone, Carlos Sainz has declared that McLaren aren't clearly leading the tight midfield battle. Instead, as we approach the forthcoming German Grand Prix, he believes the team need a low-speed cornering boost to get an edge on their rivals.
After a disappointing qualifying session that left him 13th on the grid, Sainz recovered to P7 in the race having overtaken both Alfa Romeos at the start, then pitting under the Safety Car before Sebastian Vettel's collision with Max Verstappen promoted him to P6.
"A strange Saturday, something that we need to analyse," said the Spaniard. "But back to business on Sunday, back on it after a great start like the last few [races]. After a controlled first stint, managing tyre tyres allowing us to go as long as anyone else and then very fast towards the end.
"But unfortunately a yellow car was faster, which meant it was a very stressful end to the race, but at the same time good fun because we just held him back and made it to P6."
The yellow car Sainz was referring to was seventh-place Daniel Ricciardo's Renault, the catalyst of the "highlight" of Sainz's race as the two produced an absorbing battle in the closing laps.
"[They] were fun because he was just that tiny bit quicker and that made him get into my DRS [range], and he was really catching me on the straights… with the headwinds, my clipping on the battery… and we were running more wing.
"It was flat out… These were proper qualifying laps the whole way through because the hard tyres allowed you to do so. And it was good fun."
Many people wanted us to be already clear of the midfield... We still are with the Renaults, they are battling
To stay ahead of the midfield and bat away the challenges of a resurgent Renault, McLaren need to work on their relative lack of pace in low-speed corners, explained Sainz.
"One race they will be quicker, another race we will be quicker and today they were quicker. We need to improve the car at low speed because that is what's going to give us the edge, which at the moment we don't have.
"The only thing that we know is that we haven't cleared the midfield yet. Many people wanted us to be already clear of the midfield, but we haven't. We still are with the Renaults, they are battling."
READ MORE: McLaren pace was 'quite poor' against midfield rivals, says Norris
As for the next races in Germany and Hungary, Sainz predicts that it will be similar to Silverstone for him, unless McLaren can address those low-speed cornering concerns.
"It's going to be similar to here. I think Austria and Paul Ricard were definitely really good tracks for us, we were fourth fastest, no problem, but this last one was a bit of a realisation that we haven't cleared the midfield yet.
"As I said before, we need to keep bringing little bits to the car to help at low speed. They both have a combination of high-speed/low-speed [corners] so we don't know how we're going to do, but it's going to be interesting to see [how we compete] with the Renaults."
Despite Sainz's wariness of the Renault threat, fourth-place McLaren still hold a 21-point advantage over their fifth-place rivals in the constructors' standings.