Report
Sainz pips Russell and Leclerc in ultra-tight qualifying battle in Singapore after shock double Q2 exit for Red Bull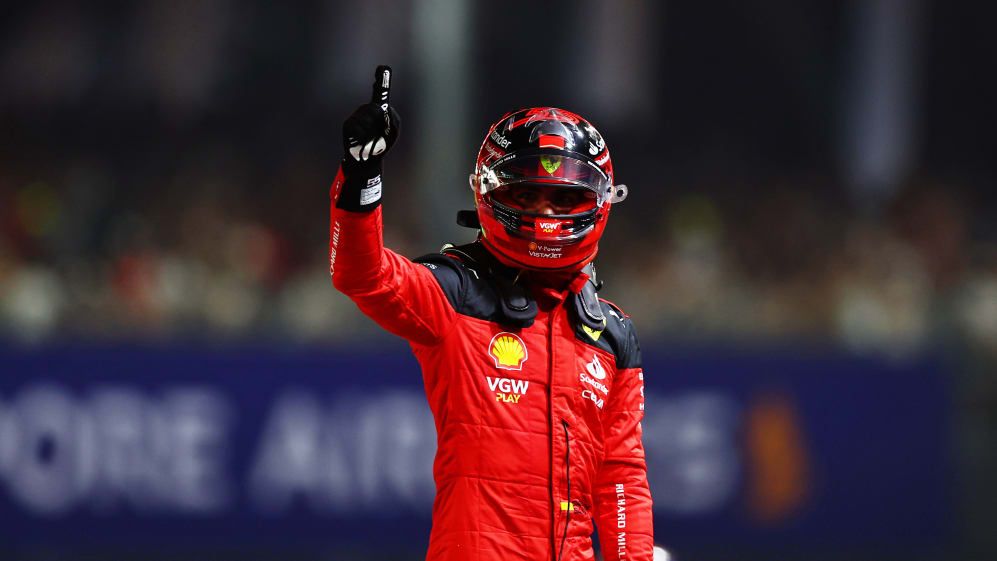 Carlos Sainz made good on the promise shown by Ferrari all weekend to take a dramatic pole position in Singapore. Already on provisional pole, the Spaniard improved on his final run to narrowly beat rival George Russell and team mate Charles Leclerc to seal a P1 start.
It was a frantic session, one that will see several drivers investigated for impeding after qualifying and one that was red flagged after Lance Stroll's hefty crash in the final stages of Q1.
But Sainz stayed out of trouble and continued to set the pace, with a rapid final sector seeing him improve on his provisional pole lap by over two-tenths, with a time of 1m 30.984s good enough to take his second consecutive P1 start. In second was Russell, as he narrowly missed out on pole by just 0.072s
A frustrated Leclerc qualified third fastest for Ferrari ahead of the McLaren of Lando Norris in fourth, the Mercedes of Lewis Hamilton in fifth, and the Haas of Kevin Magnussen in sixth.
FORMULA 1 SINGAPORE AIRLINES SINGAPORE GRAND PRIX 2023
Singapore
2023
Qualifying results
POSITION
TIME

1

Carlos

Sainz SAI

Ferrari

1:30.984

2

George

Russell RUS

Mercedes

1:31.056

3

Charles

Leclerc LEC

Ferrari

1:31.063

4

Lando

Norris NOR

McLaren

1:31.270

5

Lewis

Hamilton HAM

Mercedes

1:31.485
Fernando Alonso was seventh fastest for Aston Martin, while Esteban Ocon impressed for Alpine to take eighth, ahead of the other Haas of Nico Hulkenberg, with the AlphaTauri of Liam Lawson – who made it into Q3 for the first time in his short F1 career – rounding out the top-10.
Lawson's place in Q3 came at the expense of a Red Bull, with Max Verstappen a surprise victim at the Q2 hurdle. The Dutch driver qualified 11th, and was less than pleased with his car's performance, while his team mate Sergio Perez also found himself knocked out in 13th.
Sandwiched between the Red Bull pair is Alpine's Pierre Gasly in 12th, while Alex Albon was down in 14th for Williams, with Yuki Tsunoda in 15th after failing to set a time for AlphaTauri in Q2.
Due to Stroll's crash at the end of Q1, several drivers were unable to complete their final laps. But the unlucky few to be knocked out early included the Alfa Romeo of Valtteri Bottas in 16th, as well as the McLaren of Oscar Piastri, who was right behind Stroll when he crashed, down in 17th.
Logan Sargeant went another race unable to out-qualify his Williams team mate Albon, as the rookie ended up 18th, ahead of the second Alfa Romeo of Zhou Guanyu, as Stroll brought up the rear of the field.
AS IT HAPPENED
Q1 – Tsunoda leads the way as Stroll's crash leaves a mixed-up order
With temperatures having come down, and with the lights turned on, the stage was set for what was sure to be an exciting hour of qualifying. It had been a Ferrari dominated weekend so far as they topped each practice session, but could they convert that into pole?
Before that battle for pole could commence, 18 minutes were put on the stopwatch, and the green light was switched on as Q1 got going. It was Leclerc who set the early pace with a time of 1m 32.523s, leading Norris by just 0.033s.
But then came the Mercedes duo of Russell and Hamilton after leaving the pit lane later than their rivals. Russell went straight to the top of the timesheets, while Hamilton tucked himself in-between the Red Bulls of Perez and Verstappen in fifth.
While that was happening, Stroll was left frustrated by Sargeant, as he complained over the radio of being impeded by the Williams driver – an incident that would be investigated by the stewards after qualifying.
With six minutes left on the clock, a host of purple and green sectors followed with Sainz going fastest with a time of 1m 32.339s, leading second-placed Verstappen by 0.059s. Leclerc was third fastest ahead of Russell, Norris, Perez, Alonso, Hamilton, Gasly, and Lawson.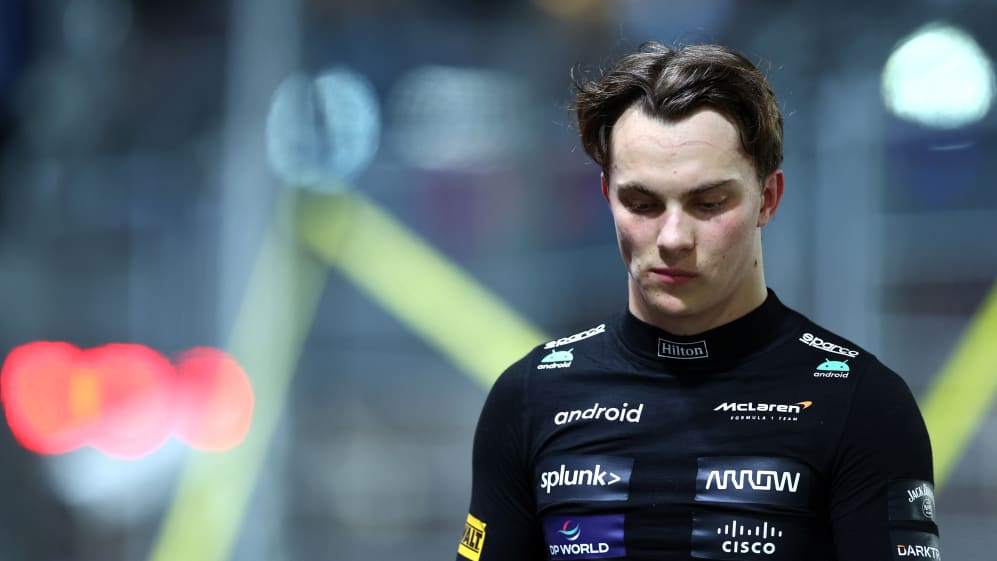 With two minutes left on the clock the drivers came back out of the pit lane wiith Stroll down in in 16th, ahead of Sargeant, Albon, Bottas and Zhou. A few drivers were then told that the track was ramping up, with lap times expected to drop significantly.
But as the chequered flag came out the red flags were waved as, on his final lap, Stroll looked to have carried too much speed into the final corner, with the curb launching him briefly into the air, and then into the barrier.
Thankfully, while his car was heavily damaged, Stroll was able to come onto the radio to say he was okay, as he jumped out of the AMR23.
But with several drivers behind him unable to set a time, this left a mixed-up order, as Tsunoda went through fastest ahead of Perez. The rest of the top five was made up of Hulkenberg, Lawson, and Magnussen, and they were followed by Russell, Sainz, Ocon, and Verstappen.
Leclerc went through 10th fastest ahead of Gasly, Norris, Alonso, and Hamilton, while Albon recovered from his engine issues on Friday to squeeze through to the second phase of qualifying
Knocked out: Bottas, Piastri, Sargeant, Zhou, Stroll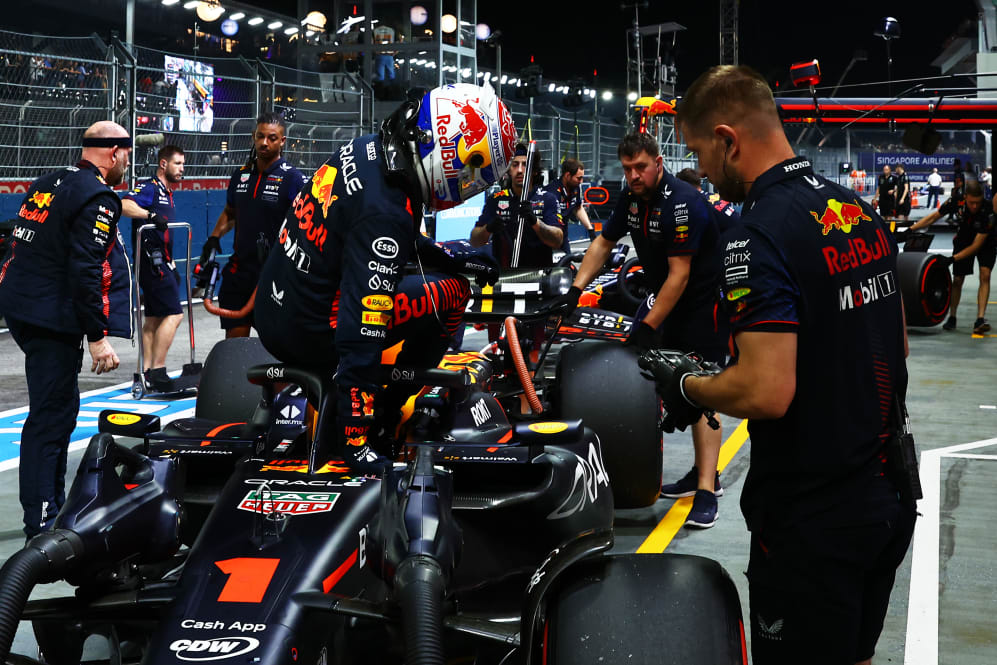 Q2 – Surprise as Verstappen and Perez are knocked out as Sainz leads the way
With the track being cleared and the barrier at the final corner being fixed, there was a lengthy delay to the start of Q2. However, there was still plenty of action with Verstappen amongst a group of drivers set to be investigated after qualifying for impeding during Q1.
Replays showed the Dutch driver stopping at the pit exit before the final runs in Q1, leaving plenty of his rivals including, Leclerc and Russell, less than impressed. But that was all put to the back of their minds as the light was turned green to start Q2.
After the first set of laps, it was Russell, who continued to show a great turn of pace in his W14, going fastest. The Mercedes driver was 0.092s ahead of his nearest challenger, Alonso, with Sainz in third. Norris was ahead of Hamilton, Leclerc, Magnussen, Ocon, and Gasly, with Verstappen in 10th.
As the drivers ducked into the pit lane to prep for their final runs, replays showed Tsunoda being left frustrated by Verstappen being in his way, with the stewards set to investigate this latest impeding incident after qualifying.
Ahead of the final runs, looking to make it out of the bottom five was Perez, Hulkenberg, Lawson, Albon, and Tsunoda – who was the only driver yet to set a time. But as they set off on their final lap, Perez spun at Turn 1 immediately knocking him out of qualifying.
In an even more surprising turn of events, it was to be two Red Bulls out of Q2 with Lawson moving up to 10th and knocking Verstappen down to 11th. Ahead of Lawson, it was Sainz fastest, ahead of Russell, Alonso, Magnussen, Norris, Hulkenberg, Leclerc, Hamilton, and Ocon.
Knocked out: Verstappen, Gasly, Perez, Albon. Tsunoda.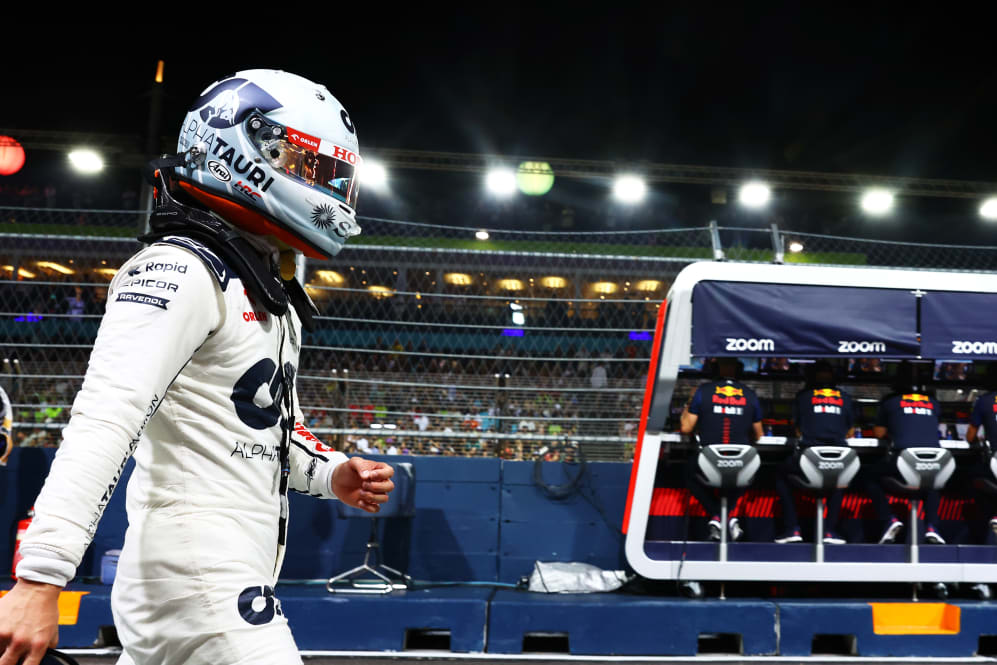 Q3 – Sainz beats Russell and Leclerc to take second consecutive pole position
The 10 remaining cars then made their way back out on the track, including Leclerc, who had been briefly investigated during the interval for failing to slow under yellow flags, although the stewards found no need for further action.
The drivers continued to push the limits of the Marina Bay circuit, as Sainz went to provisional pole with a time of 1m 31.170s. Leclerc was second, ahead of Norris, Russell, Hamilton, Alonso, Magnussen, Hulkenberg, Ocon and Lawson.
The drivers then went back into the pit lane, strapped on a brand-new set of the soft tyres and went back out for their final runs. A sensational battle ensued as Sainz improved on his provisional time with a lap of 1m 30.984s, but could anyone match him?
Each of his rivals came across the line but nobody could beat the Spaniard, with Russell going closest, finishing just 0.072s off the Ferrari man's time. The Brit's time also put him ahead of a frustrated Leclerc in third – 0.079s off his team mate's pole-setting pace.
While the gap in the top three was close, Norris in fourth was nearly three-tenths off Sainz, with Hamilton half a second back of the Spaniard in fifth. Magnussen was sixth, ahead of Alonso, Ocon, his Haas team mate Hulkenberg, and Lawson in 10th.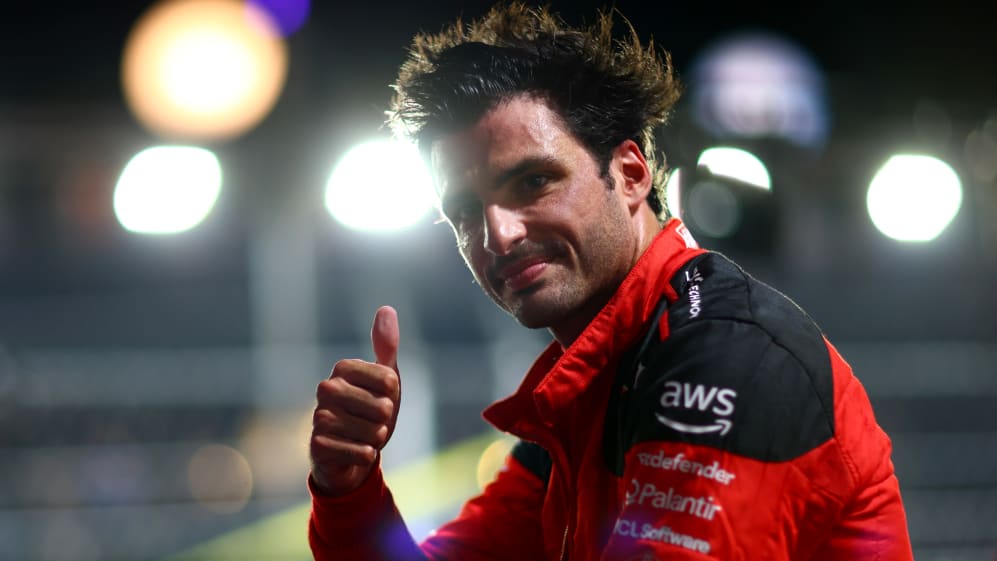 Key Quote
"Again, a bit like in Monza, really hitting the ground running from FP1 and feeling very confident all through the sessions and putting it together in Q3," said Sainz.
"Just focusing, not doing any mistakes in that lap, keeping it clean around here in Singapore, normally it pays off. It was a bit of a messy session for everyone, but we kept the focus, put a good lap in in the end and pole position."
What's next
The 2023 Singapore Grand Prix is set to begin at 2000 local time on Sunday. Head to the RACE HUB to find out how you can catch the action from the Marina Bay Circuit.