Report
Sainz pips Verstappen to take maiden pole in wet British Grand Prix qualifying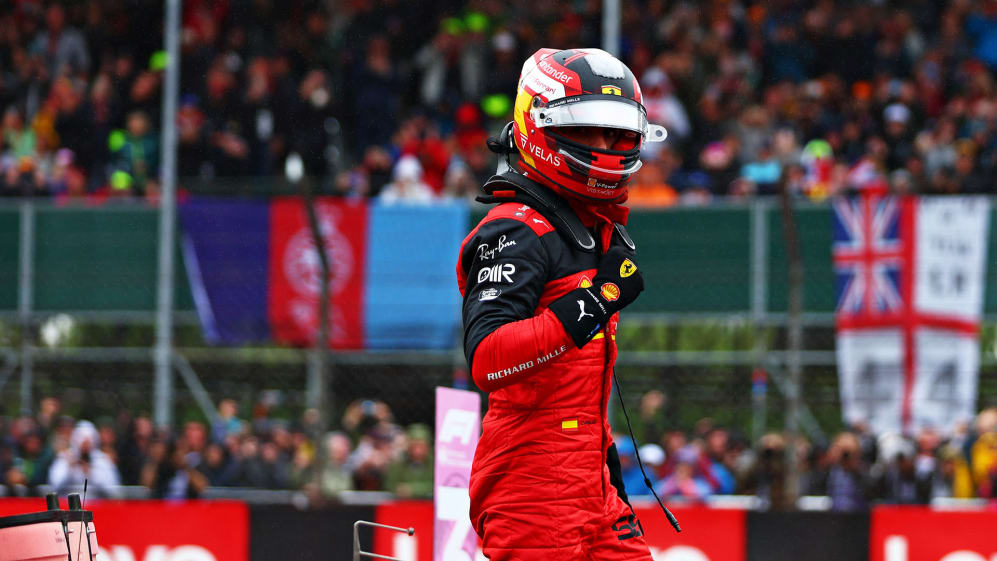 A masterful lap in a wet British Grand Prix qualifying saw Ferrari's Carlos Sainz claim his maiden pole position in Formula 1, as he beat the Red Bull of Max Verstappen, who'd led much of the session.
Rain had begun falling on Silverstone just minutes before qualifying began, with Verstappen comfortably heading both Q1 and Q2. Verstappen was then leading Q3 in the final moments when Sainz unleashed his final lap to stop the clocks at 1m 40.983 and take P1 with an effort he described in disbelief as "terrible". On the weekend of his 150th Grand Prix start, though, terrible did very nicely indeed.
Sainz was 0.072s ahead of Verstappen, with Leclerc P3, 0.315s off his team mate – both Leclerc and Verstappen having suffered Q3 spins while on promising laps.
Sergio Perez was P4 in the second Red Bull, ahead of the Mercedes of Lewis Hamilton, with Lando Norris P6, as Fernando Alonso and George Russell rounded out the top eight. Zhou Guanyu was P9, while Nicholas Latifi survived a scary off at Turn 1 to take P10, on his first-ever Q3 appearance.
FORMULA 1 LENOVO BRITISH GRAND PRIX 2022
Great Britain
2022
Qualifying results
POSITION
TIME

1

Carlos

Sainz SAI

Ferrari

1:40.983

2

Max

Verstappen VER

Red Bull Racing

1:41.055

3

Charles

Leclerc LEC

Ferrari

1:41.298

4

Sergio

Perez PER

Red Bull Racing

1:41.616

5

Lewis

Hamilton HAM

Mercedes

1:41.995
Pierre Gasly was P11 for AlphaTauri, ahead of the second Alfa Romeo of Valtteri Bottas and Gasly's own team mate Yuki Tsunoda, with Daniel Ricciardo and Esteban Ocon having fallen foul of worsening conditions in Q2 and failing to make it out, taking P14 and P15.
Failing to make it out of Q1, meanwhile, Alex Albon was P16 – despite being equipped with Williams' extensive upgrade package, which Latifi didn't have – while both Haas and Aston Martins went out in the first segment too, the order Kevin Magnussen in P17, ahead of Sebastian Vettel, Mick Schumacher and Lance Stroll.
So, Sainz has finally got that first ever pole position. But can the maiden win come on Sunday, at a Silverstone track he adores? Tune in to find out.
AS IT HAPPENED
Q1 – Both Haas and Aston Martins drop out as the rain soaks the Silverstone track
With just 10 minutes to go before qualifying began, a troop of ever-reliable British rain clouds disgorged their contents over the Silverstone circuit, prompting a dive for all the teams onto the intermediate tyres – and a heavy traffic jam ahead of the green light as the drivers looked to get a banker lap on the board in case the rain intensified.
As it happened, the rain actually slackened off throughout the opening segment, a drier line appearing around the iconic 3.6-mile track as Verstappen set the early benchmark with a 1m 40.452, improving to a 1m 39.975s one tour later, 0.655s clear of Leclerc.
The question now was, would the track improve enough for teams to fit slicks? But ultimately, while the track was improving, it wasn't improving enough for tread-less tyres.
With the clock having ticked down to zero in the 18-minute quali opener, Leclerc hit back at Verstappen to briefly claim top spot, only for a sublime all-purple sector lap from Verstappen to see him post a 1m 39.129s, 0.717s up on the Monegasque, as George Russell put himself P3, 0.899s off the ultimate pace, ahead of Sainz, Hamilton and Perez.
Down the order, Daniel Ricciardo was looking in danger of an embarrassing Q1 exit at the scene of his F1 debut 11 years ago, before a last-gasp effort lifted him to an eventual P14. Over at Williams, and despite not being fitted out with his team mate's significant raft of upgrades, Nicholas Latifi made Q2 for the first time this season in P15, with Alex Albon out in P16 by 0.080s and lamenting Williams' strategy of utilising cool-down laps rather than continuing to circulate hard.
The weather reflected the mood at Haas and Aston Martin, meanwhile, as the two teams lost both cars in Q1, Vettel expressing his dismal frustration with a series of steering wheel bangs.
Knocked out: Albon, Magnussen, Vettel, Schumacher, Stroll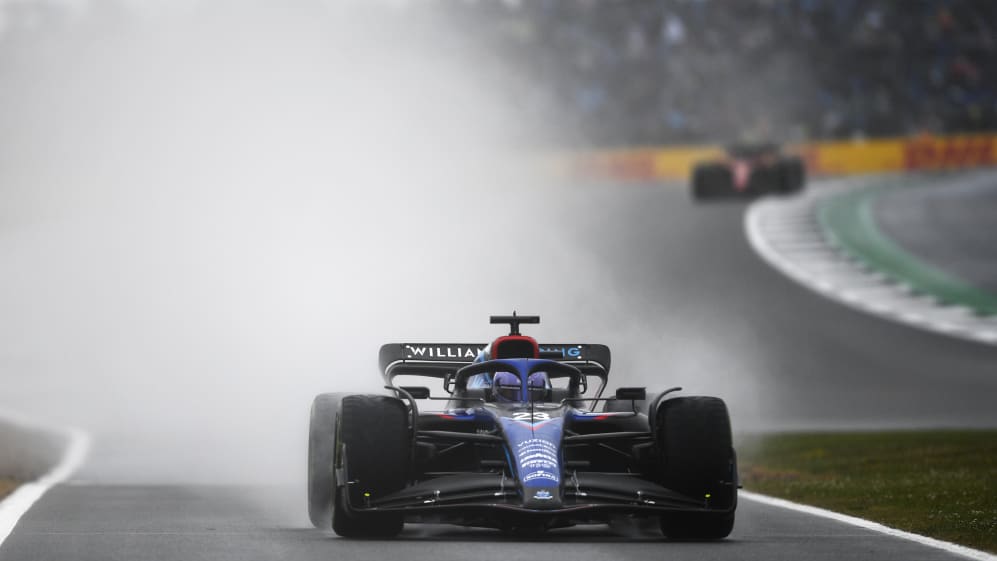 Q2 – Latifi makes his first Q3 appearance at the expense of Ocon and Ricciardo
Everyone was now trying to get a gauge on what the weather was going to do throughout the rest of qualifying – with the airwaves full of engineers offering differing meteorological opinions…
As it turned out, the rain would steadily increase throughout Q2, meaning that the drivers who got a good lap on the board early doors would have a distinct advantage. Verstappen led the way once again, with a 1m 40.655s lap that was around a second and a half slower than he managed in Q1, with Hamilton – someone who knows a thing or two about lapping Silverstone in the wet – slotting into P2, 0.407s off.
With the chequered flag flying for Q2, the timesheets were a sea of yellow, none of the drivers in the bottom five elimination zone improving on their final efforts. That meant that Esteban Ocon found himself out in P15, one place down on the McLaren of Ricciardo. Both AlphaTauris also dropped out – although given their pace struggles this weekend, 11th for Gasly and 13th for Tsunoda might not be such a bad thing – with Bottas 12th.
Nicholas Latifi was one of the drivers to post a solid early lap – and it was good enough to lift the under-pressure Williams driver into Q3 for the first time in his career, as he took P10 just behind Zhou Guanyu, the Chinese driver continuing his impressive run as the sole Alfa in the top 10.
So, it was both Red Bulls, both Ferraris and both Mercedes in Q3, joined by McLaren's Norris, Alpine's Alonso and the aforementioned Zhou and Latifi.
Knocked out: Gasly, Bottas, Tsunoda, Ricciardo, Ocon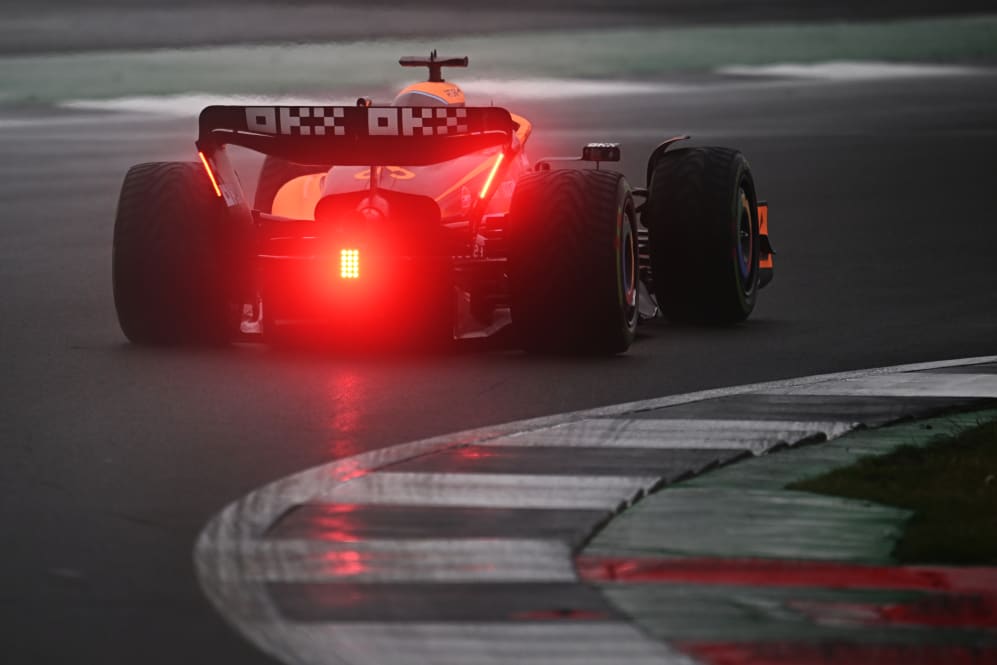 Q3 – Sainz banks maiden pole position as Verstappen and Leclerc spin
The inters remained the tyre du jour for Q3, while rumours of a further rain shower adding to the existing mizzle were heard over team radio as the drivers headed onto the slick Silverstone track. Once more, it seemed, a banker lap was needed.
Verstappen looked to be setting one, when he spun wildly coming out of Stowe, his RB18 performing a neat pirouette. Was he fazed? No, as he then posted two purple sectors en route to P2, before improving on his second effort to set a 1m 42.966s. "More rain expected, keep pushing," Verstappen was told, and the Dutchman duly kept his foot in and continued lapping.
With two minutes to go, it was Verstappen from Hamilton and Leclerc, those three looking set to duke it out for the qualifying spoils. But then out of nowhere came Sainz, who'd flown under the radar ever since leading FP2 on Friday afternoon. And with the time having ticked away to nothing, Sainz took the chequered flag with a lap that was good enough for provisional pole.
Verstappen and Leclerc were going quickly behind – but then Leclerc spun at Turn 14, with yellow flags forcing Verstappen to lift and handing the pole position to Sainz.
As the Spaniard was informed of his triumph, he replied in disbelief: "I was terrible out there! How did I get P1?!"
"You kept it together like a smooth operator!" his engineer laughingly replied.
Cue ecstatic scenes in the Ferrari garage as the Scuderia feted their popular Spanish charge. Verstappen was satisfied enough to settle for P2, the form man throughout qualifying missing out by just 0.072s as Leclerc tucked into third, ahead of Perez.
Hamilton had looked like threatening a front-row start, but ultimately was "gutted" to take fifth to team mate Russell's eighth on a day Mercedes admitted was a touch disappointing – given their suite of upgrades for the W13.
In between the Silver Arrows was a "very satisfied" Lando Norris and Fernando Alonso. Zhou Guanyu was a decent ninth, while a big spin from Latifi at Turn 1 in Q3, from which the Canadian was lucky to escape without damage, ultimately left him 10th.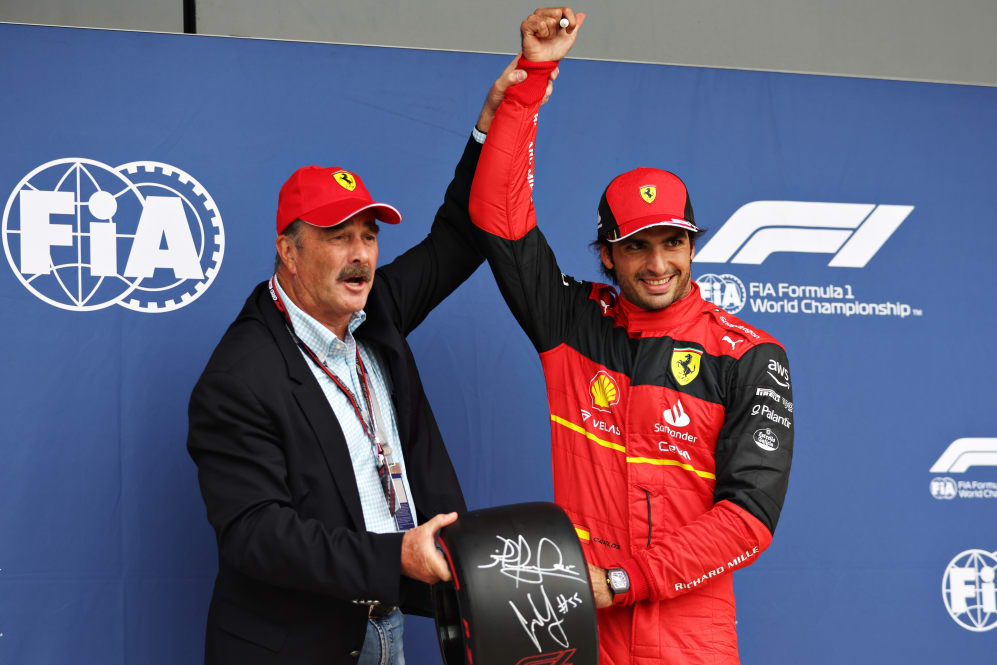 Key quote
"First of all, thank you to the whole crowd for cheering and thanks everyone for staying out there with this rain. Spaniards, we struggle a bit more with this rain, but you can tell that you guys are used to it. Thanks for being there, it was a good lap, but I was struggling with the standing water – on intermediates there was a lot more standing water on the racing line. It was very easy to get snaps.
"In the end I put together a lap that I thought was nothing special but just put it on the board and see how it is. Pole position, it came a bit of a surprise… If I base myself on my FP2 pace then we should be in a good position to try and hold onto it. I'm sure Max and Charles will put a lot of pressure, but I will try my best, of course" – Carlos Sainz, Ferrari
What's next?
The British Grand Prix will take place at 1500 local time on Sunday, July 3. Lewis Hamilton is going in search of what would be an all-time record ninth victory at an F1 venue – and his home one to boot. Can he pull it off? Or will it be Carlos Sainz who claims his first ever victory? We can't wait to find out.