Sainz: Q3 wasn't meant to be – but points still on the table
P13 on the grid for the 2019 Spanish Grand Prix represents the lowest starting position for Carlos Sainz at the Circuit de Barcelona-Catalunya in his five-year F1 career so far. But while the Spaniard couldn't hide his disappointment to have not made it into the top 10 shoot-out, he remained confident that he could still give his home fans something to cheer about on race day.
Sainz finished qualifying two places and 0.261s down on team mate Lando Norris, having run wide through the Turn 12 right-hander after going green in sector one. But afterwards, the Spaniard explained that his lap had begun to go wrong much earlier.
"I had done a mistake in Turn 5," Sainz explained. "I had spun the rears a lot and I was losing a lot of rear performance from Turn 7, Turn 9 and Turn 10. So even if my [first sector was] green, I was already seeing that the lap was not good enough.
"So I went for it in Turn 12 knowing that probably Q3 just wasn't meant to be and ran a bit wide there. I know from the TV, it might look like the lap was looking really good but actually looking at the data, it was good in the first [sector] but the rears were suffering a lot."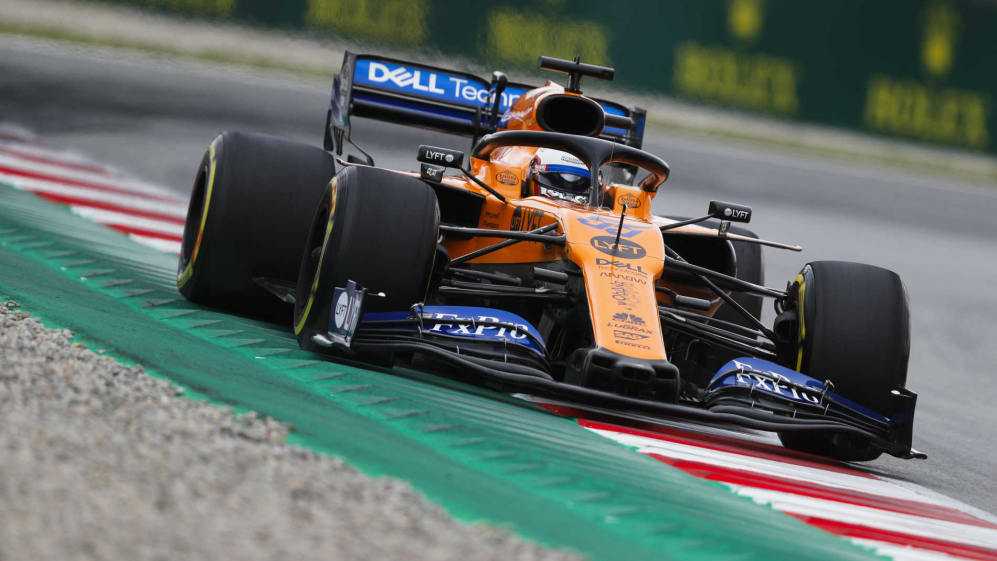 Despite the disappointment, Sainz believes that the updates the team have brought to Spain – including Renault's updated power unit – and the fact that he'll have a free choice of starting tyre tomorrow will mean he stands a good chance of maintaining his top 10 record in front of his home crowd.
"Definitely points are on the table," he said. "Today, I'm not very happy, not very pleased with the day - P13 is not where I wanted to be.
"But tomorrow's a different day, tomorrow's race day, where the points are given, and the race pace for me, I think we'll definitely have a chance. Tomorrow when we wake up, as I say, I will be in a better humour and ready to go for it."
Sainz's McLaren team mate Norris also admitted that it would have been "good to get into Q3 just for the pride of it", after setting a Q2 time that was faster than both Daniil Kvyat and Daniel Ricciardo managed in their Q3 runs.
Meanwhile, an interested observer on the McLaren pit wall was newly-installed McLaren Team Principal Andreas Seidl, who, after his first qualifying at the reins, shared Sainz's view that points could be in the team's future on Sunday.
"Of course, there's always a small disappointment if you don't make it into Quali 3," said Seidl. "It was close, but what we have seen today I think this is pretty much the potential that the car had for this track…. This track is a bit similar to what we have seen in China where we definitely struggled.
"But as the drivers said, in the long runs, we have the possibility of a free tyre choice tomorrow for the start of the race so I'm quite optimistic that we have the possibility to fight for points."
McLaren will be especially keen for points here considering that they currently head the midfield battle in fourth place, one point up on rivals Racing Point.