Sainz says P4 in Budapest is 'where we deserved to be' as he defends Ferrari strategy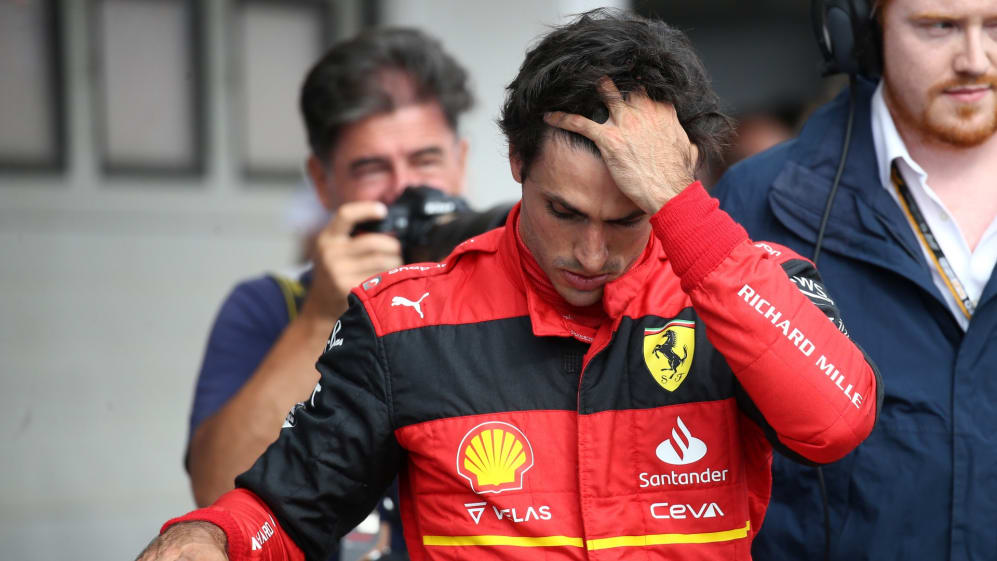 Carlos Sainz took the chequered flag in fourth place at this weekend's Hungarian Grand Prix, and the disappointed Spaniard called on his Ferrari team to understand the issues that cost them any chance of victory in Budapest – although he defended the team's strategy during the race.
Sainz started on the medium tyre in second place, and even though he came close at the start, he failed to make it past pole-sitter George Russell. He then attempted to overcut the Mercedes driver, but a slow pit stop hurt his chances, and he instead lost a place to his team mate Charles Leclerc, leaving him third.
Sainz then went long in the second stint before switching to the soft tyre to go to the end of the race. But the Ferrari driver was again unable to get ahead of Russell, instead being overtaken by the other Mercedes of Lewis Hamilton, forcing him to settle for fourth.
READ MORE: 6 Winners and 5 Losers from the Hungarian Grand Prix – Who finished the first half of the season on a high?
"Honestly, the pace wasn't great... I think I was struggling a lot with the front tyres; the balance was nothing close to where it was on Friday," he admitted afterwards. "I couldn't push on the tyres, and in the end, 70 laps, I think we ended up where more or less where we deserved to be because we just didn't have the pace we had on Friday.
"We clearly struggled as a team. We are a bit puzzled because we expected to have very good race pace coming from Friday. But it's clear that these lower temperatures, the track condition changes that we had today there was something going on with the car and the tyres that we just were not fast."
When asked about the slow stops, Sainz said: "Today we had a bit of bad luck there in the pit stops because we definitely had a couple of slow ones. Particularly the first one was costly, because I think we would have just got George with an overcut, which would have put me leader of the race at the time, which was a bit of a shame, but yes, it's how it goes today.
READ MORE: Binotto says Hungarian GP wasn't winnable for Ferrari – and that tyre choice wasn't decisive factor
"We've been decent on pit stops the whole year, but it is true that now and then there are a couple of pit stops that are failing us and we need to analyse what we can do better so we can be stronger in the second half."
Ferrari came under fire for their strategy during the race after pitting Leclerc from the lead on to the hard tyre. And from P2 and P3 on the grid, neither driver ended up on the podium. However, Sainz defended his team, insisting that the performance of their car was more of an issue than the strategy itself.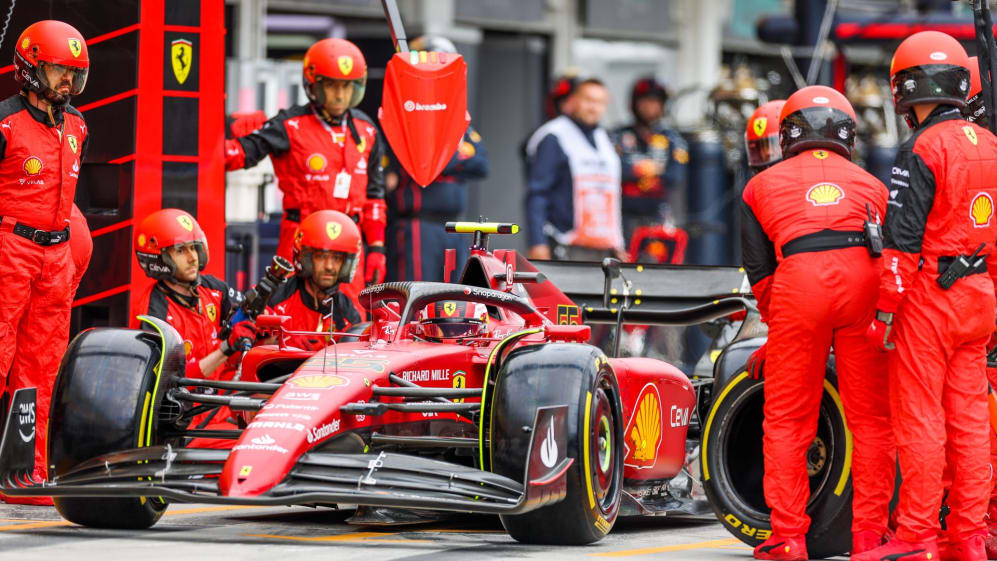 "I don't know what we could have done better on strategy," said Sainz. "But I can tell you that when the pace is bad like it was today, the strategy is always difficult because you don't have pace with any compound, you are always going to struggle with strategy because you have very little flexibility.
READ MORE: How savvy reconnaissance laps, sublime strategy and racecraft paved the way for Verstappen's unlikely Hungary win
"Yes, the pit stop cost me today, two times, and majorly in my second stint because from probably leading the race I went to P3 and having to manage the tyres a lot, which was a shame. But do you include that as a strategy, I don't know.
"I think today we were just slow. If you compare our pace against the Red Bull on Friday to our pace to the Red Bull today, there was clearly something in the car and in the tyres that we were not doing right."