Sainz 'struggling to accept' lost chance at P1, as Leclerc crash ends hopes of dream Monaco pole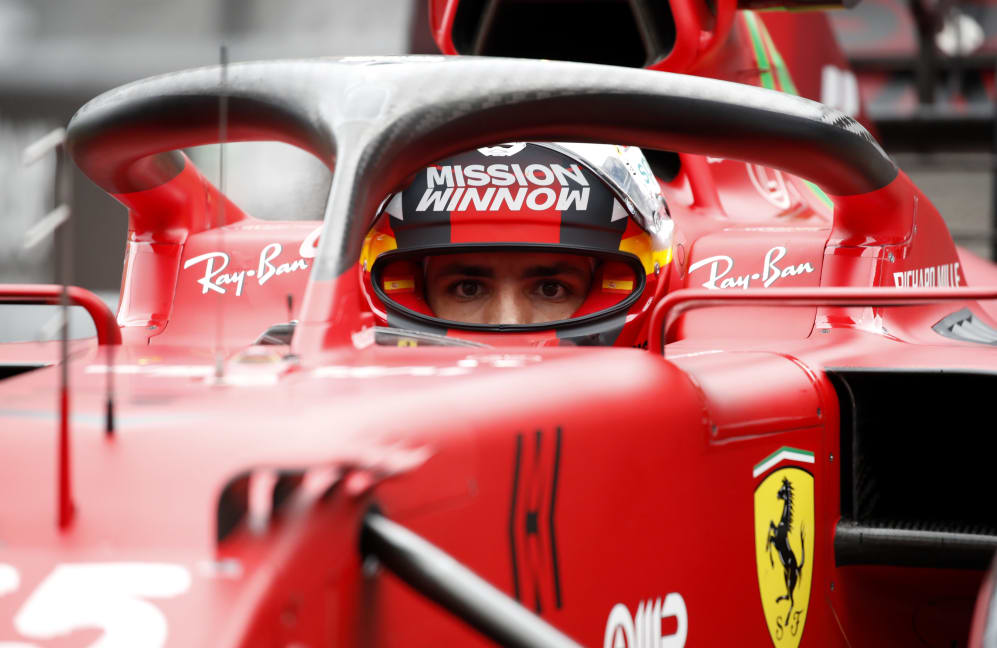 Carlos Sainz banged his steering wheel with both hands in frustration after being forced to abandon his final qualifying run – and with it he believes his chance at a maiden pole – after Ferrari team mate Charles Leclerc crashed into the barriers at the Swimming Pool section in Monaco.
The Spaniard has been on the pace from the very first lap in the Principality this week, finishing inside the top two in all three practice sessions, marking him out as a contender for his first-ever pole position. He carried that form into qualifying and was looking to challenge for P1 until he was greeted by waved yellow flags – and he ended up fourth on the grid, as Leclerc took pole.
READ MORE: Leclerc beats Verstappen to sensational Monaco pole as late crash prevents others improving
"I'm very disappointed to be honest," said Sainz. "It is a difficult thing to accept, to digest. It's not like every day of your life you have the opportunity to put it on pole in Monaco because today I definitely had the pace to do so, but due to the circumstances I didn't. it's a very frustrating day for me.
"Run one I lost two to three tenths in the last sector compared to my best lap so I knew a 1:10.2, 1:10.1 with the track evolution was there. I had a lot of traffic, Perez into turn 1, and I already lost a tenth, but then I was recovering the lap time and knew I had the lap time in the last sector, but it was out of 13 I saw the yellow flag and had to abort.
"I have had the pace to put it on pole, so yeah, I'm starting fourth, so not even close to that. I went in quali thinking a pole and the win would be possible and now I'm lining up fourth which is very far away from where I think I could have been.
READ MORE: 'That's life' says Verstappen as he watches Monaco pole position bid slip away with red flag
Despite his disappointment, Sainz said he could bear no ill will towards his team mate: "I cannot be angry with him [Leclerc]. We are here at the limit, pushing these cars like you cannot imagine, brushing nearly every corner, fastest cars in history, these things can happen.
"I'm unhappy with life for the circumstances now that haven't given me the opportunity for the first time I fight for pole, at Monaco with Ferrari, I didn't get the possibility to get that."
Sainz feels a podium is still possible on Sunday, given the speed he has shown so far this weekend, and he takes confidence from the fact he has been able to extract pace from the car despite this being only his fifth Grand Prix with new team Ferrari at a track.
"Yeah [a podium is possible]," he said. "I have the pace, on Thursday I had the pace, I was very competitive. If you tell me I start P2, maybe I have a chance to win but I'm starting fourth which is the most painful thing of all. Second row, dirty side, is a place that is not very good going to Sunday. That's why my brain right now is so upset, so frustrated, because nothing is good about today."
He added: "I'm sure when I digest this weekend and look back my brain will be much more happy, my fifth race with the team, around Monaco, a high confidence track, and been pushing one of the guys I've ever driven against in Charles - at a lot of points during the weekend I've been quicker [than Leclerc] - to have that feeling with the car so early in the season is something to be proud of as it's not like the other new guys to teams are doing so well here.
"I have to be happy but my brain right now is not happy as a top two for the team was possible."