Schumacher looking to 'put my mark' on Spa track where father debuted 30 years ago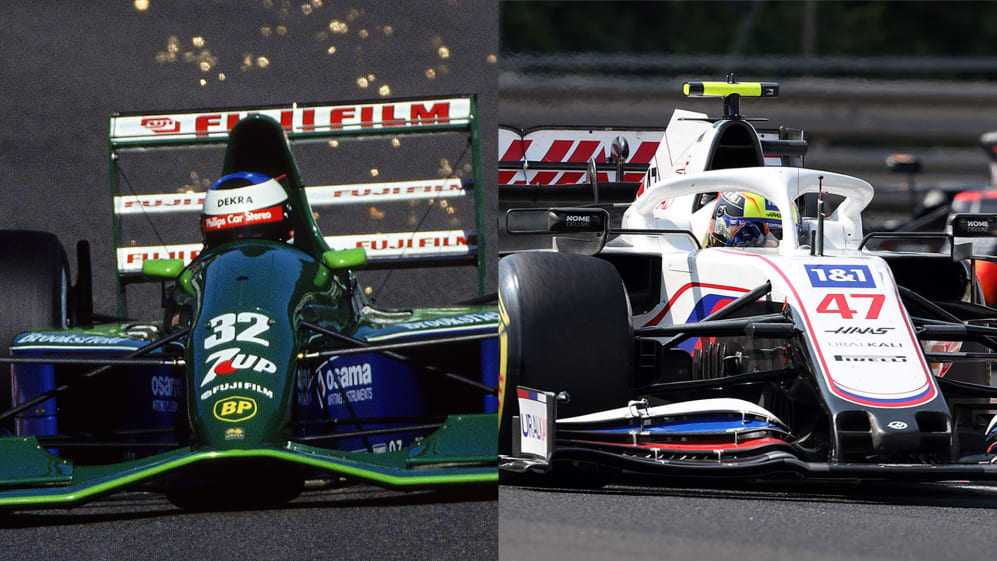 The 1991 Belgian Grand Prix bore witness to the F1 debut of Michael Schumacher. And with his son Mick set to make his own first outing as an F1 driver at Spa 30 years on, Schumacher Junior said he was keen to put his own mark on the track.
Michael Schumacher stunned on the occasion of his debut in the Jordan 191 by qualifying the car P7 at Spa, while a year later, Schumacher would go on to take his maiden win at the track for Benetton, his first of six victories in Belgium.
READ MORE: Ferrari boss Binotto rates Mick Schumacher's progress in first year of F1 against pre-season objectives
And Mick Schumacher – who drove his father's Benetton B194 in a demonstration run at Spa in 2017, before recently sampling Schumacher Senior's Jordan 191 – said he was looking forward to writing his own chapter at the iconic Belgian circuit when he races there with Haas this weekend.
"Driving my dad's Benetton in 2017 was a great experience," said Schumacher. "Now, five years later, I'm driving in Formula 1 myself and that's 30 years after my dad made his debut. It's a really special moment for me and my family, so very happy to go there and put my mark on that special track too."
Schumacher heads to Spa on the back of an attacking drive at the Hungarian Grand Prix, which saw him battle hard with the likes of Max Verstappen and George Russell – with the young German keen to carry on that form at a track where he scored his first F3 win in 2018.
"In general, Spa is my favourite track, in any circumstance," he said. "It was [where I took] my first win in Formula 3 in 2018 and the first one from a good streak. It was also my first pole position that year. It was very good to start off there as it's such a special track to us as a family, and to me, so I'm very happy to be able to go back there and hopefully we'll be able to pull something out of the hat, which would be great.
READ MORE: Schumacher proud he didn't 'crack under pressure' when racing frontrunners in Hungary
"For me, coming back to Spa is just great," he added. "I was there last year and previous years and obviously we've had a lot of ups and downs there. It's definitely one of the most challenging tracks – it's super long, there's a lot of undulation in it, it's very historical and definitely one of the most special weekends that we have on the calendar, so I'm really looking forward to going back."
Schumacher's goal for the second half of the season will be to prevent Haas ending the year as the only point-less team on the grid, after rivals Williams netted a bumper 10 points at the previous round in Hungary.