Schumacher reveals why he asked Vettel to look into his Haas cockpit in France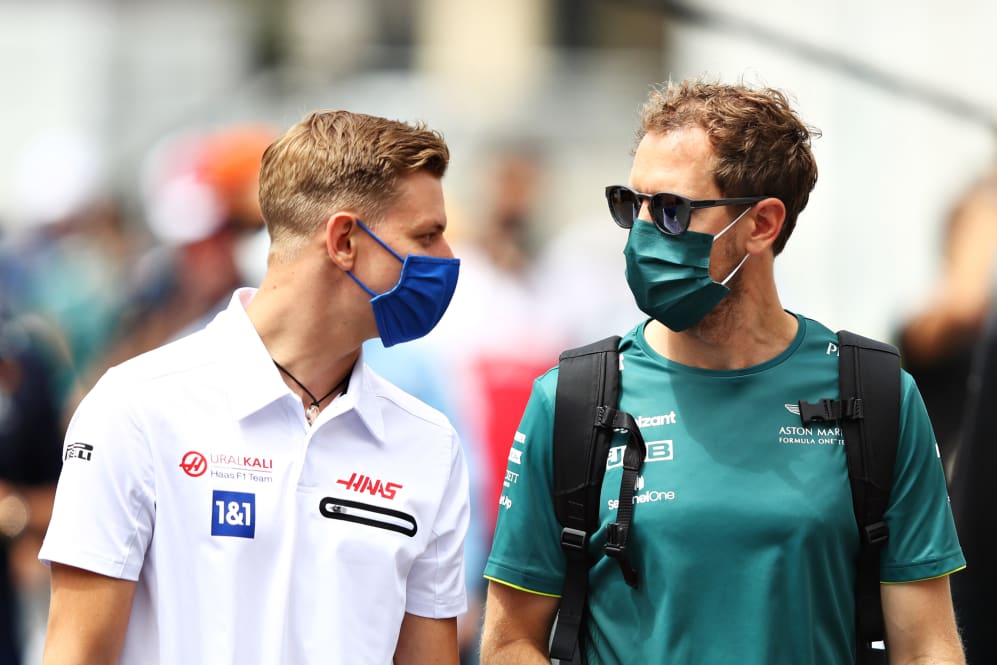 Detective Vettel re-surfaced in France as the German driver was spotted looking inside the cockpit of Mick Schumacher's Haas VF-21 – but ahead of the Styrian Grand Prix, Schumacher revealed why the Aston Martin man was sleuthing last Sunday…
Sebastian Vettel has been seen catching a look at rival cars in Formula 1 paddocks and parc ferme areas plenty of times over the years, and most recently he was spotted having a look at Schumacher's cockpit at the end of the French GP. Here in Austria, ahead of this weekend's Styrian Grand Prix, Haas rookie Schumacher explained that the Aston Martin driver was trying to help him by checking out his seat.
READ MORE: Strategy games, Ferrari's response, and potential race drama – 5 reasons we're excited about the Styrian GP
"Basically, I have been sitting in a crooked position since the beginning of the season just because the seat is too central but [my back is] not straight," said Schumacher. "We've actually been talking about it before and so we, or I, took that opportunity to show to him, and yes, just spoke about the seat. He gave my mum a tip of maybe breaking it so I would get a new one sooner but it didn't happen in the end, so I have still in the same seat for now," he joked.
"Don't always follow the advice I give!" replied Vettel as he added: "The key, the thing is, it's very simple; I spent so many years racing and we spoke about the seat during the week last week and there's always small things you can improve and look at so I wanted to have a look and we had a look."
Oops! Error retrieving Twitter post
Schumacher went on to explain that the seat issue is not harming him in any way and that it wasn't high on the priority list for Haas to fix, when asked why it had taken so long for Haas to find him a comfortable position in the car.
"It's not as bad as maybe some might think. It's a small offset," said Schumacher. "It's something that I have been used to in junior categories. And to be fair, doesn't harm me in any way while driving. It is something that for us is a secondary concern right now.
WATCH: Misery for Ferrari and a classic 'last lap Lando' move – Relive the 2020 Styrian Grand Prix
"For me, or us, it's mostly about trying to get everything ready for the weekend and being prepared on that level and maybe setting our focus on something else instead of wasting it on something that is maybe not affecting me right now – but as I said, it's something that is in plan and for sure after the summer break we'll come back with something that is a bit more [comfortable].
"But we've been working on it in the beginning of the season quite a lot. We got to something that was comfortable enough for me to keep going, so we just left it with that," he concluded.