Schumacher says collision with Russell 'killed' his race after P13 finish in Singapore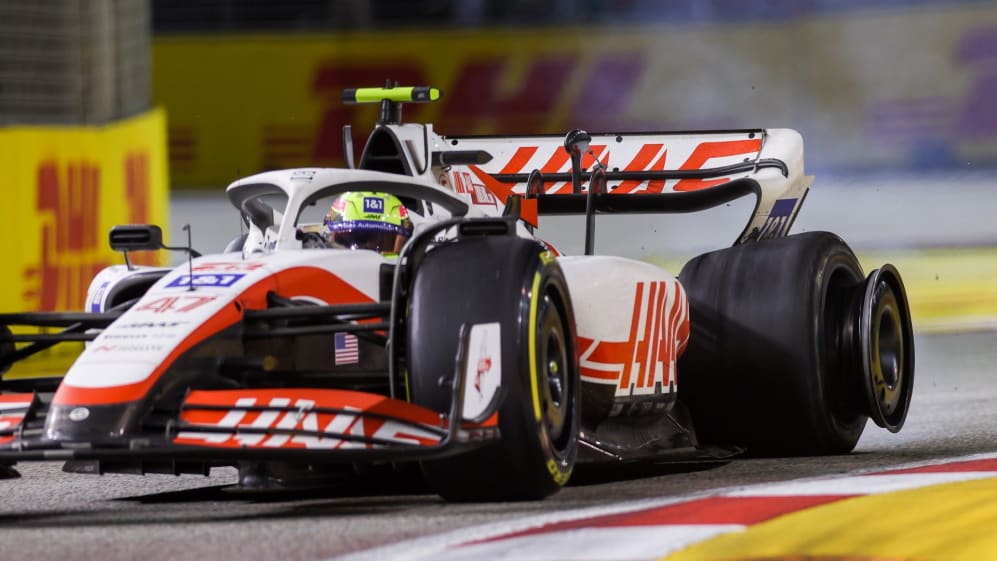 Mick Schumacher was in the running for a first top-10 finish since Austria at the Singapore Grand Prix, until a collision with George Russell dropped him down the order to P13 at the chequered flag, leaving the German lamenting what might have been.
Schumacher and Russell where battling for 10th on Lap 40 as the Mercedes man looked to make a move down the inside of the Haas racer into Turn 1. However, as Russell moved past, the two drivers' touched tyres, forcing both to come into the pit lane with punctures.
Schumacher was able to finish in 13th and while he believes the result could have been much better, he took solace in Haas's positive performance over the race weekend.
READ MORE: Magnussen bemoans 'over the top' black and orange flag after P12 finish at Singapore GP
"Unfortunately, it didn't [work out in the race]," said Schumacher. "Obviously, the contact with George was probably the one that killed our race, with the puncture and everything. Nonetheless, we finished in P13, I think we can say in one way that we are happy that we finished [when] not a lot of people did.
"Being the only rookie coming to the race to finish also is an achievement, so we can tick that box. We had the pace; we had the pace for points and unfortunately, we just got unlucky. Nonetheless, we're going to Suzuka with a good feeling."
The two were also seen competing for P13 later in the race, and when asked to reflect on the two battles between the pair, Schumacher said: "I knew he was quicker, but it was just a matter of time, but I think in the first battle we had it was probably a bit risky.
"But on the other hand we are all racing for points, all racing for our own positions. So, I could say in the sense we are all fighting for our own race."
DRIVER MARKET: Who will get the nod to partner Magnussen at Haas next season?
Guenther Steiner called the outcome of Haas' Singapore Grand Prix "disappointing" with Kevin Magnussen also finishing outside the points in 12th. But like Schumacher, while he was disappointed with the result, he also saw the positives in the team's performance.
"A disappointing race as we could've scored points here realistically, without dreaming of them," said Steiner. "Mick was very close to points, almost in it, and then he had contact with Russell and that put him out of the race for points. We showed what was possible, but we didn't bring any points home."