Feature
Schumacher vs Ilott: Who will come out on top in the F2 title race showdown this weekend?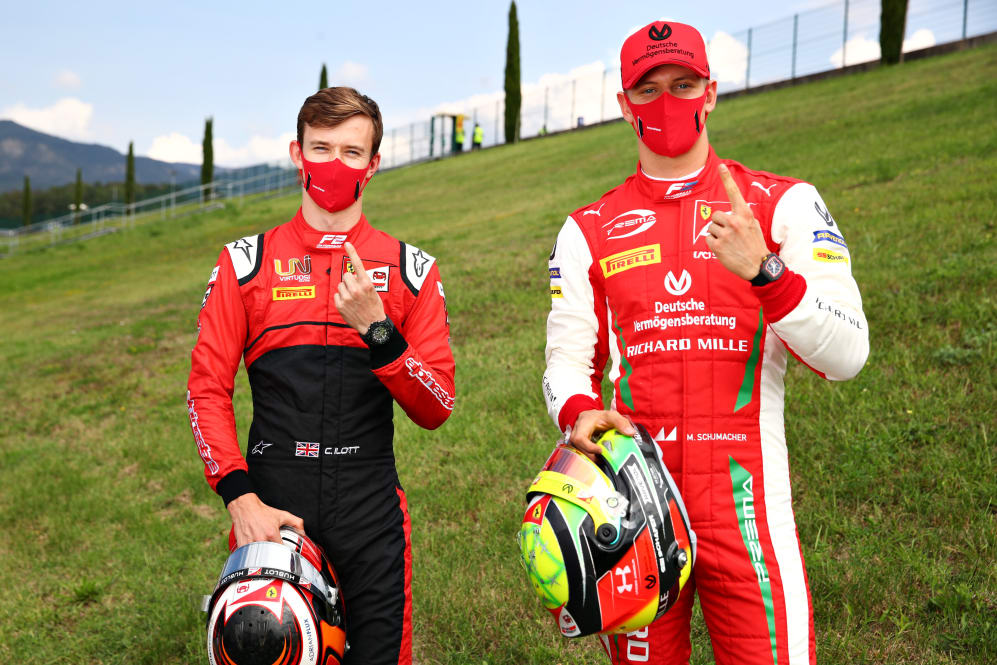 The tightest Formula 2 Championship in recent history is set to go down to the wire in Sakhir, but will 2021 Haas Formula 1 driver Mick Schumacher seal his promotion into the pinnacle of motorsport with a title, or could Callum Ilott pip him to the crown? We look at the key questions going into the F2 season finale.
What's the situation going into this final round?
Despite his worst points haul since Round 4 last weekend, Schumacher remains in prime position to seal the F2 title in the season finale. It feels a lot more uncertain than this time last week though, with Ilott slashing Schumacher's lead at the top of the standings to 14 points, down from 22.
Schumacher's performances felt very reserved in Bahrain. The German knew he could ill afford any risks and his displays on track reflected this. Of course, his trademark strong start remained in the Feature Race, as he flung his PREMA from 10th to fifth off the line and into the first turn, but from there, everything felt much more calculated.
READ MORE: Mick Schumacher to race for Haas in 2021 as famous surname returns to F1 grid
A podium looked very much on the cards – as did a victory at one point – but in the end the Ferrari junior looked happy to settle for fourth. It was a similar story on the Sunday when he actually dropped two places and crossed the line seventh.
That perhaps had something to do with a rather hairy moment between him and his 2021 Haas team mate Nikita Mazepin. The Russian attempted to barge past him at the first corner on Lap 4 and the German only narrowly avoided contact.
Ilott already knew going into the weekend that he would not be driving in F1 next season. Given the nature of this news, he could quite easily have thrown in the towel, but instead it spurred him on. The Briton took his fifth pole of the season – two more than anyone else – and a sixth podium in the Feature. He isn't giving up without a fight.
READ MORE: Drugovich wins Bahrain Feature Race as Ilott cuts Schumacher's championship lead
Mathematically, Mazepin (43 away from the lead) could make a late bid for the title, as could Robert Shwartzman (46 away) and Yuki Tsunoda (48 away), but realistically, it's a two-way fight.
How many points are on offer?
Forty-eight in total, but given that no driver in the history of Formula 2 has ever enjoyed a perfect weekend, that feels a little unlikely. Schumacher has taken four double podiums – an F2 record – and another two this weekend would see him equal 2019 champion Nyck de Vries for the most rostrums in a single season, with 12.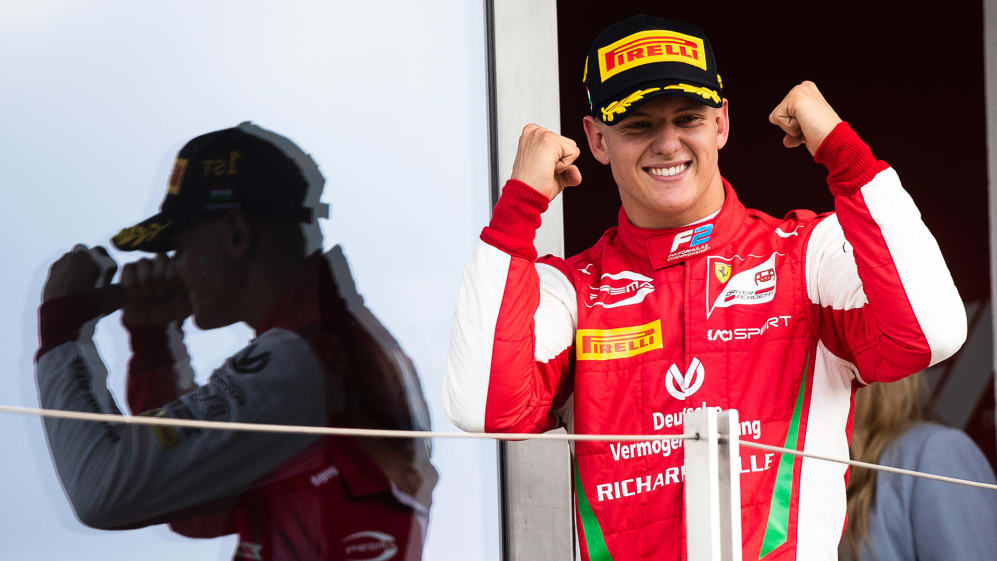 The German is also yet to take pole or the fastest lap in F2 this season, so would need to achieve both of those feats for the first time in Sakhir to take all 49. Given the cautious nature of his performances in Round 11, you would expect his focus to be on maintaining the gap between him and Ilott, as opposed to increasing it.
A sixth pole for Ilott and the four points that come with it would go some way to eating into Schumacher's lead. If he achieves that, he'll only need to outscore the German by 10 points overall – a feat he hasn't managed since Round 5 at Silverstone – as the Briton would take the title on most wins. Ilott has three to Schumacher's two.
Who's in the box seat?
Schumacher entered Round 11 full of confidence. He looked relaxed and very much at ease with the situation and it will remain that way going into the season finale. The German could wrap things up as early as Saturday if he finishes the Feature Race with an 18-point advantage over Ilott.
ANALYSIS: The inside line on how the Schumacher name returned to F1 – and what we should expect from Mick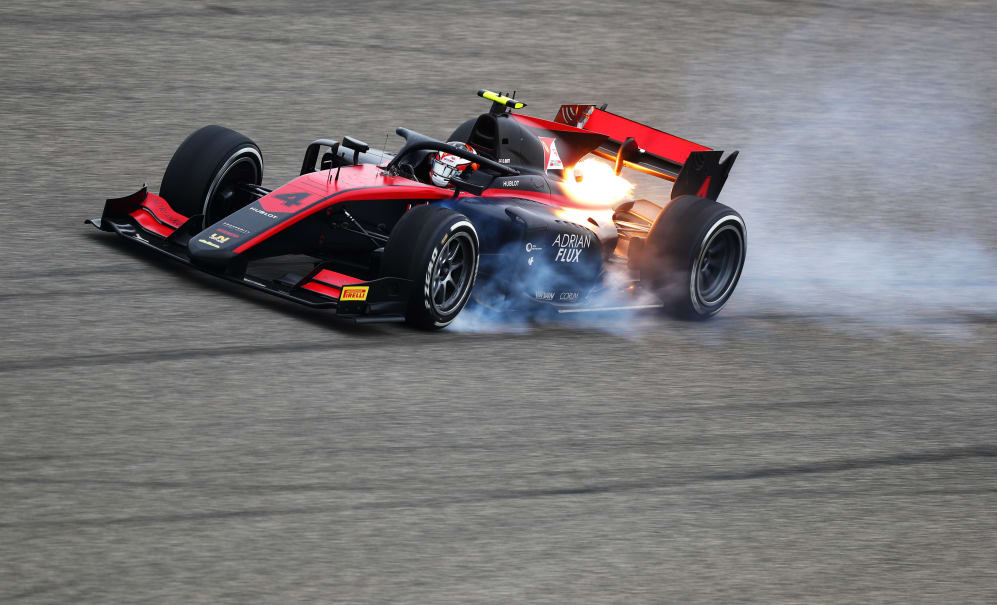 Sounds easy enough right? Not quite… Like F1, the second tier will be using Bahrain's outer layout, which is like nothing F2 has ever seen. It's nearly 2km shorter than the normal Sakhir circuit and will require an epic 48 laps in the Feature Race and 34 in the Sprint. Schumacher's team mate, Robert Shwarztman, branded it as "NASCAR style", and the grid are heading into the weekend very much in the dark.
WATCH: See how Bahrain's Outer Loop compares to the usual Grand Prix circuit
In theory, the fact that there are fewer corners should result in slightly lower tyre wear and could mean that the Pirellis can be taken longer into the race, but given the unpredictability of F2's 18-inch tyres this year, no one truly knows what to expect.
Strategy has played a key role this season – see the Barcelona and Mugello Feature Races – and could be set to do so again this weekend. Meanwhile, the fact that Schumacher has arguably been the strongest driver in regard to tyre management should play into his hands.
Only one thing's for sure: it will make for box office viewing.
You can catch all of the action live on F1TV from 1505 (local time) on Friday, December 4. Visit FIAFormula2.com for full results, reports and more.