Interview
Sebastian Vettel Q&A: I won on pace, not in the pits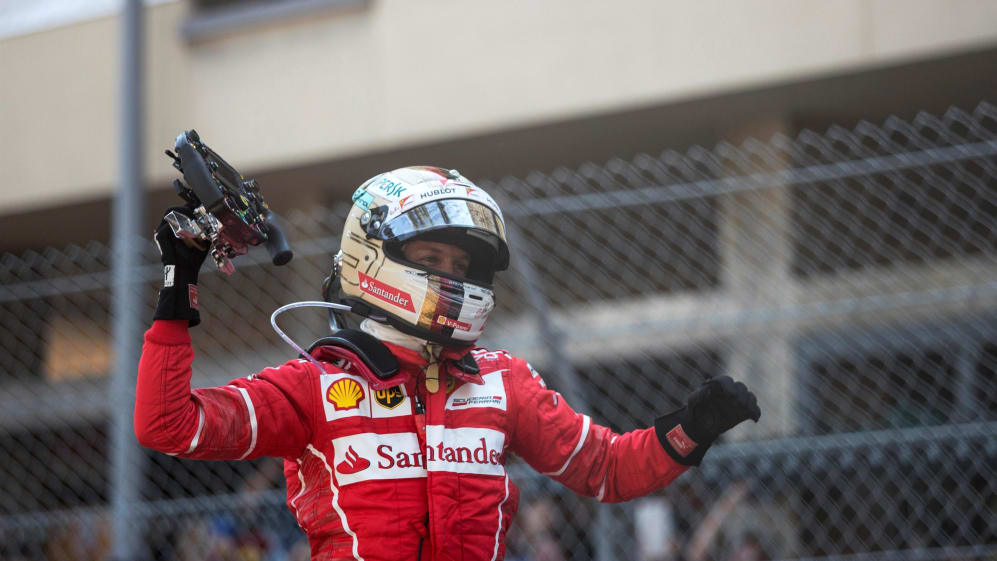 Sebastian Vettel dismissed suggestions that Ferrari's strategy in Sunday's Monaco Grand Prix was deliberately calculated to ensure he – and not polesitting team mate Kimi Raikkonen – took victory. According to Vettel, the car in front was always going to pit first, and the faster driver won the race – simple as that. Here's what the German had to say to the media after recording the Scuderia's first triumph in the Principality since Michael Schumacher in 2001…
Q: Sebastian, how sweet is a Ferrari win in Monaco? Three days ago you said it was about time that the Scuderia were back on top here…
Sebastian Vettel: Very sweet. I was dreaming in the night of how I could manage to pass Kimi at the start. That was only a dream, as it didn't work and I was rather frustrated, so I knew I would have to be patient in the first stint. On top of that the rear tyres started to degrade, so it was a pretty tough phase for me as Valtteri [Bottas] was closing the gap from behind, so I knew that pitting would be a crucial moment. I was lucky, as the car stabilised.
When Valtteri pitted it was clear that Kimi would have to react and that I would stay out. This was the plan from the very beginning - that the car that was in front would pit first. So I stayed out and gave it all in those laps and believe it or not the two or three laps that I stayed out were better than my qualifying lap on Saturday! I was definitely on the limit - and it paid off as I came out first. After that it was sort of easier, as I was able to control the race.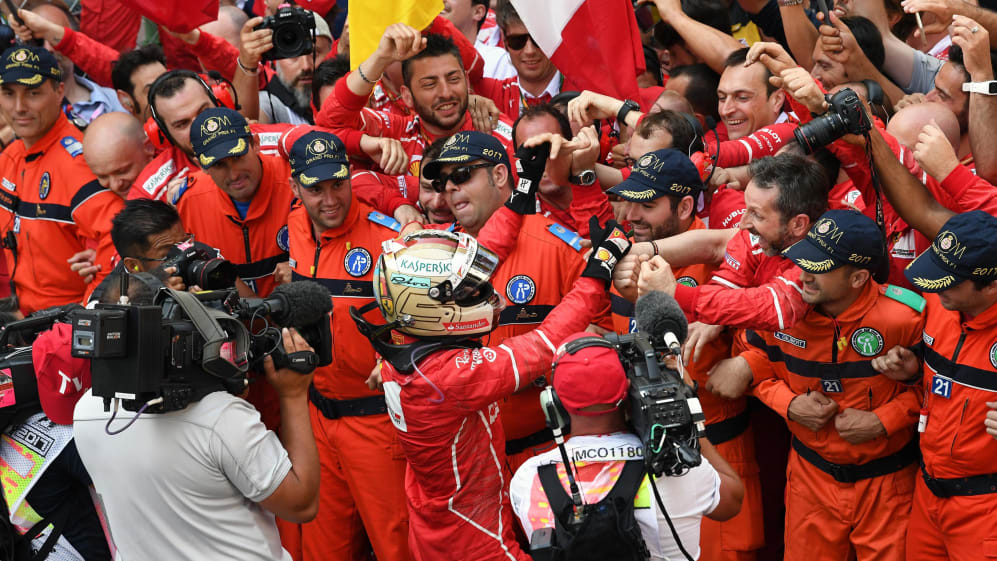 Q: What does that win mean? Ferrari's first here since 2001, your first here for the team here…
SV: It's really hard to find the right words. Saturday I was really pissed and there was only the hope that we could turn it around - but today we did it. Of course it is a superb result for the team. That is the main point. Yes, there have been crucial moments in my race like the decision to stay out doing 'flying laps' and jump to P1. The safety car was another, as I was on cold tyres and the risk was hard to judge on what would happen if it leaves the track again as the gaps were melting away. But suddenly I felt comfortable again in the car - and from then on it was a bit of a 'home run'!
Q: Were you surprised by how much time you could find in your car?
SV: A bit, yes. I told the pit wall that I estimated half a second, but in the end it was one second. And to tell the truth I wouldn't have been able to go any faster - I was on the limit and so was Kimi. But when he pitted the tyres mysteriously bounced back. Probably it helped that there was nobody in front of me and that I could let go with all that I had.
Q: Could it be that you won the race in the pits?
SV: Not in the pits, no. I wouldn't say that. But on the track with the old tyres - I was able to squeeze the most out of them. In the first place I was racing against Valtteri - and as long as the tyres lasted nothing spoke against staying out. What concerned Kimi I think is that he had some traffic ahead of him - and probably some issues getting the tyres up to temperature. And the times that I got from Valtteri were pretty fast, so I was surprised that I came out first after pitting.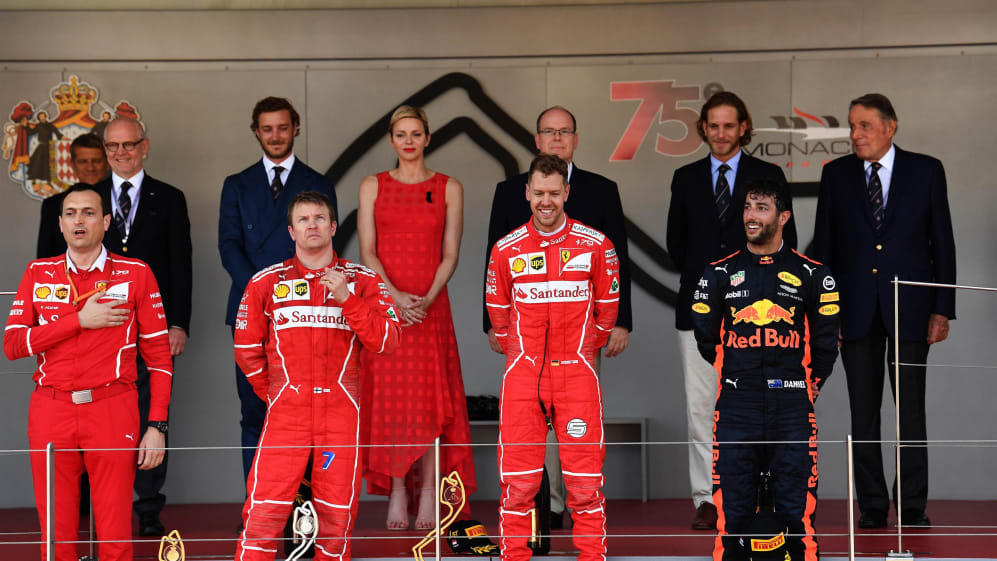 Q: Kimi looked less than happy on the podium. Have you spoken to him?
SV: No, but I have heard that he was rather unhappy. And I can understand it, because the other way around it would be the same. But the plan was always that the car in front would pit first – and that is what happened. It was simply not foreseeable that the other way around was the better solution today.
Q: Are you a bit surprised that you are having to 'defend' your win?
SV: I think it is understandable that if you start from pole and go into the first corner in P1, you have certain expectations here in Monaco - so I can understand Kimi not being overly excited. I just knew that when Kimi pitted this was my turn – now or never – and you try anything possible. And it worked for me.
Q: All drivers say that if they can choose a race to win it would be Monaco. You have now won it twice - how is it doing it again?
SV: Somehow unbelievable. If you think of all the F1 aces that have won here several times, it makes you very proud. It is a fantastic moment for me and the team - something very special. Now let's see that we can keep up the momentum.