Second-placed Hamilton hoping to 'tow the life out of Leclerc' at the start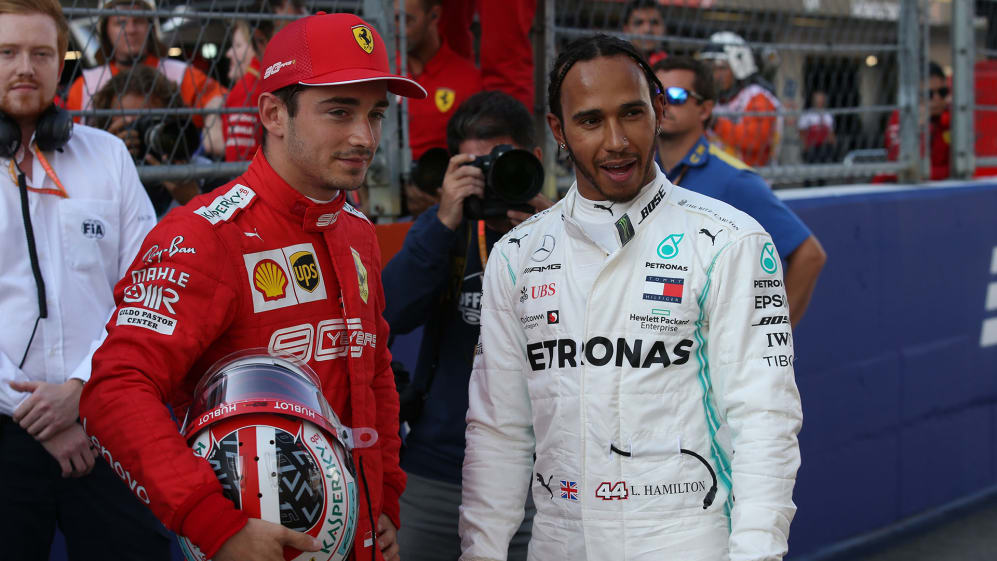 For the third qualifying session in a row, Lewis Hamilton had to settle for second place behind Ferrari's red-hot Charles Leclerc. But while the Mercedes man failed to get the jump on the Monegasque at the starts in Italy and Singapore, Hamilton hopes the long run to Turn 2 in Russia – Sochi's first proper corner – will help him push his nose in front this time out…
Second on the grid in Russia represented something of a reversal of form for Hamilton, who had not out-qualified a team mate in Sochi since taking pole in 2014. And having split the Ferraris for the second race in a row – despite giving away what Mercedes boss Toto Wolff said was in the region of seven to eight tenths of a second to the red cars on the straights - he was understandably buzzing after jumping out of his car.
I'm going to try to tow the life out of Charles if I get the chance
"I tell you it was a tough qualifying session because these guys have some crazy speed on the straight, they go to another level. That whole party [engine] mode you talk about us having, they have something else on there – jet mode.
READ MORE: Ferrari 'improving at a serious rate' says Hamilton
"Nonetheless I gave it everything I had at the end and the team did such a good job to tinker and push forwards and I am so glad it came together. I wasn't expecting to get on the front row, that's for sure, so yeah I'm really really happy with this."
Unlike Ferrari, Hamilton and Mercedes team mate Valtteri Bottas – who will line up fourth - will start the race on medium tyres, after setting their best times in Q2 on the yellow-marked rubber.
The five-time world champion and current championship leader admitted that choice of rubber may give the soft-shod Ferraris an advantage off the line, but after trying and failing to defeat the Prancing Horse in Belgium, Italy and Singapore, he said Mercedes needed to look at something different.
"We know [Ferrari] are on a slightly lower drag level this weekend, plus they have that power, so we've got to try something," he said. "We've seen in the last couple of races we've been behind kind of all the way, so we're fortunate enough to opt for another strategy. The team has done a good job with opting for another strategy.
"It's a long run up to Turn 1 so it's not always the best for starts on the harder tyres but I'm going to try to tow the life out of Charles if I get the chance. But it's going to be hard because they get good starts as well."
According to Wolff, the current Ferrari is "the perfect package". If Hamilton is to add to his three wins in Sochi, it might take the perfect race…