Report
As it happened: Day 3 of second test from Spain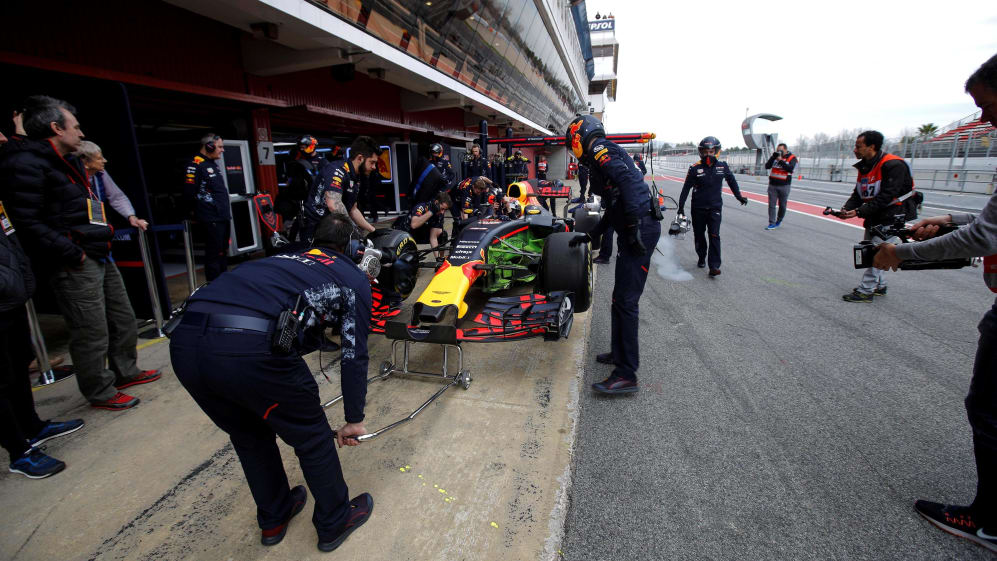 Last week's opening test gave us our first glimpse of 2017's faster F1 cars running in anger. This week we get our final chance to assess the pecking order before the teams head to the season-opening 2017 Formula 1 Rolex Australian Grand Prix on March 26.
This page - updated throughout the day, with newest posts at the top - brings you the key news and information from the second test session of the year at the Circuit de Barcelona-Catalunya...
RECAP
- Vettel lowers the pre-season lap record to 1m 19.024s
- Vandoorne brings out two red flags as electrical issues strike
- Renault also suffer disrupted day
- Four drivers break past 100-lap mark as teams ramp up runs
- Just eight hours of track time remain before Australia
Day three at a glance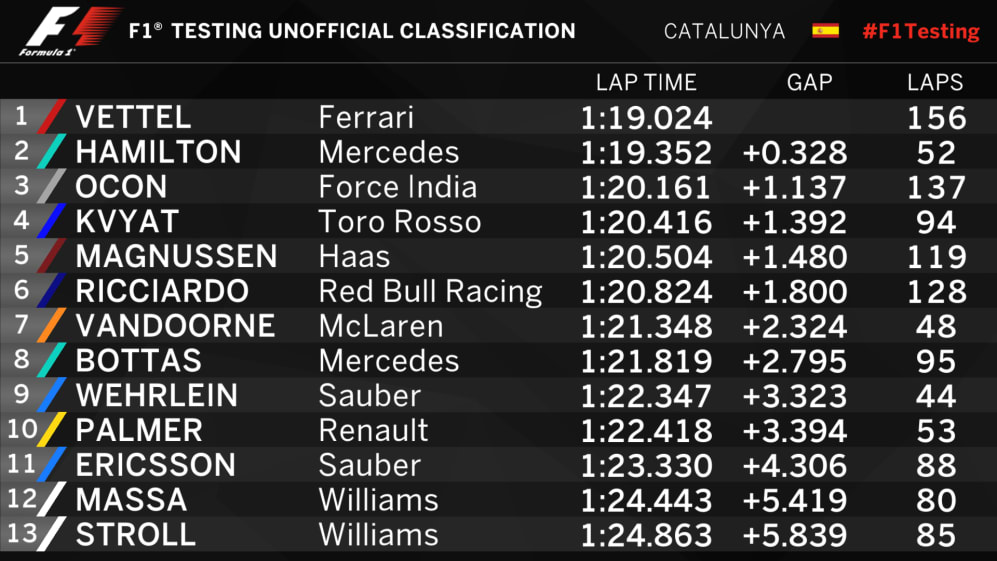 Vettel lifts Ferrari back to the top of the timesheets on the penultimate day of testing then - the third time in seven days they have headed the field.
More impressive than outright times though was the manner in which Vettel managed it - backing off in the final metres of his quickest time, and setting several laps in the 1m 19.3s bracket while running on softs.
The lap count also makes good reading for the Scuderia - although Williams once again emerge on top in that particular count, with Lance Stroll and Felipe Massa managing 165 laps collectively.
Eight more hours of track time tomorrow then - and then it's all on hold until Australia...
The penultimate day of pre-season comes to a close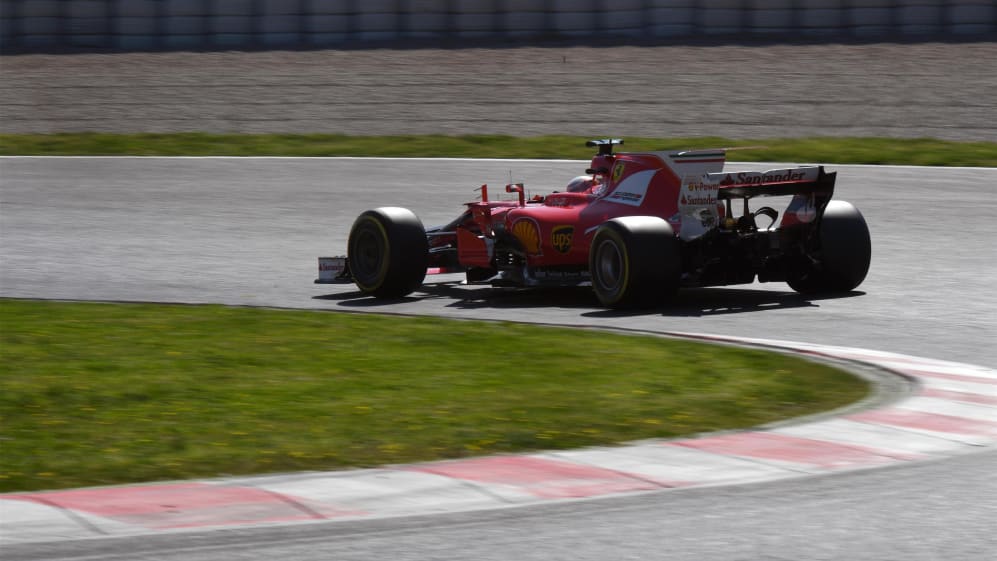 The chequered flag flies to bring the curtain down on another day of intense action in Barcelona. Collectively the drivers have managed a colossal 1,177 laps today, plus we've seen a slew of personal best lap times as the teams begin to get 'dialled-in' in terms of set-up.
Despite suggestions of sandbagging – strenuously denied by Sebastian Vettel – Ferrari end the day on top, with Lewis Hamilton the only driver to join the German in lapping under 1m 20s.
But as positive as this day has been for some teams, for others there are question marks. McLaren have had another stop-start day, while Renault and Toro Rosso have both also caused red flag stoppages, raising further questions about the reliability of the French manufacturer's power unit.
With just one day of track running left until the first race in Melbourne, getting a good haul of laps tomorrow will be crucial.
Simply breathtaking
As the day draws to a close, want to know what it's like to watch 2017's wider, faster, more exciting F1 cars up close from trackside? We've got the answers...
The (updated) 100 club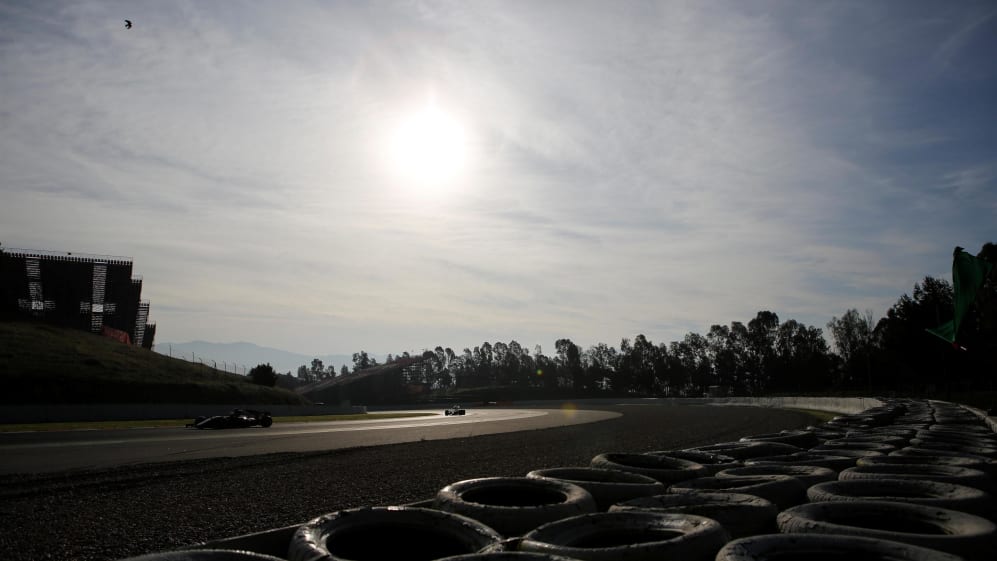 For the first time in 2017 testing we have four drivers to break into triple figures in one day, as Kevin Magnussen joins Daniel Ricciardo, Esteban Ocon and Sebastian Vettel in pushing past 100 laps.
The club might expand yet - Daniil Kvyat is perched on 94 laps.
And of course Mercedes, Williams and Sauber are technically past the mark too - they've opted to split their drivers though, diluting each man's individual tally.
Long runs the name of the game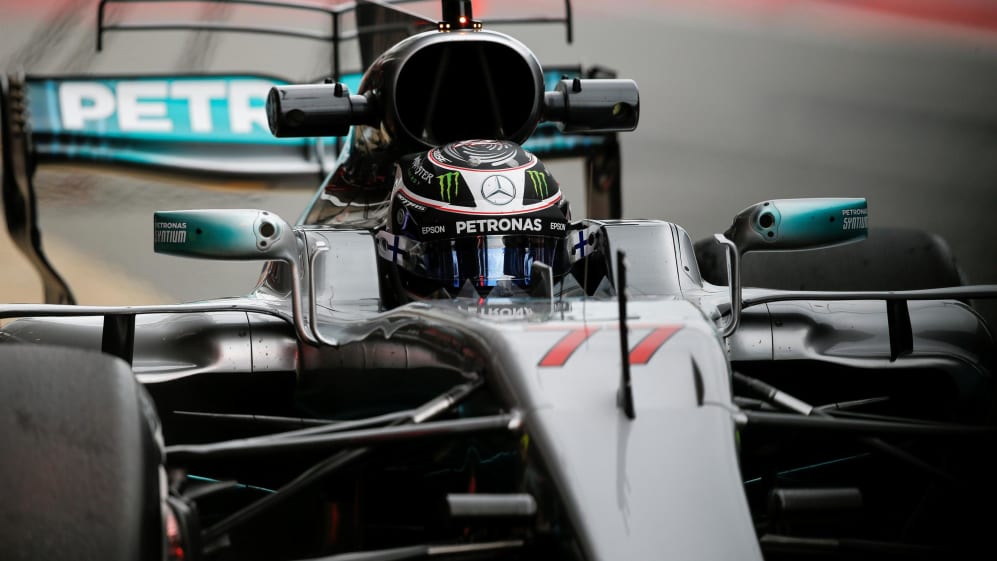 As we approach the final half hour, long runs appear to be the main focus for the likes of Ferrari, Force India, Mercedes, Renault and Toro Rosso. Vettel is out on the supersoft, and circulating regularly in the 1m 24s bracket. Bottas meanwhile is out on the ultrasofts, and is around 1s per lap faster.
Ocon's VJM10 meanwhile sounded a little sick as it crossed the line on what was his final lap before pitting.
Green again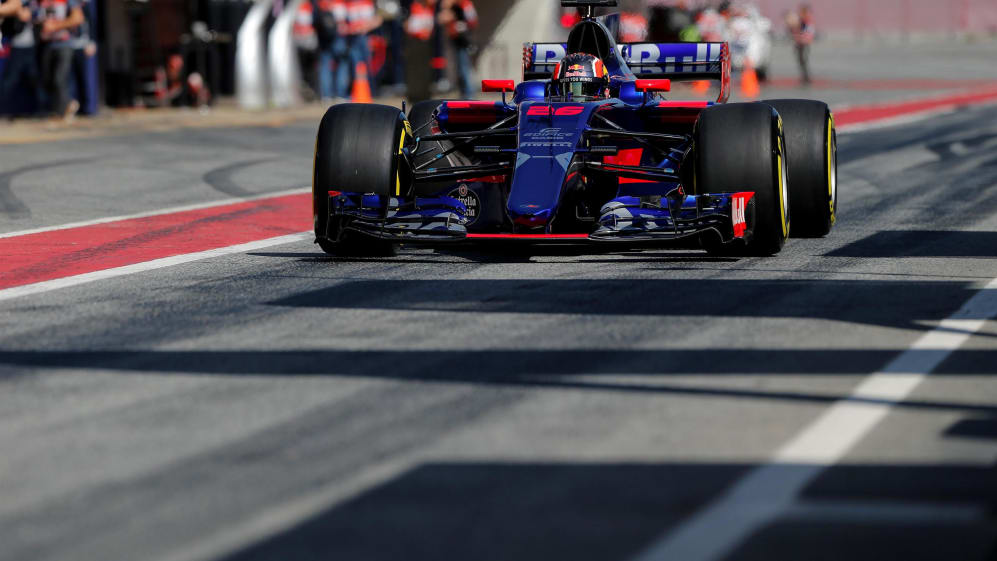 With Palmer's Renault clear, the track is open again with less than an hour of running remaining. Vandoorne is among those quickly back in action as he bids to lift McLaren above the 50-lap mark. And Toro Rosso have resolved the issues on Daniil Kvyat's car. Find out here what the Russian thinks of his and the team's 2017 prospects.
Reds for Renault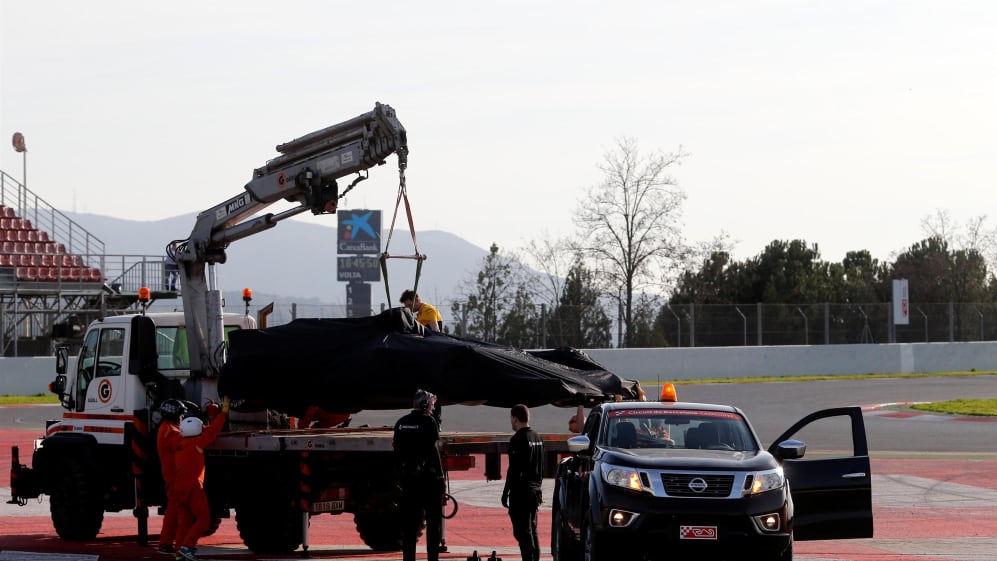 More issues for Renault and Palmer. The Briton has been dogged by technical issues all test - so much so that Renault reshuffled their line-up to give him extra seat time this afternoon. But just after creeping past the 50-lap mark, he pulls to the side of the circuit down at Turn 10, and the red flags duly fly.
Renault are on scene quickly to cover the car, while the big circuit clock keeps counting down - we're nearly in the final hour of the penultimate day of 2017 testing.
Breaking the 100-lap barrier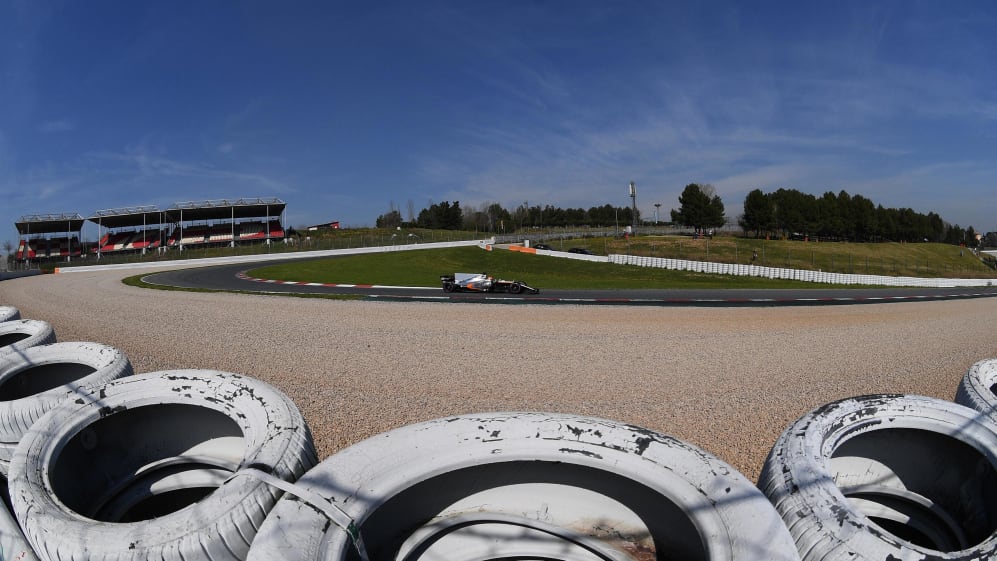 Sebastian Vettel's busy day sees him become the first driver to break into double digits on the lap count, the Ferrari driver swiftly followed by Force India's Esteban Ocon (above). Hot on their heels, Daniel Ricciardo becomes the third driver to clock 100 laps making today the Australian's most productive day of testing from a mileage perspective yet.
McLaren back in action
Oops! Error retrieving Twitter post
After a lengthy spell in the garage, Stoffel Vandoorne returns to the track, an electrical issue the reason for his prolonged absence.
Magnussen weighs in
Oops! Error retrieving Twitter post
Ultrasofts boots for Magnussen pay dividends, as he works down to a 1m 20.504s - that's the fastest Haas have run across all seven days so far. Which means just 1.4s now covers the top five.
It's been a solid day for Haas in general - they're up to 76 laps now, and are fifth in the standings courtesy of that Magnussen flyer.
Toro in trouble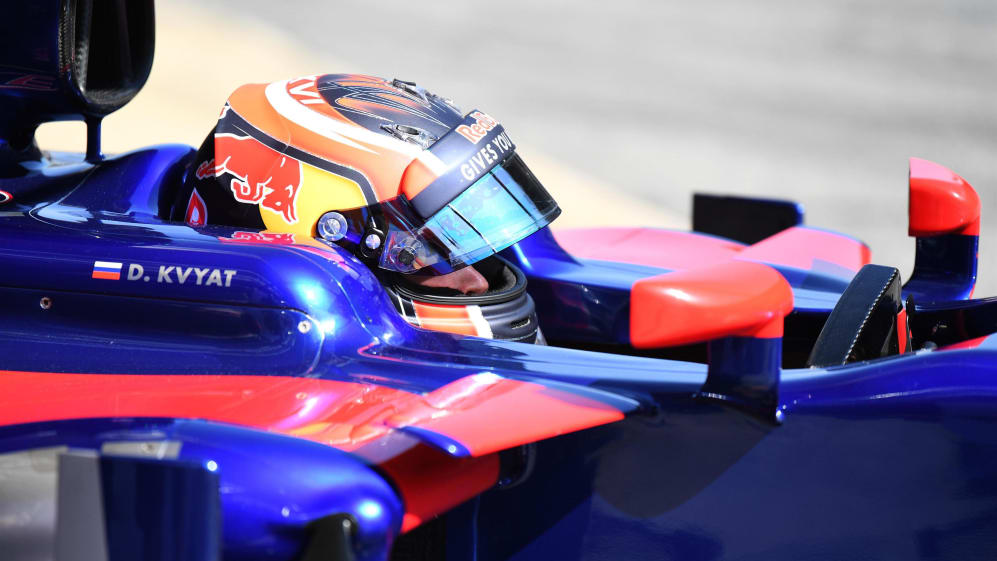 Dannil Kvyat has added 42 laps to his pre-lunch tally this afternoon - but it doesn't look like he'll be adding any more for a while. The Russian brings out the red flags for the third time today as he pulls up at Turn 5. Help is quickly on the way and the Toro Rosso is soon being returned to the pit lane.
A taste of things to come?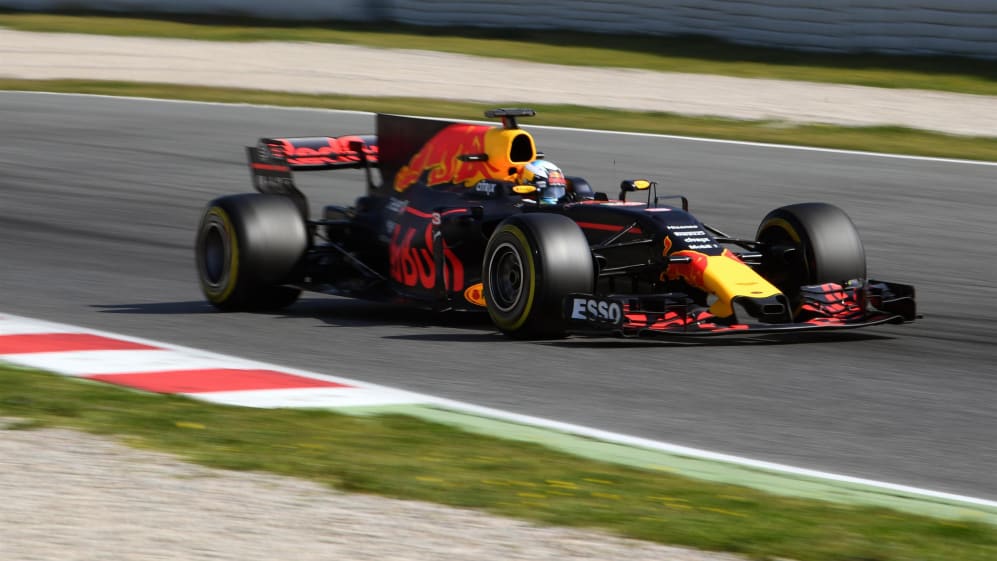 A brief moment of excitement as Daniel Ricciardo (above) and Sebastian Vettel find themselves sharing the same piece of track. It doesn't last long though as the Ferrari – on softs – blasts past the medium-shod Red Bull and quickly disappears into the distance. They may be on different programmes, but you'd be hard pressed to find many people in the pit lane who don't believe the SF70H is the better car of the two at the present.
Renault re-emerge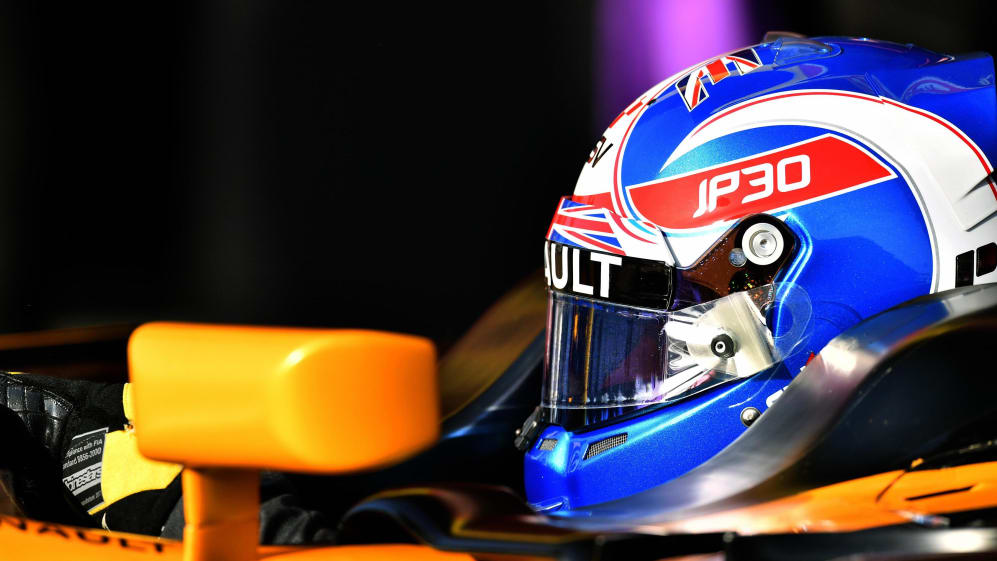 They've missed the first hour of action, but Renault have finally returned to the track – and in a change of schedule it's Palmer who remains at the wheel, not Hulkenberg as expected. Looks like the team have decided to give the Briton some extra seat-time to make up for all the mileage he's lost due to issues.
Back up and running
It took a while for the afternoon session to really get going after lunch, but it's been all action since, with the 'new' drivers – Bottas, Massa and Wehrlein (above) - quickly getting into their stride and logging laps.
One man missing from that list however is Nico Hulkenberg, who was due to take over Renault reins from team mate Jolyon Palmer this afternoon. We say due because the R.S.17 is yet to make an appearance.
Also conspicuous by its absence is the McLaren. When will it return to the track? Well, put it this way, Stoffel Vandoorne has changed out of his race suit, so it won't be going anywhere soon…
The morning leaderboard
It's not just Vettel who has ramped up his personal best time this morning - Esteban Ocon, Daniil Kvyat, Kevin Magnussen and Stoffel Vandoorne also all set their (and their respective teams') quickest times of the winter so far. Lewis Hamilton also lowered his own PB, though Bottas' lap from yesterday remains Mercedes' best.
In terms of laps it's the two drivers at the bottom of the timesheet who end the morning with the biggest tallies - Sauber's Marcus Ericsson and Williams' Lance Stroll. Neither will be back in action this afternoon however, and nor will Lewis Hamilton or Jolyon Palmer, all of whom are handing over driver duties to their respective team mates.
Don't forget, you can follow minute-by-minute timing updates on the new and improved Official F1® App. For more information, click here.
To view a selection of today's finest images, click here.
Vettel in charge - but are Ferrari sandbagging?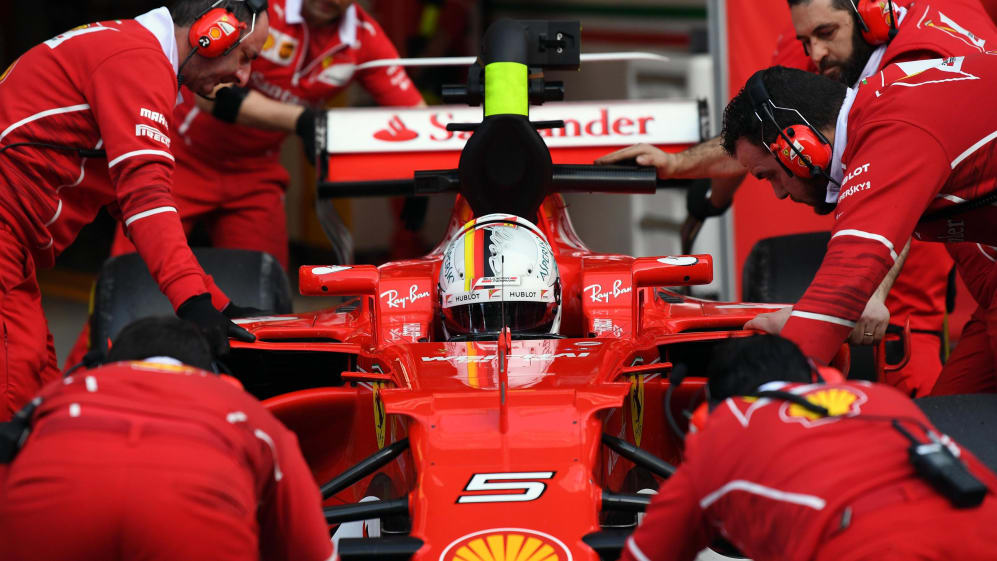 Vandoorne aside, for the last hour or so, Sebastian Vettel has been centre of attention, smashing the pre-season lap record not once but twice.
But there's a strong suspicion that the German left a lot time on the table during those ultrasoft runs – indeed, Vettel's final sector times would suggest a big lift at some point approaching the line.
If, for example, Vettel had merely matched the final sector time that Lewis Hamilton did on supersofts just before the lunchbreak – as the Briton vaulted into second place – the Ferrari star would comfortably already be into the 1m 18s bracket.
The mind games, it would seem, have begun already…
Vandoorne gets going again... then stops again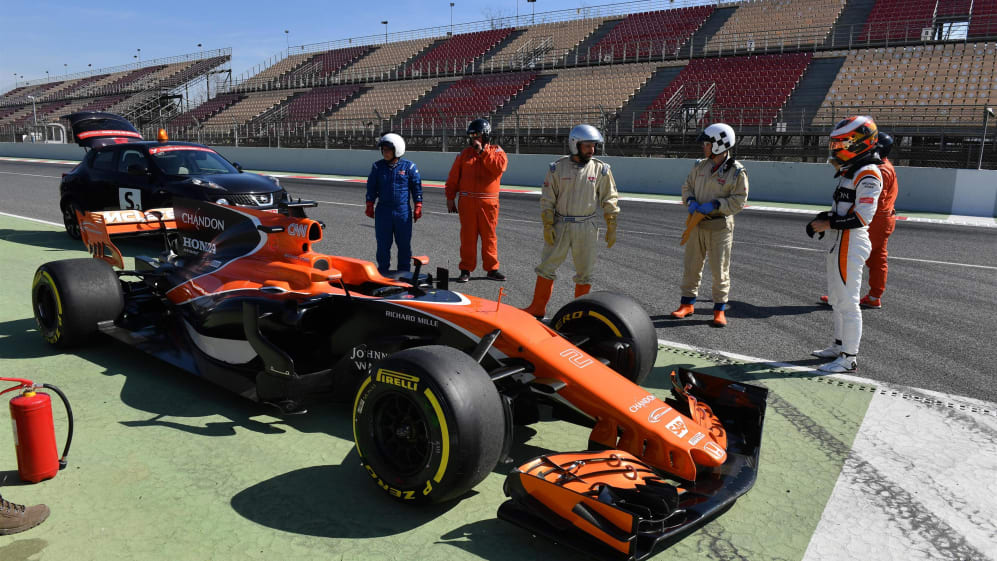 What a rollercoaster morning it's been for McLaren. Having returned Stoffel Vandoorne to the track surprisingly quickly after that earlier stoppage (above), the Belgian brings out the red flags once more as he stops at Turn 10.
Marshals and team members are on hand quickly to recover the stricken MCL32, but it's going to be a busy lunchbreak for McLaren once again.
A blistering new fastest lap for Vettel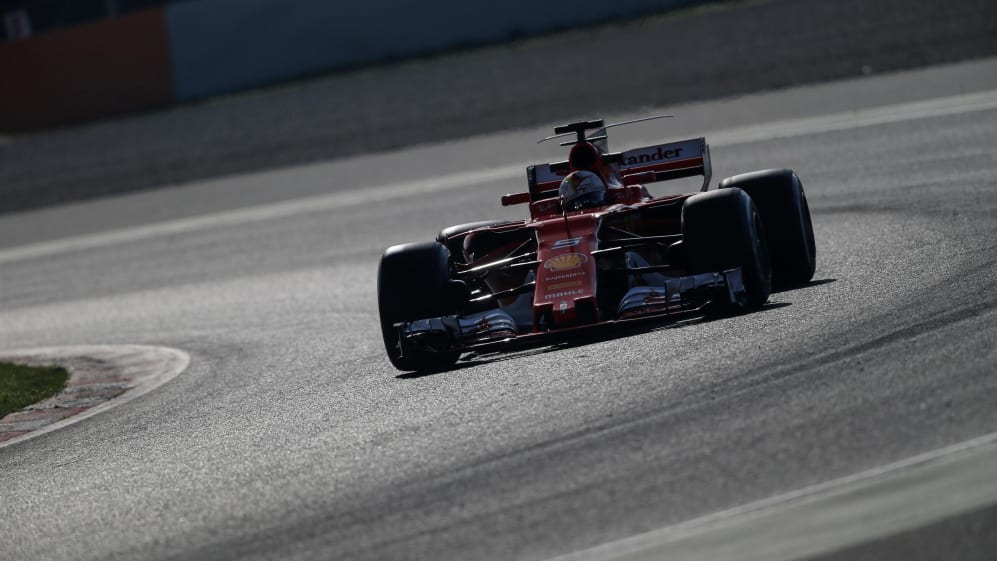 He'd been threatening to beat Bottas's winter benchmark all morning, and half an hour before the lunchbreak Sebastian Vettel does just that.
With the purple-marked ultrasoft tyres bolted to his Ferrari, the four-time world champion flashes round in 1m 19.164s before returning to the pits - but there's more to come.
Moments later Vettel heads out again and lowers the bar once more - this time to 1m 19.024s. At this rate, surely it's only a matter of time before the 1m 19s barrier is breached.
The reds fly - and it's for McLaren
Oops! Error retrieving Twitter post
The track action has to pause as Stoffel Vandoorne grinds to a halt at the exit of the pit lane. The low loader and team crew are quickly on the scene, covering the car before lifting it back to the McLaren garage.
It had been looking promising for the team, with 30 laps on the board and several new fastest laps.
Mercedes and Ferrari neck and neck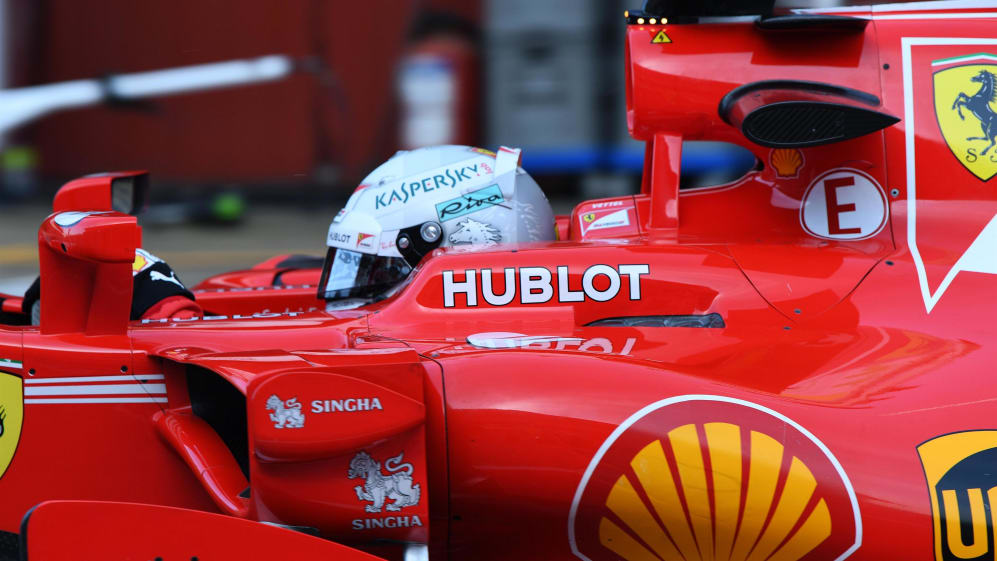 A switch onto the supersofts brings Vettel right onto the cusp of Bottas' day two benchmark - it's a 1m 19.314s for the German, four thousandths of a second off Bottas. We're in for a treat if Australia is as close...
Vettel's time is even more impressive if you look at the sectors, which appear to suggest he might have backed off just a touch. Knit his best two laps together, and he could be into the 1m 18s...
Ocon into second, Vettel flying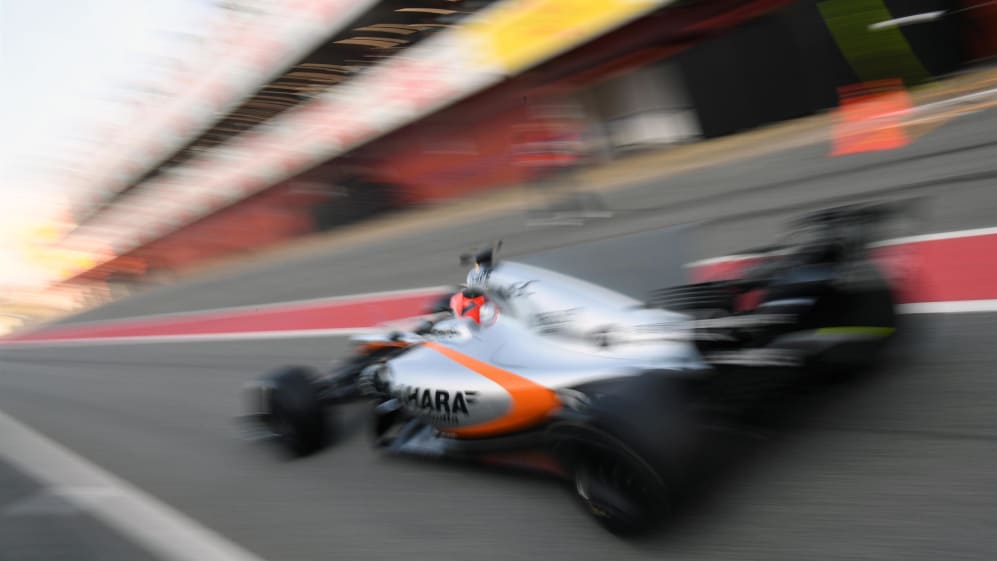 Force India have kept a relatively low profile so far in testing, but they vault to second in today's standings courtesy of a 1m 20.523s from Esteban Ocon, set on the supersoft tyre.
The Frenchman is a man on the move, but the real man to watch remains Sebastian Vettel. Out on the softs again, the German posts two further laps in the 1m 19.3s bracket. Those are among the fastest laps all week - and the only quicker times were set on softer compounds. Bottas remember posted his best on supersofts, while Massa was out on ultrasofts.
Vandoorne on the charge
Oops! Error retrieving Twitter post
Armed with softs, Vandoorne brings McLaren on to the brink of the 1m 21s, their new best time for the test. Time for a quick stop, onto the ultrasofts - and another new benchmark as the highly-rated Belgian drops down to a 1m 21.671s.
That's still 2.3s off Vettel's soft-tyre best, but it is at least progress for McLaren - it's comfortably the fastest they've been over all six days here in Barcelona.
Vettel fires Ferrari to the front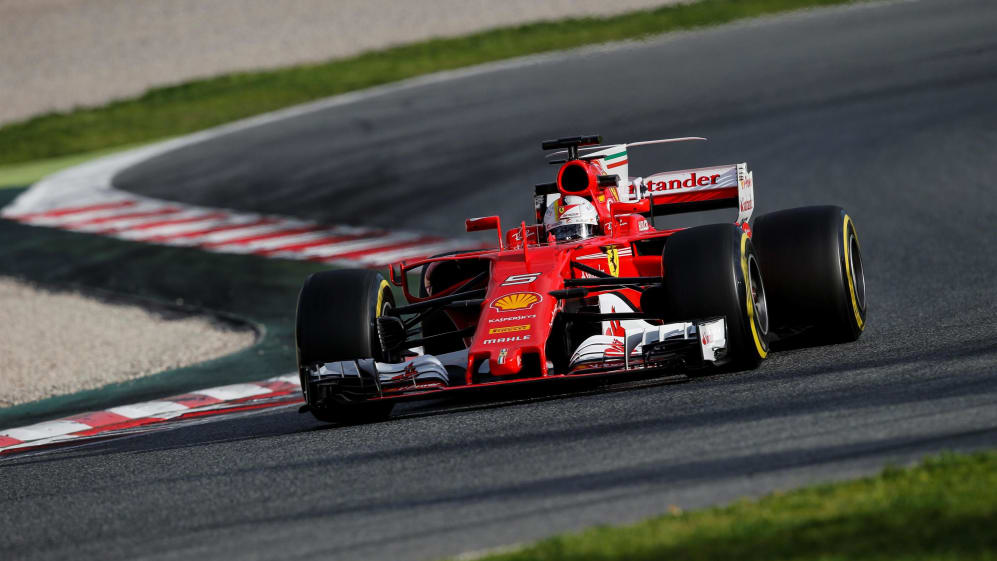 Yesterday it was Valtteri Bottas who set the pace mid-way through the morning - today it is Sebastian Vettel's turn. The four-time world champion pulls out an extremely rapid 1m 19.341s - a few hundredths slower than Bottas, but Vettel's lap was set on the softs.
And as if to underline his pace, he follows that up with a 1m 19.434s - itself one of the fastest times seen all winter.
More evidence that Ferrari really are in the hunt this year?
A new high water mark for McLaren
Oops! Error retrieving Twitter post
The third hour of the day begins with Stoffel Vandoorne heading out on supersofts and banging in a lap of 1m 22.055. It's by no means rapid, but it's still the quickest time we've seen from McLaren so far this winter.
Two hours in...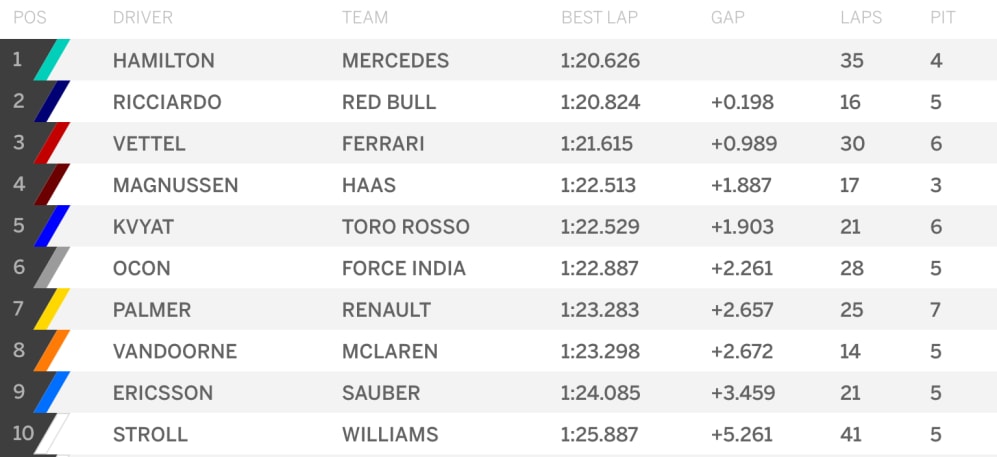 Two hours into the penultimate day of pre-season testing, and this is how the leaderboard looks. Every team is into double figures on the lap count - Lance Stroll leading the way for Williams - but we're yet to see anyone break the 1m 20s barrier, let alone challenge Bottas' benchmark lap time from yesterday.
What will the final two hours before the lunch break bring?
Remember, you can follow minute-by-minute timing updates on the new and improved Official F1® App. For more information, click here.
Keeping the Ferrari flag flying high
There's big - and we literally mean BIG - support for Ferrari in Barcelona today - but will Sebastian Vettel give the tifosi something to cheer? It's been a steady start to the day for the German, who is currently third on the timesheet behind Hamilton and Ricciardo, having clocked 25 laps.
For more pictures from testing, click here.
Palmer's luck turning?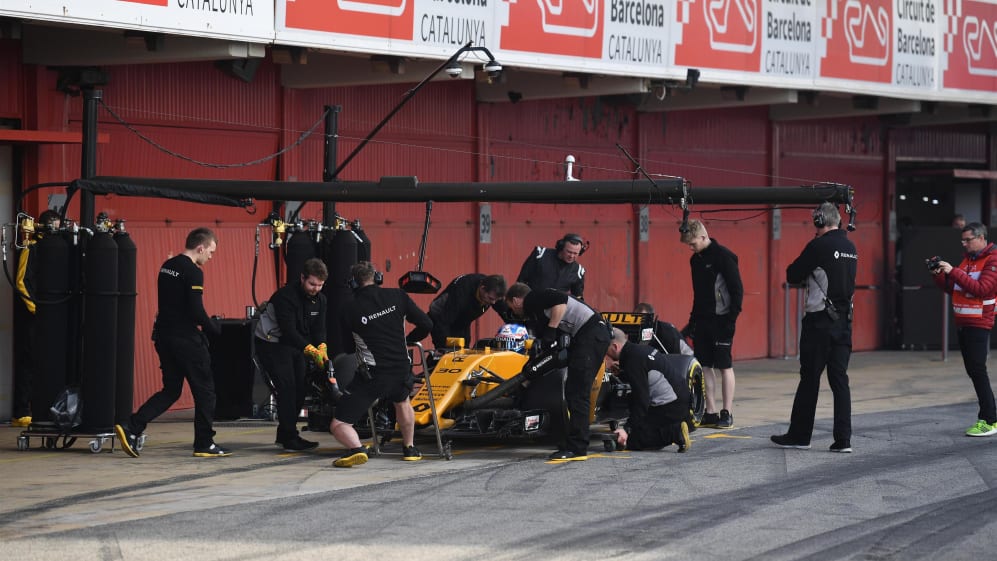 In his last two stints in the R.S.17 Jolyon Palmer logged just 44 laps, while in the equivalent period of time team mate Nico Hulkenberg banked 119. Palmer admitted yesterday that the situation was 'frustrating' - but could the unlucky Brit's fortunes be on the turn or will it be another morning of disappointment?
Through the first 80 minutes the Renault driver has clocked 14 laps, with a best time of 1m 23.497s - good enough for P7 on the timesheet as things stand.
Vandoorne in the hot seat
Oops! Error retrieving Twitter post
Back in the Honda-powered MCL32, McLaren say Stoffel Vandoorne will focus on aero testing this morning. After completing just 46 laps yesterday, Fernando Alonso said: "We have only one problem: the power unit. There is no reliability and there is no power."
Alonso added that McLaren will have to be clever to make up lost ground, but remained bullish about their 2017 chances, saying: "I remember 2014, Red Bull were doing like seven laps in winter testing and won two or three Grands Prix that year, so let's say that the season is long enough that you can have time to react."
A slow start for Red Bull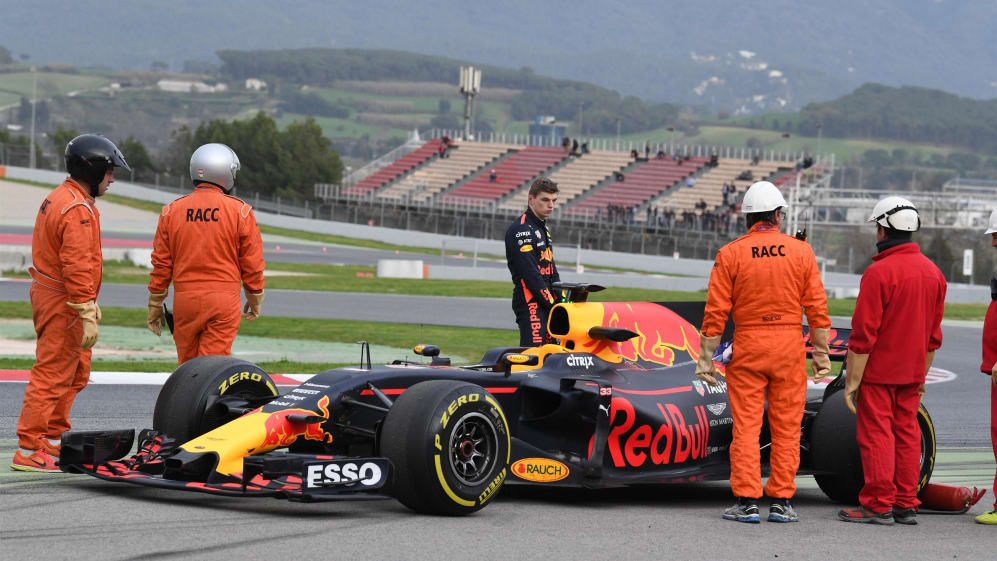 Just two installation laps on the board for Daniel Ricciardo through the first 45 minutes - is Red Bull's slow start a legacy of the issues Max Verstappen (above) suffered yesterday?
The Dutchman logged over 100 laps, but his car also had a precautionary engine change before lunch and then stopped out on track at the end of the day.
Verstappen, though, says he's confident that power unit suppliers Renault can solve their reliability issues before Australia.
Mercedes off to another flyer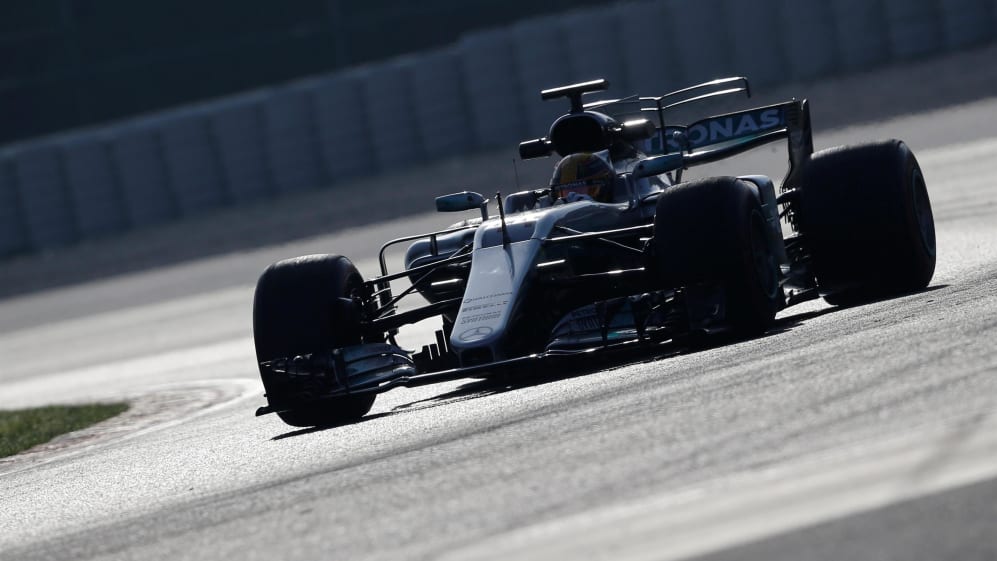 Half an hour into the morning's running and Lewis Hamilton (above) has already logged 15 laps - 10 more than Ferrari's Sebastian Vettel, who has completed the next most.
Speaking of Ferrari, the Scuderia will be hoping for a smoother day of running today after their most disrupted session yet on Wednesday. Kimi Raikkonen was afflicted by a fluids systems issue in the morning and then spun into the barriers in the afternoon, damaging his car in the process.
The time they're all aiming to beat
Yesterday, with supersoft tyres bolted to his Silver Arrow, Valtteri Bottas lowered his own winter benchmark to 1m 19.310s. How did it look from his perspective? Let us show you. Warning: this video is not for the fainthearted.
Last chance saloon
Oops! Error retrieving Twitter post
Catch up on yesterday's action
Need a reminder of what happened on the sixth day of pre-season testing? Catch up on all the action in our video recap.
Thursday's contenders
Welcome to the seventh day of pre-season testing from Barcelona. This is who is due on track today...
| TEAM | DRIVER |
| --- | --- |
| Mercedes | Lewis Hamilton (am) / Valtteri Bottas (pm) |
| Red Bull | Daniel Ricciardo |
| Ferrari | Sebastian Vettel |
| Force India | Esteban Ocon |
| Williams | Lance Stroll (am) / Felipe Massa (pm) |
| McLaren | Stoffel Vandoorne |
| Toro Rosso | Daniil Kvyat |
| Haas | Kevin Magnussen |
| Renault | Jolyon Palmer (am) / Nico Hulkenberg (pm) |
| Sauber | Marcus Ericsson (am) / Pascal Wehrlein (pm) |