Feature
As it happened: Day 4 of second test from Spain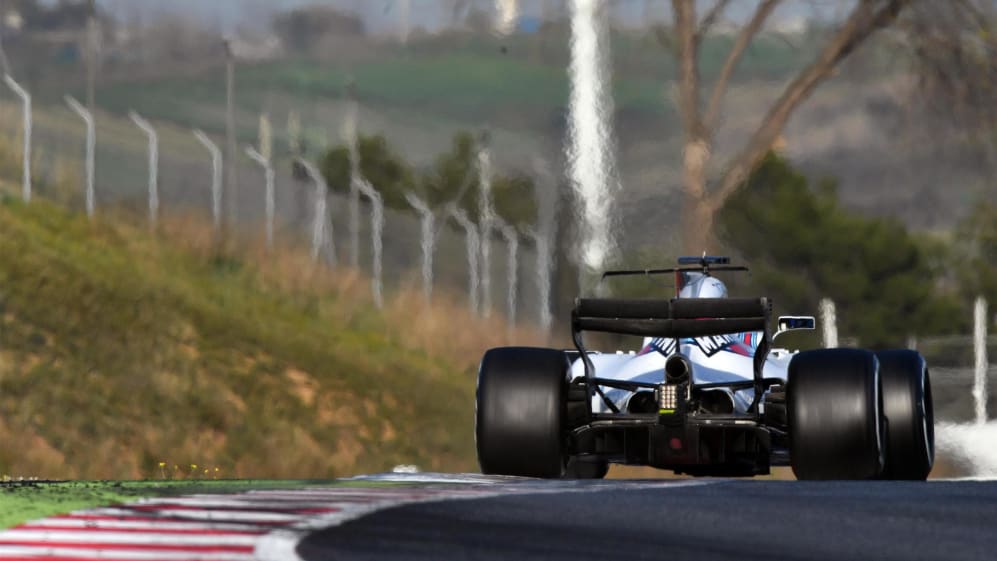 Last week's opening test gave us our first glimpse of 2017's faster F1 cars running in anger. This week we get our final chance to assess the pecking order before the teams head to the season-opening 2017 Formula 1 Rolex Australian Grand Prix on March 26.
This page - updated throughout the day, with newest posts at the top - brings you the key news and information from the second test session of the year at the Circuit de Barcelona-Catalunya...
RECAP
- Final day of testing before season-opening race in Australia
- Raikkonen sets a new testing benchmark
- Five other drivers join him under 1m 20s
- Four exceed the 100 lap mark
Day 4 at a glance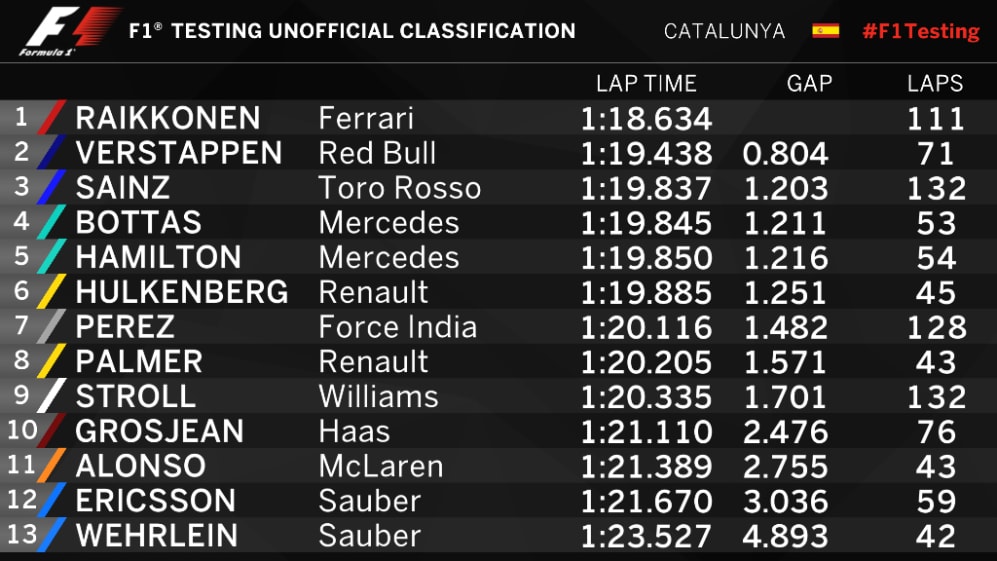 The final timesheet of the winter shows Raikkonen's healthy margin at the top of the order, with the Finn also accruing a very tidy lap count for Ferrari despite his mid-afternoon stoppage. And with Sebastian Vettel having also gone quicker than Mercedes' best this week, the Scuderia will doubtless head home on a high.
Contented faces too at Toro Rosso, after a marathon last day for Carlos Sainz and a very respectable third in the times. Sergio Perez won't be unhappy either, after his most productive day of the winter for Force India. And Lance Stroll will leave with a smile, his 132 laps today the best possible preparation for his race debut with Williams in Australia.
So what does it all mean? Check back with F1.com over the coming days for all the post-test debate and analysis. Though, of course, we won't really know the formbook until qualifying in Melbourne - we can't wait!
Chequered flag - next stop Melbourne!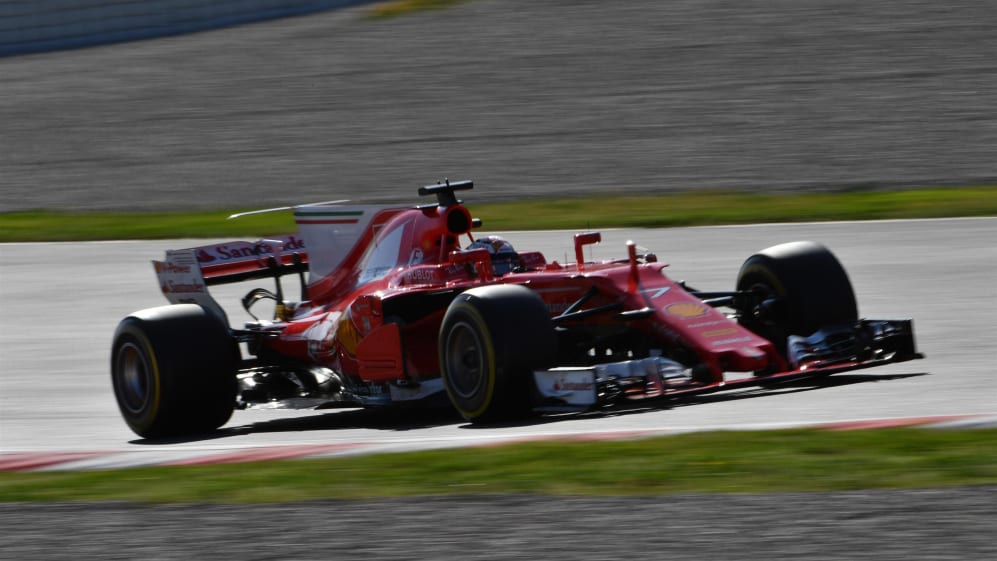 So that's it - after eight days of testing here in Spain, the next time the cars will take to the track will be at Albert Park in first practice for the 2017 Formula 1 Rolex Australian Grand Prix.
Raikkonen's stunning morning time remains unbeaten, meaning Ferrari finish their pre-season on a high. Four other men have dipped under 1m 20s today - Verstappen, Sainz, Bottas, Hamilton and Hulkenberg - and four have completed a century of laps - Raikkonen, Sainz, Perez and Stroll.
The final 15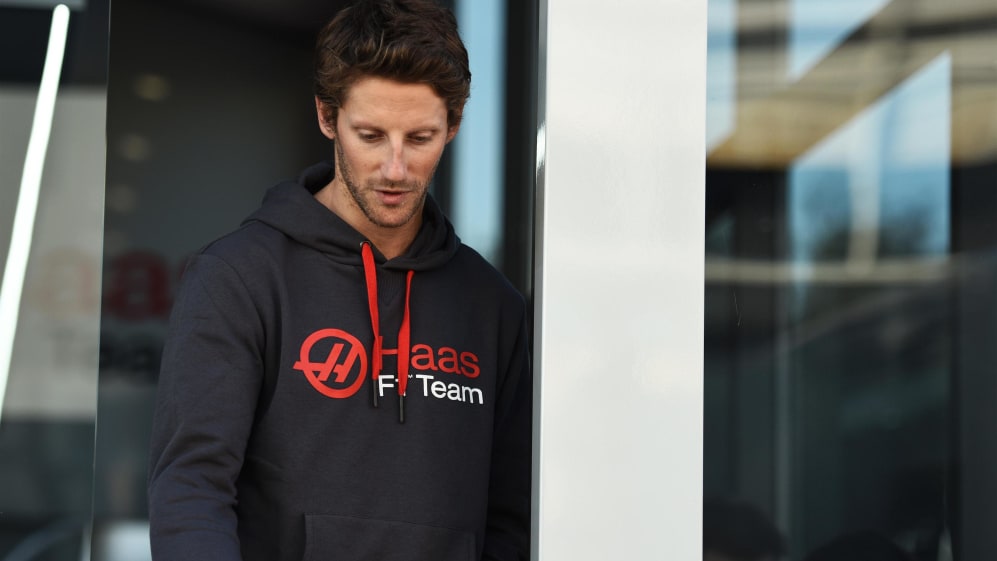 Into the last quarter hour of pre-season testing and Raikkonen is back on track for Ferrari after his earlier problems. No such luck for Grosjean in the similarly-powered Haas. A water leak means the American team are done for the day after 76 laps.
A new PB for Alonso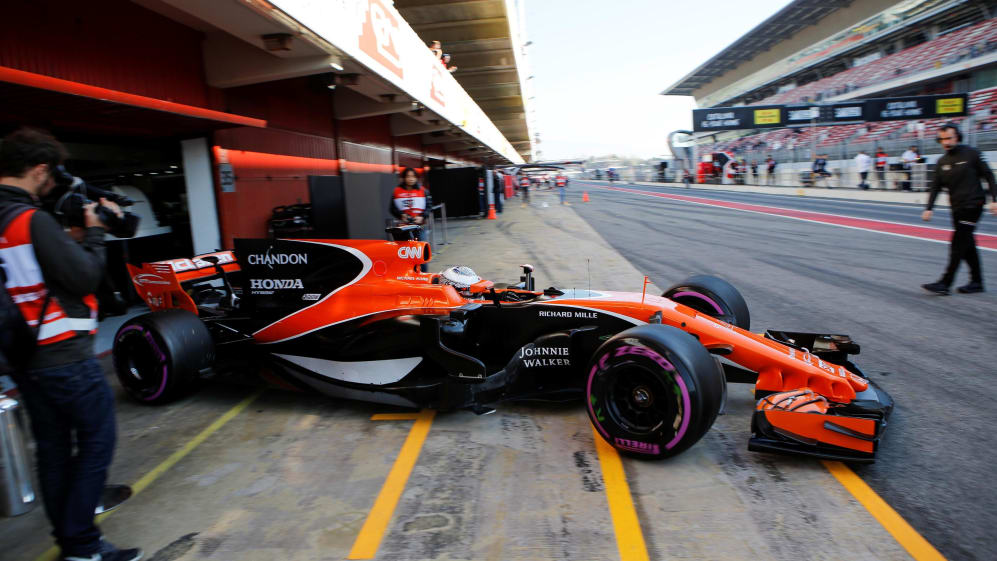 They've had a torrid couple of weeks, but are McLaren going to end the pre-season on something of a positive note? As the final half hour of running approaches, Fernando Alonso returns to the track and clocks a 1m 21.389s lap on ultrasofts - that's his best lap this winter.
John Surtees, 1934 - 2017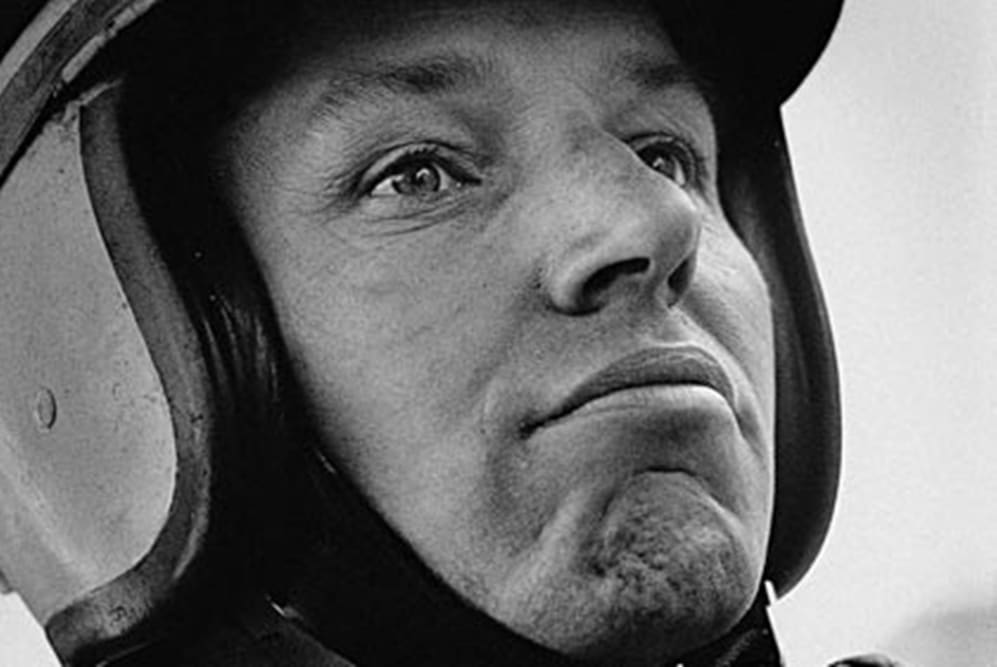 Some sad news to report as F1 testing concludes - John Surtees, famously the only man to win world championships on both two and four wheels, has died at the age of 83. The British racer took the F1 drivers' title with Ferrari in 1964 and won a total of six Grands Prix in an F1 career spanning 12 years.
Read all about the life of an extraordinary champion here.
More reds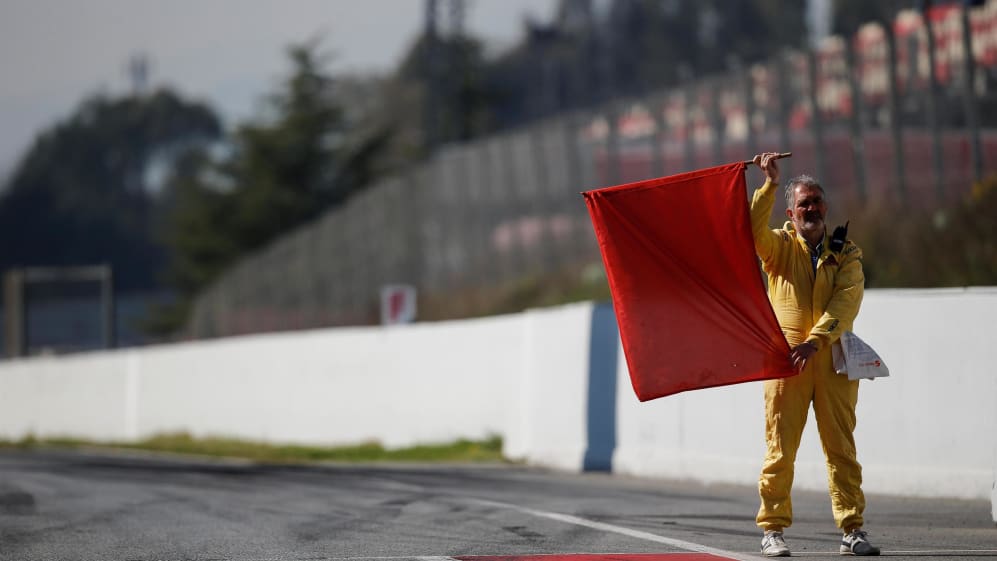 The red flags fly in the final hour as Carlos Sainz coasts to a standstill on the pit straight, moments after chalking up his 116th lap of the day. It looks like that could be the Spaniard's final action of pre-season.
Today's centurions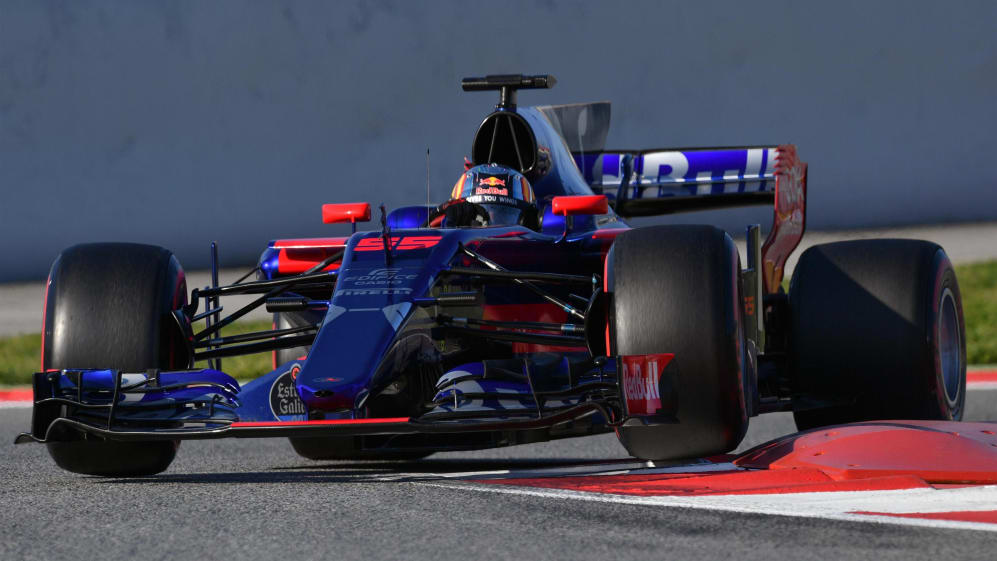 Lance Stroll got there first, but Toro Rosso's Carlos Sainz (above) and Force India's Sergio Perez have joined the Williams rookie in today's 100 club. That's the first time this winter Sainz has reach triple digits on a single day - for Perez, it's the second time this week.
At the other end of the scale, Hamilton, Palmer, Verstappen, Alonso and Wehrlein all have lap counts lower than 50 as the day ticks into its final hour.
Palmer out to boost his tally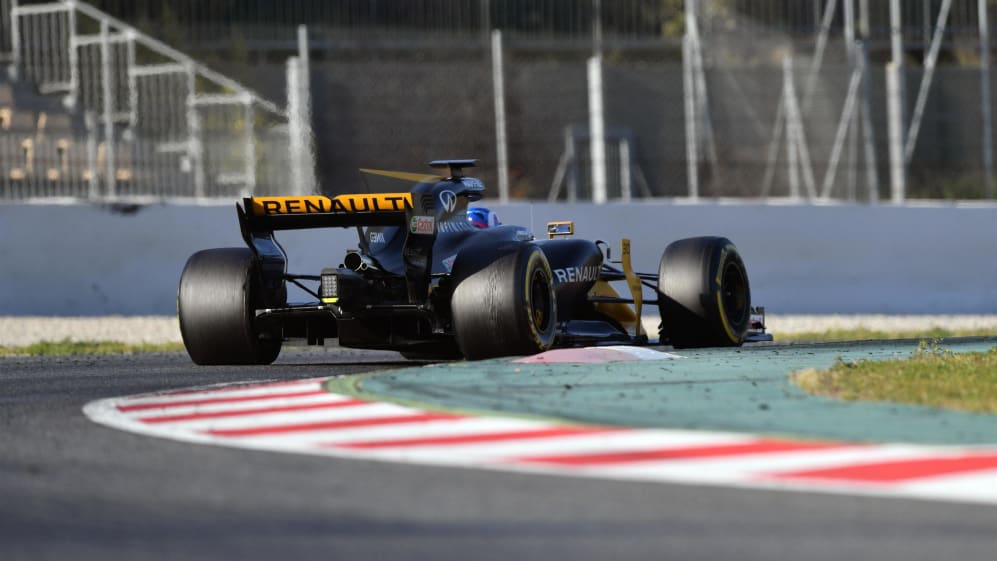 Entering this afternoon's final session of action, only Fernando Alonso had logged fewer laps this week than Jolyon Palmer. The Renault driver has not exactly been super busy this afternoon - adding just 25 laps to his tally - but he is close to eclipsing Stoffel Vandoorne's weekly total.
He's also set a personal best lap time of 1m 20.692, but make no mistake about it - this has been a hugely frustrating pre-season for Palmer.
Alonso fans, look away now...
Oops! Error retrieving Twitter post
As their update half an hour ago suggested, McLaren have been able to get Alonso back underway - and the Spaniard takes full advantage by setting his best time of the entire test.
The bad news? It's only good enough for 20th and last on the aggregated weekly leaderboard.
Alonso isn't the only man to improve this afternoon - Grosjean has also set his best time of the week, a 1m 21.110s which leaves him 10th for the day and 16th for the week.
Stroll brings up his century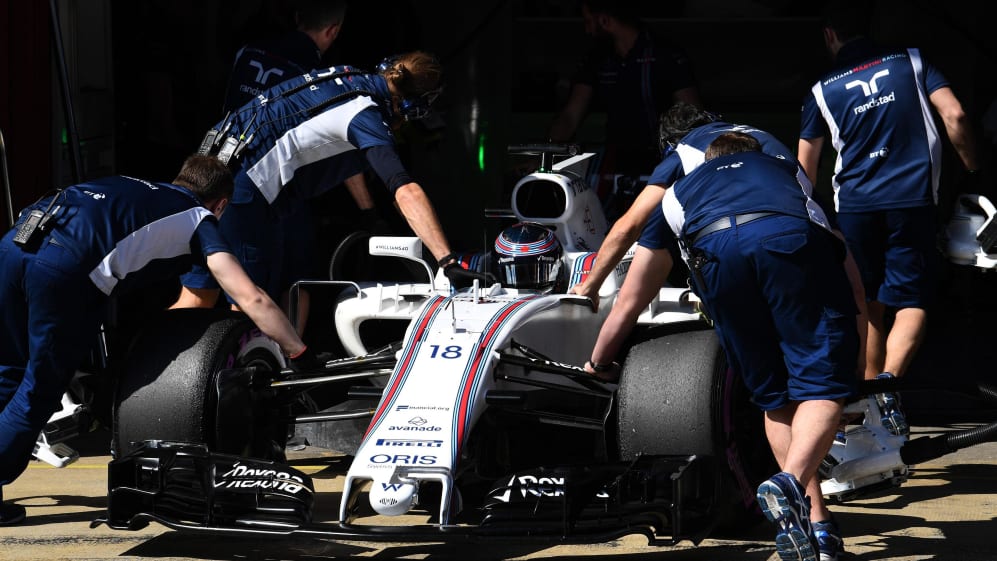 For the first time in his fledgling F1 career, Lance Stroll has racked up more than 100 laps in a single day. He's the first man to pass the triple-figure mark today, although several others are close - Raikkonen and Perez are on 97, while Sainz is on 92.
And trouble for Ferrari too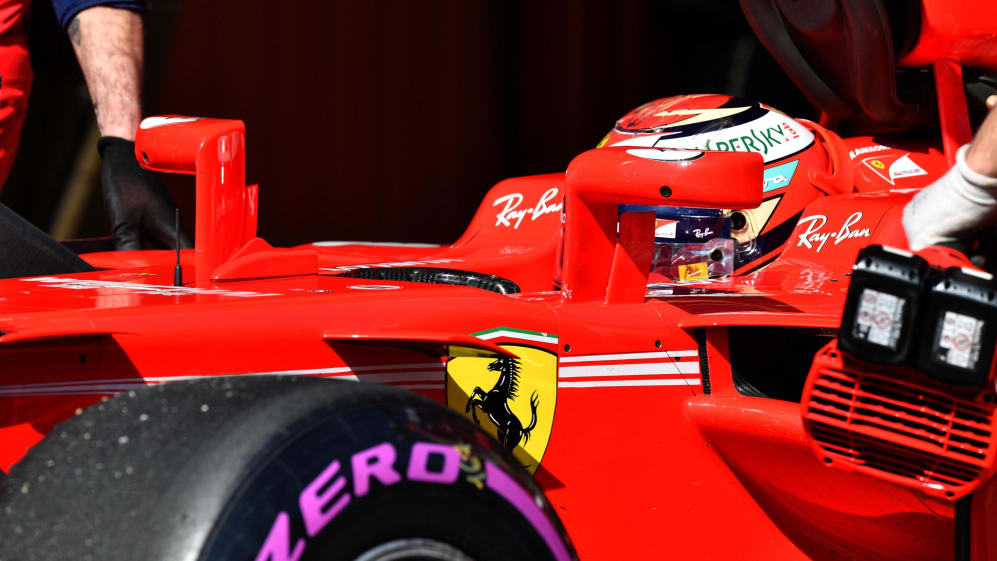 Raikkonen triggers the reds, as he stops before the final chicane. He hops out shortly before his Ferrari crew arrive on scene to cover the SF70H up before it is lifted onto the low loader.
The Finn had climbed to 96 laps before the breakdown.
Turbo trouble
Oops! Error retrieving Twitter post
While Ricciardo has been busy on the PR trail, his mechanics have been busying themselves in the garage. Now we know why Verstappen has been in the garage since lunch...
Crowd pleaser
Oops! Error retrieving Twitter post
Daniel Ricciardo might not be driving today, but downtime is a rare thing as an F1 driver.
The Australian headed out to the main grandstand to meet the many die-hard fans that have thronged to the circuit each and every day during testing. Next up? He joined F1's official Facebook channel for a Live and behind-the-scenes tour of the sort of promotional duties a driver undertakes on their 'off days'.
He won't have much time for a breather either: come Australia, we have a feeling Ricciardo might be a man in demand...
Hamilton starts to climb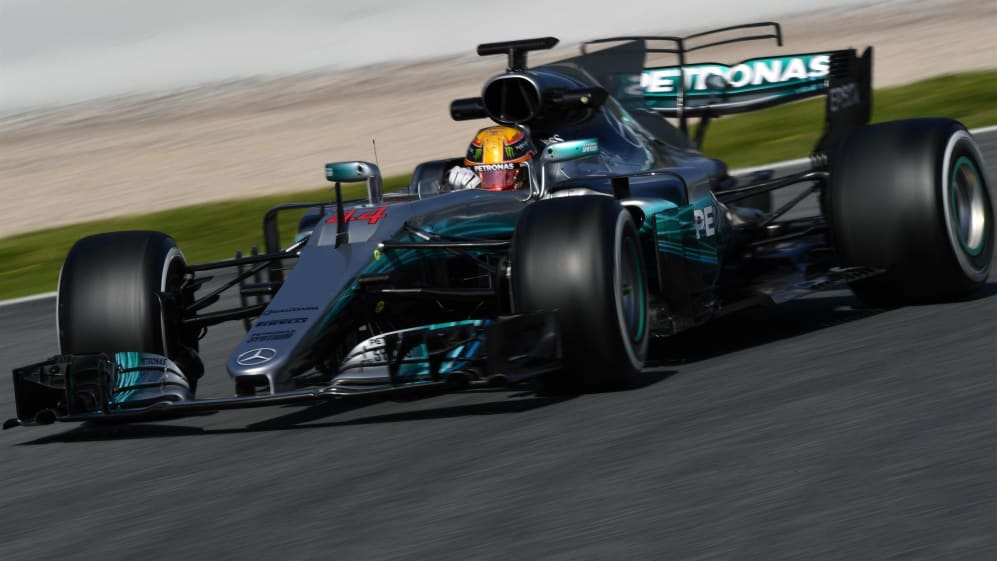 Three-time world champion Lewis Hamilton is in the car for the final afternoon of testing. With just over an hour gone he's up to 19 laps and has worked his way up to seventh in the timesheet, 1.565s off Raikkonen's morning benchmark.
Will the Briton get anywhere near the Finn? Or are Ferrari set to enter the 2017 season on a high?
Happy Hulk
He managed 45 laps for Renault this morning - including one below the now magical 1m 20s barrier. No wonder Nico Hulkenberg felt buoyed by his final stint in the R.S.17 before Australia...
A slow start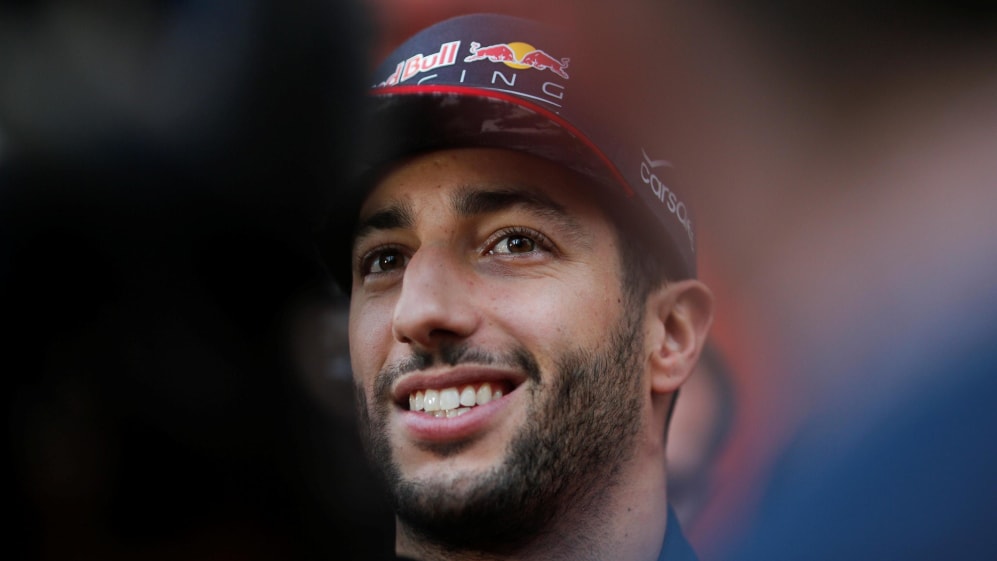 After that frantic burst of activity before the lunch break, it's been an extremely slow start to the afternoon with only a few cars intermittently venturing out on track. Amid the quiet, Daniel Ricciardo takes the opportunity to venture into the grandstand opposite the pits to take a few selfies with fans.
All change please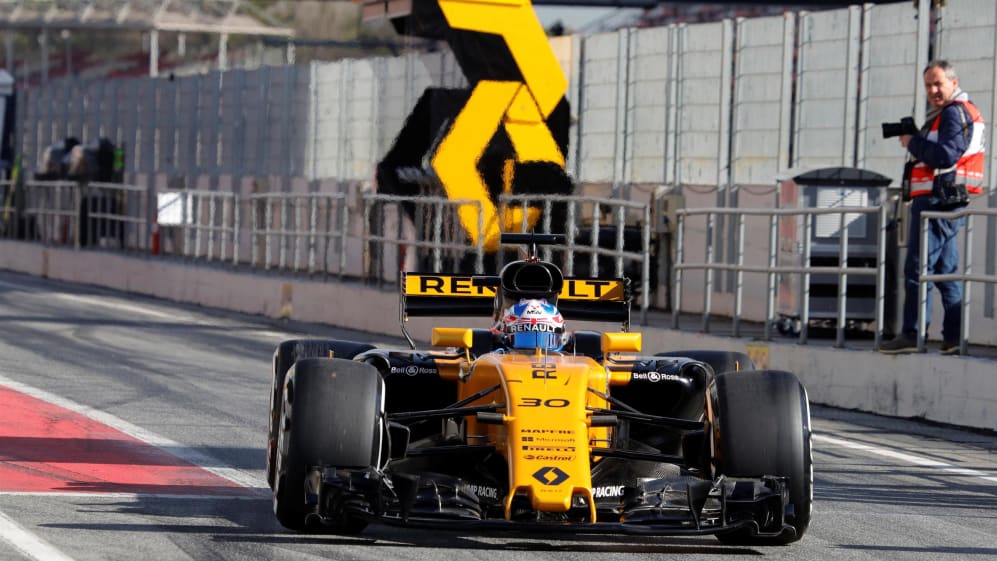 So, we are into the final afternoon of pre-season testing for 2017 and three teams are set to make driver changes. Lewis Hamilton takes over from Valtteri Bottas at Mercedes, and Marcus Ericsson makes way for Pascal Wehrlein at Sauber. Arguably most eager to get back in the car, however, is Renault's Jolyon Palmer, whose team mate Nico Hulkenberg showed strong pace this morning. Palmer has not had the best of luck this week - thanks to various technical maladies he's racked up just 97 laps. Only Fernando Alonso at McLaren has managed fewer.
Secrets of the SF70H's speed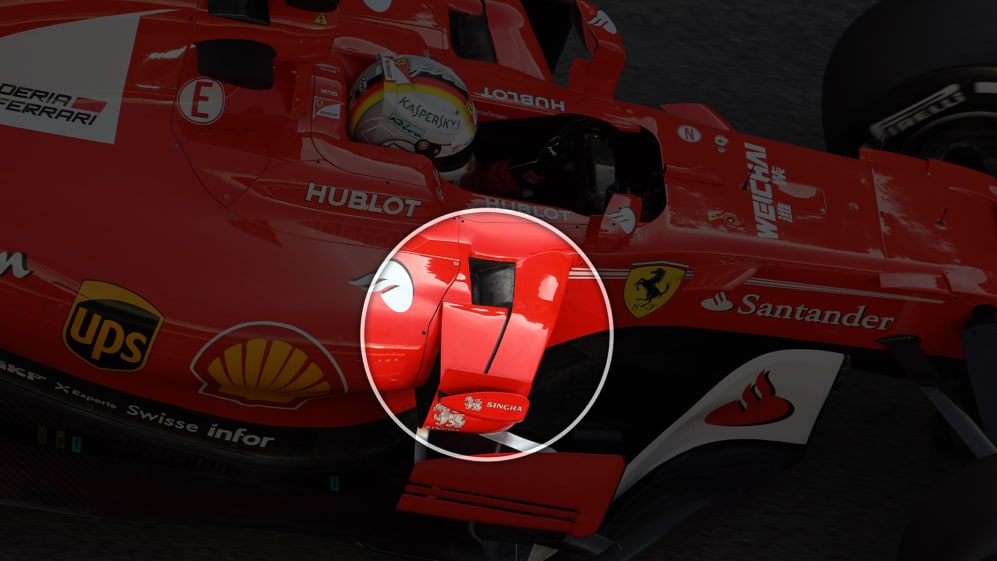 With Kimi Raikkonen sitting pretty at the top of the timesheets, the lunch break would seem the perfect time to take a closer look at Ferrari's 2017 machine, which features some highly innovative design solutions.
Iceman on fire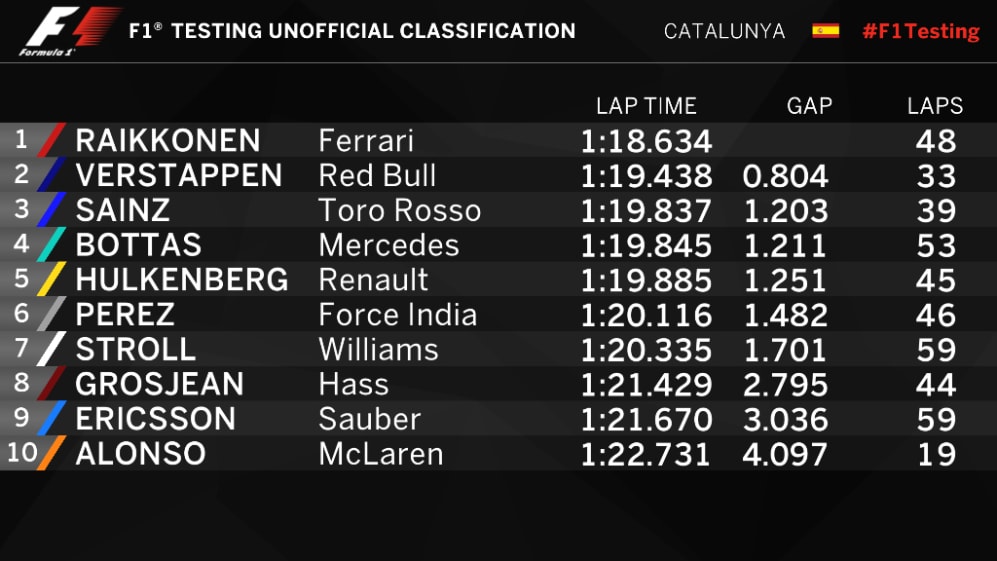 What an end to the final morning of pre-season running that was, with Kimi Raikkonen delivering the long awaited breakthrough into the 1m 18s bracket.
But it's not just the Finn who's been flying - we've seen four other drivers go under 1m 20s, including Toro Rosso's Carlos Sainz who became the ninth man to do it this week just before lunch.
Force India, Sauber, Haas and McLaren are now the only teams not to dip under 1m 20s this winter, but for the latter of those teams there are bigger fish to fry than fast lap times - namely getting their car to run without issues.
Half a day of testing to go before Australia then. What will the afternoon hold?
Going LIVE!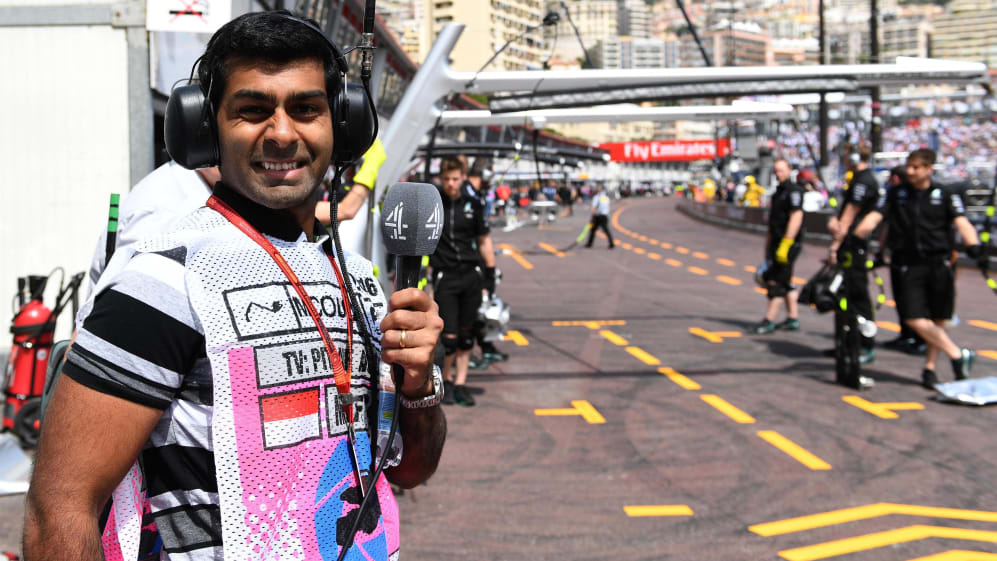 We have a lunchtime treat for you today - Facebook LIVE from the Barcelona paddock, where former F1 racer Karun Chandhok (above) joins us to discuss the winners and losers from testing. To tune in, click here.
Second red for Haas
Oops! Error retrieving Twitter post
The reds fly for the fourth time today - and the second time for Haas. Romain Grosjean has come to a halt on the run down to Turn 10. The Frenchman pulled neatly off to the inside of the track, and the ever-efficient circuit crew are on the scene in moments.
Raikkonen the record breaker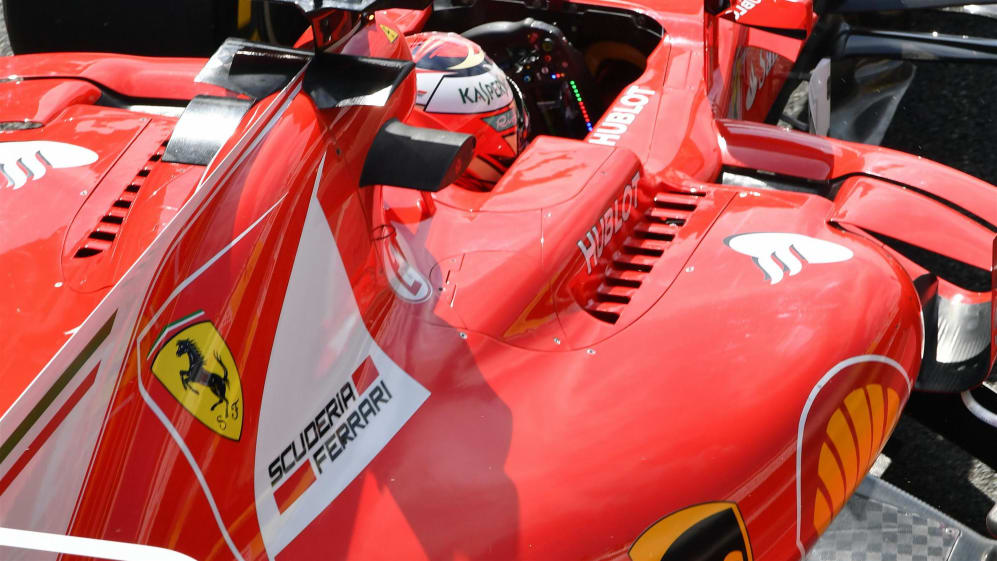 Sound the klaxons - we have our first sub-1m 19s lap of the winter, and it's an absolute scorcher from the red-hot Iceman!
Sticking with supersoft rubber Kimi Raikkonen obliterates his previous best, crossing the line in 1m 18.634s.
Consider that the Prancing Horse officially throwing down the gauntlet to the opposition.
Supersoft, super quick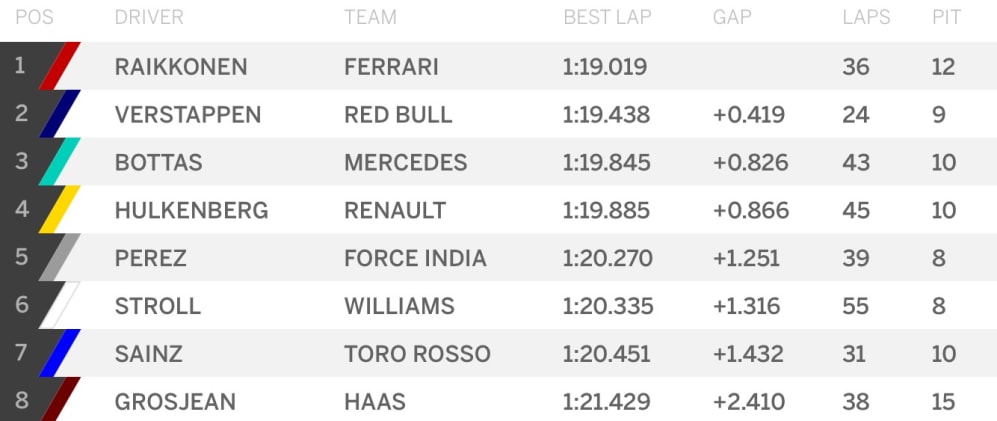 Ladies and gentlemen, we have ourselves a new winter benchmark. Kimi Raikkonen returns to the track with colour co-ordinated supersoft tyres bolted to his Ferrari and scythes down to 1m 19.019s - just 0.005 quicker than team mate Vettel's previous pre-season marker.
Half an hour until the lunchbreak - will the next 30 minutes bring us our first sub-1m 19s lap?
Raikkonen vaults to the top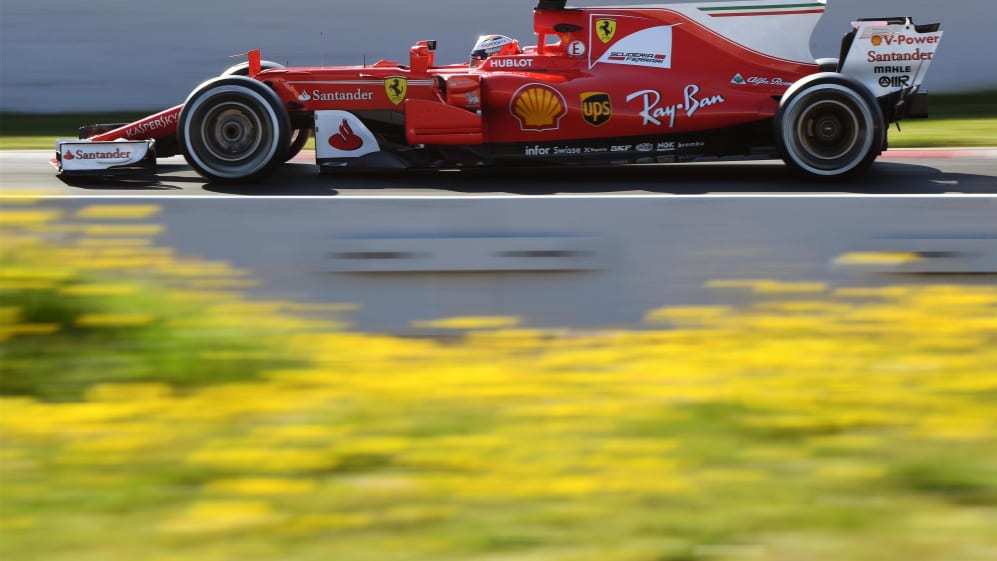 Soft tyres prove no obstacle for Raikkonen as he lifts Ferrari back to the top of the timesheet with a 1m 19.267s. That's only 0.2s slower than Vettel managed yesterday - but the German was on ultrasofts for that run. Yet more proof that Ferrari are well and truly in the game in 2017?
Verstappen improves at almost the exact same time - he's quicker in fact than Raikkonen in the final sector, but trails the Finn by 0.171s. Supersofts for the Dutchman though...
From bad to worse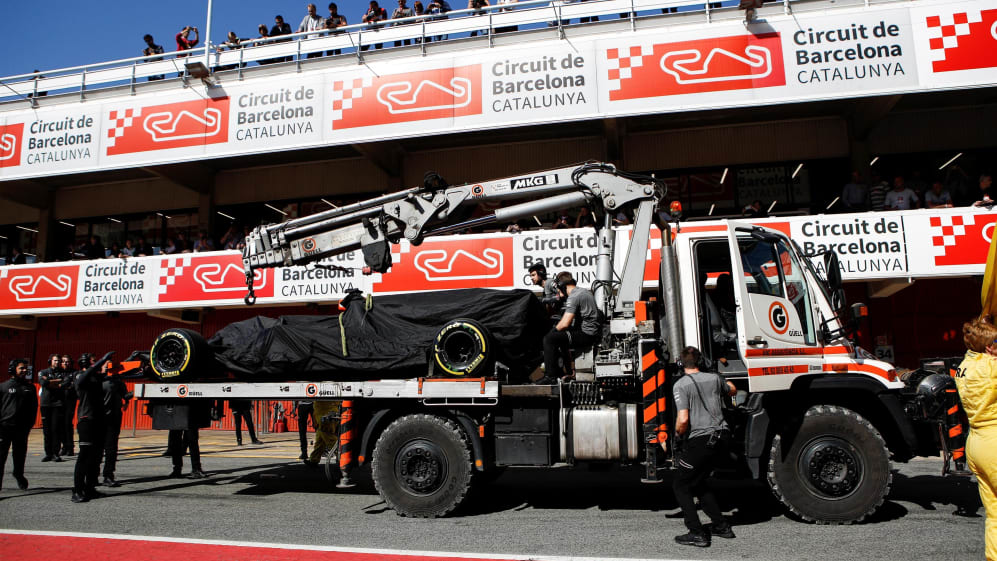 Oh dear, oh dear, oh dear. No sooner have McLaren returned Fernando Alonso to the track than the double world champion stops AGAIN. Cue yet another trip in the recovery truck for the Spaniard, who must be on first name terms with the driver by now.
"We have only one problem: the power unit," said Alonso on Wednesday. "There is no reliability and there is no power."
We don't think he'll be revising that assessment any time soon...
Faster still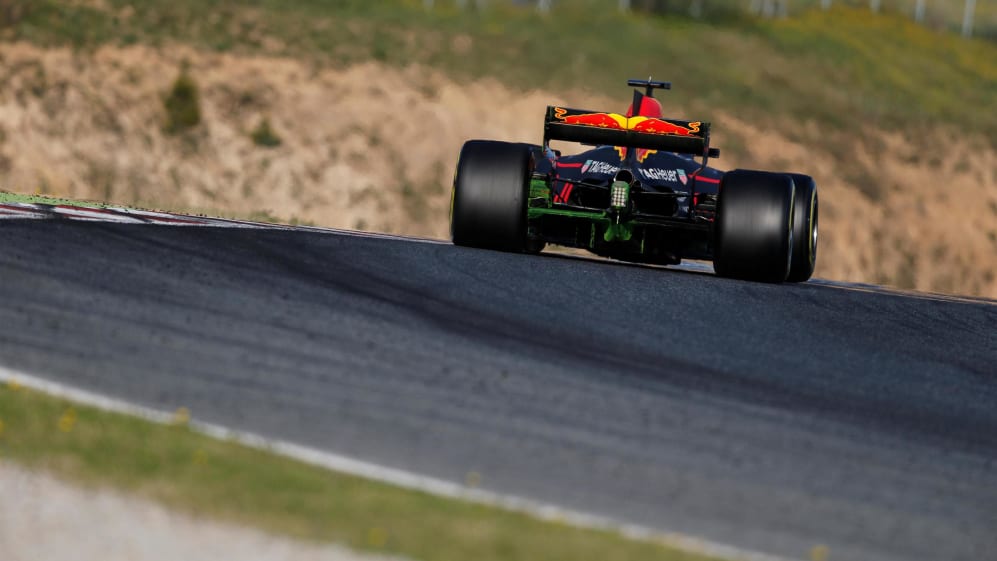 We wondered how much quicker Verstappen would go on softer rubber, and the answer is just over four tenths.
F1's youngest ever winner works his way down to 1m 19.491s, which is the fifth-best time we've seen this week behind Vettel, Bottas, Hamilton and Massa.
Bottas, incidentally, has moved into second on the leaderboard with another sub-1m20s lap - his time, like Verstappen's, set on supersofts.
To the Max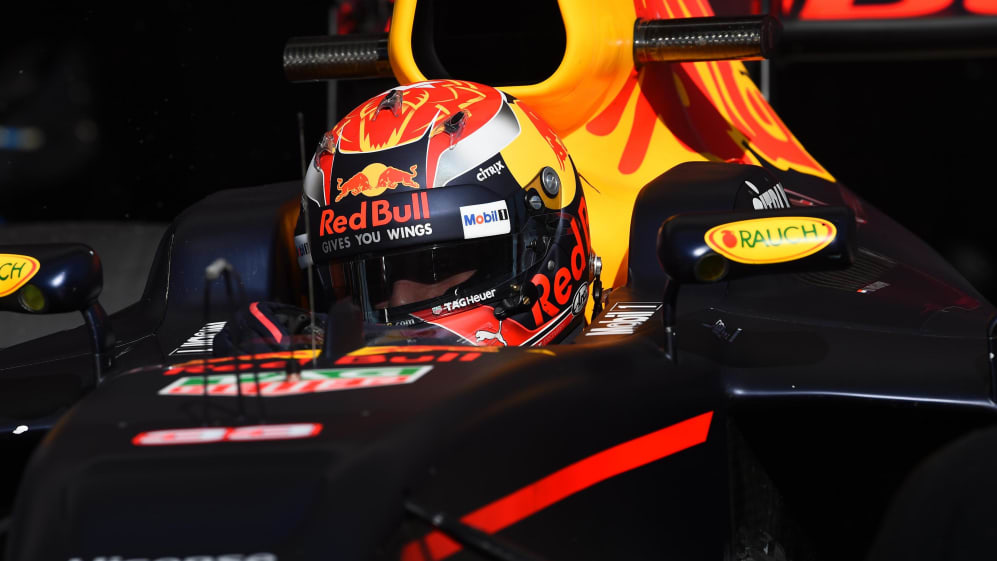 We have a new leader, and it's Max Verstappen who becomes the seventh driver this winter to lap Barcelona in under 1m 20s.
With soft tyres bolted to his RB13 the teenage Dutchman stops the clocks in 1m 19.852s, which is Red Bull's quickest time of the pre-season.
How much more will they find on the supersofts and ultras?
McLaren return to action... for mere moments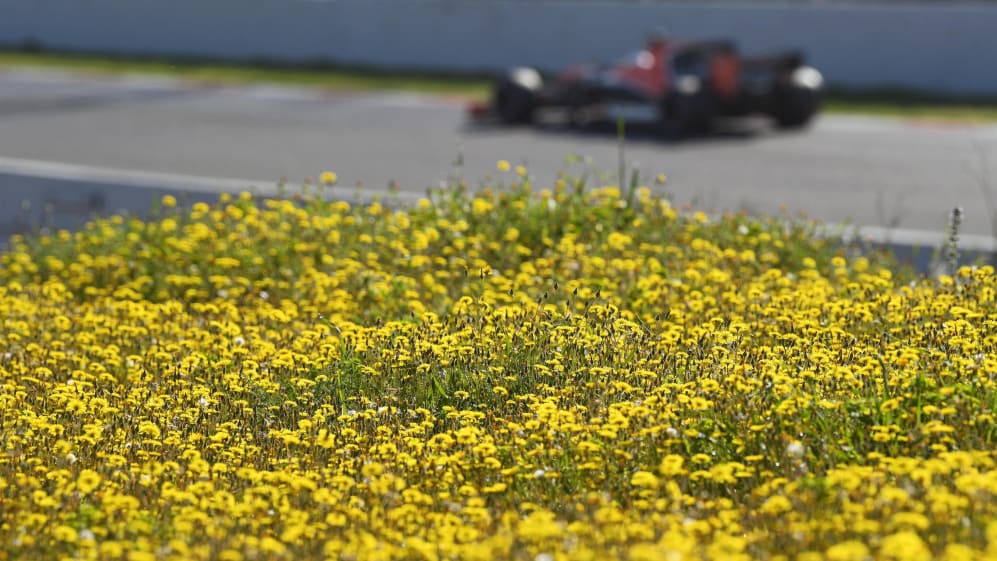 With the cheers of his young fans still ringing in his ears, Fernando Alonso climbs back into his MCL32 and heads out for another run. But no sooner has the Spaniard rejoined the track than he's parking up his orange machine once more and bringing out the red flags.
Not for the first time this test the McLaren is loaded onto the back of a truck and delivered back to the pits. Alonso gives a wave to the grandstand as he is dropped off by a recovery car, but the disappointment is obvious.
Nearly seven and a half days into testing and the Honda-powered team are still struggling to get any decent running. The omens for Melbourne don't look good.
A major milestone for Mercedes
Oops! Error retrieving Twitter post
Another day, another mileage milestone for Mercedes. A flurry of laps from Valtteri Bottas pushes the Silver Arrows through the 1,000-lap barrier for winter testing - a rather incredible achievement, and there's still more than half a day to go!
The only team in with a realistic chance of joining Mercedes in the 'thousand lap club' are Ferrari - but that would require Kimi Raikkonen to complete 155 today. The current record for a single day? The 168 laps that Felipe Massa and Sebastian Vettel did on Tuesday.
'Alonso, Alonso!'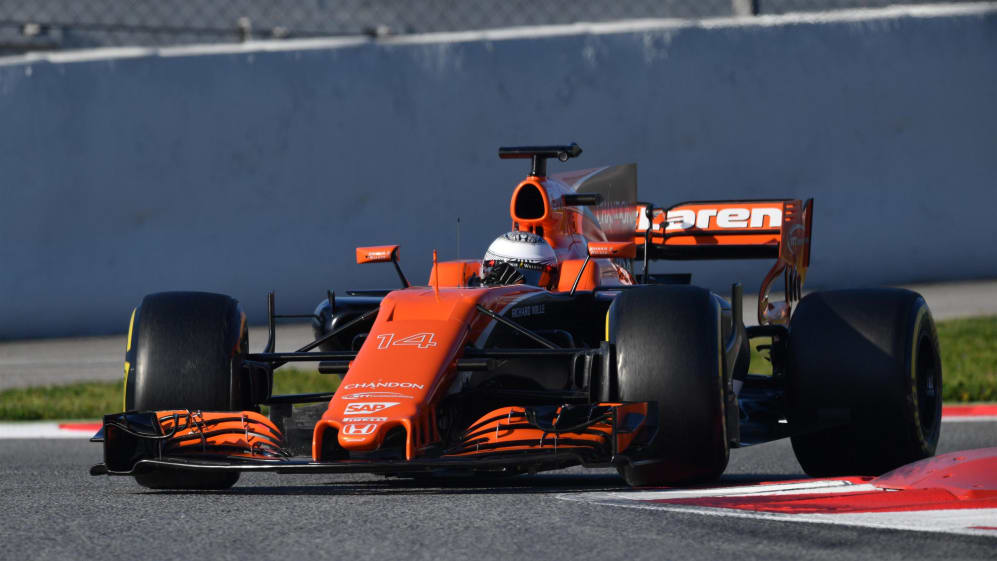 We haven't seen Fernando Alonso since Grosjean's spin earlier on - and a quick trip down to the paddock reveals that the Spaniard has been tucked up in McLaren's hospitality unit.
A crowd of school children have gathered outside chanting 'Alonso, Alonso, Alonso!' - but it remains to be seen when they'll see their hero back out on track.
Just 15 laps on the board for McLaren so far. Only Red Bull - on 12 - have completed fewer today.
Renault into the 1m 19s
Oops! Error retrieving Twitter post
Hulkenberg bolts on the ultrasofts as testing resumes, and he's off to a flyer - his first lap stops the clocks in 1m 19.885s.
He's only the sixth driver in testing to get under the 1m 20s mark, joining an elite group of Vettel, Massa, Hamilton, Bottas and Ricciardo. Renault are finding form in the opening hours of the final day.
Haas in the gravel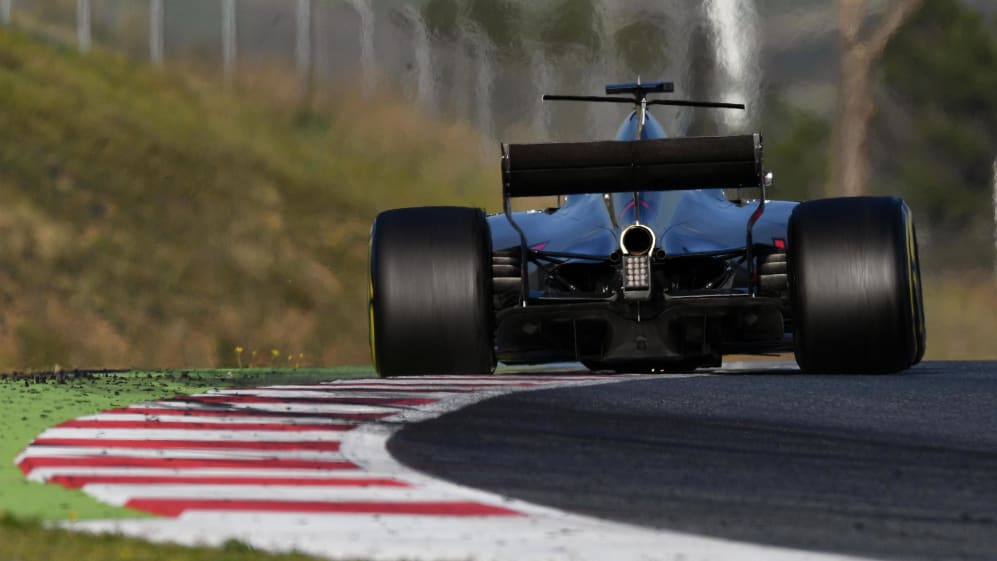 The red flags fly for the first time today - and it's for Romain Grosjean. The Haas driver appears to have lost the rear of his car on the approach to Turn 5 - it is facing backward in the gravel trap on the outside of the left-hander.
The low loader is already in attendance, so this should be a fairly temporary halt to proceedings.
More practice needed?
Oops! Error retrieving Twitter post
Toro Rosso have been indulging in some pre-Australia pit stop practice this morning - but it hasn't all been plain sailing...
Thankfully for Carlos Sainz, it doesn't appear that drop caused any serious damage.
Hulkenberg sets the early pace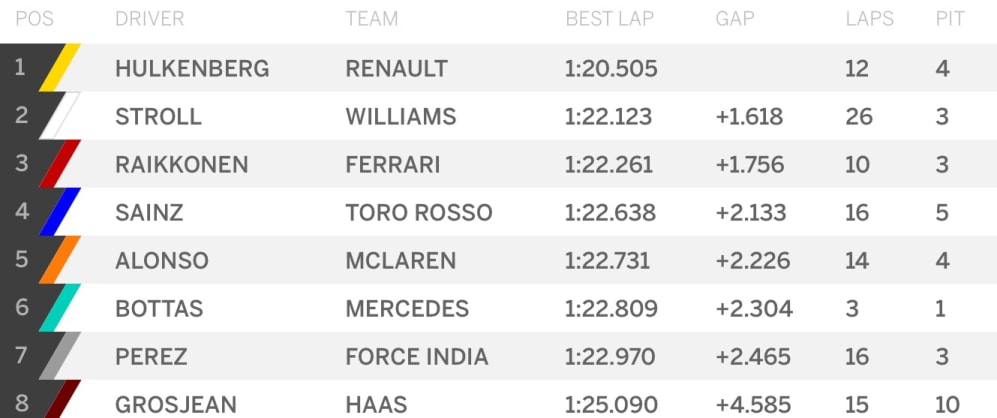 Just over an hour into the final track running before Australia and it's Renault who top the leaderboard courtesy of Nico Hulkenberg's effort on supersofts.
It's not only Hulkenberg's quickest lap this winter, it's also Renault's - a sign of how teams are ramping things up on this final day.
For minute-by-minute timing updates, download the new and improved Official F1® App. For more information, click here.
A steady start for McLaren
Oops! Error retrieving Twitter post
Of all the teams in the pit lane, no one needs a cleaner final day than McLaren. The Honda-powered team remain at the bottom of the mileage charts and have yet to string together any long runs of note.
It's been short runs so far for Fernando Alonso this morning, with the Spaniard using ultrasoft rubber to record his personal best time of the second test in the early running.
Stoffel Vandoorne's 1m 21.348s effort from yesterday remains the quickest McLaren have gone this winter. Can Alonso eclipse that today?
The sector times to beat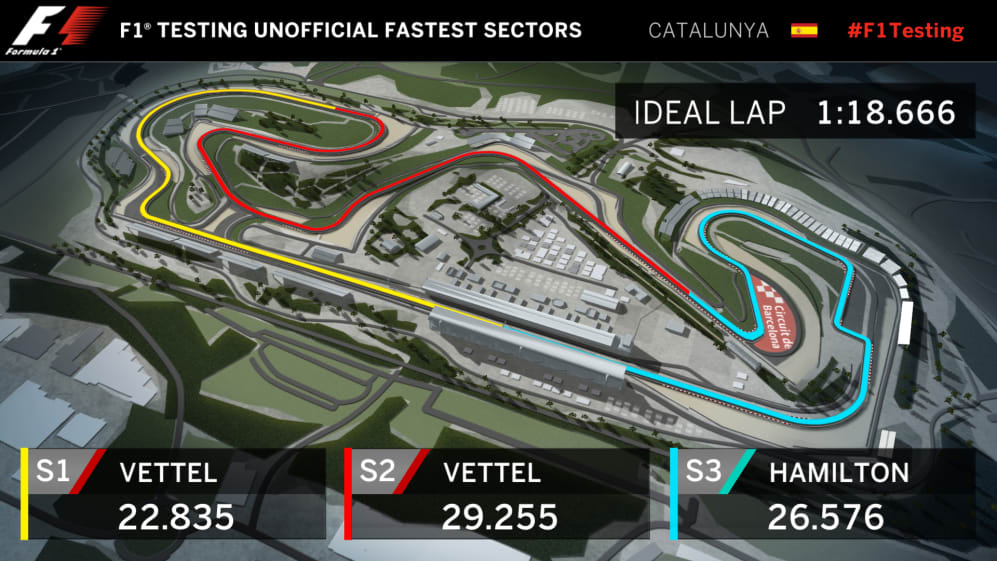 These were the best times through Barcelona's three sectors yesterday. Will this be the day that we finally see someone break below the 1m 19s barrier?
The final day underway
Oops! Error retrieving Twitter post
Haas' Romain Grosjean leads a flurry of cars out of the pit lane as the session goes green, everyone seemingly keen to get straight down to action.
Max Verstappen heads out with an array of sensors on his car. Want to know more about what kind of data teams are gathering? Click here.
Who's fastest?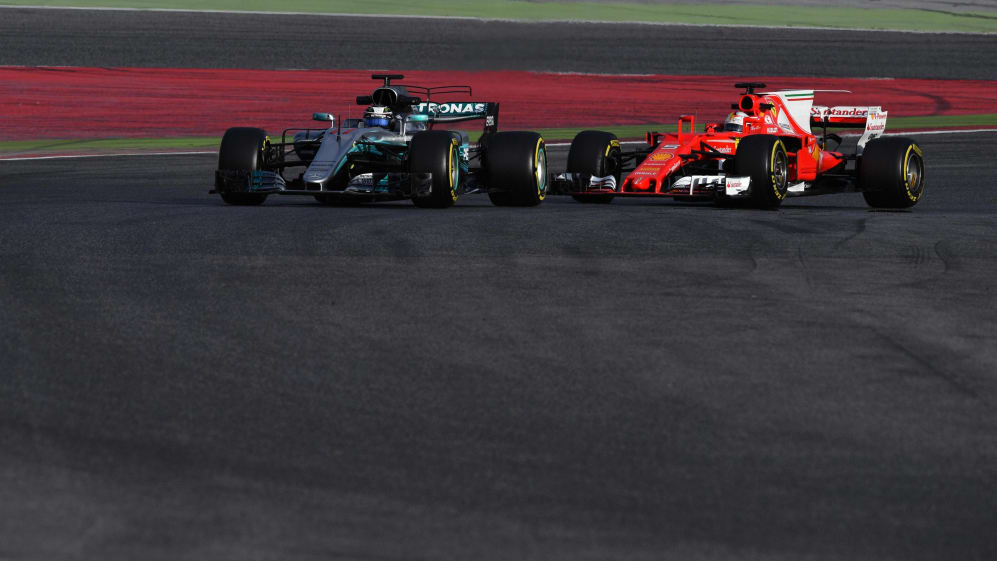 So, after seven days of pre-season testing and thousands of laps logged, which team is the fastest? Ferrari have set the quickest time this winter, but Sebastian Vettel insists Mercedes remain the team to beat. The Silver Arrows? Well, Lewis Hamilton believes Ferrari are 'a lot quicker than they're showing'.
And what of the other pre-season favourite Red Bull? Not currently at Ferrari and Mercedes' level, according to Daniel Ricciardo.
Who's right? We won't know for sure who's in front until Melbourne...
Go LIVE with Ocon and Force India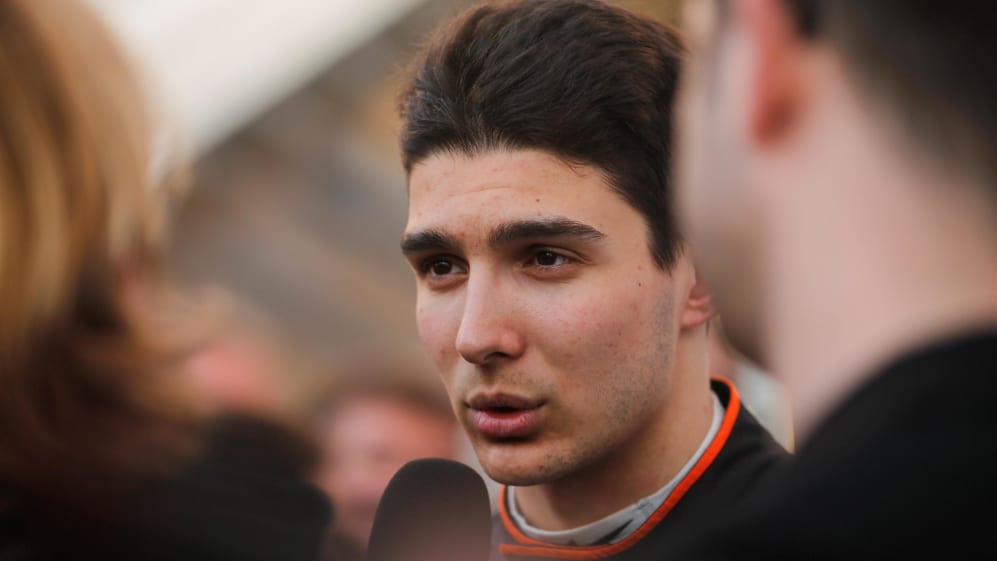 Fancy a guided tour of Force India's Barcelona garage, with none other than Esteban Ocon as your host? We're LIVE with the Frenchman on Facebook - to view click here.
Yesterday's action in a nutshell
Ahead of today's action, we break down yesterday's running from the Circuit de Barcelona-Catalunya - including that record-breaking lap from Ferrari's Sebastian Vettel...
The runners and riders
Welcome to our coverage of the crucial final day of pre-season testing in Spain. Here's who is due at the wheel...
| TEAM | DRIVER |
| --- | --- |
| Mercedes | Valtteri Bottas (am) / Lewis Hamilton (pm) |
| Red Bull | Max Verstappen |
| Ferrari | Kimi Raikkonen |
| Force India | Sergio Perez |
| Williams | Lance Stroll |
| McLaren | Fernando Alonso |
| Toro Rosso | Carlos Sainz |
| Haas | Romain Grosjean |
| Renault | Nico Hulkenberg (am) / Jolyon Palmer (pm) |
| Sauber | Marcus Ericsson (am) / Pascal Wehrlein (pm) |