Report
Serene Hamilton wins incident-packed French Grand Prix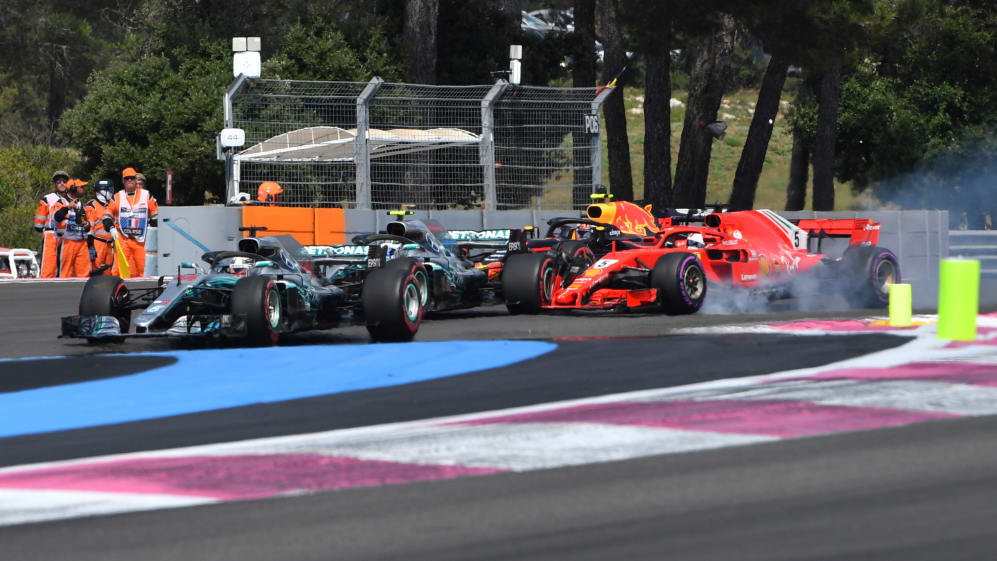 Mercedes brought their delayed engine upgrade to France, complete with "added goodness" and Lewis Hamilton took full advantage on Sunday, converting pole position into a commanding victory in the returning French Grand Prix as his chief title rival Sebastian Vettel made life hard for himself…
Hamilton was back to his brilliant best in qualifying and proceeded to dominate the race, crossing the line seven seconds ahead of Red Bull's Max Verstappen with Ferrari's Kimi Raikkonen completing the podium. With Vettel finishing down in fifth, Hamilton convincingly reclaimed the lead in the drivers' standings.
The world champion avoided the chaos that unravelled behind him at the start, with Vettel locking up and sliding into Valtteri Bottas, spinning the Finn's Mercedes and puncturing his tyre while breaking his own front wing. There were groans in the grandstands as further back, Pierre Gasly got out of shape and clattered into fellow Frenchman Esteban Ocon, forcing both out on the spot.
With debris scattered across the track, the Safety Car was called into action with Hamilton leading from Verstappen, who bailed out to avoid the chaos and rejoined in second, and Renault's Carlos Sainz, who had gained a remarkable six places. At the restart, Hamilton comfortably retained the lead.
Vettel and Bottas, meanwhile, were on a charge. The duo, having been fitted with a new front wing and right rear tyre respectively plus fresh soft tyres, carved their way up through the field. As they would not theoretically have to stop again, after fitting soft tyres, they soon found themselves in the top 10 as others dived into the pits to rid themselves of the ultrasofts or supersofts.
Up front, Verstappen was the first of the leaders to blink, diving into the pits for soft tyres. Crucially, he rejoined ahead of Vettel, who had battled up to fourth. His team mate Daniel Ricciardo, who had passed Sainz for third, pitted a couple of laps later, couldn't repeat the trick and rejoined in fifth.
Noting Vettel's good progress, it was 'Hammertime' for Hamilton, the four-time world champion pumping in a succession of fastest laps to rapidly quadruple his lead to around eight seconds. It meant that by the time he pitted, he could comfortably rejoin ahead of Verstappen, momentarily handing the lead to Raikkonen, who had chosen to run deep into the race.
When the Ferrari driver pitted he took on the supersoft tyres, with all of his rivals on the more durable soft rubber, and rejoined in fifth, ahead of Bottas, who Mercedes reported was running with damage to the floor that subsequently led to a loss of downforce and shift in balance.
Ricciardo made the most of his fresh tyres to outbrake Vettel into Turn 11 and snatch the final podium position back. The German then lost another position to his team mate Raikkonen, who was a couple of seconds a lap quicker on the supersofts.
Mercedes opted to pit Bottas and fit the supersofts, but they had a problem removing the right rear that significantly delayed him. The Finn rejoined in ninth, losing three places. Vettel followed suit on the next lap, but took the ultrasofts and his five-second time penalty for colliding with Bottas, and still stayed fifth to set up a grandstand finish.
Both Ferraris were lighting up the timesheets, but while Vettel was too far adrift, Raikkonen smelt a podium as he homed in on Ricciardo, who was struggling with front wing damage from debris, according to Red Bull boss Christian Horner. The Finn quickly caught the Australian and after swarming all over the Red Bull's gearbox, he pulled the trigger into the chicane.
Ricciardo took fourth, well clear of Vettel, while Sainz was set for a brilliant sixth before suffering a power problem with three laps to go. Kevin Magnussen in the Haas and Bottas slipped by but Sainz held on to eighth, ahead of Renault team mate Nico Hulkenberg.
Charles Leclerc, who had made Q3 for the first time in his career, rose as high as sixth at the start and though his challenge faded, he drove brilliantly to take 10th for Sauber – his fourth points finish in five races. Romain Grosjean was the best-placed home driver, finishing just outside the points for Haas in 11th, the Frenchman having picked up a five-second time penalty for contact with compatriot Ocon on the run to Turn 1 at the start. His wait for a first point of 2018 continues.
Force India's Sergio Perez retired with an engine problem, while Williams' Lance Stroll's front-left tyre failed with a couple of laps remaining, spraying debris across the track and sparking a virtual safety car that ended with just half a lap to go.
"I'm so happy for England, it's a beautiful Sunday," said Hamilton on team radio as he crossed the line, referencing England's commanding 6-1 victory over Panama in the football World Cup earlier in the day.
It was win number three of 2018 for Hamilton, who now leads the championship by 14 points from Vettel, while Mercedes' advantage over Ferrari in the constructors' standings swelled by four points to 23 with 13 races still remaining.
The key quote
"I feel very grateful, just grateful for a solid weekend. My guys, I've been with them for six years and they're just continuously pushing the boundaries and never giving up, so I'm just forever grateful for all their work, here at the track and back at the factory. This is a great day. I enjoyed the race. The weather was good, and the fans have been crazy today, it's been really good to see so many people here for the French Grand Prix. So for me, personally, it's the best French Grand Prix I've ever had." – Lewis Hamilton
The stats that matter
Lewis Hamilton won for Mercedes on the 107th anniversary of the birth of Juan Manuel Fangio, the last man to win a French Grand Prix for Mercedes, back in 1954.

Hamilton has now won at every circuit on the 2018 calendar, while also recording victory at his 26th different venue, an extension of his existing record.

That's now 12 races outside the points for Haas' Romain Grosjean, and he remains on nul points for 2018.

Max Verstappen's second place marks the only time a Red Bull driver has scored consecutive podiums in 2018.

The race featured Force India's first double DNF since Hungary 2015.

Kevin Magnussen now has three top six finishes this year. Before the start of 2018, he had only ever had two over three full seasons.

Carlos Sainz has now scored in six races in a row, the only driver to do so apart from Lewis Hamilton and Sebastian Vettel.

It was Kimi Raikkonen's 102nd start without a win. Raikkonen now becomes the first driver in F1 history to score 25 podiums without taking a win in the same period.

Charles Leclerc scored points for Sauber for the fourth time in five races. The team now have more points in the constructors' championship than they had in 2016 and 2017 combined.

Fernando Alonso has now failed to score in the past three races, having managed to take points in the eight before that.
Driver of the Day – Sebastian Vettel
DHL Fastest Lap
Valtteri Bottas – 1m 34.225s (lap 41)
What's next?
Part Two of Formula 1's first triple-header, the Austrian Grand Prix held in the picturesque surroundings of Spielberg, is coming up on June 29 – July 1.