Feature
Singapore preview quotes - Williams, Sauber, Force India, Toro Rosso & more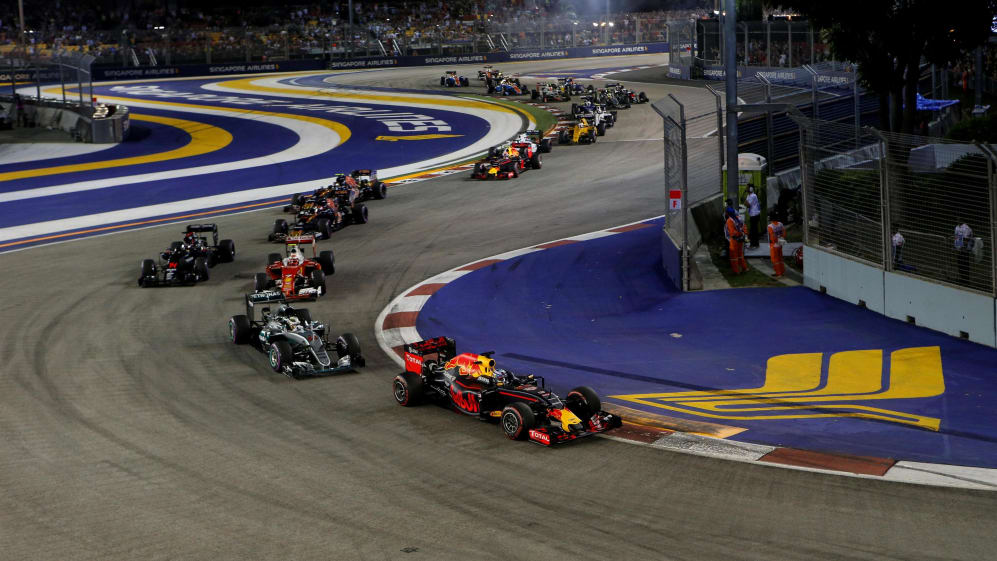 From the open sweeps of Monza, the teams head to the floodlit confines of the Marina Bay Street Circuit for this weekend's 2017 Formula 1 Singapore Airlines Singapore Grand Prix. Those involved look ahead to the event…
Williams
Felipe Massa
"While we have three night races, Singapore is the only one in the middle of the city, in the middle of the night, and it's great. I am looking forward to the race, although I know it will be very hot and humid, which makes it one of the most difficult tracks. As always, I am hoping we can have a good result."
Lance Stroll
"Singapore is new territory for me, but I don't mind that at all. So far the only night race I have done was in Bahrain, but this will obviously be very different as it is on a street circuit. I like the looks of the track from what I have seen and certainly it appears to be very technical. While I am sure Singapore as a place to visit is really cool, the temperature when we race there will be the exact opposite and the conditions will be hot and humid. The race should be really demanding physically and we will do a bit of training in the heat before going there. However, really you just have to carry on with the normal training and then suffer through the conditions."
Paddy Lowe, Chief Technical Officer
"We head to Singapore this weekend, and into one of the most unique races on the calendar. This was the very first race to be held in the evening under floodlights and it creates a very special magic to the event that we see nowhere else. The Marina Bay street circuit itself requires high downforce and good mechanical grip. It is hard on brakes and with a lot of kerbs it is very tough on the cars. With a very slow characteristic speed, but still the full 300km race distance (unlike Monaco), we very often see the race reaching the two hour limit. The heat and humidity is intense even without the sun. Putting this together is one of the most challenging races for the drivers and the cars, hence we see many incidents as cars break and drivers become fatigued. All this makes for an exciting and dramatic spectacle! From Williams' perspective we look forward to continuing the good momentum we had in Monza into the final seven flyaway races of the season starting here."
Sauber
Marcus Ericsson
"I am really looking forward to racing in Singapore again. It is a pleasure to be in such a great city, and night races are always a lot of fun. In terms of the driving experience, I'd say it is one of the best tracks of the year. The Marina Bay Street Circuit is a city track, and has the highest number of corners out of all tracks on the calendar. The high temperatures and humidity add an extra challenge to all the drivers and team members. As for the fan experience – there are a lot of events taking place around the city, so it will be an exciting weekend all-round."
Pascal Wehrlein
"I can't wait to be back in Singapore – it is my favourite race of the season. I generally like night races, but Singapore takes the experience of driving in one to the 'next level', especially in terms of the atmosphere. The city is lit up and I like the challenge of driving on a city circuit. We also get to break out of our usual weekend routine there, as most of our on and off-track activities take place at night – that's nice for a change. Overall, this race weekend will be an exciting one and I am looking forward to climbing back into the car there."
Force India
Sergio Perez
"Singapore is definitely one of the toughest races in the season. It's so hot and humid; a real test for the driver, but I am well prepared for racing in the heat. Sometimes you feel really uncomfortable in the car and you just want the race to be over as soon as possible. It's hard to breathe, you are sweating a lot and the sweat goes in your eyes! But it's still a special night and one of the best races of the year.
"I have been in the points every time I have raced in Singapore and I hope I can extend my record. It's hard to single out a specific corner in Marina Bay because I really like them all. I love street circuits in general and this is a special lap. There's no room for error – the wall is always next to you; one mistake and you're out.
"Our objective is obviously to score points in Singapore and in all the races to follow. The season may be nearing an end, but there are still some very important races ahead of us and we want to make sure we do our best to stay fourth in the championship."
Esteban Ocon
"There's something special about Singapore. You race under the lights and the atmosphere is unique: it feels really glamorous and all the fans and guests are partying through the night during the race. On the other hand, it's very hard physically. It's hot and very humid, and you lose a lot of fluids when driving. It's one of those places where everything needs to be perfect in the car, because you'll struggle a lot if you're not in the right position or there is something wrong with the seat. You try to prepare as best as you can for days like these; you train in hot places and try to maximise the performance of your body.
"The weird schedule doesn't affect me. I like that we stick to European times: we wake up late, the days are shorter and you're able to sleep a lot. It's my favourite weekend schedule – I am someone who sleeps a lot and in Singapore I can get my 12 hours per night!
"The lap has some really interesting sections. For a street circuit, it's very fast, but my favourite part is the twisty part in the middle of the lap, where you're so close to the wall all the time. There are a lot of beautiful buildings next to the track and when they are all lit up at night the place looks very beautiful."
Tom McCullough, Chief Race Engineer
"Singapore is the original Formula 1 night race and is as different a track from Monza as it can be. It's an anticlockwise track and it has the highest number of corners in the calendar – 23 on the official map. The corners are quite evenly balanced between left and right and most of them are tight, low-speed turns. Qualifying will be very important as there aren't many overtaking opportunities: despite this, races are often very entertaining and the Safety Car is a common sight. It's a tough weekend for both the drivers and the team members: it's hot and humid, even at night, meaning hydration is very important. The drivers, in particular, need to be in perfect shape: Singapore is the longest race of the year and one in which they will need to be confident in the car and precise, as the walls are unforgiving and there's no room for mistakes."
Vijay Mallya, Team Principal
"It feels pretty good for our team to be sitting in fourth place in the championship as we get ready for the Singapore Grand Prix. The strong showing in Monza brought us our tenth double points finish of the season, which is a tremendous effort by the entire team.
"With seven races to go, the season is rushing by quickly and we just need to keep doing what we've been doing all year long. It's about being consistent, picking up the points and taking our opportunities.
"We haven't eased off. Development of the VJM10 continues and will bring benefits for the 2018 car too. We are still bringing new parts to the track and both cars will have developments this weekend."
Toro Rosso
Daniil Kvyat
"The Singapore Grand Prix is a very enjoyable event because it takes place in the city centre of a very cool city and there's a mega atmosphere! Racing at night makes it all even more special and I'd say it's one of the most unique weekends of the year.
"It's quite hot and humid there, which means it's a challenging race from a physical point of view. The good news is that I always arrive there very well prepared thanks to all the work my physio and I put in throughout the whole year.
"Even if it's difficult, I sometimes try and do some shopping as there are many shopping centres in the city. It's not easy as we stay on European time in Singapore, so when we finish at the track it's early morning all the shops are already closed! An option is to wake up earlier and do it before going to the circuit, but I like sleeping and that's actually what I should do until 'lunch time'.
"Last year I finished in the points (P9) after a very good qualifying session on Saturday (P7) so I hope we can be competitive also this year. In addition, everything can happen in Singapore, the walls are very close and the physical preparation can make a big difference. I've trained very hard to be able to stay focussed on the driving without worrying about anything else… we need to take any chance that comes our way and bring home points.
"Even if you sleep the usual amount of hours, having to wake up at lunch time gives me the feeling I'm allowed to sleep much more than during any other race weekend but still fit many things in during the day… Maybe also the fact of going to bed very late makes me feel in a way on holiday but, believe me, we are not!"
Carlos Sainz
"I'd say Singapore is probably the toughest race on the calendar, not only because of the demands of the circuit itself, but also because of the physical stresses regarding the driver. The physical stress of driving at more than 50 or 60 degrees inside the cockpit due to the heat and humidity is enormous. The air doesn't flow, as the city skyscrapers don't allow it and you really feel the hot air inside the car!
"The track itself is really long, very tight and extremely demanding. There's no time to rest during the lap and you have to be 100% focussed at all times, as the walls are all very close.
"We stay on European time while in Singapore, which can sometimes be a bit weird: We wake up at around 2pm every day and leave the track at 3am, which is strange but also makes it more special. As we come from Europe I don't usually struggle with this unusual timetable. I sometimes find it more difficult to adapt to the Malaysian or Japanese time zones for example.
"Last year I performed one of my best qualifying sessions of the season, something which is very important to do in Singapore as it's difficult to overtake during the race. Unfortunately, the good qualifying didn't count for much in the end, as I had a frustrating start when I got hit as the lights went out… It was a very tough moment, as I was expecting to fight for points. We probably lost a chance of scoring a strong result! Let's see if we can do it this year…"
Mercedes
Toto Wolff, Head of Mercedes-Benz Motorsport
*"Identifying clearly our strengths and our weaknesses has been a strength of our team in recent seasons. As we have pushed to become better and stronger in every area, we have put the finger in the wound in order to understand the root causes of both our good performances and the bad ones. In 2015, Singapore provided us with one of the most painful experiences in recent seasons, so we rolled up the sleeves, learned from it and managed to bounce back with a great win last year. But notwithstanding that success, this is a circuit we have found difficult to master with its combination of short, sharp corners, relatively short straights and bumpy surface. And we head to Asia this time round with the expectation that we have a big challenge ahead of us. *
*"So far this year, we have seen the pendulum swing according to circuit type. On the surface, Singapore is the kind of circuit that should favour both Ferrari and Red Bull. Both have shown strong performance on low-speed circuits demanding maximum downforce, and we have found life more difficult at those places in 2017. Sometimes, characteristics like this are simply in the DNA of a car. Nevertheless we learned a lot from our struggles in Monaco, raised our level of performance significantly in Hungary and we have made good progress in understanding what we need to do in order to get the most from the chassis. *
"Singapore is a fantastic showcase for our sport and a unique spectacle under the lights. But it's a demanding weekend for the teams: the ambient conditions make life in the garage tough, it's physically demanding for the drivers and challenging for the cars in terms of managing brake and tyre temperatures. Safety Car periods are almost guaranteed, so there are lots of variables to consider on strategy. It's a weekend when every part of the team needs to be at its best if you wish to score a strong finish. We will aim to put all the pieces of the puzzle together and finish strongly."
McLaren
Fernando Alonso
"We knew the double-header of Spa and Monza would be difficult for us, but three DNFs out of four was still really disappointing. Still, we showed better pace than we anticipated, even though we couldn't convert that into points.
"We've now put the European season behind us and we turn our attention to the fly-aways which signal the final chapter of the season. Singapore is a great place to start, as it's one of the circuits on the calendar that suits our package better than others, and gives us a real chance for a more positive result.
"Singapore is a bit like the Monaco of the East. It's a glamorous street circuit right in the centre of the city and the atmosphere is incredible. It's tough – hot and humid, and hard on the cars and drivers. It's really fun though: bumpy, tight and challenging, but exhilarating when you get it right. You need a car with good traction on the slower corners and a high downforce set-up, so we definitely have a better chance there – we just need to make sure we also have the reliability."
Stoffel Vandoorne
"I've never raced in Singapore, but I've experienced the whole weekend alongside the team over the past couple of years. Living on European time and going to bed at 6am is surreal, and it's part of what makes this Grand Prix one of the really special ones. Singapore is such a cool place and I'm looking forward to exploring more of the city this year.
"Of the Grands Prix I haven't yet done, Singapore is one of the races that I've been most excited about all year. It's a completely different experience to the other races and I think the whole atmosphere will feel pretty unique – racing under the floodlights in the middle of the city sounds really cool. The Grands Prix here have been some of the longest on the calendar, so it'll take a lot of stamina in the high temperatures and humidity, but I feel well prepared.
"We've had a tough couple of races as a team, but from my side I've also been encouraged by the performances we've put in across the course of each weekend. In every session we've been able to take away positives – even if we haven't managed to get the cars to the end of the race or finish with a good result. I'm pretty sure we're due some better luck, so I hope in Singapore we'll be able to maximise the strengths of our package over the whole weekend, and finish the all-important race day on a high on Sunday afternoon."
Eric Boullier, Racing Director
"The whole team looks forward to Singapore each year – it's a flagship event and an Asian jewel in the crown. The combination of the humidity, operating at unusual times during the day and night while working to the European schedule, the floodlights, high walls and gruelling track layout all makes for a truly unique grand prix, and an epic weekend of racing for fans in the middle of this great city. "It's a fantastic spectacle for fans, teams and partners alike, who all love to experience the best of Singapore and enjoy everything the city and grand prix organisers have to offer. It's also a weekend that produces some of the best racing on the calendar, and never fails to throw up some drama.
"We're also keen to move on from the last couple of weekends, and focus firmly on the future. Singapore is one of the best chances of the year in terms of matching our package to the characteristics of this gruelling street circuit. We've worked hard to try to avoid incurring any penalties which could halt our progress there, and we hope that following Stoffel's retirement in Monza we won't have to use any new power unit elements, although this is yet to be officially confirmed.
"Celebrating 10 years of the Singapore Grand Prix is a great achievement and we'd like to congratulate the organisers for reaching this milestone, at what is an incredibly impressive venue that teams and fans alike love returning to each year. For McLaren Honda, this year's race offers us everything to play for, and we're looking forward to fighting as close to our front-running competitors as possible."
Yusuke Hasegawa, Honda R&D Co. Ltd Head of F1 Project & Executive Chief Engineer
"Although Italy marked the end of the European season, our F1 campaign continues to ramp up as we head to Singapore for the final run of fly-away races.
"With a typically tropical climate, the hot and humid conditions in Singapore are tough for both the drivers and team members. Despite this, the Singapore Grand Prix remains one of the favourites for the F1 paddock, with the city's skyline providing a spectacular backdrop to the race.
"We had a disappointing result last time out at the Italian Grand Prix, however, it was still positive that we had good pace on such a power-hungry track.
"In stark contrast to the Autodromo Nazionale Monza, with so many tight, slow corners, the Marina Bay Street Circuit is less reliant on outright power and plays more to our strengths as we saw at the Hungarian Grand Prix earlier this season.
"The car's overall balance between power unit and chassis will be the key to a good weekend, so our engineers are hard at work preparing the ideal set-up. Hopefully we can provide the drivers with a good package so they can be in the hunt for much-needed points."
Pirelli
Mario Isola, Head of Car Racing
"Singapore is always one of the most exciting and unpredictable races of the year, in which pit stop strategy often plays a crucial role in the outcome: also because of the near certainty of a safety car at some point during the arduous two hours. Having said that, pole position has historically had a strong influence on the race win at Marina Bay, so qualifying will be crucial as well. In order to prepare, teams will have to pay particularly close attention to the free practice data as track temperature at night will evolve in quite a different way than it does at a conventional daytime race. Understanding this will be key to getting a good handle on wear and degradation rates, and so implementing an effective tyre strategy."
Haas
Romain Grosjean
"I do like the Singapore Grand Prix. I do like competing in the night. It's pretty good fun. It makes some great footage, and clearly Singapore is one of the most beautiful races you can have by night. It's pretty awesome. It provides something a bit different on the calendar. I'm very much looking forward to it and seeing what we can do there.
"I think [it will suit our car better than the high-speed tracks]. Every time we run maximum downforce, the car seems to work better. We've got a better efficiency between drag and downforce, so that's good. The key for us in Singapore will be to get into the tyre window. If we do so, we'll be in a good place. But again, that's not easy to achieve.
"[Driving]'s actually easier at night because the lights never change. The luminosity is always the same. You stick with the same visor, and driving at those speeds in those conditions is absolutely fine.
"[The atmosphere]'s pretty cool. Everyone loves it, especially the VIPs, who then go partying after the race. It's a special one, for sure. It's a race everyone waits for. It's a tricky track, and you're racing at night downtown when it's very hot and humid, so there are a lot of factors that make it exciting.
"It can be very physical. All week we never see the sunlight, so that takes a bit of energy away. Then it's humid, it's hot and it's always a long race. We usually reach the two-hour limit. It's very, very demanding. I remember back in 2013, I lost four kilos (nine pounds) of water during the race, which is quite a lot.
"Especially between turns three and four, and on the long straight, it's very bumpy. You really want to find the right line there. When you make an overtaking move there, you've really got to be sure you've got the car with you as it's very tricky."
Kevin Magnussen
"I think it's a cool track, fun to drive. It's pretty difficult to overtake, but fun nonetheless. If you miss your braking or get on the power a bit too early, there's a wall and you'll be likely to hit it. This makes the consequences a bit bigger for any mistake, which is cool.
"There are some bumps around the track. You're trying to avoid them as much as you can. It's not possible to avoid all of the bumps as you need to take your racing line. It makes it easy to lock up in some places.
"It's pretty tough [physically]. It's very hot and humid. It's probably one of the hardest races. It goes on for the two-hour limit nearly all the time. It's a tough race with so many corners – you don't really get any breaks. There's not a lot of straights to relax. [The race] goes on for a long time, so your fatigue affects your mental performance as well. It is a tough race."
Renault
Nico Hulkenberg
"As a track, it's really tough and physically demanding – arguably one of the hardest of the season. The lap is long with lots of corners and some tight and sharp bits. The high temperature and humidity, combined with the fact that it's a street circuit, makes it quite hard. It's important to be in top physical shape due to the harsh requirements. Safety cars usually come out which makes strategy hard to call.
"[Racing under lights] takes a little getting used to, but it's not so bad. It's been on the calendar so long that it feels like a normal race. It's a very special Grand Prix and the only real night race we have. We don't really see the day there! We sleep until lunchtime, and then it's off to work, so there isn't much of a social life for us drivers. The venue is amazing, how they've built it all is fantastic, especially as it's right in the middle of the city."
Jolyon Palmer
"I love Singapore as it's a highly unique event under the lights. I've won there in the GP2 Series and it was one of my best wins. In fact, I raced there two years running and both years were very good. Hopefully I can create more good memories there. It's a cool feeling driving at night as you can see the circuit very clearly from the lights but your vision is channelled as the background is in darkness.
"The final sector is a real challenge with the section under the grandstand. It's tight over the bridge too so you need your wits about you. Stringing a perfect lap together is very testing. Over the bridge and the middle of the lap are pretty tough to get right as you're braking as you turn so it's easy to lock a wheel, and the last sector is very tight and twisty.
"We see the circuit change a lot over the weekend as the surface rubbers in then the climatic conditions are reasonably different between FP1 and FP2, then FP3 and qualifying. Getting a good handle on the balance of the car gives us plenty of work as generally it's cooler later in the night. It's not your usual race weekend!
"It's a strange weekend as we wake up later than usual with a lot of the work completed in the evening, meaning we don't get too much time to explore. But the great thing about the race is that it's right in the centre of the city so you're surrounded by everything you could want. You don't have to go far for a good restaurant. It's always great to sample the local culture."
Nick Chester, Technical Director
"Firstly, it's massively different to Monza and almost a stark contrast as a high-downforce package is required, and that should suit us pretty well. There are a number of things to look out for: tight corners, big kerbs and a lot of traction demands, meaning it can be a hard place to get the right set-up. But if you have a reasonable amount of downforce you should have a quick and competitive car. We'd expect to be back to our Britain, Hungary and Spa level of performance.
"We've made softer rear springs to make the rear end more compliant which will aid traction. As ever, you have to get the compromise right as it's a balance between a compliant chassis and not losing too much aero performance. We have some minor updates to the bodywork which we will evaluate during the practice sessions."
Cyril Abiteboul, Renault Sport Racing Managing Director
"The Singapore Grand Prix marks the start of a busy period on the Formula 1 calendar as we gear up for the first of three races in Asia.
"We are now focusing on these busy Asia rounds. Williams sit just 21 points ahead of us in fifth place in the Constructors' Championship and, with seven races to go, it's very much in our capability to chase that down by the end of the season. We need to create some momentum and string together some consistent results with both cars inside the top ten. Singapore will be vital to kick start this effort.
"Marina Bay is an interesting and challenging street circuit raced under the lights of the night time sky. Its fast kinks and tight and twisty infield means it is much more suited to our car than the previous round in Monza."
Red Bull
Daniel Ricciardo
"I believe Singapore won't be our only chance but is one of our best chances of a win in the second half of the season. You have to build up speed a little slower in the practice sessions on a street circuit like Singapore. At some point you have to start taking risks but to do that straight away doesn't make sense.
"I always prepare for the race with some acclimatization training. You feel the heat when you're in the car, but when you stop after the race and the adrenaline decreases you feel it even more. After the race I will easily sink five litres of water to rehydrate before I go to bed.
"I've started second and finished second at this track in the last two years, with fastest lap both times, so my aim this year is definitely to start on pole and try to go one better in the race."
Max Verstappen
"I'm looking forward to getting to Singapore as it's always a special weekend. The race has been a strong one for us in the past and I think we should be able to challenge for a podium this year.
"The night race and hot temperatures really test you to the limit and for me Singapore is physically the hardest race of the season. I have been preparing already for a few weeks doing heat training in the sauna and getting ready to sweat so I can cope with the heat in both Singapore and Malaysia.
"The track itself has a lot of corners which is why I enjoy driving there and like most street circuits it's pretty bumpy which makes it even more challenging."