Feature
Six key questions ahead of the race in Singapore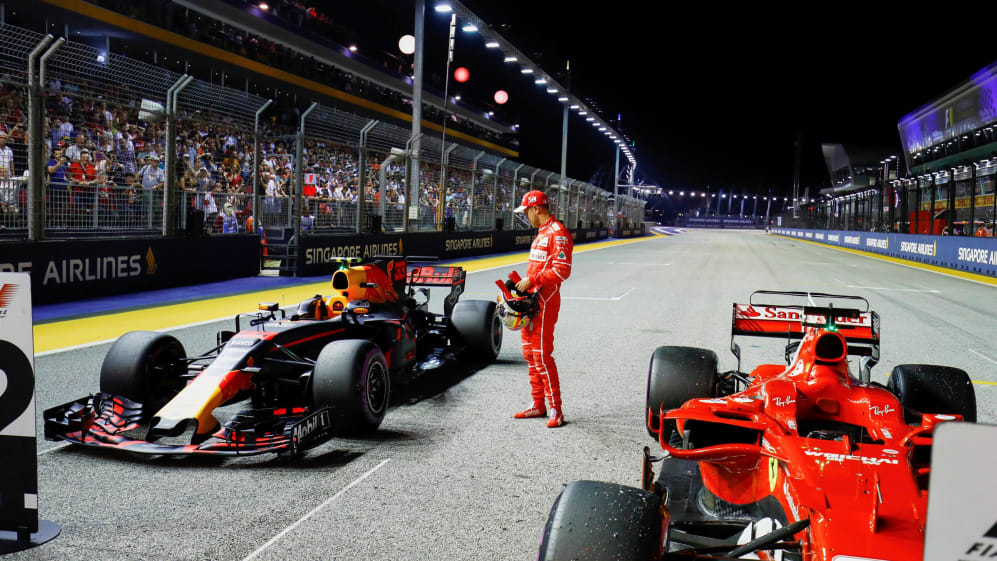 Who really has the quickest car? What can Hamilton claw back? Are McLaren set for a season-best result? We consider these and the other key talking points ahead of this evening's race in Marina Bay...
Are Ferrari the race favourites?
In some ways, nobody was as surprised as Sebastian Vettel how he turned a one-second deficit to Red Bull into a three-tenth advantage, between Q1 and Q3. The German was visibly shaken with adrenaline when he was interviewed immediately after scoring the 49th pole of his career.
"It's a long lap. There are a lot of corners – a lot of things to get right, and equally a lot of things you can get wrong," he admitted. "I'm really happy. Obviously the weekend so far has been a bit up and down for us. Yesterday was difficult. This afternoon was difficult. Tonight the car really came alive and it was just getting better.
Ferrari came here as the favourites and finally delivered on that, but some believe Vettel had to screw things up so much to get that pole lap out of the car, that he can't sustain a similar advantage over the Red Bulls in the race. There is also the worry that he might have damaged his gearbox, hitting the Turn 19 wall during his pole lap.
"We have a long race and a lot of things can happen," he said. "Certainly grid position is king or crucial, but still it's a long race. The fact that our car was good this evening I think is promising for tomorrow. Yesterday we had a scrappy car, I had damage, so the runs after that were compromised. But the feeling was there. I knew that the car has got it, we just needed to get it out and that's what we did tonight. I'm confident for tomorrow.
"For the others? Max (Verstappen) is next to me, so first of all I guess I'm racing him and then Daniel (Ricciardo), and so on and so forth, so not too bothered where other people are. I will be ready and excited to start tomorrow to see what we can do. For sure we're in a good position so we have lots of reasons to look forward to."
Not least is that with title rival Lewis Hamilton starting fifth, separated from him by the Red Bulls and his Ferrari team mate Kimi Raikkonen, Vettel has an excellent chance to snatch back the points lead going into the final six races.
Or is it Red Bull's race to lose?
Both Daniel Ricciardo and Max Verstappen are adamant that a Red Bull will be victorious in the Singapore Grand Prix, even though they lacked the ultimate pace to beat Sebastian Vettel's Ferrari to pole position because Ferrari (like Mercedes) are able to turn their engine up more in qualifying than Renault can.
Verstappen starts alongside Vettel after out-qualifying his team mate by just 0.026s.
"It's a shame we couldn't put it on pole," he said. "The final lap wasn't great but we were close so I am happy with that.
"Qualifying was a constant improvement, even though the whole weekend we were down on power, lost a bit of top speed, so to be second here is very promising. We know we still have to work hard to improve in qualifying – it's still not where Ferrari and Mercedes is."
He represents the biggest danger for Vettel at the start, and says he'll be taking the fight to the Ferrari driver given the chance.
"You always go for it at the start if there is a gap and it is possible. If not, you settle down. It is a long race and anything can happen. So for sure it will be a tough race – but hopefully when I'm in the lead I can just, like, slow down a bit and we can cruise home."
Ricciardo spoke of having a "dominant" weekend after setting the pace in both Friday practice sessions, but tapped a wall in FP3 and couldn't quite muster such superior pace in qualifying.
But he firmly believes that red Bull have better race pace than either Ferrari or Mercedes.
"I am still confident we will get victory," he said. "We have a good package. Seb turned it on in qualifying but we will be back tomorrow. Today I will accept a little bit of defeat but there is still a lot to play for.
"You know my intention is always to try and go forward. I think here, a track where it's hard to pass, obviously the start is a big opportunity so, yeah, the intention is to go for it but see what happens. It always seems to tighten up at Turn 1 but we'll see, see how we go.
"I think it's really on the cusp of one and two stops, so it's going to make it exciting. You might have to carry us out of the cars tomorrow, but I'm sure I'll have a very strong race and get some big points."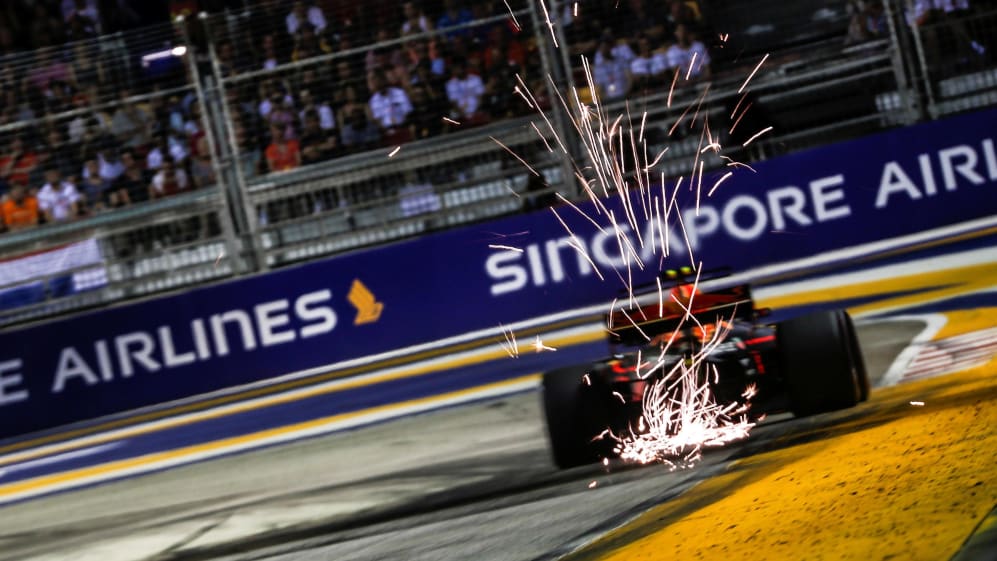 What can Hamilton hope for?
In contrast to arch-rival Vettel, Lewis Hamilton started reasonably but found the going tougher as the qualifying evening wore on. Despite his best efforts he was six-tenths of a second off his rival's sudden spurt. And three behind the Red Bulls. He will start fifth, and may have to be resigned to staying there.
"I was holding on to the reins for dear life," he admitted. "I didn't think I'd be this far off. This is a horrible track for overtaking. It's going to be a long slog tomorrow.
"We knew coming here it would be difficult. Every year it's been relatively difficult for us. I definitely didn't anticipate Ferrari would be as strong as they were. I thought Red Bull would be as quick as they were, but we still remained hopeful. I got everything I could out of the car, I gave it everything and more, literally threw the sink at it. Squeezed every single bit out of it."
Clearly mystified, having matched Vettel in the final practice session and outpaced him in Q1 and matched him again in Q2, he remarked when he saw the final lap times: "I don't know where Ferrari have picked up their pace. It's strange from race to race, it's a little bit different between us."
Each of the six main rivals will play the race based on the hand of cards they hold at any given moment. Hamilton, who will also have Raikkonen to deal with ahead of him, must rely on things coming to him.
"This is a tough track for overtaking, it's usually just a long, long train. So I think it's going to be very difficult. The start is an opportunity, strategy is an opportunity, safety cars, who knows?
"Tomorrow I'm just going to be playing the long game. It's a marathon not a sprint. It's going to be physical, it's going to be long, it could be dull. I just hope that I can pick some people off, at least get past a Ferrari at the start - that would be really helpful."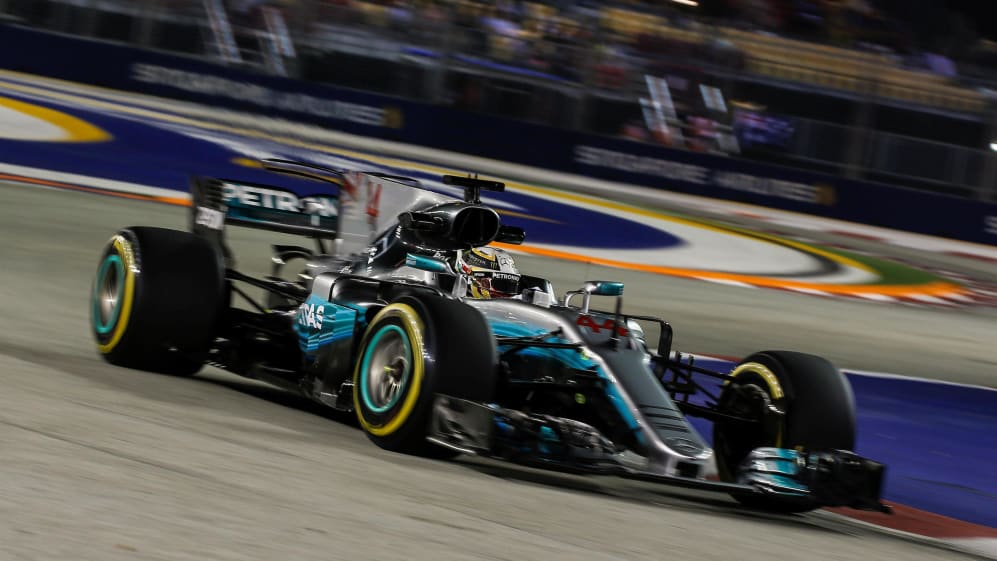 A taste of things to come for Hulkenberg?
When he found himself up against wo McLarens in the fight to be 'best of the rest' behind the top three teams, Nico Hulkenberg perhaps had a preview of what he can expect when both teams run the same engines next year.
He was just behind Fernando Alonso's McLaren in FP1, ahead of Stoffel Vandoorne's in FP2, then seventh, behind both of them, in FP3. He was still behind in Q1, and trailed Vandoorne in Q2. But in Q3 he got things just right to out-qualify them fractionally for seventh place.
He was so desperate to beat the Woking cars that he radioed in immediately after finishing his final lap to find out whether he had. "It was an interesting fight and we set, and I personally had, that target," he said. "I definitely was desperate to, very determined to be ahead of them and be P7. It was quite satisfying with the last lap to get them."
Hulkenberg is optimistic that he can run at a faster pace in the race, and be ready to pick up crumbs if any of the top six cars falter under Marina Bay's lights. "I think we have the pace, our package is good and strong," he said.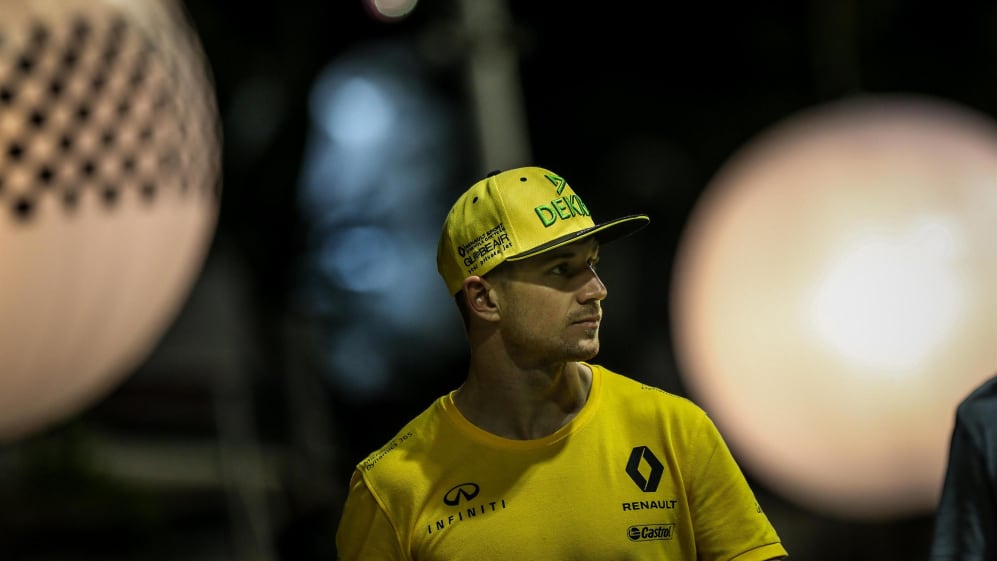 Will the McLaren-Honda 'divorce' begin on a high note?
When Stoffel Vandoorne momentarily hit the top of the timesheets early in Q1, when the Ferraris and Red Bulls were out and running, there were jokes that McLaren had fitted Renault engines overnight.
Both he and Fernando Alonso looked strong throughout qualifying, Vandoorne momentarily topping Q1 before he and Alonso finished fifth and third respectively. They easily made Q3, where eventually Alonso took eighth and Vandoorne ninth. Both thought they could have had more.
"Obviously after FP3, we were P4, P5, we thought for one moment to be maybe fighting for sixth or fifth if some of the top guys make a mistake or something in Q3, but it wasn't possible," Alonso said. "They did a good quallie and also Nico beat us today, so that's the target tomorrow, attack the Renault in front of us, defend from the guys behind and hopefully score points."
Neither team is sure who has the better race pace.
"I think the race pace here is a little bit of a question mark because yesterday the long runs were not long enough," Alonso continued. "I think with the difficulty of overtaking, the positions will be more or less set after the first lap. So we need to concentrate on a good start and after that we see if we can keep that position."
Vandoorne also felt fustrated. "It's been reasonably good, we came here expecting to have both cars in Q3 and that's what we managed," he said. "We definitely have the pace to be in the top 10 and to score points, maybe with a bit of mayhem in front. We've been competitive since the start."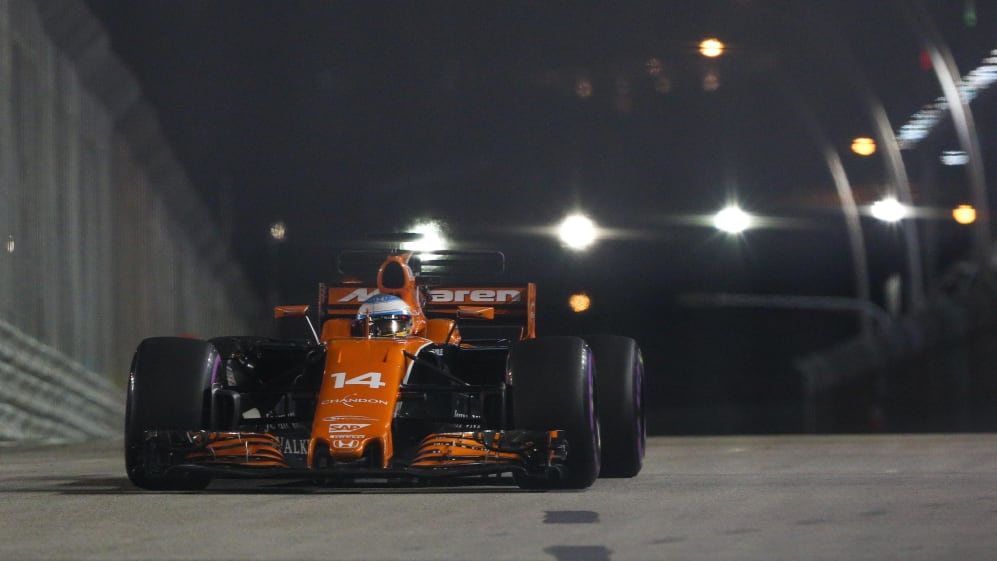 What's the best strategy?
Tyre suppliers Pirelli suggest that a one-stopper is the fastest way to complete the 61-lap race, with an opening stint of 19 laps on the ultrasoft compound and one to the flag on supersoft rubber.
A close option to that is an opening stint of 14 laps on ultrasofts and then the run to the flag on softs.
Also interesting is a two-stopper, with an opening 13-lap stint on ultrasofts, then two 24-laps stints on supersofts to the finish.