Feature
Six key questions ahead of the race in Spain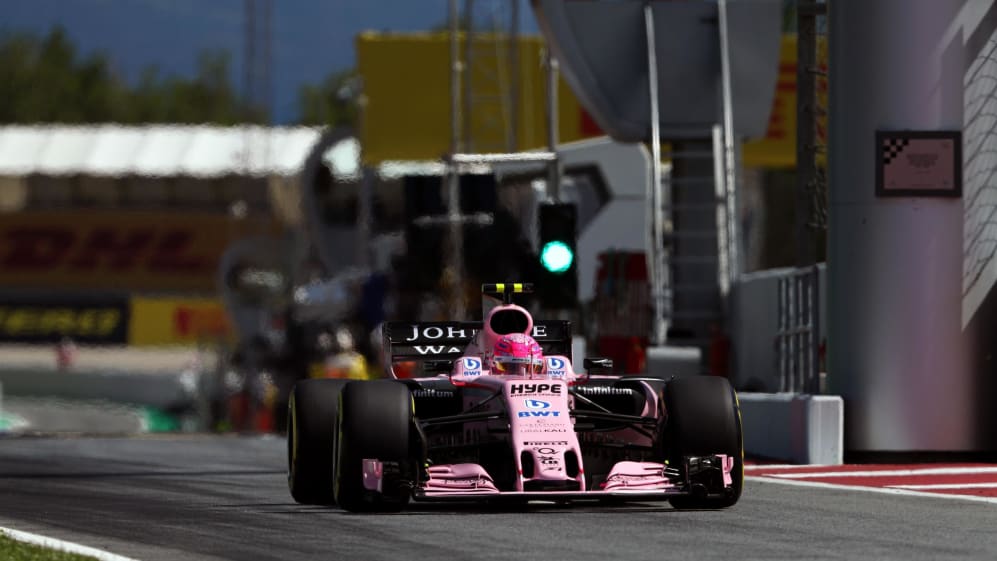 They've both thrown everything they could muster at upgrading their cars in preparation for this weekend, yet just 0.051s separated Mercedes and Ferrari after qualifying. So what now? We consider this and the other main talking points ahead of Sunday afternoon's Formula 1 Gran Premio de Espana Pirelli 2017 in Barcelona…
Can Mercedes stay in front?
Lewis Hamilton has frequently stressed this year that it will be the little things that determine the destiny of the world championship. And had he not made the best of windy conditions and achieved an excellent first-run lap of 1m 19.149s in qualifying, he might not have taken the 64th pole position of his career and not thus be starting from the best place on the grid.
As Mercedes and Ferrari brought new packages to make their cars faster still, and seemed to make very similar progress, the Briton rediscovered his mojo after intensive analysis with his engineers of the problems he encountered setting up his car in Russia. And he thanked the Mercedes workforce in Brackley for their efforts making the new bits that had helped him to go quicker.
"The team have brought a really great package here," he said. "It's quality rather than quantity, though perhaps a more visible package, and it's strange that after we'd both bolted all our bits on, we were still within half a tenth of each other."
So can Mercedes win?
"The race pace is looking good and the team has done an incredible job this weekend, as always," Hamilton said. "I don't know if the guys back at the factory get tired of hearing this, but they've done an incredible job. To make this step forward and bring a great package for this weekend to keep us in the fight with the Ferrari, I'm so grateful to them. We'll work as hard as we can on Sunday so that effort doesn't go to waste.
"It's gonna be a tough race tomorrow when you see how close it is between us. It's milliseconds. It's the third longest run to the first corner here, I think, so it's important that I get a good start. We've worked hard at that, so we'll do the best we can."
Russian race winner Valtteri Bottas, meanwhile, had engine problems on Saturday emanating from a water leak which required a change of power unit, and admitted that it put him on his back foot.
"I really struggled through qualifying with the rear stability, so it was difficult to find a good rhythm. It wasn't one of my best qualifying sessions, but you could see Lewis was very strong and quick today. It's a shorter run down to Turn 1 than in Sochi, but we've seen in the past that you can make positions from the second row. I've done some good things from P3 before. Everything is still wide open. We're happy with the race pace and upbeat for tomorrow."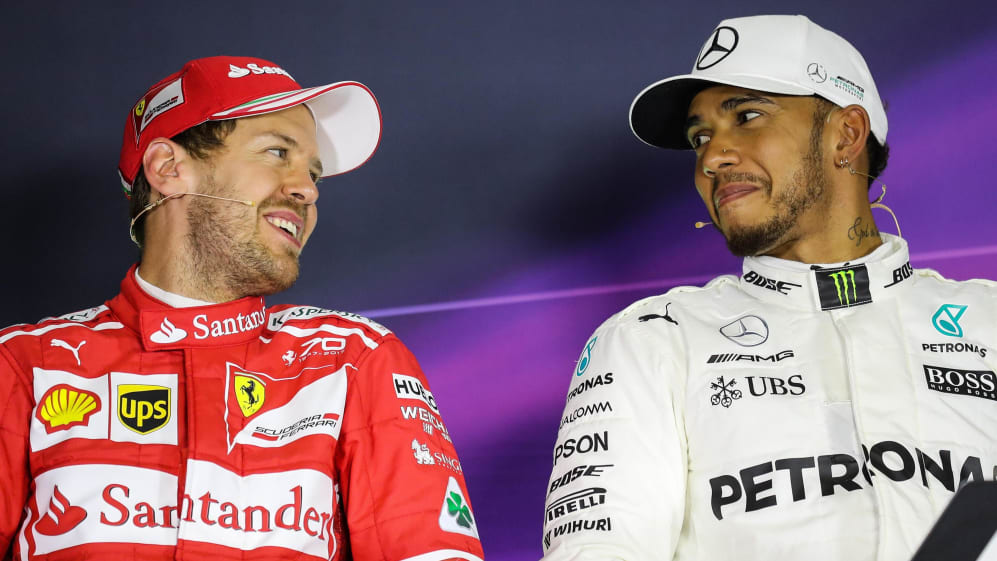 Or will Ferrari repeat their pre-season Barcelona dominance?
Like Mercedes, Ferrari had some engine problems on Saturday, and Vettel admitted that he had been a bit lost on Friday, and felt like a captain who wasn't sailing his own ship.
"I wasn't happy at all," he said. "I could feel what the car had there, but I just couldn't get to it.
"But today the team were phenomenal, the way they changed the engine after the problem with a water leak this morning. It's a three-hour job and they did it sub-two hours. I was ready to fire up for Q1. It was quite funny, because Kimi's crew helped out. There was one car on one side of the garage with only two people working on it, and on the other side was this car with people all over it like bees."
He said he also liked the work done to update the SF70H.
"I'm happy with the bits we bought," he said. "They are not flashy and bling, but they are working. Today, the car was just phenomenal. We could have had pole position today. I lost a tenth of a second, which is all I needed. But I never know what to expect in the last sector here, and when we were together at Red Bull, Mark Webber taught me many lessons here and I still don't get it. I need to go back to school! But when I consider where we were this morning, I think we made a really good recovery."
So what's required for a chance of beating Hamilton and Mercedes?
"I need a perfect start, simple as that. I just need to do everything right, and then the best way is to both attack and defend."
Ferrari's race pace is usually good, and while Raikkonen admitted that he just needs to drive better, the reds still look like a major threat to the silvers. Right now, this one is just too close to call.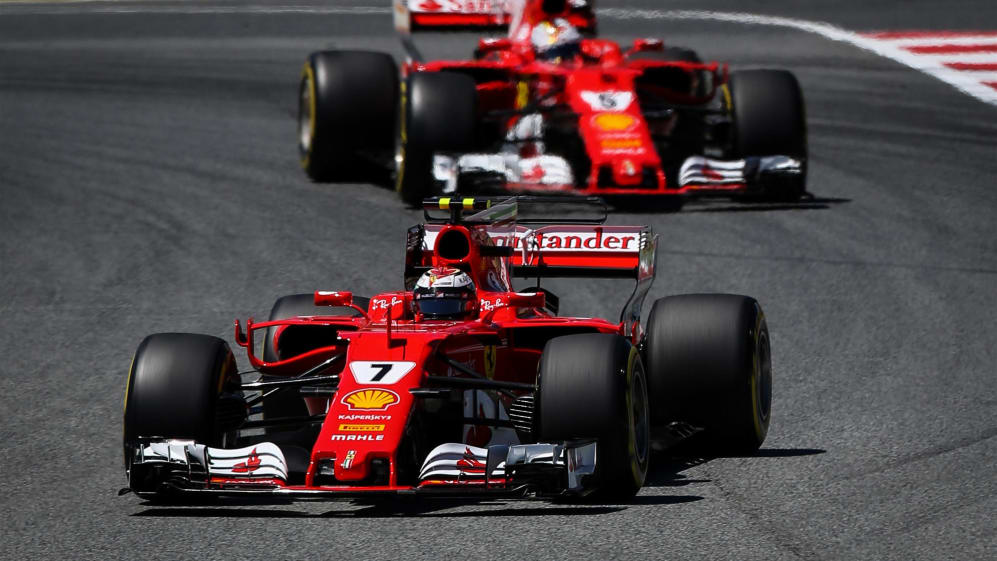 What might Red Bull be able to pull off?
Daniel Ricciardo struggled a little in practice and qualifying this weekend, but Max Verstappen qualified fifth only 0.557s off Hamilton's pole position time. That is the smallest the margin between Red Bull and Mercedes in 2017, and a sign that, here at least, the RB13 has made some very significant progress with its latest update.
"Absolutely, we went forward," Verstappen told reporters. "So far this weekend before qualifying we were still finding the balance a bit with the new upgrades, but I think in qualifying we were spot on. The car was definitely the best I've had all season, so I'm very happy. It was a good qualifying.
"To come from one second to six tenths is a massive step already. The car has improved everywhere. It has a better balance from entry, to mid- and mid-to-exit of the corner. It's a much more stable balance and you can push a lot more. We just need to keep on working to get even more downforce in the car."
So what might the teenager who won here so shockingly on his team debut here last year be able to pull off today? He was third fastest in the final sector, and his tail is definitely up.
"It's always nice to come back to Barcelona," he added. "I've driven a lot of laps here and it has been kind to me. Like we saw last year, you never know what can happen on race day here, our long run pace looks okay, so let's wait and see."
You never write off Ricciardo, either, even though he struggled in Q3.
"Personally I was struggling in the last sector, especially at the last two corners. I just wasn't able to carry enough speed through the chicane, which is where I lost most of the time. For the rest of the lap I felt we did all we could and now we have a pretty good balance in the high-speed corners. There is more potential in the car which we need to unlock but we have definitely found something this weekend and the gap to the leaders looks to be closing a bit.
"In the race it would be nice to get on terms with Ferrari and Mercedes but I think the main battle will be between Max and myself. Maybe we will even look at trying something different and splitting the strategy across both cars to put a bit of pressure on the top two teams. It should be interesting."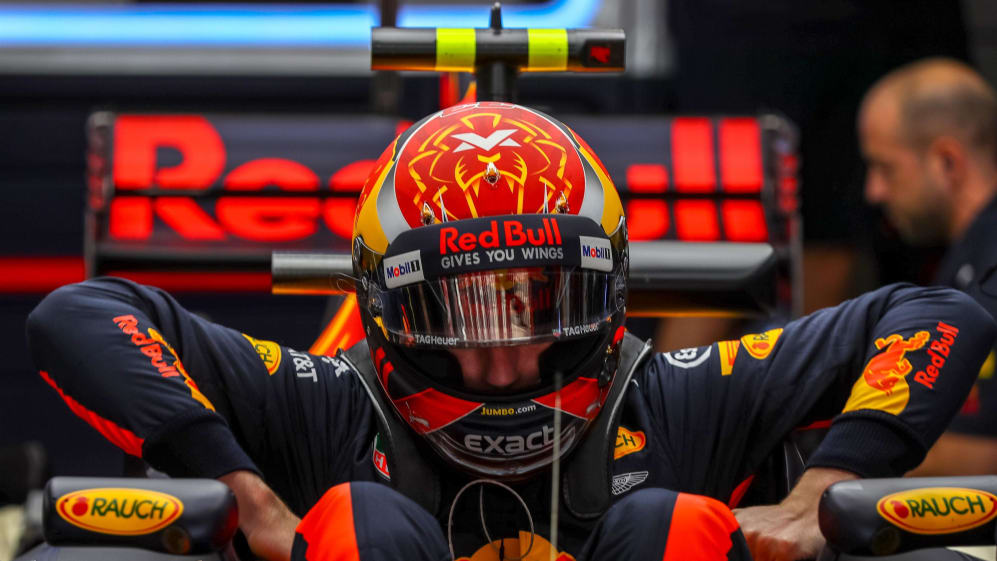 Perez? Or Ocon?
The intra-team battle at Force India remains nicely poised, as the team go hunting for a fifth straight double-points finish and their 15th consecutive one in the top 10.
Esteban Ocon was the star for much of qualifying before failing to improve on his second run in Q3 having been seventh after the first, while Sergio Perez jumped up to eighth after some earlier struggles as the team hones the set-up of their important new aero package.
"I'm very happy to be up in P8, although I am a bit disappointed to lose out to Fernando [Alonso] by such a small margin," said Perez, admitting that once again he was surprised to do so well. The team appeared to get everything right when it mattered. The key was in warming the tyres, getting them into the right window, and finding grip the others did not.
Crucially, Perez saved a set of new soft tyres in Q1, but the real aim will be to make up places at the start as overtaking is so hard here.
That will make the personal battle a little trickier for Ocon, after a DRS problem compromised his final run in Q3.
"I pressed the button too early and the DRS didn't open," he reported, "so I missed out on some performance – maybe three-tenths - which would have made a big difference. On the other hand, we have both cars inside the top 10 and we've shown that when it matters we are strong and consistent. That's encouraging for tomorrow and for the races to come. A good start and strong first lap will be important tomorrow and I'm confident we have the speed to get a good result."
Perez or Ocon? It says much for both of them that it's too hard to call.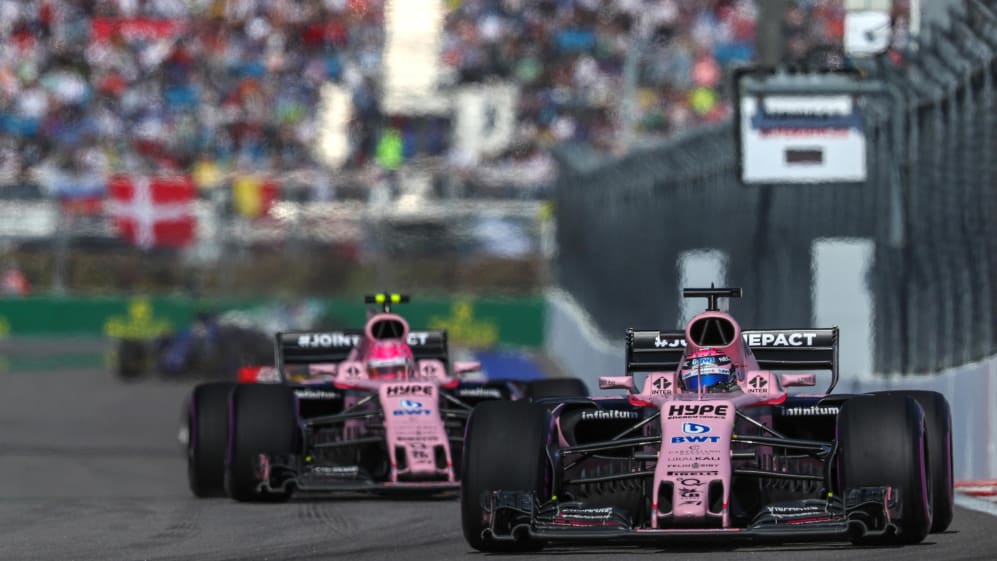 Points at last for McLaren Honda?
There was a snip of disappointment in McLaren when Fernando Alonso fell from a sensational seventh at one stage in Q2 to 10th right at the end, but there remained plenty of unalloyed joy after such a gruelling start to the weekend yesterday.
Even better was still in store, however, for the Spanish ace then planted the MCL32 seventh on the grid - ahead of the Force Indias and Felipe Massa's Williams.
"I know all the short cuts to take here, all the secrets," he grinned, but the truth was he had simply driven the wheels off the orange and black car. Yet again. And this time he'd finally been rewarded.
It was a sensational performance.
The problems he and Stoffel Vandoorne have encountered this weekend have disguised the true potential of the upgraded package that McLaren brought here, promoting the question whether he can finally score the team's first 2017 points.
"It's a track that is very difficult to follow on, so if we do a good start and keep this position the points are a real possibility," he said, but as the main DRS zone has been extended this weekend that could militate against Honda's power deficit.
"I'm only thinking of the start, how to overtake the Red Bulls," Alonso smiled. "I want to be in the top five in the first couple of laps."
What chances he might be still in the top 10 by the finish?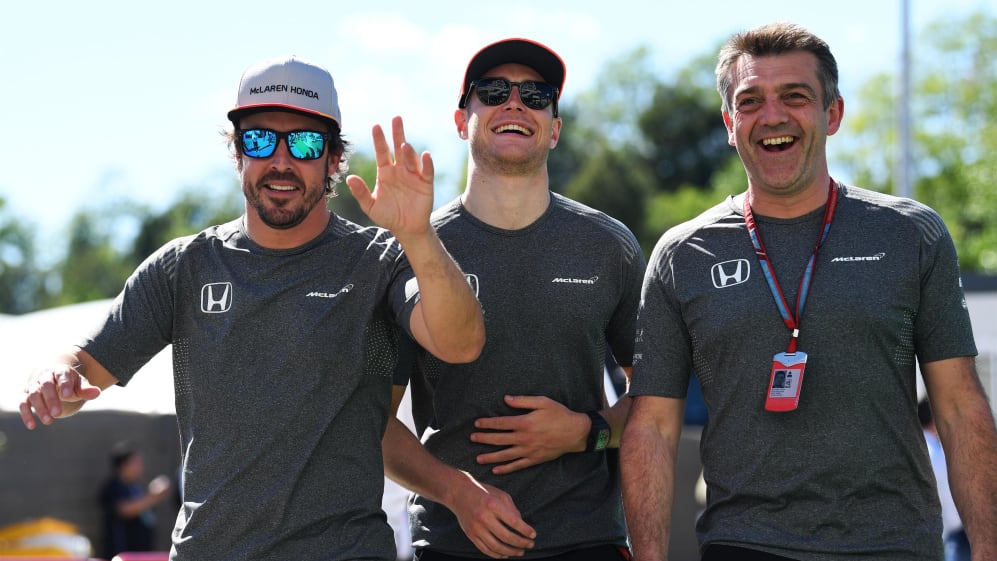 What are the strategic options here?
The teams face a dilemma here due to the unusually big difference between the speed of the soft and medium tyre compounds - up to around two seconds per lap. It means the main aim will be to spend as little time as possible on the slower, medium rubber. Hence, according to official tyre suppliers Pirelli, these are the two theoretically quickest pit stop strategies:
The quickest: Three-stopper: three 20-lap stints on softs and one on mediums to the flag.
Second quickest: Two-stopper: two 25-lap stints on softs and one stint on mediums to the flag.