Steiner 'still not over' Haas drivers' Silverstone contact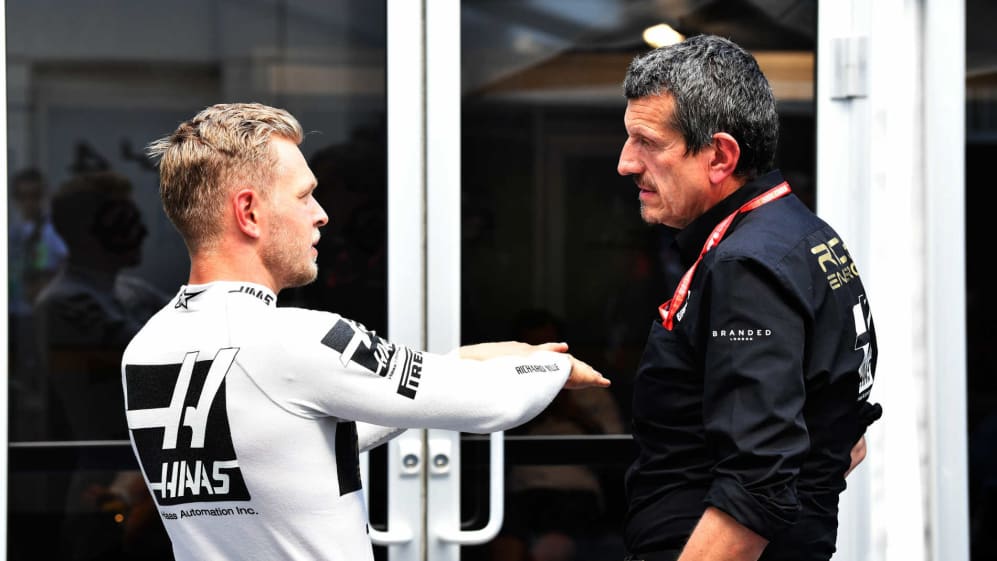 They say that time is the great healer – but the two weeks since Silverstone hasn't been enough to allow Guenther Steiner to regain his composure, with the Haas Team Principal still fuming about his two drivers' opening lap contact when he arrived at Hockenheim for the German Grand Prix weekend.
Romain Grosjean and Kevin Magnussen touched as they were running side-by-side through Silverstone's Aintree corner on the opening lap of the British Grand Prix, the resultant damage on the cars forcing Haas, currently ninth of 10 teams in the constructors' standings, to retire both of them.
Bad enough at any race of course – but with Haas having planned to use the 52 laps of the British Grand Prix to gain crucial information on the VF-19's performance quirks, with Grosjean and Magnussen running two different specs to allow them to compare and contrast, the loss of that data-gathering opportunity was what had really got Steiner's goat.
"I'm still not over it," he said on Thursday in Germany. "You've got a certain amount of opportunities and obviously this year we are struggling in some of the races.
"We've got these big ups and downs and when we've got ups, we put ourselves down one way or another. So that is quite frustrating.
They didn't let me down as a person – they've let the team down
"They need to understand where we are, and that's the disappointing thing to me," he continued. "They didn't let me down as a person, they've let the team down, which is disappointing. And as I said, I'm still not over it – normally I get over things pretty quick, but this one, because we had a clear talk after [they made contact in] Barcelona, what to do and what not to do and it wasn't followed, which is disappointing."
Haas will now spend the German Grand Prix trying to make up for the lost time from Silverstone, with Magnussen and Grosjean set to try out three different aerodynamic specs across Friday's running. And Magnussen was optimistic that the newest one of those would help the team move forward, with Haas having struggled with inconsistent race pace so far in 2019.
"We have a busy weekend here, with all the stuff that we're trying," he said. "I'm running one spec of car in FP1, then another spec in FP2 and Romain is running a third spec on Friday, so lots of stuff to look at.
"I wouldn't say [the specs] are drastically different but it's interesting. It looks good on the car, so let's hope it feels good as well.
READ MORE: Magnussen gets Haas upgrades for Germany, Grosjean keeps Australia spec
"You always hope that what you find in the windtunnel and CFD [computational fluid dynamics] is going to work on track, so that's my real hope and obviously the new upgrades for this race, they are obviously supposed to be better but it's not a huge amount in outright lap time. It looks like it's more of a solid package, so let's hope it shows like that and that it gives something."
With neither Magnussen nor Grosjean having scored any points in the last four races, a strong German Grand Prix for the team on Sunday – and certainly one where the drivers don't take each other out of the race – now looks essential if Haas are to turn the tide of what's becoming one tough old season for the American squad.