Feature F1 Unlocked
STRATEGY GUIDE: What are the possible race strategies for the 2023 Miami Grand Prix?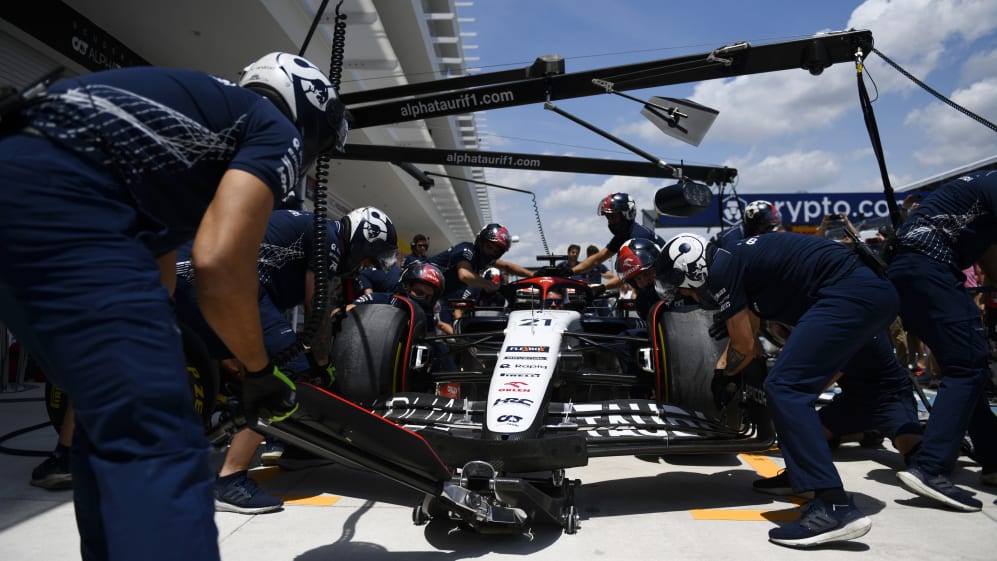 After a dramatic qualifying session on Saturday there is a mixed up grid that will see teams trying to use strategy as well as raw pace to either hold onto a position or recover from a lowly starting spot. So here are some of the options that are likely to be available to the teams on race day in Miami…
What's the quickest strategy?
It might seem surprising on a track that has proven extremely tricky for drivers to deal with fluctuating grip levels on, but a one-stopper is the clear favourite race that the majority will be targeting at this point.
READ MORE: Leclerc spin leaves Perez in pole and Verstappen starting P9 for Miami Grand Prix
While the soft compound was good enough for multiple flying laps in qualifying it did need a cool-down lap in between to regain grip, and is not expected to be usable in race trim until the latter stages as a result.
That leaves a fastest strategy of starting on the medium compound tyre – to ensure strong performance off the line and in the opening stages – before switching to the hard anywhere between Lap 13 and Lap 20.
The hard is deemed a really consistent race tyre based on what was seen during practice, with no issues with warm-up thanks to the high temperatures and good longevity even on high fuel.
The medium is also very consistent though, so the first stint could also be extended beyond Lap 20 for cars that are good on their tyres, increasing the chance of being able to take advantage of any potential Safety Car / Virtual Safety Car or rain interruptions. A pit stop under green flag conditions is some eight seconds longer than one carried out when the field's speed is limited by race control.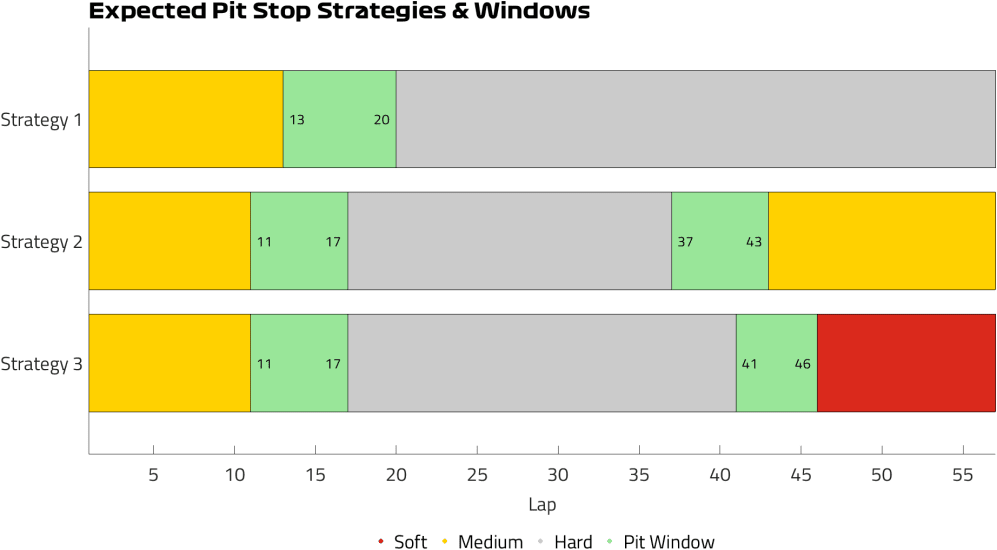 How about a different option for the top 10?
If the one-stop looks like being too repetitive and limiting a drivers' chance of making progress, then a more aggressive two-stopper is also an option that is available.
Starting on the medium compound, an earlier first pit stop to switch to the hard would come between Lap 11 and Lap 17, allowing the driver to push harder through this middle phase of the race and not have to preserve their tyres as much as if they were one-stopping. Then a final stop between Lap 37 and Lap 43 would see a return to the mediums until the flag.
READ MORE: Perez vs Alonso off the line, and a chance of rain – What To Watch For in the Miami Grand Prix
That's available to most drivers, but the Mercedes and McLaren drivers only have one set of medium tyres available each, meaning they would have to opt for a different combination if they wanted to two-stop.
Using two sets of hards is possible if the degradation levels are higher than expected – and those drivers (excluding Oscar Piastri) are the only ones to have two sets of hards to consider such a move – but with nearly a second per lap difference between the hard and soft compounds (as you can see below) the more likely option would be to just extend that middle stint beyond Lap 40 and then be able to fit softs for the final part of the race.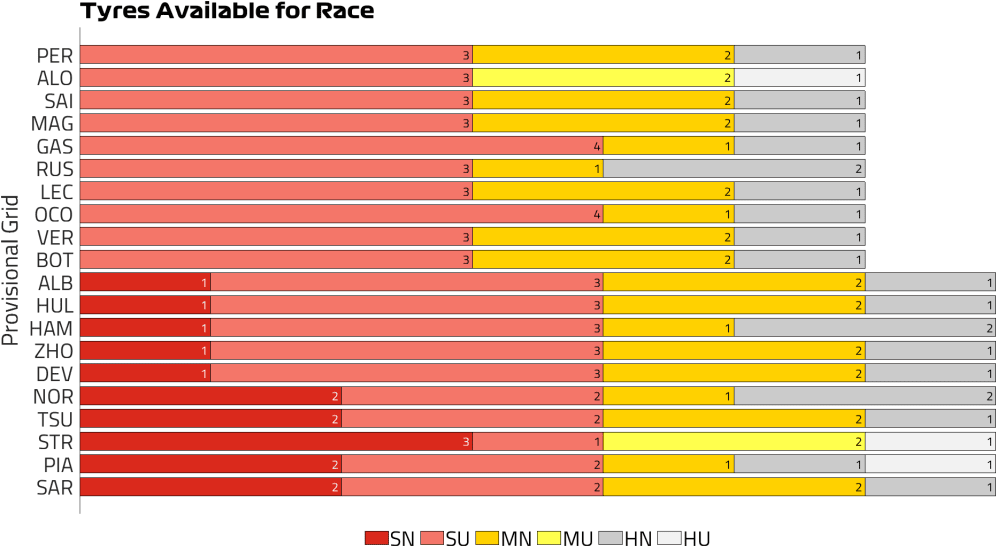 What are the options for the bottom half of the field?
Those starting out of position further back will most likely be leaning towards the opposite strategy to the quickest one, by running the hard compound tyre from the start.
The theory here is that they will not lose too much time in the early stages as the tyre is warming up quickly and provide good grip from the opening lap, but it also has the longest life of all the compounds and therefore will open up more strategic options.
The normal strategy from there would be to pit for medium tyres between Lap 37 and Lap 43 to run to the end, trying to make up a few more positions in that final stint.
FACTS AND STATS: Magnussen's P4 gives Haas their first ever top four start for a Grand Prix
But much like in Baku last weekend, drivers could run extremely long to try and take advantage of a late Safety Car period to make a pit stop – in that case perhaps fitting soft tyres when the car is on lower fuel and the track as rubbered in as it is going to be – or in case there's any rain.
Should wet weather hit (and more on that below) then having the most flexibility possible is crucial and starting on the hard tyre will allow drivers to wait for rain to start to fall if it is in the vicinity before making their stop, without worrying as much about time lost on old tyres.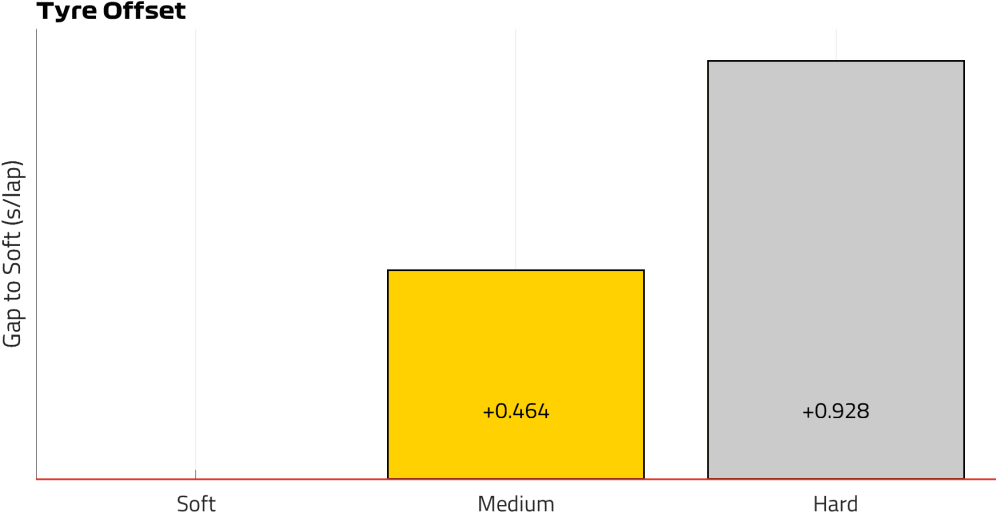 Wait, but what's the weather doing?
We're already talking about wet weather during some of the above strategies so by now you might have picked up on the fact there is a risk of rain for the Grand Prix.
Thunderstorms have been forecast for Sunday in Miami, with the higher likelihood being in the first part of the day but still a significant chance of further downpours during the race itself. And that could lead to a number of major challenges for the teams and drivers.
Firstly, the new track surface is already tricky but hasn't had the artificial ageing of being blasted by water at high pressure, so there is a high level of bitumen that is likely to make the circuit extremely greasy if rain were to fall.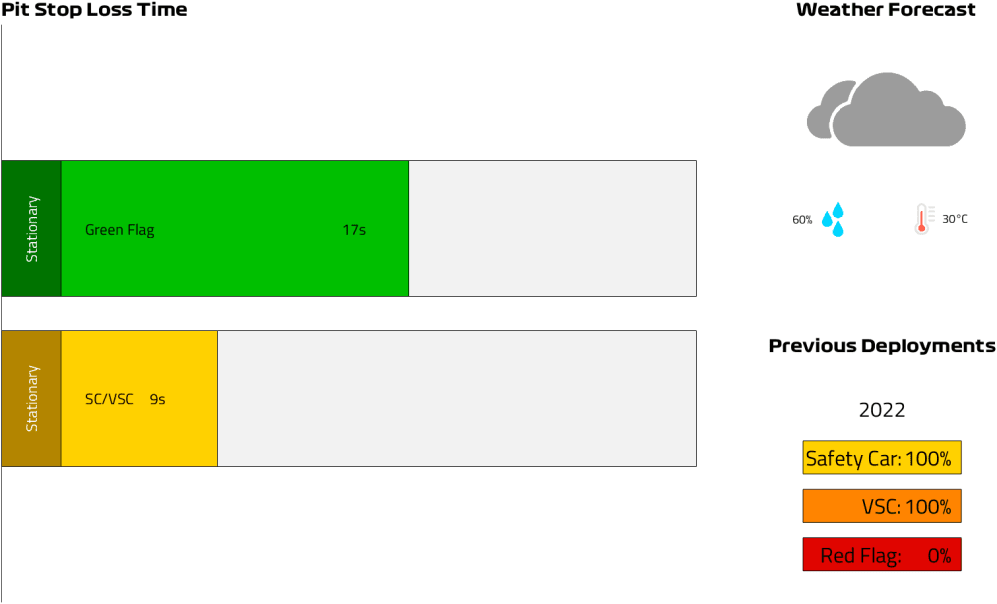 We're not quite talking Turkey 2020 grip levels, but on a circuit with walls that are so close there is very little margin for error so rain could prove severely punishing.
Plus if any of the rain is particularly heavy that could even lead to a red flag period, and then strategists will be factoring in the impact that could have on the tyres they choose to run and when they make their pit stops.
Should the rain stay away, then high temperatures are again expected with the drivers having to deal with 30C heat and track temperatures pushing 60C, so ensuring the tyres don't overheat when battling will be another challenge.
HIGHLIGHTS: Watch the qualifying action from Miami as Hamilton drops out in Q2, Leclerc crashes and Perez takes pole
To read on, sign up to F1 Unlocked for free
You'll unlock this article and get access to:
Live leaderboard data
Epic experiences and rewards
Money-can't-buy competitions