Feature F1 Unlocked
STRATEGY UNPACKED: Did the Safety Car prevent a different kind of battle between the Red Bulls in Baku?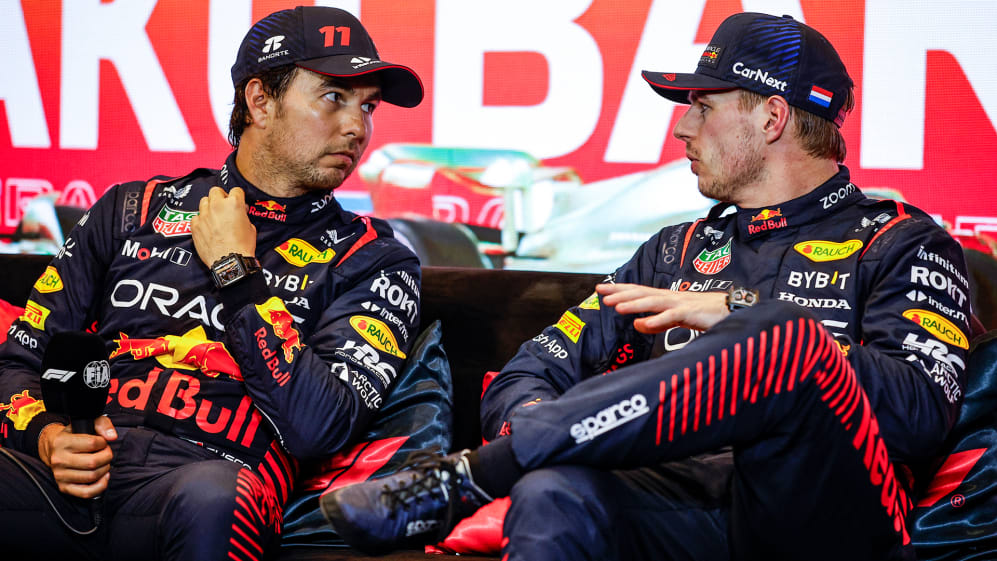 Sergio Perez claimed a statement victory at the Azerbaijan Grand Prix to cut the gap to Red Bull team mate Max Verstappen in the race for the 2023 title. But how would their scrap have unfolded without the intervention of the Safety Car? Ex-Aston Martin strategist Bernie Collins takes a closer look…
Baku's races have many times been characterised by an accident or Safety Car deployment. In this instance, it appeared that Verstappen was the biggest loser.
READ MORE: Perez relieved his tyre 'didn't blow up' en route to becoming first ever multiple Azerbaijan GP winner
Verstappen had been leading the race after starting behind Charles Leclerc on the grid and taking the position at the end of Lap 3 with his DRS activated down the main straight. Perez followed the same path on Lap 6, leaving both Red Bull drivers - as expected - in first and second positions and pulling away from the pack.
Verstappen stopped on Lap 10, narrowly missing the Safety Car that was deployed to rescue Nyck de Vries' stricken AlphaTauri in Turn 6. Perez and Leclerc gained through the reduced pit loss by stopping one lap later, leaving the order under the Safety Car to be Perez followed by Leclerc followed by Verstappen.
Verstappen, again with superior car pace, pulled another move on Leclerc to return to second position on track, but he was unable to challenge Perez over the 37 laps that followed. So, it's easy to say the race win for Verstappen was lost through bad luck from a poorly timed Safety Car. But with a closer look, it's not so simple…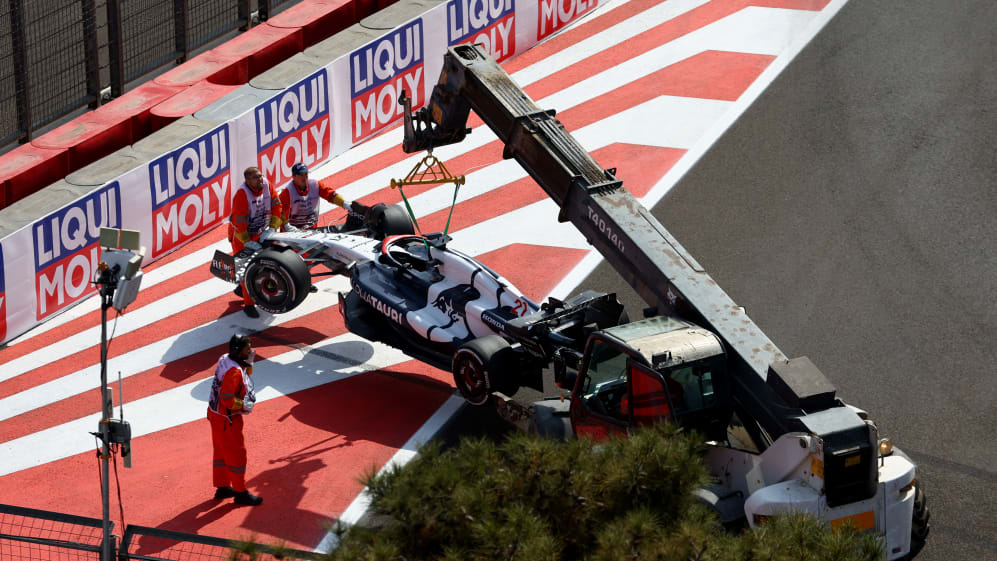 There are a few questions to answer. The first question is: could Red Bull have predicted the Safety Car?
There are often times that a Safety Car deployment is simply bad luck and nothing can be done. It has happened to every driver and pit wall at some point. However, on this occasion, De Vries had stopped and the yellow flag was shown before Verstappen was even told to pit. So, was it a case of there not being enough time to react?
READ MORE: De Vries shoulders blame for Baku crash, while Tsunoda says he 'maximised' AlphaTauri package with points finish
During Lap 10, De Vries stopped on the GPS in Turn 6 and, 11 seconds later, a double yellow flag was thrown as Verstappen was entering Turn 15. It was 18 seconds later that Verstappen was told to box and another 14 seconds before he reached the dashed line at pit lane entry, at which point it would incur a penalty to stay out.
In total, there were 32 seconds between the double yellow flag to the point that it would have been impossible for Verstappen to stay out, and 43 seconds from when De Vries is seen to stop on GPS.
The images of De Vries from both overhead and onboard camera feeds showed that the front-left wheel was not at the correct angle. It was still possible that he could have continued back to the pits and not trigger the Safety Car deployment, but additionally he was told on radio to retire the car.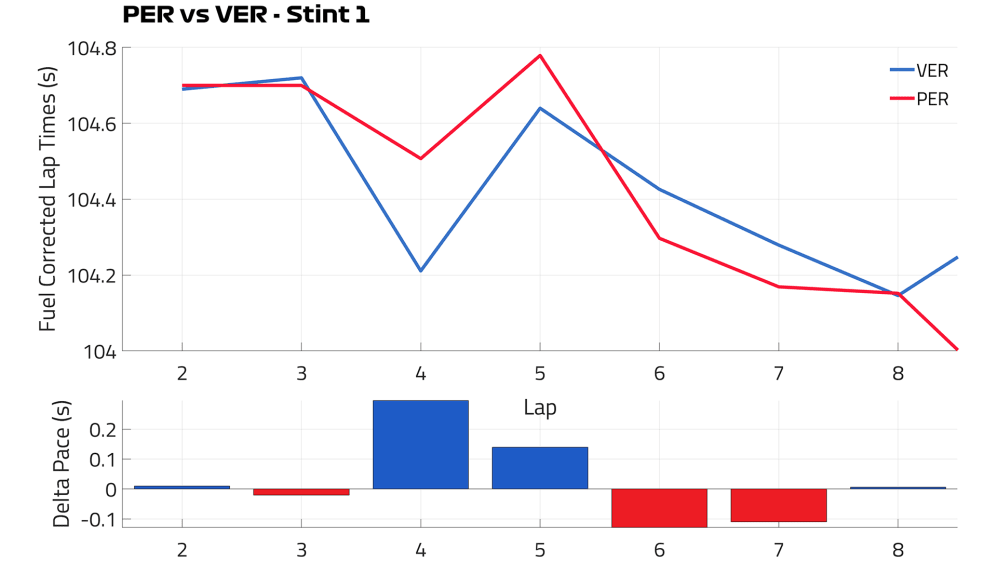 All this information is available to the pit wall and 'Mission Control' centres of each team live during the race. Even with a delay in comms to the driver, there was time, in my opinion, to react. So, if there was time to react, why did Red Bull not, or did they simply miss the incident?
Red Bull are known to be extremely strong at strategy and are rarely caught on the back foot. However, there is always a chance it slipped through the net.
FACTS AND STATS: Red Bull take 25th one-two as Perez makes it five street wins in a row
The most interesting information comes from Perez's radio comms at the same time. Perez was running around 0.7s behind Verstappen, so they were very close on track. Yet, as Verstappen is told to box, Perez is told: "Your (Safety Car) windows are open".
This could be purely circumstantial. However, it could indicate that the pit wall were aware of the risk of the yellow flag being upgraded to a full Safety Car. Additionally, given when Perez was told, it indicates that they were happy to stack the cars on the same lap.
So, why not wait with Verstappen for one lap to see if the yellow flag would be upgraded to a Safety Car or tell Verstappen to stop only if a Safety Car was deployed as per Perez?
In the first stint, Perez was closing the gap to Verstappen. On Lap 9, Perez's lap time, with DRS, was 0.5 seconds faster than Verstappen's, and Perez had closed the gap from 1.2 seconds on Lap 6 to 0.7 seconds on Lap 10 as Verstappen was called to box.
Perez's radio communication throughout the stint sounded in control of the tyre management required, whereas Verstappen, despite clean air, struggled more with balance and complained that the "tyres don't feel fantastic" and later "I struggle a lot into Turn 2 and 3".
READ MORE: 5 Winners and 5 Losers from the Azerbaijan Grand Prix – Who lit up the Land of Fire?
Perez was possibly setting up for an overtake at the point Verstappen boxed. Therefore, allowing Verstappen the extra lap potentially would have lost him the position to Perez.
At the time of stopping, Verstappen was expected to emerge on track between George Russell and Zhou Guanyu, with an 8-second margin to Zhou. If Verstappen had delayed the pit stop, and there had not been a Safety Car, he could have lost 8 seconds throughout the lap and it would not have affected his position on track post-pit stop.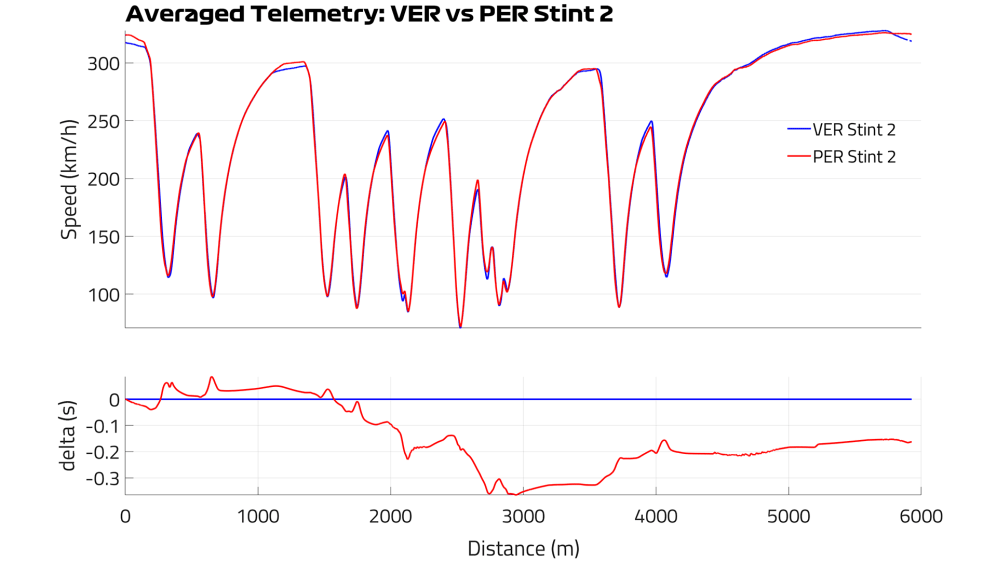 If a Safety Car had been deployed then, by delaying Verstappen's pit stop, the team could have had time to stack the cars and would have had the best chance of maintaining position over Leclerc.
If Verstappen had held the position, in the second stint it would have been up to Perez to try again to overtake for position. It's unclear if this would have been possible or not, but Perez was certainly more comfortable in the car.
F1 NATION: King of the streets Perez strikes again as Ferrari edge closer – it's our Azerbaijan GP review
Verstappen was told during the stint that he was losing 0.2 seconds to Perez in Turn 8 alone. He commented that he couldn't push through that corner. Verstappen stated after the race that he "struggled in the middle of the stint with tools but at the end it was loads better."
It's unclear as a team if delaying Verstappen's stop by one lap would have changed the finishing order, but the situation as it played out may have saved the images of Perez overtaking a struggling Verstappen.
To read on, sign up to F1 Unlocked for free
You'll unlock this article and get access to:
Live leaderboard data
Epic experiences and rewards
Money-can't-buy competitions