Feature F1 Unlocked
STRATEGY UNPACKED: How Albon beat a host of faster cars in Canada to seal Williams' best result for 2 years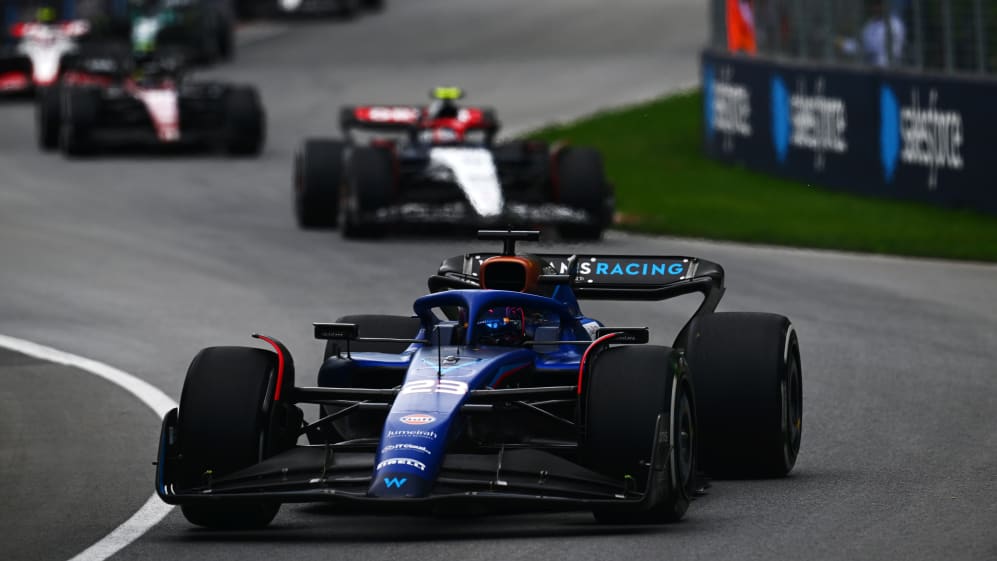 Alex Albon was one of the standout performers at the Canadian Grand Prix, setting the fastest time of all in the Q2 qualifying segment, before racing from ninth on the grid to P7 at the chequered flag – which is not only Williams' best result of the year, but their best finish since George Russell scored second place in the rain-affected 2021 Belgian Grand Prix.
So how did Albon and Williams pull out such an impressive result after six races out of the points? Former Aston Martin strategist Bernie Collins explains all…
READ MORE: 'It was more than I expected' – 'Super happy' Albon praises 'monumental' Williams upgrades after P7 finish in Canada
The race in Montreal featured no less than seven variations in tyre strategy, with the majority featuring the medium and hard tyres. Sixteen drivers chose to start on the mediums, with all – apart from Albon and both Ferraris – going on to complete a two-stop strategy (as the chart below shows).
Albon started the race from P9 after a brilliant performance in qualifying saw him top Q2 by nailing a lap on slick tyres while others were still on intermediates.
And despite losing positions in the race to the faster cars of Charles Leclerc, Carlos Sainz and Sergio Perez (who all started behind him), he managed to gain places over both McLarens and Esteban Ocon – all three in faster cars, and having started ahead of him on the grid.
He also made additional gains over George Russell – who hit the wall on Lap 12 and later retired while running behind Albon – and Nico Hulkenberg, whose race pace didn't match his qualifying speed and saw him drop down the order.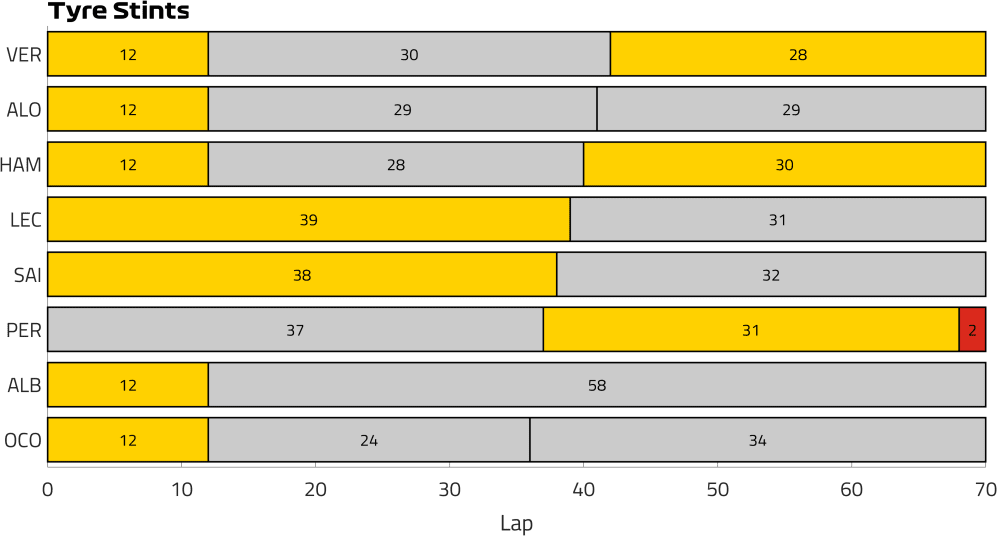 But it was the gains over both McLaren drivers and Ocon that made the difference between failing to score and those crucial six points for Albon.
The Circuit Gilles Villeneuve has the shortest pit loss time of the year (i.e. a driver loses less time pitting here than at any other race) which means the teams' strategists are more likely to consider additional pit stops if it is close between strategies.
MONDAY MORNING DEBRIEF: How Ferrari banished their qualifying blues with strong Montreal recovery
However a high overtaking threshold combined with low tyre degradation make it difficult to overtake, leading teams to aim to find clear air for their drivers and then hold track position.
On Lap 12 when Russell collided with the wall at the exit of Turn 9, the Safety Car was deployed, which allowed all the drivers to make a pit stop and lose even less time than usual. That immediately led to a host of teams committing to the two-stop strategy – which until then had a very similar race time to the optimum one-stop strategy.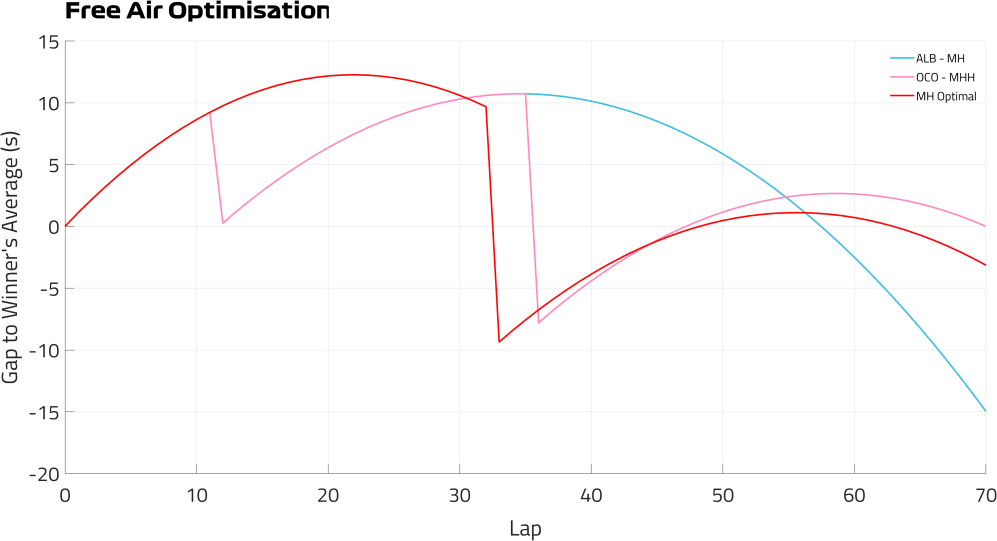 The chart above shows 'free air races' with no influence from traffic or car pace. It simply shows the difference in race time though tyre selection and pit stop lap.
It shows the tyre strategy completed by Albon (blue) and Ocon (pink) versus the post race optimum (red). The chart would show a flat horizontal line if a driver completed the same lap time every lap. Moving upwards shows a lap faster than this average lap and the sharp fall downwards represents a pit stop.
READ MORE: 6 Winners and 5 Losers from the Canadian Grand Prix — Who made all the right moves in Montreal?
Of the 16 drivers that started on the medium tyre, all – aside from the two Ferraris – elected to stop under this Safety Car, and therefore looked set to complete the race on a two-stop strategy.
At the Safety Car restart, Albon was sitting in P12 with (aside from Hulkenberg), faster cars ahead of him. That meant completing the same strategy as them was unlikely to gain him positions and get him into the points.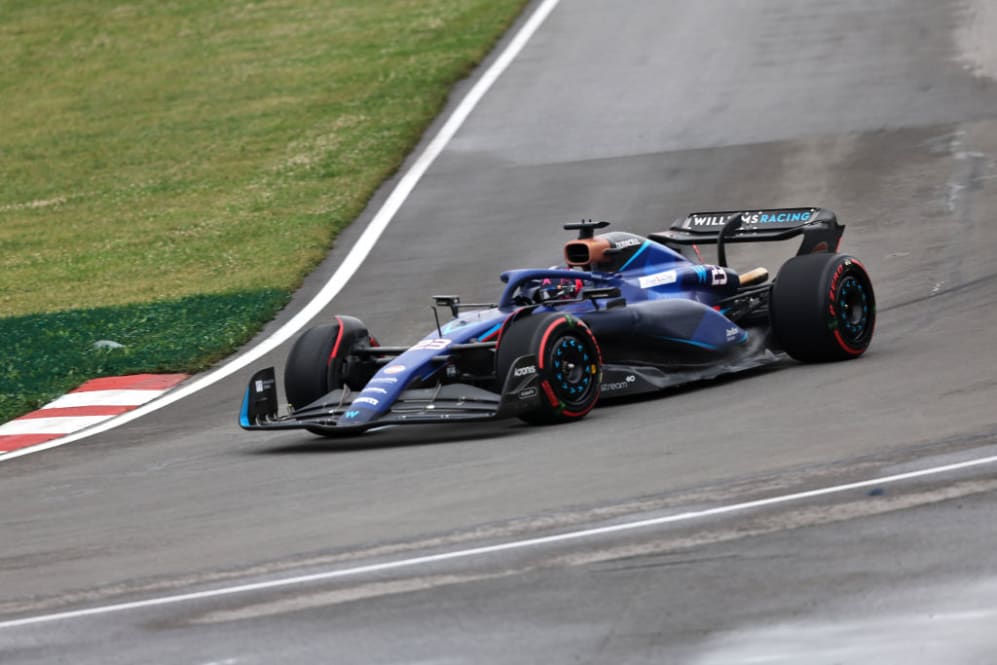 So instead, Williams told Albon they wanted him to run to the end of the race on the tyres he'd just bolted on – a stint of more than 40 laps.
Albon admitted afterwards he thought the team were "crazy" to try it, but nonetheless, initially in traffic post-Safety Car he began to control his pace in an attempt to make it work.
F1 NATION: Red Bull take their 100th F1 victory and Verstappen equals Senna – it's our Canadian GP review
As can been seen in the chart above (with the blue line arcing right down towards the finish) degradation was expected to be significant at the end of the stint.
Therefore Albon controlled the pace at the beginning, in order to try to have more grip available towards the end.
The chart below shows fuel-corrected lap times for Albon and Ocon after the Safety Car to the end of the race.
It clearly shows that the fast lap times Ocon was putting in after the Safety Car (around Lap 20 to 25) quickly tail off to match Albon's lap times.
TECH TUESDAY: Has Aston Martin's Canadian GP upgrade made them a genuine threat to Red Bull?
When Ocon pits again on Lap 36 and emerges into free air, he is again much faster – until he catches Russell and Albon again on Lap 48.
Meanwhile Albon was controlling the pace to a virtually consistent lap time throughout. This allowed him the tyre life and the pace to defend in the later stages of the race from otherwise faster cars.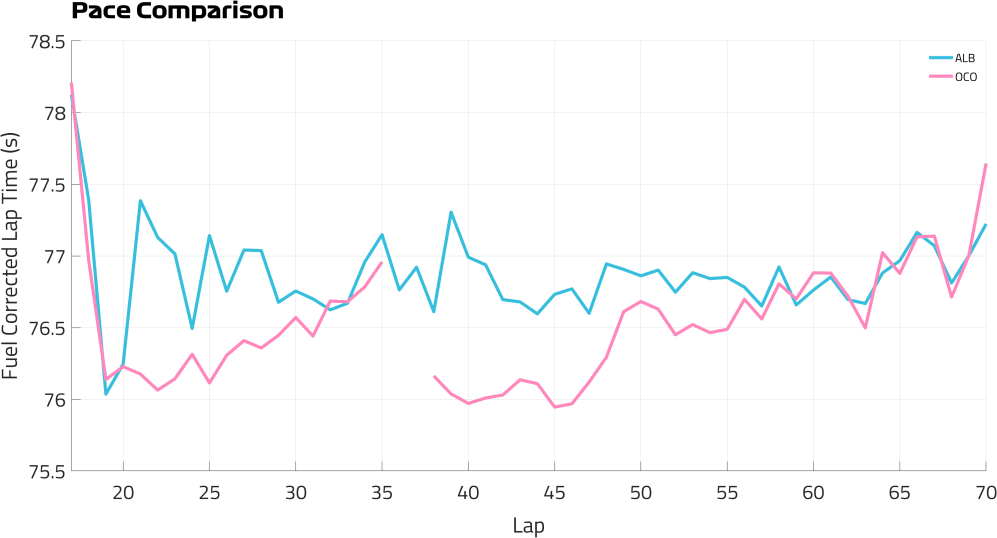 The Williams car was also ideal for defending around the Montreal circuit. Some big upgrades, a low downforce package and a new power unit all allowed Albon superior straight-line speed compared to his rivals. The chart below shows top speeds for Albon and Ocon.
Additionally Albon utilised the power unit modes to defend on the back straight into the final chicane by using battery deployment in this straight and saving some battery usage in other areas that they felt safe to defend from.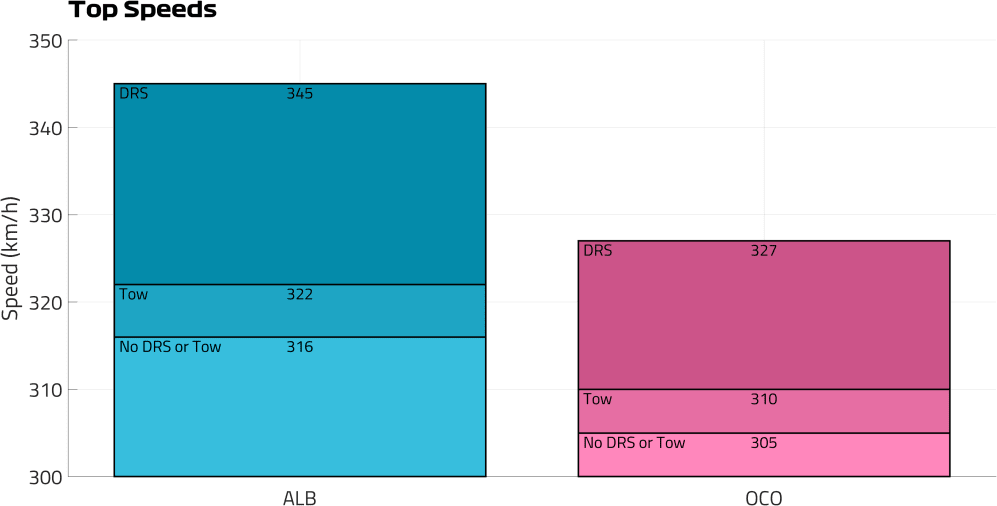 Therefore, despite others being faster around the lap, Albon's speed on the final straight allowed him to defend and hold onto P7 right to the flag, even with very old tyres.
Completing one pit stop less to gain track position, combined with good straight-line speed and strong defending, gained four positions over Ocon, both McLarens and Valtteri Bottas, compared to completing the same two-stop strategy as others.
HIGHLIGHTS: Watch the action from a compelling Canadian GP as Verstappen seals his sixth win of the season
It was an excellent display of team work from Williams to score some very valuable points, which means they jump ahead of AlphaTauri in the constructors' championship – and are only a single point behind Haas in P8 and two points behind Alfa Romeo in seventh.
To read on, sign up to F1 Unlocked for free
You'll unlock this article and get access to:
Live leaderboard data
Epic experiences and rewards
Money-can't-buy competitions