Feature F1 Unlocked
STRATEGY UNPACKED: How Mercedes got Russell on the podium in Spain from P12 on the grid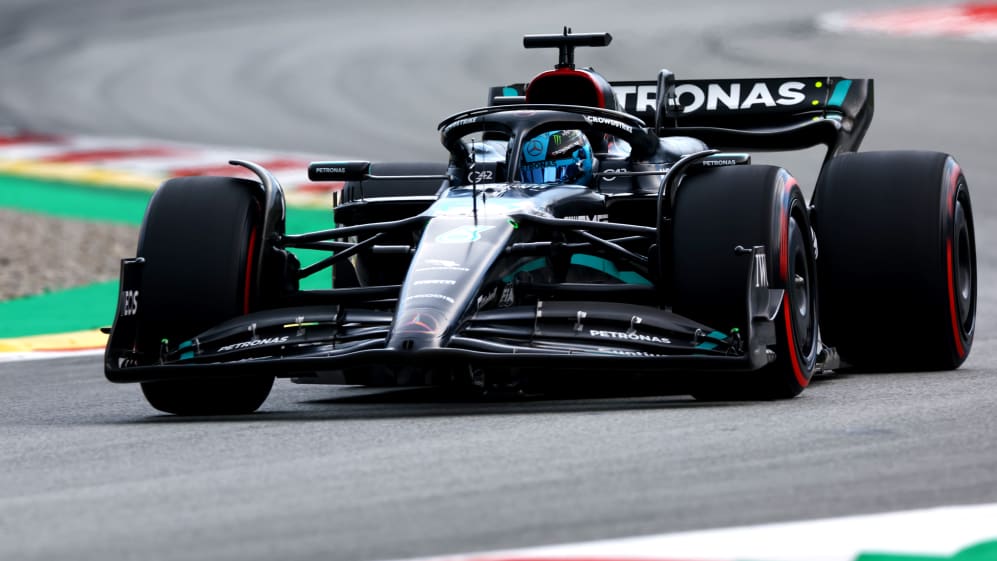 Barcelona saw Mercedes get both drivers on the podium for the first time this season, allowing them to take second position in the constructors' championship from Aston Martin. What is even more impressive is that this was managed from George Russell's starting position of P12.
The much talked about Mercedes upgrade package may have stolen the show but it's not the only reason they made it to the podium, as former Aston Martin strategist Bernie Collins explains...
READ MORE: The intriguing design details behind Mercedes' major W14 upgrade
The chart below shows the strategy completed by each driver within the Top 5 finishers. The chart would show a flat horizontal line if a driver completed the same lap time every lap.
Moving upwards shows a lap faster than this average lap and the sharp fall downwards represents a pit stop. The same average lap time is used for all, so slower drivers appear lower down on the chart.
It would be easy to say that Carlos Sainz (the red line) is simply slower than Russell and that Russell gained the positions thanks to his car's pace.
Comparing the middle stints when both drivers were in clear air does show that in this period of the race Sainz is around 0.4s/lap slower than Russell.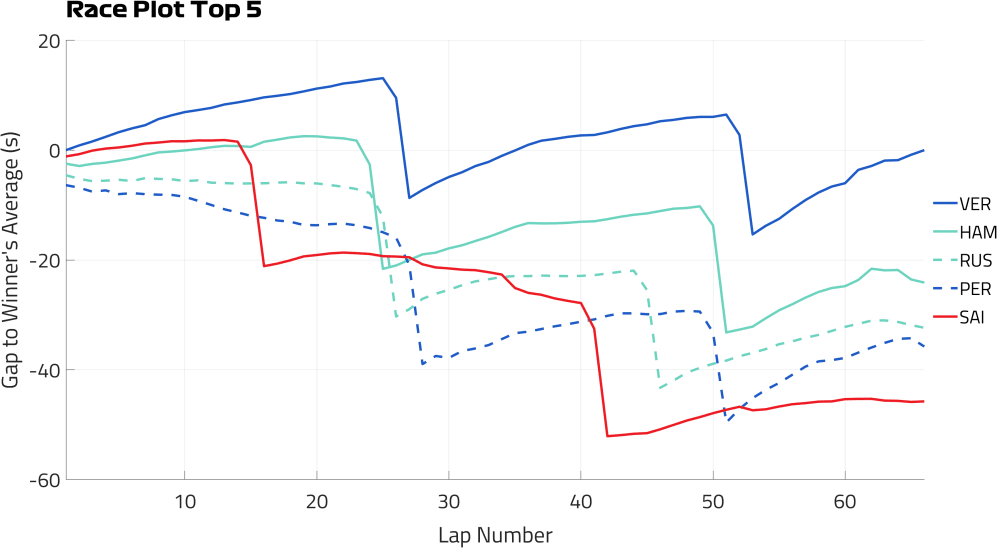 The chart below shows the fuel corrected lap times of Sainz, Russell and Lewis Hamilton in the middle stint when all were on the medium compound tyres.
Sainz is notably slower throughout the stint. The slow spikes in Sainz's pace are due to losing time being overtaken by Hamilton and Russell.
READ MORE: F1 NATION: A Verstappen masterclass and a Mercedes resurgence - it's our Spain GP review
However, what stands out strategically is the later stop lap for Russell relative to Sainz. Russell stopped on Lap 25 from the soft start tyre, 10 laps later than Sainz.
Both Mercedes started on the soft tyre with only one set of mediums and one set of hards available, most likely planning a two stop strategy running softs first, then medium and then hard. Ferrari and Red Bull both had two sets of hard tyres available and looked to be planning to use both for the second and third stints of the race.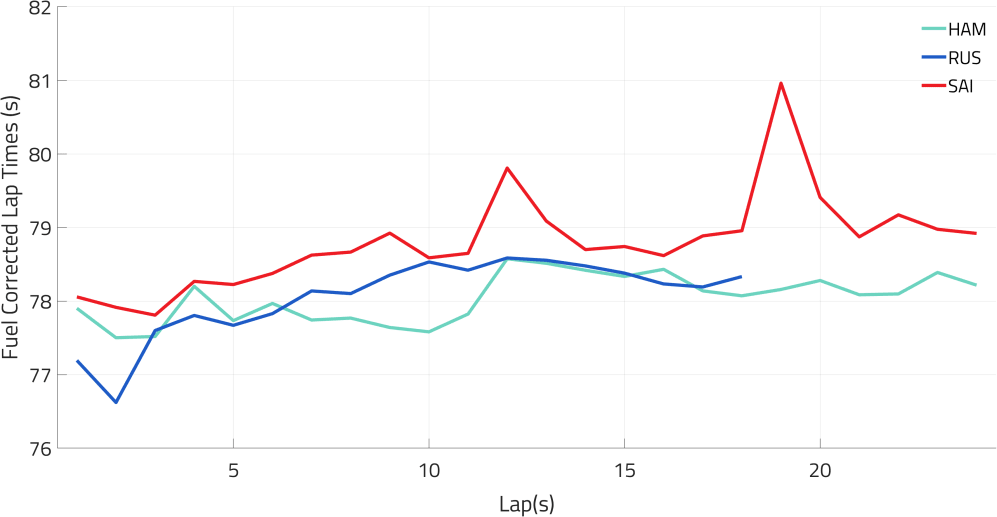 Barcelona has generally been a multiple stop race featuring high degradation allowing overtaking to be possible even with small differences in tyre age.
In these situations, much like Bahrain, it is important to choose stop laps very close to optimum in order to avoid losing race time.
READ MORE: 'Our sights are set on victory' – Russell wants more after terrific drive to third from P12
Russell was quick to realise that the soft tyre was performing better than expectation and that the stint should be extended.
There are a few key bits of driver radio that tell the story. The messages below come from Russell during his first stint on softs.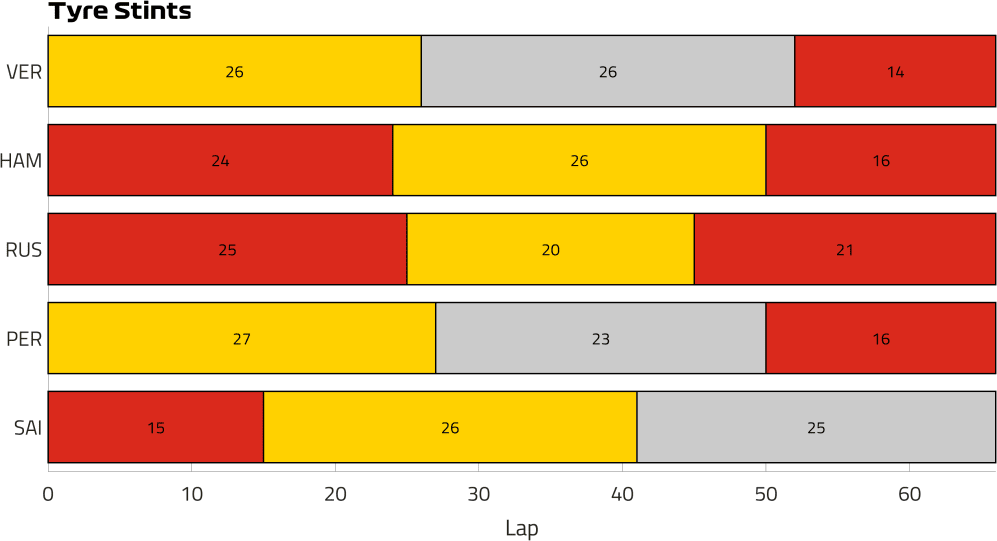 Russell: "A lot more pace in these tyres. We need to look forwards not behind."
When told Alonso behind had pitted he replied: "Do we not think a one-stop is possible? Tyres are holding on quite well at the moment. I think we need to stay out. It's your choice but tyres are good and I'm improving the lap time."
READ MORE: Hamilton hails 'really mega' progress for Mercedes after double podium in Spain
He then repeats, "tyres are good, look at the lap times – I'm doing my personal best [lap times]."
This encouragement from Russell allowed Mercedes to delay the pit stop with both drivers and re-evaluate the tyre model to change the planned final stint tyre from hard tyres to softs.
Conversely Sainz's request to delay the stop was ignored due to the threat of undercut from Hamilton running close behind. After reporting a little front left graining, Sainz later says, "Be patient, pace is good."
The chart below is the same format as the race trace but shows free air races with no influence from traffic or car pace. It simply shows the difference in race time through tyre selection and stop lap.
It is clear the benefit of extending the first stint for Russell and Hamilton over the strategy completed by Sainz. This shows solely from stop lap and tyre selection Sainz lost 8.9s of race time to Russell.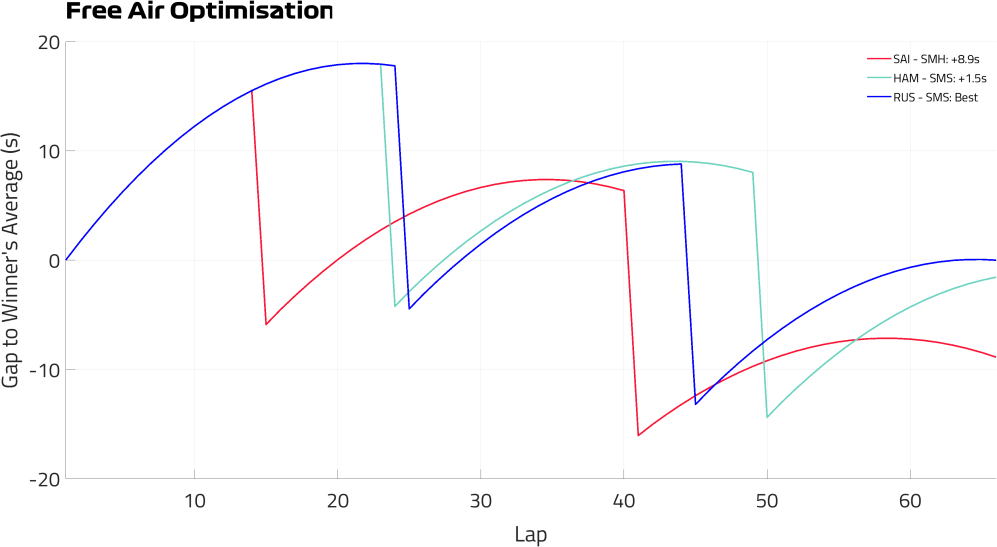 Many others altered strategies in response to the tyre performance in the first and second stints. Red Bull elected with both cars to go for a soft final stint.
Ferrari, with Sainz, chose a medium middle stint over the planned hard. When Sainz was told they are thinking of going to mediums, he responded "Why?" That was quickly followed by "OK".
The same story exists throughout the field with optimum stop laps and faster overall race time winning over track position. Another clear example is Fernando Alonso and Lance Stroll, with very similar pace and identical tyre strategies the only difference was Alonso stopping 10 laps later for his final stint.
READ MORE: Why Ferrari's big upgrades didn't deliver the goods in Barcelona
This allowed him to close the gap from over eight seconds back despite having to overtake three cars in the process.
But it was Russell and Mercedes who adapted best to the lower than expected degradation on the soft tyre to delay the opening stop lap and adjust their planned strategy in order to optimise total race time and work their way to the podium.
To read on, sign up to F1 Unlocked for free
You'll unlock this article and get access to:
Live leaderboard data
Epic experiences and rewards
Money-can't-buy competitions