Report
Stroll takes scintillating Turkish GP pole in dramatic, rain-hit qualifying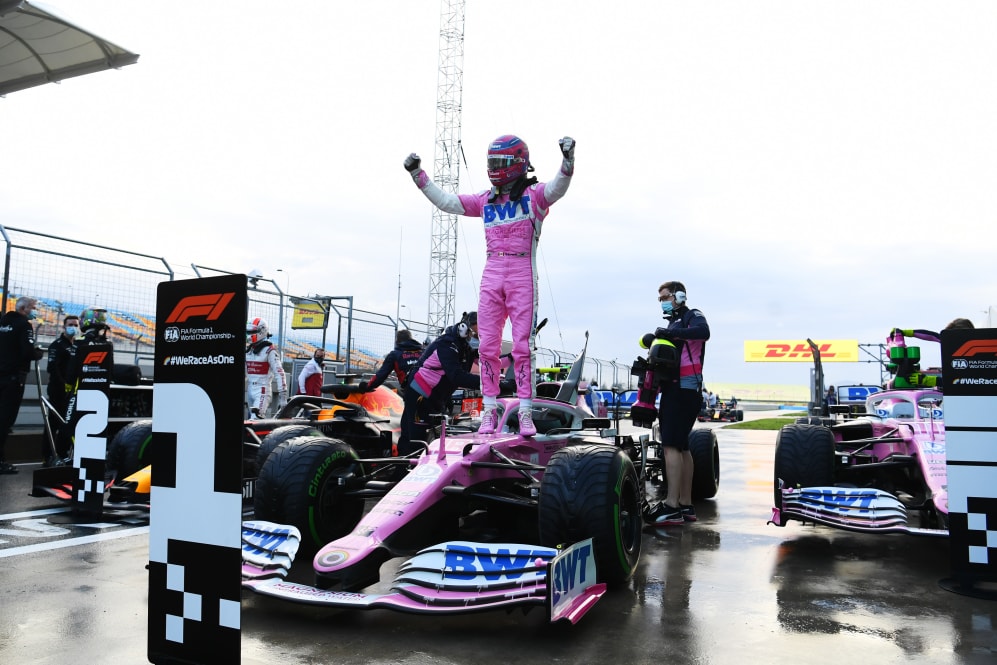 Lance Stroll produced the best lap of his career in wet and extremely challenging conditions to take a shock pole position for Sunday's Turkish Grand Prix, fending of Red Bull's Max Verstappen as world champions Mercedes struggled…
A resurfaced Istanbul Park was proving tricky in dry conditions, and the challenge became even harder when the rain fell ahead of and during qualifying, with drivers struggling to find grip and keep the car pointing in the right direction.
READ MORE: 'It's the perfect way to bounce back', says emotional Stroll after busting out of slump with maiden pole position in Turkey
Racing Point didn't look too competitive in final practice and even as they moved through the first two segments of qualifying, they looked reasonable without being stellar, but when they bolted on intermediates in Q3, the cars came alive.
Sergio Perez was the first man to set the time sheets on fire with a blistering lap on the intermediate tyres, that comfortably put him top. That inspired Red Bull to ask Verstappen to abort his lap on wets, even though the first two sectors were quickest of all, in favour of changing his full wets for intermediate tyres.
Stroll headed in too and took the intermediates and after warming up the tyres, he pulled out an incredible lap to take the first pole position of his career, becoming the first Canadian to take P1 since Jacques Villeneuve in the 1997 European Grand Prix.
FORMULA 1 DHL TURKISH GRAND PRIX 2020
Turkey
2020
Qualifying results
POSITION
TIME

1

Lance

Stroll STR

Racing Point

1:47.765

2

Max

Verstappen VER

Red Bull Racing

1:48.055

3

Sergio

Perez PER

Racing Point

1:49.321

4

Alexander

Albon ALB

Red Bull Racing

1:50.448

5

Daniel

Ricciardo RIC

Renault

1:51.595
Verstappen was struggling to get temperature into the intermediates as well as running close to Kimi Raikkonen, which hampered his lap time. And though he managed to improve on his final lap, he could only slot into second.
Perez dropped down to third, as he failed to improve at the death, with Alex Albon equalling his best-career start with a strong fourth to ease the pressure. Renault's Daniel Ricciardo slotted into fifth for the second consecutive race, ahead of championship leader Lewis Hamilton.
Mercedes struggled throughout in the wet conditions, and never really looked like they were a threat for pole position. Hamilton's sixth was his worst qualifying performance since Germany 2018 with team mate Valtteri Bottas ninth.
Esteban Ocon was seventh, ahead of Kimi Raikkonen who gave Alfa Romeo their best qualifying performance since Brazil 2019, with team mate Antonio Giovinazzi 10th to make it two Alfa Romeos in Q3 on the occasion of Sauber's 500th Grand Prix.
Q1 – Verstappen conquers tricky conditions, as Grosjean is caught out
Overnight rain returned during final practice and then lingered through to qualifying, which meant intermediates and wet rubber were the compounds of choice as the cars headed out for the one-hour shoot-out.
Conditions were treacherous, the slippery track surface made even trickier because of the persistent rain, with drivers really fighting the wheel just to keep the car inside the white lines and pointing the right way.
Esteban Ocon set the early pace in the Renault, with seven seconds separating the entire field, but several drivers suffered spins, including the AlphaTauri duo of Pierre Gasly and Daniil Kvyat, as the rain intensified.
With seven minutes to go, and conditions worsening, FIA F1 Race Director Michael Masi threw out the red flag to halt the session. At that point Charles Leclerc and Pierre Gasly were in the drop zone with Verstappen on the bubble. Forty minutes later, with the rain having stopped and the track still wet but with little standing water, the action got going again.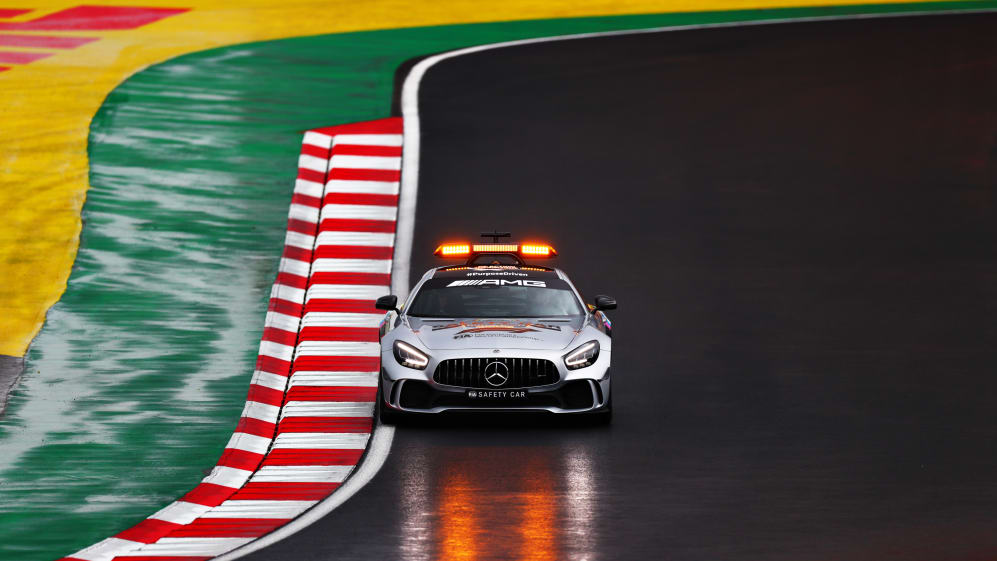 Within a few hundred metres, Kimi Raikkonen had a huge moment, running sideways before catching it and continuing – but Romain Grosjean wasn't so lucky, the Haas driver losing the car at Turn 1 and beaching it in the gravel, bringing out the red flag.
That heaped the pressure on those in and near the drop zone, as when the action got going again, there was just three minutes 30 seconds on the clock – and it took just over two minutes to do a lap in those conditions.
Leclerc and Gasly hauled themselves out of the drop zone, as Verstappen went quicker, the conditions improving all the time, with Hamilton failing to improve on his final run after running well wide at Turn 1 but scraping through in 14th, one two places above the drop zone.
Kevin Magnussen, Daniil Kvyat, George Russell, Grosjean and Nicholas Latifi, who spun into the gravel bringing out the double yellow flags in the closing minutes, failed to make the cut. Stewards said they would investigate all lap times set under yellow flags after the session.
Knocked out: Magnussen, Kvyat, Russell, Grosjean, Latifi
Q2 – Verstappen on song as McLaren and Ferrari miss out
McLaren went bold for the start of Q2, sending out both Norris and Sainz on the intermediate tyres, with the rest of the field favouring the wet-weather rubber – but it soon became clear this was the wrong decision and they boxed after a few laps to take the wets.
Up front, Verstappen looked at ease in the tricky conditions, the Red Bull driver comfortably going clear at the top, with team mate Albon slotting into second, albeit two seconds off the pace.
As the session entered the final four minutes, the times started to tumble as a drier line started to appear, with Mercedes finally showing some pace, with Bottas and Hamilton moving into second and third. Alfa Romeo appeared to excel in the conditions with Antonio Giovinazzi a stunning fifth, and Kimi Raikkonen P8.
It wasn't so good for Ferrari and McLaren, mind, with neither getting a car into Q3, as they struggled to get the wet tyres to generate enough tyre temperatures, five seconds off the pace, with AlphaTauri losing their final car, too. Sainz was also summoned to the stewards for allegedly impeding Racing Point's Perez.
Knocked out: Norris, Vettel, Sainz, Leclerc, Gasly
Q3 – Racing Point stuns the field, as Mercedes struggle
Ocon and Perez went bold with the intermediate at the start of the final session, and initially it looked like the wrong move as Ocon struggled to switch the tyre on.
But then Perez crossed the line and went quickest of all – and though he lost the car on his next timed lap, he got everything together to go even quicker next time around, three seconds clear of the field.
At that point, it looked like the Mexican was on course for a stunning first career F1 pole position, however his team mate Stroll had other ideas.
The Canadian, who has had a tough run of results of lap, kept his focus and put three sensational sectors together to take his first pole, becoming the fifth youngest person to do so, aged 22 years and 17 days.
Racing Point also now have their first-ever pole under this banner, just four races before they become Aston Martin, and their first since Giancarlo Fisichella took P1 at the 2009 Belgian Grand Prix when the team was racing as Force India.
The key quote
"I can't really put it into words right now," said Lance Stroll. "I'm shocked, I didn't expect us to be up here after FP3. There were a lot of things we weren't sure of coming into qualifying and we didn't look competitive in P3 but I'm so happy right now. I really put that lap together there at the end."
What's next?
The Turkish Grand Prix kicks off at 1310 local time, which is 1010 UTC. Stroll will attempt to fend off the Red Bulls and Mercedes behind to secure his first-ever Grand Prix victory while Lewis Hamilton will focus on finishing ahead of Mercedes team mate Valtteri Bottas to secure his seventh world title.