Strong growth for F1's TV and digital audiences in 2017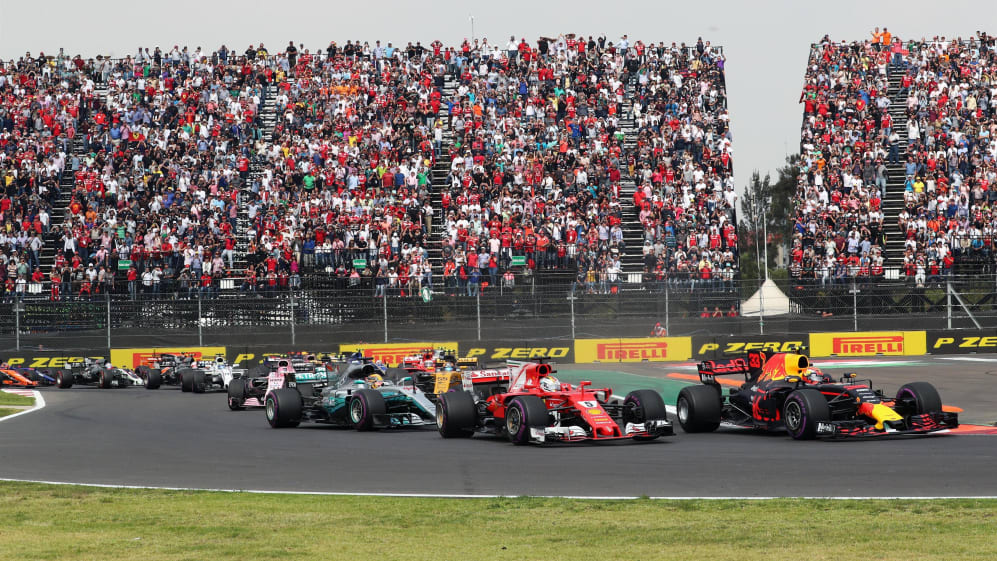 The 2017 season saw Formula 1 register an increase in audience figures across both TV and digital platforms compared to the previous year, with F1 the fastest growing sport brand on social media platforms.
The TV cumulative audience - i.e. the aggregate of the average audience of all the F1 programs broadcast across the year - in the top 20 markets* (based on ranking of TV audience) stood at 1.4 billion, which represents an increase of 6.2% compared to 2016.
The top four markets - Germany, Brazil, Italy and the UK, ranked by absolute figures - all registered positive growth. The strongest was Italy (+19.1%), followed by Brazil (+13.4%), the UK (+3.9%) and Germany (+0.9%). Other significant increases were registered in China (+42.2%), Switzerland (+14.3%) and Denmark (+14.1%).
Cumulative viewing (live and non-live) of races remained at around 603 million, with a 1% increase in the live audience and improvements in cumulative viewing for both free practice and qualifying sessions.
During 2017, 352.3 million unique viewers tuned their TV set into F1 programming at least once - the first time since 2010 that there was not a decrease in this specific number. In the main markets there was an increase of 2.4%, with Mexico (+22.6%), Italy (+16.7%) and the USA (+13%) leading the field in terms of improvement. Brazil is still the biggest TV market with more than 76 million viewers, despite a slight decrease (-1.8%) compared to 2016.
The number of users of Formula 1's social media platforms also grew significantly during 2017, with a total of 11.9 million followers on Facebook, Twitter, Instagram and YouTube.
The improvement compared to 2016 was up to 54.9%, which made Formula 1 2017's fastest growing sport brand on social media, as shown in the table below: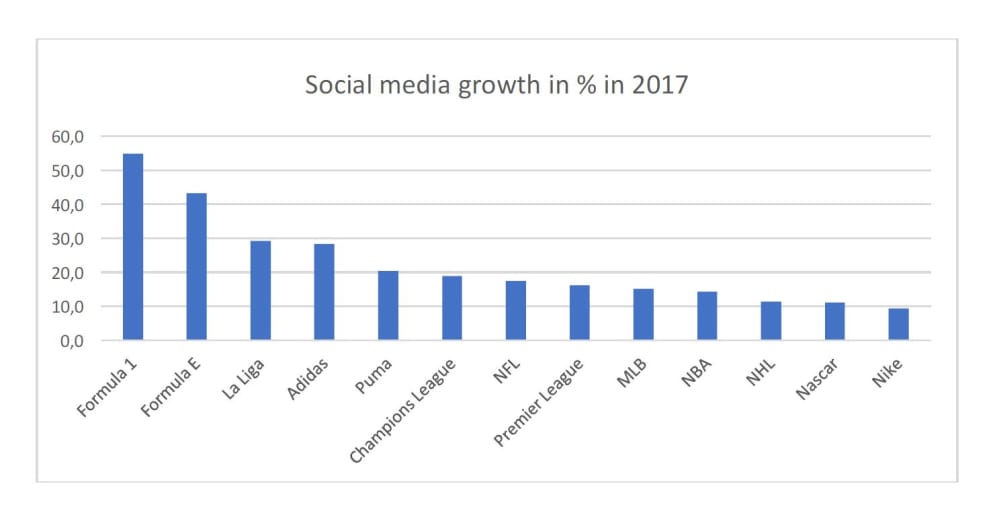 On Facebook, the minutes of video viewed were up over 1,600% compared to 2016, reaching more than 390 million, thanks mainly to the qualifying and race highlights, the most seen content, especially for the races held in the Far East.
On Twitter too, video content was the best performing, with over 64 million views, up 165% year on year. And Instagram followers almost doubled during 2017 (+93%), reaching 3.8 million.
Unique users of Formula 1's official website and app reached a total of over 124 million, with an increase of 7.5% compared to 2016. Formula1.com users grew by almost the same percentage, while users of the app grew by 1.7%, but the number of sessions was up by 37.7%.
The top performing three races in terms of number of unique users on both platforms were China (+35.6%), Singapore (+26.7%) and the USA (+19.8%).
"We are encouraged by the growth in audience numbers across linear and digital platforms during the 2017 season," commented Sean Bratches, Managing Director, Commercial Operations at Formula 1.
"Central to our efforts last season was to improve the fan experience across our platforms and it is encouraging to see the engagement that fans around the world have with Formula 1 media. Our work continues as Formula 1 fans will see material changes in 2018 with respect to both incumbent experiences and the creation of new ones. It is a good time to be a Formula 1 fan."
*Top 20 markets, in alphabetical order: Australia, Austria, Belgium, Brazil, Canada, China, Denmark, Finland, France, Germany, Greece, Hungary, Italy, Poland, Romania, Russia, Spain, Switzerland, UK and USA.