Interview
SUNDAY CONVERSATION: Mika Salo on missing out on that GP victory in Germany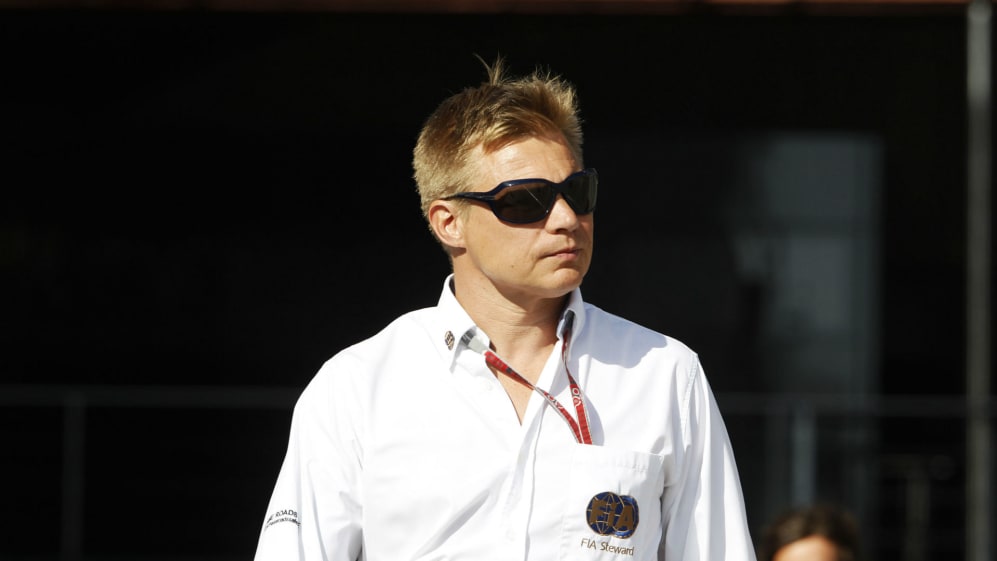 By rights, Mika Salo should have gone back to Hockenheim recently not just as the FIA's driver steward but as the winner of the 1999 German Grand Prix. That was the closest he ever came to winning in F1, and when he quit the sport in 2002, he did so without tasting a triumph. So what happened that day? Famed F1 journalist David Tremayne sat down with him to relive the race...
Today, Mika Salo is remembered more as the man who handed that win to his Ferrari team mate Eddie Irvine, but a fairer memory of the likable Finn is the battle he had with two-time world champion Mika Hakkinen in their Formula 3 days back in 1990.
In his Alan Docking Racing Ralt-Mugen, he led Hakkinen's similar West Surrey Racing version until mid-season, when he spun while leading at Snetterton. Hakkinen eventually took the title after setting 11 poles, 10 fastest laps and nine wins. But with four poles, six fastest laps and six wins, Salo kept him honest throughout and finished a valiant runner-up.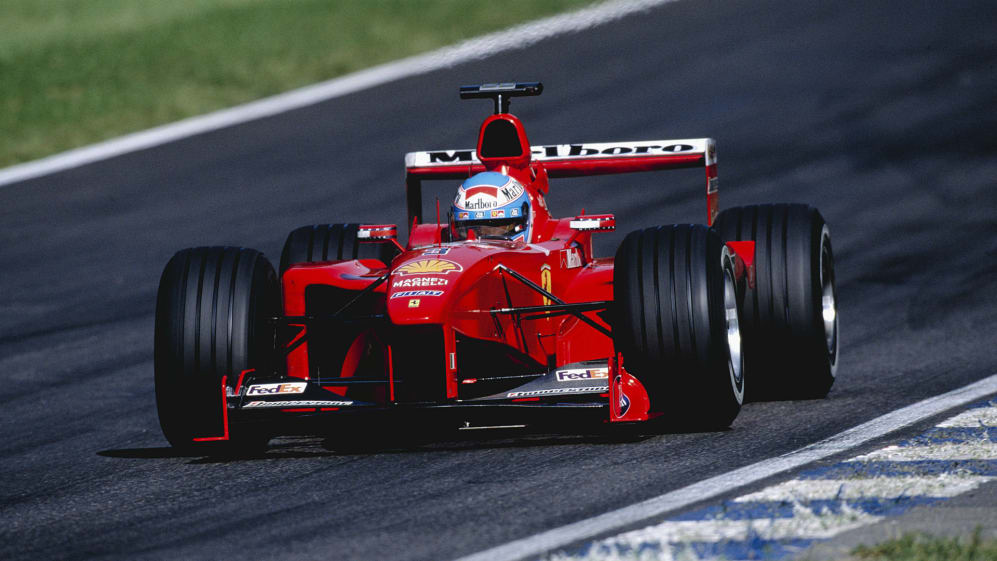 That was why it was so apposite that it should be the two Finns fighting for that victory at Hockenheim in 1999, with Salo finally getting an F1 car worthy of his talents. But, first, let's examine the circumstances leading up to that battle.
They unravelled two races earlier at Silverstone when Michael Schumacher, not knowing that the race had been red flagged as Alex Zanardi's Lotus and Jacques Villeneuve's BAR were left stalled on the start line, was still fighting his way past Irvine and had just done so when he crashed heavily at Stowe. The German's Ferrari was destroyed and he broke his right leg.
Salo had already stood in at three 1999 races for the injured Ricardo Zonta at BAR, with a best result of seventh at Imola. He was thus the perfect choice when Ferrari suddenly needed a replacement for Schumacher, and qualified seventh on his debut in Austria. He got caught up in the aftermath of pole-sitter Hakkinen's first-lap clash with team mate David Coulthard, collided with Johnny Herbert's Stewart, and had to fight back up to ninth.
Hockenheim went much better next time out, however. Hakkinen once again took pole position, from Heinz-Harald Frentzen's Jordan and Coulthard's McLaren. Salo was fourth, a couple of tenths faster than Irvine's sister F399.
"I qualified well," he recalls. "But, really, I knew already, before I drove even one metre, that the kind of situation which arose would be coming, so that I would have to do what I had to do. I was there just to help Eddie and the team to win the drivers' and constructors' world championships.
"But I had a really good start and I was second after the first corner. And Mika and I were just straight away pulling away from everybody else. It was like our old Formula 3 days."
Hakkinen led the first 24 laps then pitted for fuel and fresh tyres. Salo had pitted a lap earlier, and when Hakkinen's fuel rig malfunctioned, the Ferrari stand-in found himself leading a Grand Prix for the first time by the 25th lap. But it did not last.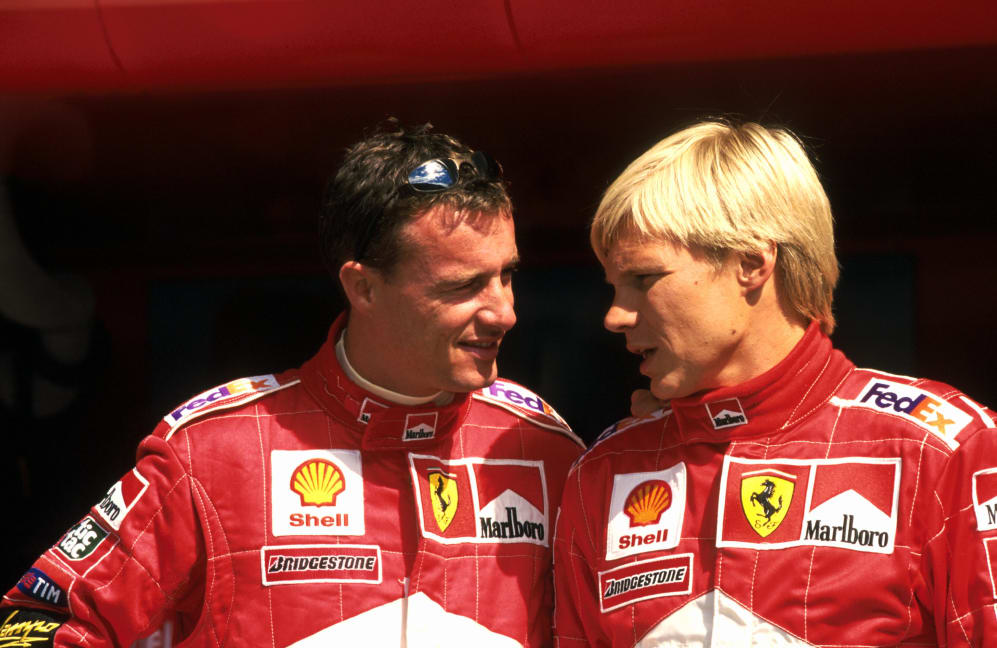 "I'd passed Mika in the pits, and was ahead of him when his tyre blew up on lap 25 and he crashed. So I was leading and was completely alone. But even before Mika crashed that lap, I had a little call from the pits…"
It came from Ferrari's Ross Brawn, asking him to let Irvine pass.
"I'd seen from my mirrors on the main straight that there's a red car behind me, but really far away, but then it didn't take long before I heard Ross Brawn's calm voice asking me to slow down. It still p****d me off. They said, 'Not very fast this lap, Mika.' I went, 's**t!'
"And then after Eddie went by he was driving so slow, I had to keep telling the team all the time if they can get him to go faster, because Frentzen was getting very close to me. I kept telling them can you tell Eddie to go faster because I'm stuck behind him now. Then he did speed up a little bit…"
In the end, Irvine led Salo over the finish line in a Ferrari 1-2 by 1.007s, with Frentzen's Jordan five seconds further back. And the Ulsterman, embarrassed by the circumstances of his victory, handed his team mate the winner's trophy.
"He did it on the podium, which I thought was a nice gesture. Actually, I ended up at home with both of the trophies, first and second! Then a few weeks later Eddie called me and said can he have the second-place one? So I sent it to him.
"People say it must have been frustrating for me, but I didn't think of it that way at that time. I just thought that's my job, so it's okay. That's how it was. It's a team sport.
"And I sacrificed some other races also for Eddie and the team, like Spa. I could have been also on the podium there easily, but I had to do a little bit of a lift off there. So I took some bullets there, too."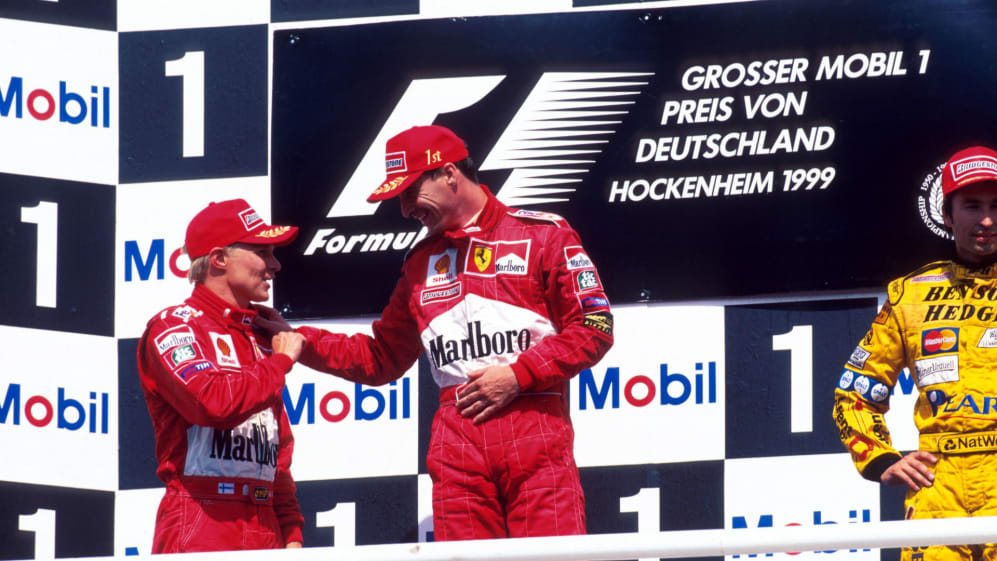 But he did have the satisfaction of completing the podium, behind winner Frentzen and runner-up Ralf Schumacher, on Ferrari's home ground at Monza.
So how does he look back on that episode of his F1 career?
"After the season, when Eddie didn't win the championship, then of course I was a little bit sad because I could have kept that win at Hockenheim, after all!"
His two stand-out performances in the F399 played a significant role in Ferrari winning their first world championship – the constructors' – since 1983, and earned him a ride with Ferrari-powered Sauber for 2000.
He'd come into F1 with the fading Team Lotus back in 1994 at Peter Collins' behest and drove superbly on his debut in the sodden Japanese GP in the unloved 109.
"I was living in Japan at that time and it was a week before Suzuka, when Johnny [Herbert] went to Benetton. So Peter called me suddenly in the middle of the night and said, 'Are you in Japan?' I said I was. He said, 'You're gonna do the next race.' I said, 'Yes!' So, that was it.
"I'd never been in a Formula 1 car in my life, until that first practice. But it was good. I qualified only 25th and it was a hard race in the rain, I stopped halfway through when Martin Brundle crashed into a tractor. I finished 10th, in front of my team mate Alex Zanardi.
"I think that the most fun I had was with Tyrrell, from 1995 to 1997. It was really nice, Steve Nielsen and all those guys. It was a small group and we were having a lot of fun. That was good times. We still managed to take points, even when only the top six scored."
He was fifth in Italy and Austria and sixth in Japan in 1995, fifth in Brazil and Monaco and sixth in Australia in 1996, and fifth in Monaco in 1997.
"The car was pretty good, just underpowered. But now, if you were a small team like that you would be lost every race."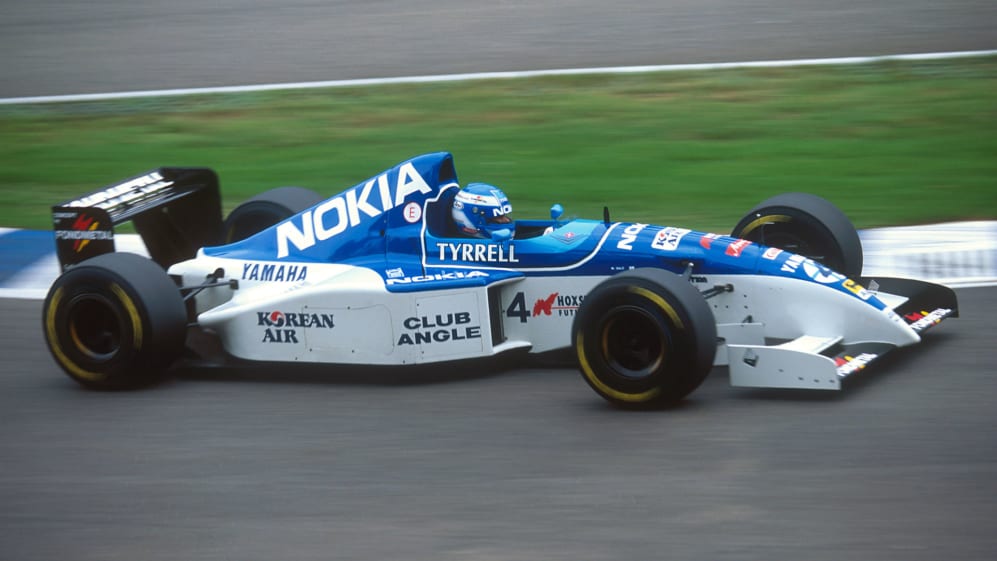 In 1998 a switch to Arrows yielded fourth place at his happy hunting ground of Monaco, while the move to Sauber for 2000 saw him finish fifth in the Principality and in Germany, and sixth in Imola and Austria.
"The Sauber was pretty good, too, though Jean [Alesi] did most of the development the year before, so it was a bit funny. But we made it pretty good during the year. It was just a little bit of chaos there all the time, and I didn't get along with Peter [Sauber] so well."
Sauber led to the chance to work with Toyota in 2001, developing their car ready for a championship campaign in 2002.
"At the beginning it was quite hard because everybody came from sports cars or rallying. We were testing a lot of really stupid stuff. With Ferrari we were testing for the future already, like five years later, and they would test some parts and put them on the shelf just in case it's allowed in five years' time or something like that. But in Toyota it was really bad. The test car was really bad. It was heavy and very difficult to work with. But it was good people, and we got along very well. But overall it wasn't good enough."
His best results came early, with sixths in Australia and Brazil, but the team decided to change both drivers for 2003, leaving Salo and Allan McNish out of F1.
"That p**d me off actually, because we did only one year racing and then they said they don't need us anymore and we had been working making the cars the way we wanted them to be and could have done some really good results the next year. Then they changed the drivers and it was really stupid because then they sacrificed the next year also, because maybe the new drivers don't like 'our' cars."
Subsequently, Salo's career took him to CART, Le Mans and the World Endurance Championship, V8 Supercars and Bathurst, establishing him as a fast all-rounder.
In 2008 and 2009 with Risi Competizione he helmed a Ferrari to GT2 class victory at Le Mans (with Gianni Bruni and Jaime Melo, and Melo and Pierre Kaffer respectively), while one-off appearances for Ford Performance Racing in V8 Supercars Down Under yielded second at Surfer's Paradise in 2011, and victory there in 2012. Two years later he shared a Maranello Motorsport Ferrari F458 GT3 with Craig Lowndes, John Bowe and Peter Edwards to win the Bathurst 12 Hours.
Today, he's happy working with SMP Racing, being an FIA driver steward at selected races, doing some television commentary and his Finnish TV show, Test Drive by Mika Salo.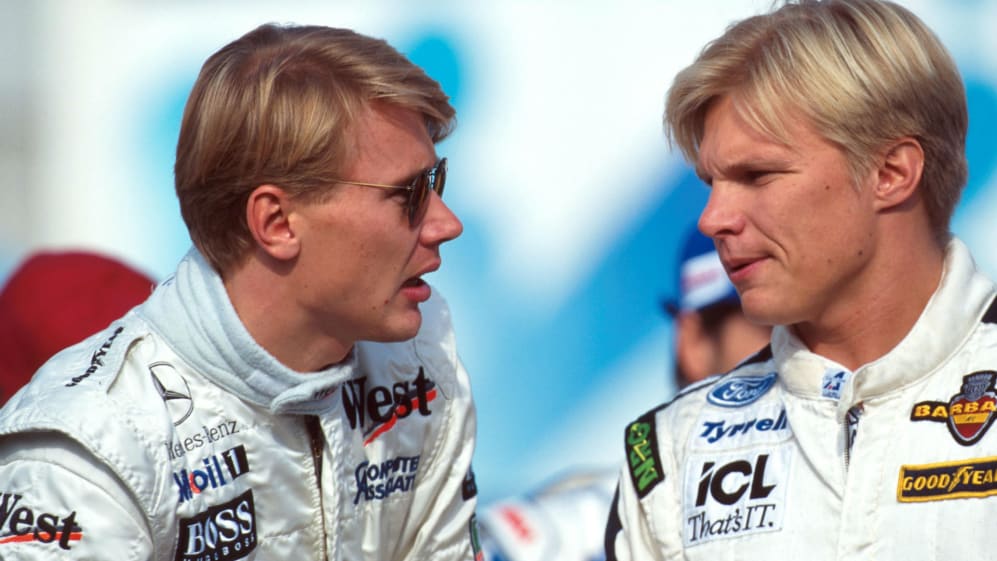 "I'm a sporting director for SMP Racing, with the team and about 30 young drivers around the world. I advise them, and with my contacts I can help them. It's nice. That's why I like doing the steward's job, to keep me in contact with other people here. I'm happy."
He likes the way F1 is going, too.
"Looking at the new owners, I think it's good. It's more show now and there's more action here. And I think it looks nice. The competition could be a little bit better. Now there's six cars that can fight for a win. But then there's a big gap. It would be nice to have everybody there. Give everybody the shot of doing well. But it's been always like that, basically. In the past it's been McLaren, Williams and Ferrari always there. In the old days if you got fifth or sixth it was a big deal, wasn't it?"
So what would his optimum 2021 Formula 1 be?
"I don't know. I would probably have a bit less technology. A little bit less things on the steering wheel and ban the computers from the paddock, or something like that. There's still too many things to do.
"Drivers are totally dependent on the team, what they tell them on the radio. They're on the radio constantly. And the driver is totally lost if the team don't talk to him all the time. So, I don't like this part. It should be just flat-out racing. No saving tyres, no saving fuel. You go flat-out from start to finish, and maybe bring the refuelling back and softer tyres. So, do shorter stints and have more pit stops and make it more team work that way. More chance of different strategies, more dependence on the driver. That would be ideal."
Once a racer, always a racer.