Interview
SUNDAY CONVERSATION: Saudi Arabia's pioneering female driver
Assel Al-Hamad may only have driven a handful of laps of the Paul Ricard circuit in a Formula 1 car over the French Grand Prix weekend. But following the lifting of a ban on women drivers in her native Saudi Arabia, the significance of those laps has reverberated around the world. Legendary F1 journalist David Tremayne spoke to the FIA Women in Motorsport Commission member after a ground-breaking day.
Sunday, June 24 was a landmark day for women in Saudi Arabia, when King Salman's official decree that they could hold driving licences came into effect.
But for an adventurous young woman in Paul Ricard, that date will resonate even more the older she gets. After tucking her hair beneath a racing helmet and whatever fears she may have entertained in her pocket, Aseel Al-Hamad struck another blow for women when she added to the celebrations by doing a demonstration lap in Renault's ex-Kimi Raikkonen Abu Dhabi GP-winning Lotus E20 V8.
By any standard that was a good story, given her lack of experience, but besides the significance of it all what made it even more remarkable was that she acquitted herself honourably, without making any mistakes.
"It's a beautiful gesture from Renault and F1 to support a beautiful day in Saudi," she said. "I'm here as an ambassador of my country and I hope I did my best today. It's the best way to launch a new beginning, a new era."
The pre-race 'passion parade' featured several cars from Renault's storied racing past, and in preparation for it Al-Hamad, a Saudi Arabian Motorsport Federation board member and a member of the FIA's Women in Motorsport Commission, had driven a Renault road car, a Formula Renault single-seater and the E20, in a test at the track on June 5.
"I'm very much proud to be representing Saudi Arabia at the Women in Motorsport Commission," she says, "so we encourage women around the world to participate in motorsport. Today the sport sends a beautiful message to all women around the world that we are encouraging them to participate in this amazing sport.
"Today was perfect. Everything was smooth, I felt I belong in the seat. And I loved the fact that there was an audience around. Today is magical."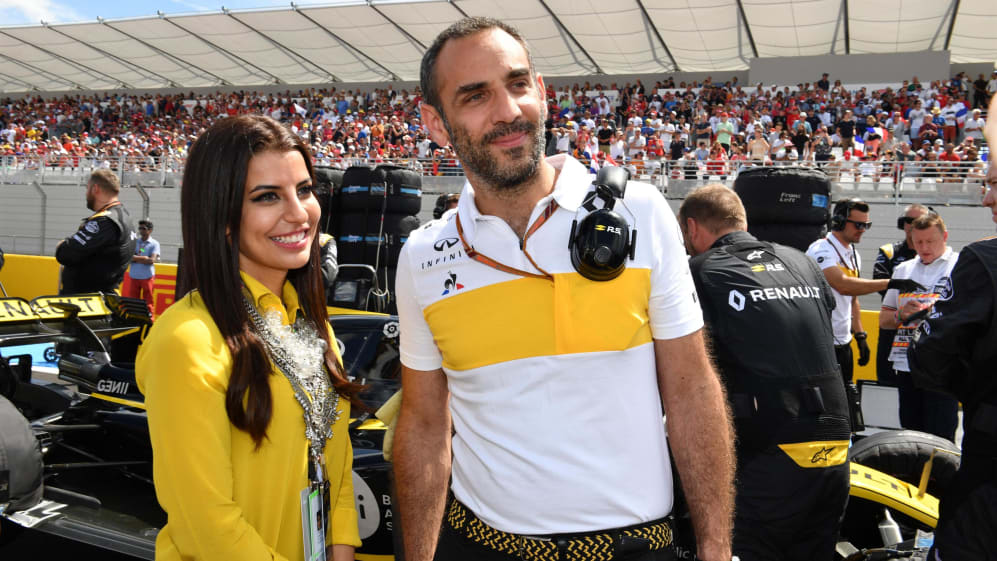 Like all trailblazers, her passion began early.
"I've been passionate about cars since I was young," she says, "and it is a strong passion which led me to become a board member at our Motorsport Federation, the first lady board member. And besides the FIA position, this is why Renault decided to approach me. I'm so honoured today to represent my beloved country and the women of my country on this amazing celebration day. So big thanks, it's such a big honour, I'm so privileged.
"It's a beautiful gesture for the whole world that nothing is impossible, that you can dream big and work hard because you will achieve it. For me, I think motorsport is the best sport and the most popular around the world.
"We are so lucky that Formula E is going to come this year to Saudi Arabia when we are going to have the first race."
Might she even start racing herself?
The question puts a pause in her enthusiastic stride, but she rallies quickly.
"Nothing is impossible. Why not? My hope honestly is to inspire the whole world and the next generation to participate and be professional racing drivers in this field. This explains that everything is possible."
She admits that the opportunity to drive a genuine F1 car was massively exciting.
"Of course! I can't describe the amount of joy. Things went perfectly in the test, and that's why today we are here because women are careful, so they're better drivers! That's a good message. Actually, it's about responsibility. If you feel the responsibility, you will nail it, right? And these guys at Renault trusted me."
She is clearly chuffed to have repaid that trust, and with the way her special day went.
"I'm very proud and I hope I made them proud, because they deserve it. I hope I made everyone proud, including my country and women in my country."
Al-Hamad graduated from Prince Sultan University in 2009 with a degree in interior design, and went on to set up IDegree Design, an engineering and design firm. A member of the Saudi Council of Engineers, she made a little bit of history by becoming the first Saudi Arabian woman to own and import a Ferrari, a 458 Spyder. She has taken it to several circuits around the world to participate in track days, workshops and professional racing courses. She also manages the sportscar section of Rose Auto Magazine, a Saudi publication aimed at female drivers.
Nevertheless, her achievement at Paul Ricard was remarkable, given how easy it would have been to make a mistake due to her relative lack of experience in the E20.
"Of course, mistakes happen," she acknowledges, "it's a sport. But everything was smooth, I felt that I belonged in the seat and I love the fact that there was an audience around. And I love France, and I love F1.
"But I think I still don't realise it, what happened today. I need time to think about it, because it's been magical."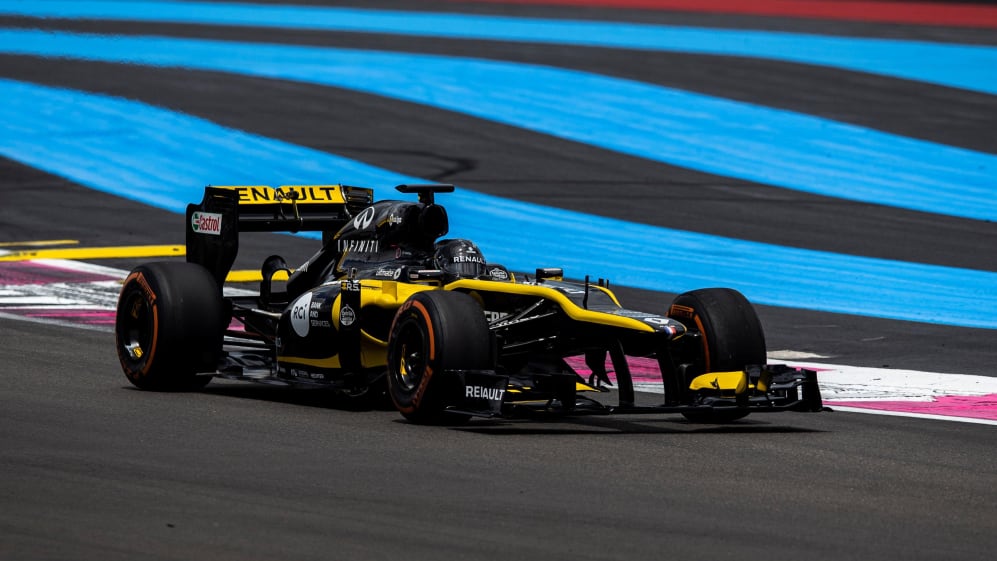 Interestingly, Al-Hamad does not think a championship exclusively for women is necessary.
"The Women in Motorsport Commission at the FIA is trying to promote that motorsport is a sport open for everyone and everyone can compete equally. It's not a gender sport."
From the Formula One perspective, the objective is opening the sport up to a much broader fan base, and a big part of that is equality. That, clearly, goes hand-in-hand with opening the sport up further to women so that they feel they can come into it at various levels, whether that's working within a team, or the dream and ambition to be a driver. Al-Hamad's demonstration run in France was symbolic of that drive towards equality, as is the FIA Formula One Future Stars programme, introduced this year to encourage children from all different backgrounds to get into the sport.
"The [Women in Motorsport] Commission encourages the participation of women in all fields of motorsport, not just as racers but as mechanics, engineers, everything," Al-Hamad says. "It's very important for us to keep pushing. Part of our real job is supporting the Commission, with me being a board member of the Saudi Arabia Motor Federation.
"I was honoured and lucky that I had great opportunities where I got the chance to experience many different cars, many different locations and grow this passion further in the past years. It brings me happiness, I love it. You can see the smile! I really love motorsport, it's something from deep in my heart, that's why I'm here today.
"I followed it from being very young, so I've just grown up amongst it. My family have been supportive all the past years, they came with me, they travelled with me. It's a very competitive sport, and that's what makes it exciting."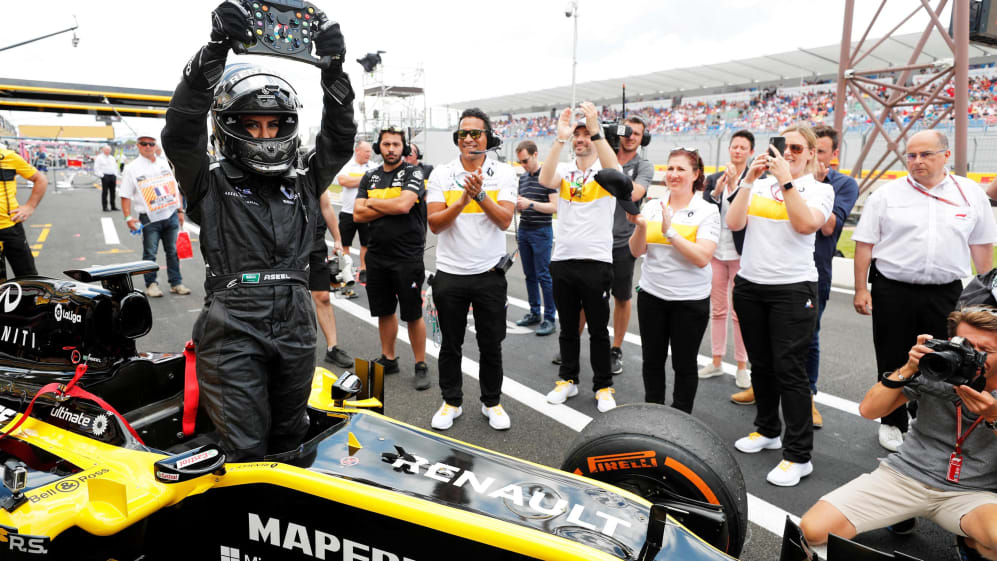 So does she have a sense that in 25 years' time people will look back on what she achieved at Paul Ricard on Sunday June 24, complementing the change in Saudi Arabia's driving laws, and see it as a major step forward?
"Of course, definitely. This is one achievement out of many other achievements, so we are always looking back to everything in our history to celebrate moving forward.
"Everything together adds up and it makes the importance of it for me, because I'm a motorsport fanatic so I'm very happy with what I did today and the upcoming Formula E race we are holding. But everything is amazing. Now it is the new Saudi and now it's for us to show the world and think back to what the country has been doing for us for years. So it's payback time.
"The most important thing I am looking forward to is to start seeing the next generation, young girls, trying motorsport. I want to watch them training and taking the sport very seriously as a career. This is going to be really my biggest achievement.
"I believe the beauty of this story is that everything is possible. Even if you dream the impossible, you can still achieve it."