Technical
Tech insight - Mercedes' rapid pre-season evolution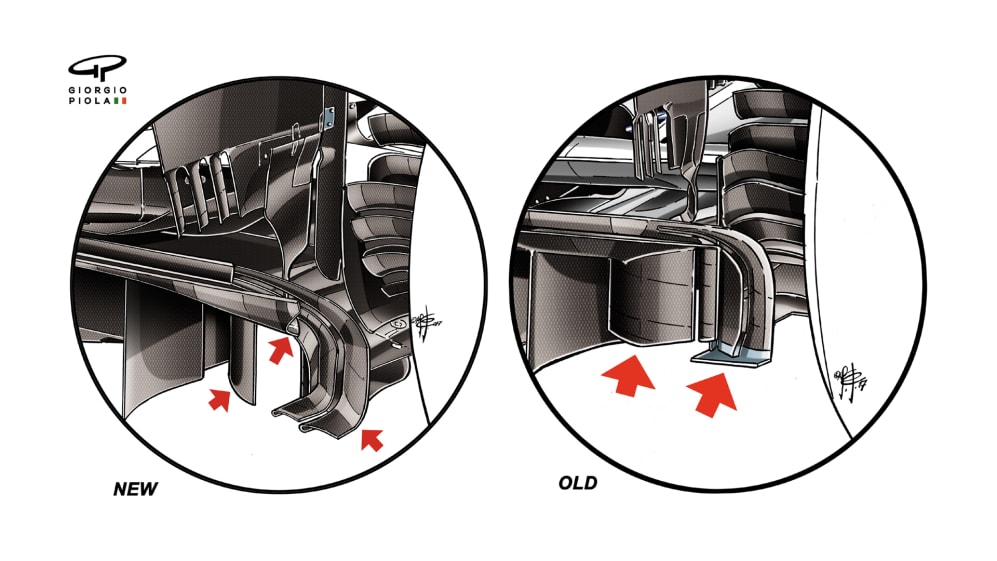 It may sound like a cliche, but in the case of F1's biggest squads, the car you see launched at the start of the year is often very different to the one that turns up at the first race. And at no team has the rate of development been as swift as at world champions Mercedes...
This was highlighted by the sheer number of changes seen on the Silver Arrows' W08 car over the course of the two pre-season tests. The team introduced a new aero package at the second test, including the rear diffuser shown below. As can be seen from the drawings, the outer section is completely different to the original design, highlighted by the red arrows.
Accompanying this new aero package was a revised front wing. In the comparison drawings below we can see its new vertical fin in the upper flap (1). Also new were the modified brake ducts, with a revised shape to the large 'paddle' fin (2), and a new air inlet (3) for brake cooling similar to the final version introduced by the team last year. Unchanged was the S-duct with its 'shark's gill' inlet under the nose, a feature already seen on Mercedes' 2016 car.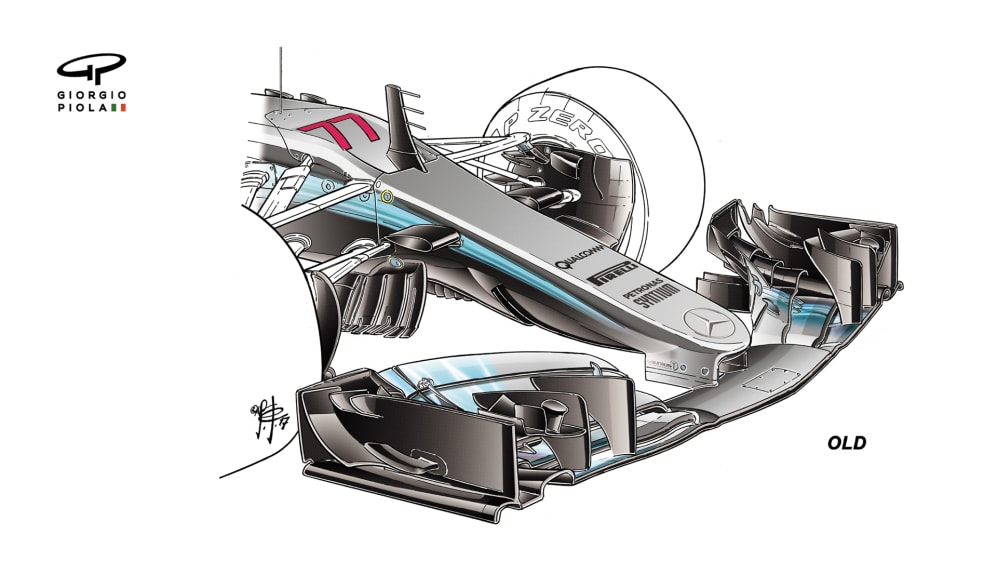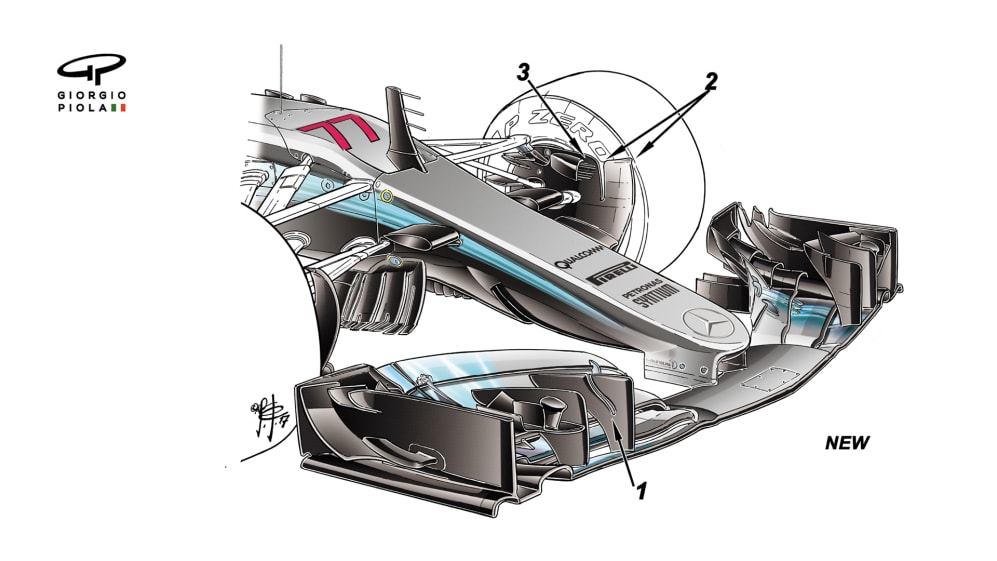 At the second test Mercedes introduced a lot of toothed sections and aerodynamic devices in their barge board layout, an area of the car that had been much simpler at launch, more akin to their 2016 machine. They added teeth (1) under the vertical turning vanes, as well as on top of the barge boards (2) to create vortices and help energise the airflow to the sidepods. Also new were the teeth (3) ahead of where the bargeboard connects with the stepped floor, and a small winglet (4) attached to the laser measure system under the chassis.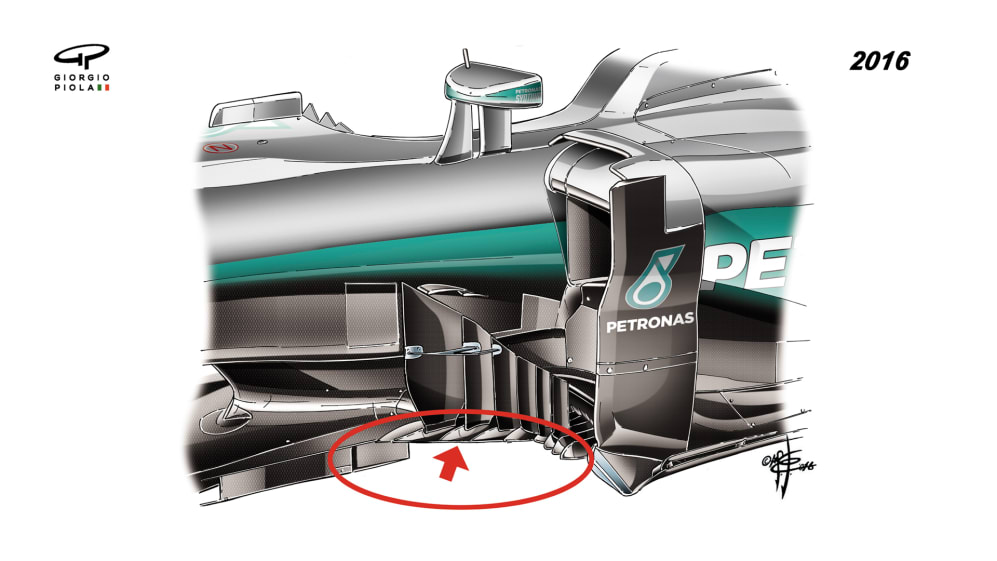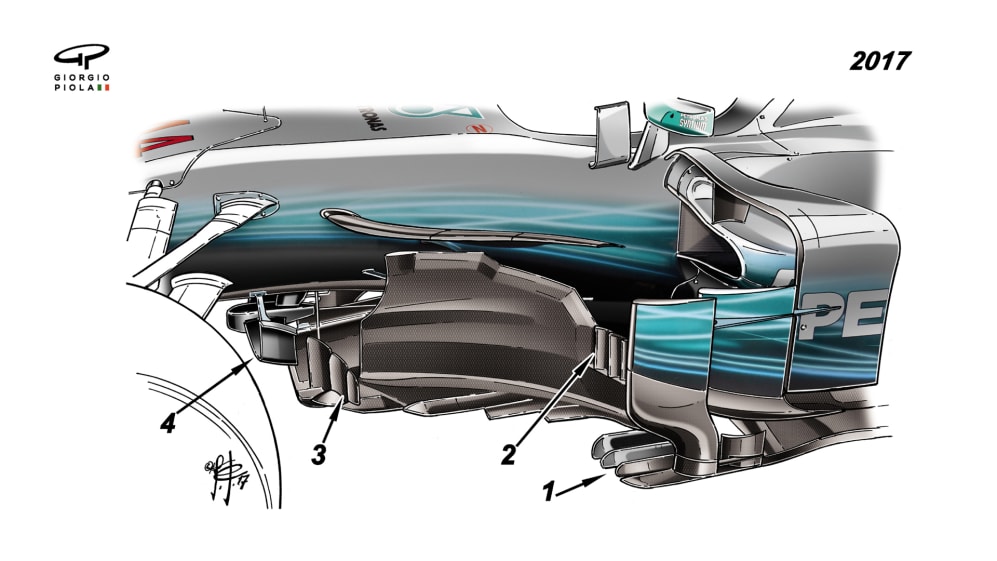 With so many new parts appearing on the Mercedes over the course of testing, do not be surprised if the W08 that takes to the track in Melbourne this Friday is very different again.