Technical
Tech insight - nosing, or barging, ahead at Silverstone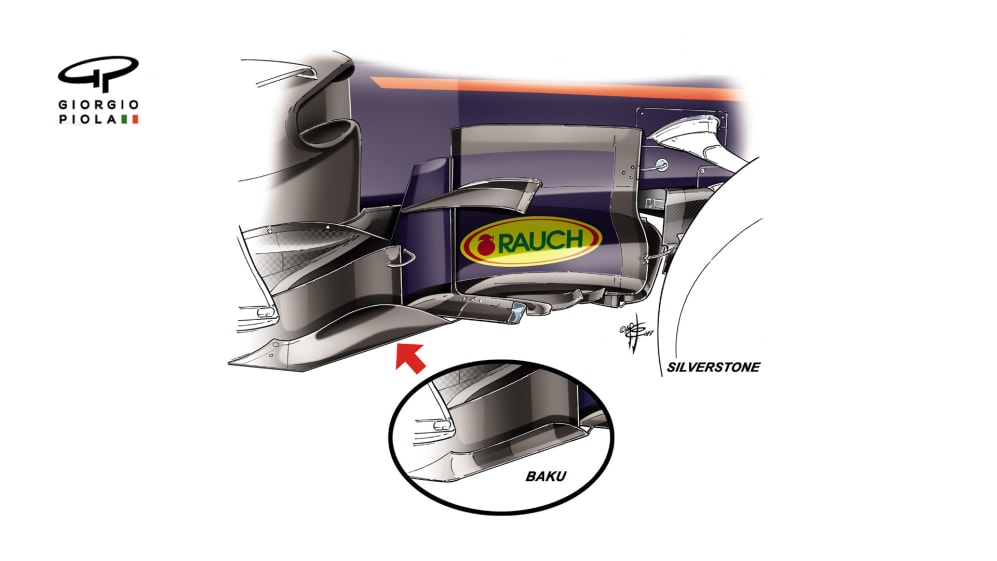 The British Grand Prix is the home race for the majority of the F1 teams – indeed Force India's factory is right next door to the Silverstone circuit. No surprise then that their engineers and designers are doing all they can to eke out that extra bit of pace around what is a very fast and challenging track…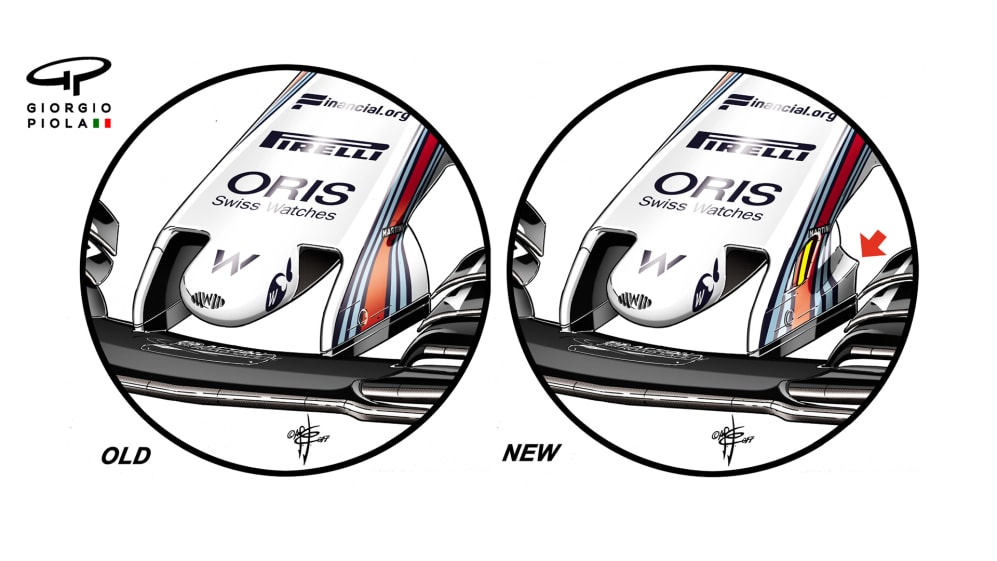 Williams FW40
This weekend Williams have again been testing the new nose on the right that was first seen at the last round in Austria, with a small vertical slot (yellow highlight) as on the McLaren (who have a more extreme interpretation of the concept, with four slots and a much longer wing support). The new design is very similar in shape to the previous version (on left), but is more angular in the lower section (red arrow) to create vortices and improve airflow to the sidepods and the rear of the car. After running it in practice, the team chose to revert to the old nose for qualifying and race, though they did use the new barge board design introduced in Spielberg...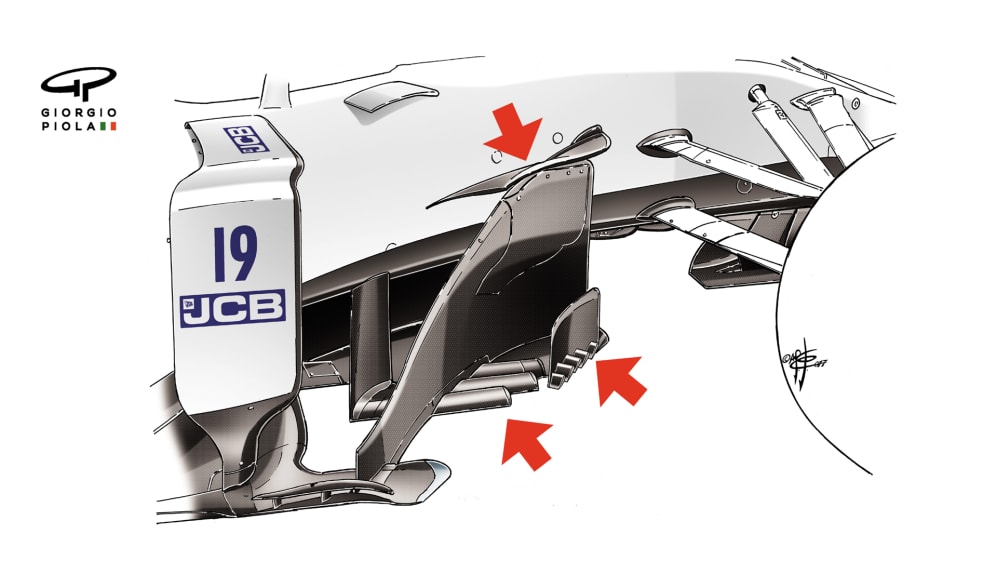 Clearly taking their inspiration from Mercedes, the new boards are much taller than before so as to form a single, v-shaped element (top arrow). The footplates on both the main board and the smaller pre-board now also feature small, teeth-shaped winglets, again similar to the Mercedes.
Force India VJM10
At Silverstone Force India introduced a new front wing, a little bit like that on the Ferrari. The main plane has only one slot instead of two, so has a wider chord profile. The flaps are different – instead of three smaller-chord flaps, there are now only two elements but with bigger chords. This wing was used for nearly all of practice, as well as qualifying and race.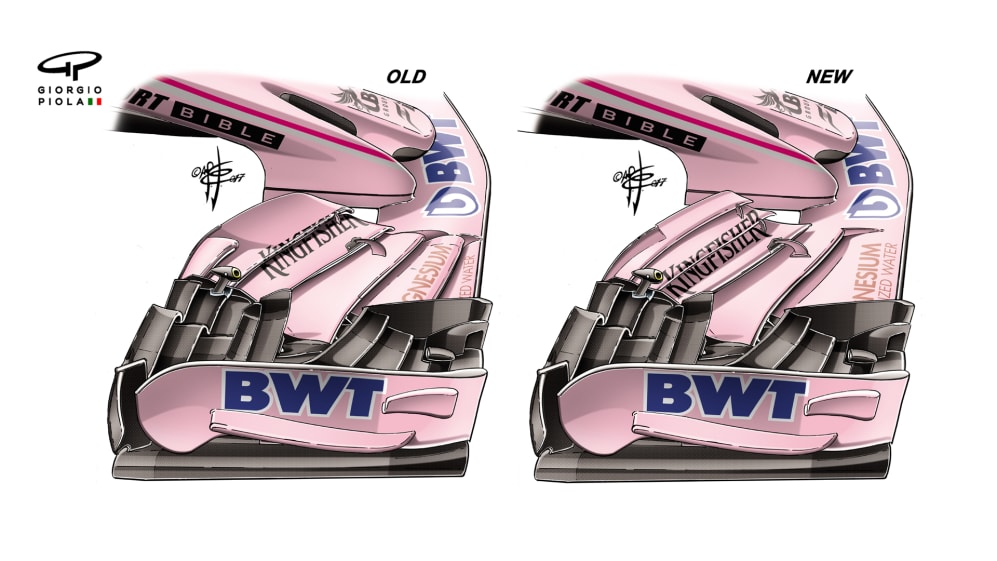 Red Bull RB13
Red Bull again modified the barge boards on their car (at least the fourth time they have done so since Melbourne), changing the lower section with a longitudinal, concave fin similar to the one introduced by Ferrari on their SF70H. This was combined with an extra longitudinal element on the turning vanes under the chassis. Together with a number of front aero updates, it made for some significant revisions to the RB13.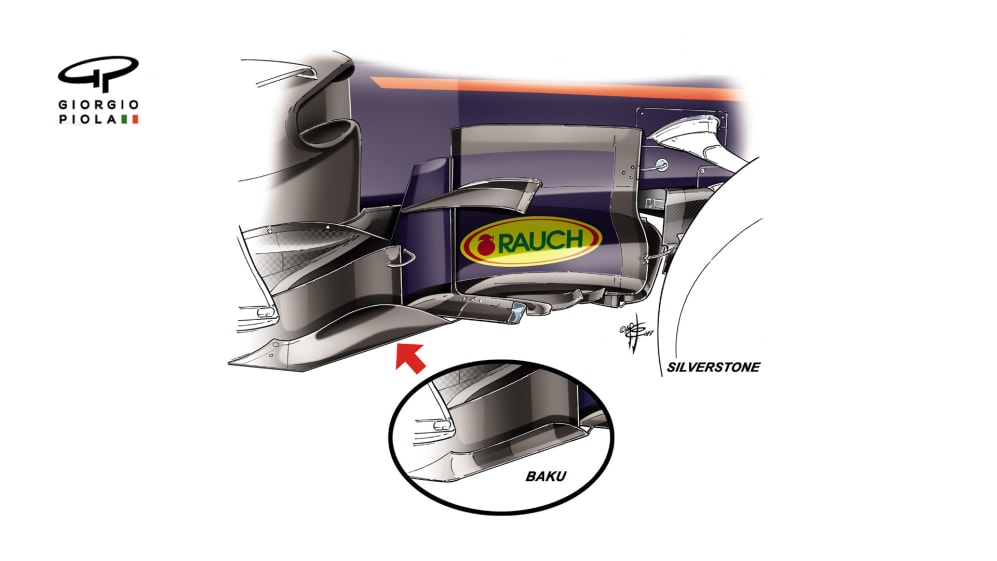 There was also a new front wing on the RB13. It featured an extra slot in the top section of the flaps in the area beside the endplate, in order to better manage airflow around the outside of the front tyres. Daniel Ricciardo did a back-to-back comparison test with the previous version in FP1 and both he and team mate Max Verstappen used the new one in qualifying and race.