Technical
Tech insight - shark fins set for 2017 return?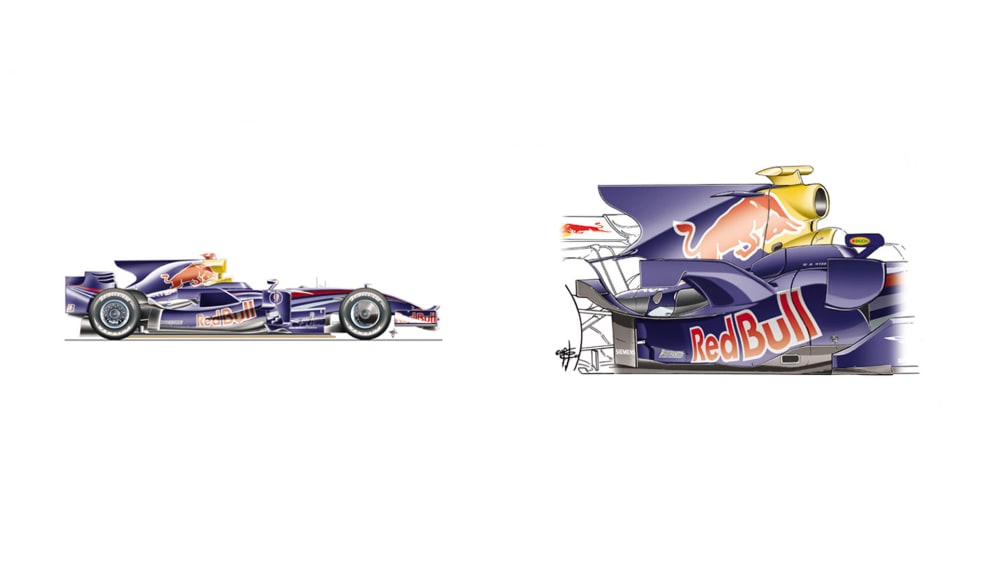 One unforeseen side effect of 2017's major regulation changes is that some of this season's new cars could feature 'shark fin' wings along the top edge of their engine covers, a solution last seen back in 2011.
The change that could prompt their return is the move to lower and wider rear wings. Last year the wing was 950mm high and 750mm wide. This season the respective figures are 800mm and 950mm. It means that on most cars the rear wing will suffer more from the turbulence generated by air coming off the front axle and suspension.
The shark fin solution, or 'airbox sail' as it is sometimes described, dates back to 2008 when Red Bull introduced it on their RB4 machine (pictured above). It helps to divert turbulent air away from the rear wing, especially while cornering.
Ironically, Red Bull are one team who may be less likely to go down this route for 2017. Running a high rake angle on your car - as the former champions are renowned for doing - actually lessens the effect of the turbulence coming from the front, as more of that airflow simply passes under the rear wing.
As it stands, Renault are set to be the first team to reveal their new car, on February 21, followed on successive days by Force India, Mercedes, and then both Ferrari and McLaren on February 24. Red Bull have not confirmed a launch date.