Feature
Teething troubles, wet weather runs and fun 2022 cars – What we learned from Day 3 of pre-season running at Barcelona
As sunset approached at the Circuit de Barcelona-Catalunya on Friday, Lewis Hamilton bolted to the top of the timesheets to make it a Mercedes one-two on the third and final day of pre-season running. It's wise not to read too much into that level of performance – but there was still plenty we did learn…
Mileage not as strong on final day
Arguably the most impressive aspect of pre-season running at Barcelona this year was the incredible reliability most teams delivered straight out of the box with race cars that were brand new and built to a formula that has never hit a track in anger.
READ MORE: Hamilton fastest on disrupted final day of pre-season running in Barcelona
But mileage slipped on the final day, with only half the teams completing 100 laps or more. A caveat is that they were all hampered by a truncated day that featured not one, not two, but five red flag stoppages and an afternoon of wet weather running after the track was artificially watered to gather data for Pirelli.
And while it was difficult for some, things were rosier for others. Mercedes had their best day in terms of total laps, as they headed the mileage count with 155, with McLaren next best on 132 and Ferrari – who topped the week with 430 – ending on 130. At the other end of the spectrum, Haas have just nine to show for their day, while Alpine were marginally better with 12.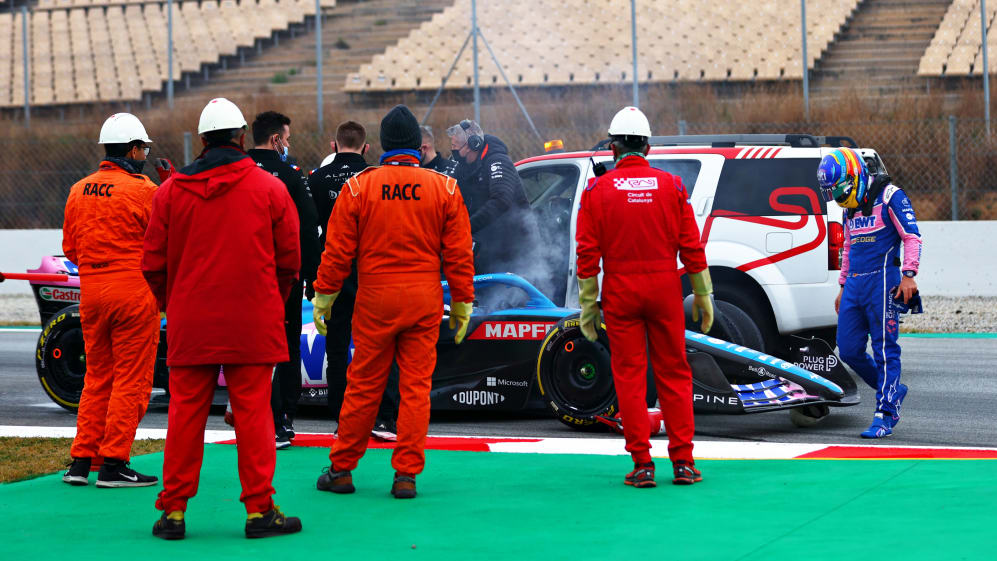 Niggles start to creep in for some
Alpine, Aston Martin and Haas suffered mechanical problems so significant, they spent much of Friday in the garage, and even ended their days early.
Alpine, who were without the use of DRS all week (which will have cost them around seven tenths of second in terms of lap time), managed 266 laps across three days, but it ended up short of 300 after a "low pressure issue" ended Fernando Alonso's time in the car before lunch.
READ MORE: Alpine call early end to Barcelona running after hydraulic issue
Aston Martin and Sebastian Vettel lost the final few hours of the day to an oil leak – and there was another leak over at Haas, who have had their fair share of gremlins this week. It was frustrating for Valtteri Bottas, too, the Finn getting just 10 laps to add to the meagre 44 he managed across the first two days.
This is pre-season, mind – so there's no need to sound the alarm bells. This track time is designed to give teams an opportunity to iron out niggles, and with brand new cars, it's normal that little problems are likely to spring up. The key is to get on top of them quickly – and fortunately for all 10 operations, they have the Official Pre-Season Test left for more checks before we go racing proper in Bahrain in the middle of next month.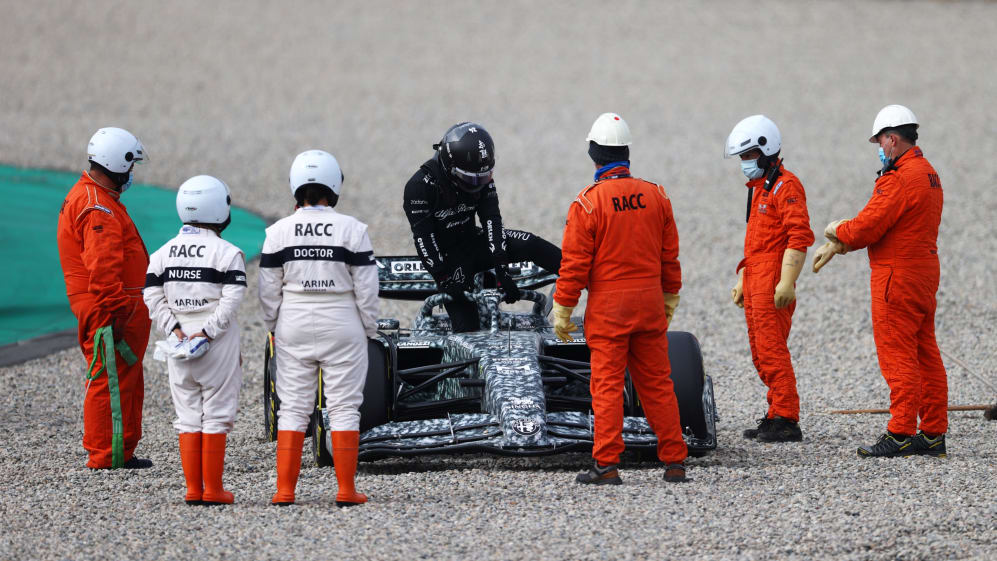 Red Bull and Mercedes start to show their form
Red Bull did a great job of hiding their RB18 until the very last moment, the car breaking cover for the first time when running began in Barcelona. The design was very different to its rivals – and it has emerged that this is only an early iteration.
Sources say Red Bull will bring a significantly upgraded car to Bahrain, as was always the plan, and after a reasonably productive opening test focused on reliability and system checks, they'll turn their attention to chasing performance next week.
READ MORE: Perez encouraged by Red Bull's 'good baseline' after Barcelona running
Mercedes, who looked marginally better than their main rivals Red Bull in Barcelona, brought improvements to the car across the three days in Spain and are widely expected to bring a heavily upgraded car – again as planned – to Bahrain, in a strategy we've seen them employ several times in the previous years.
The world champions were in such a comfortable position on Friday, they were able to turn their attention to low fuel runs on soft tyres and a few longer stints on high fuel to simulate race simulations.
2022-spec F1 cars are fun to drive
The more time drivers spend behind the wheel of these new generation of cars, the more they are enjoying it. Aside from the early feedback suggesting that being able to follow cars closer will be easier – as was intended by the new rules – it is clear drivers are getting a kick out of their new machines, particularly through the fast corners.
"Overall, they have probably outperformed the initial projections that Formula 1 set for these new regulations that we had seen," said Russell. "We have seen every single team is faster than the full second slower than they were planned to be. The high-speed performances are definitely on par with what we were seeing last year which is pretty impressive."
AS IT HAPPENED: Day 3 of pre-season track running in Barcelona
AlphaTauri's Pierre Gasly added: "I must say they are fun. Last year, I feel pretty lucky we managed to experience the fastest car in the history of Formula 1. They were amazing to drive and I think our starting point in terms of performance is not so far from last year. So considering all the development that we are going to see at the start of the season, over the next couple of months, I think we will see pretty much similar performances.
"The car seems to work really well in the high speed and that's where we get usually the most excited. So really looking forward to Silverstone, Suzuka, all these tracks. So, if we are able to be a lot closer to each other in racing that could make a lot of adrenaline, which is always what we are looking for so excited for that."