Tennis star Raducanu reveals the key piece of advice she received from Hamilton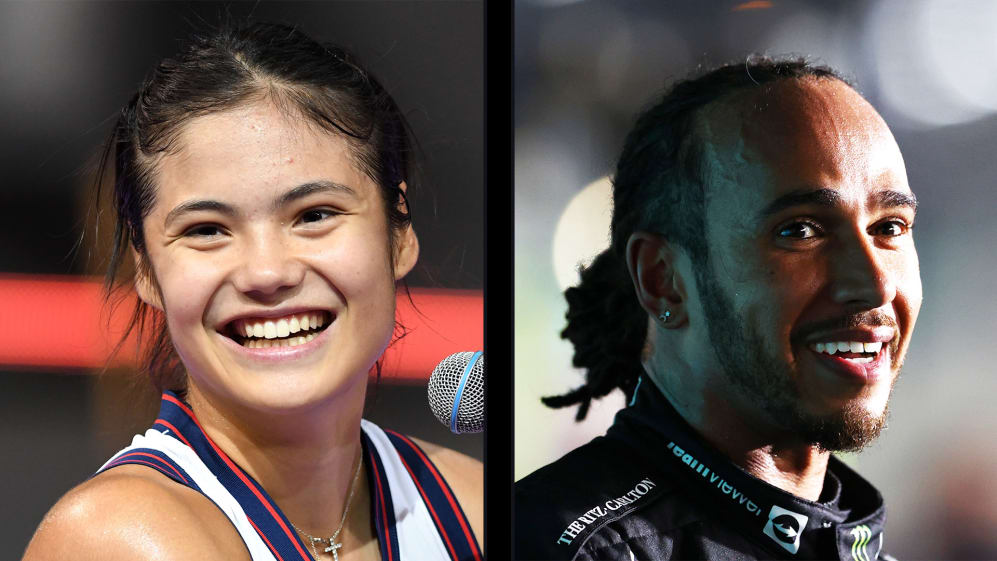 US Open winner Emma Raducanu has spoken about the sage advice she received from reigning Formula 1 champion Lewis Hamilton, who she described as a "role model" after winning an exhibition match in London on Sunday.
Nineteen-year-old tennis star Raducanu made history by winning the 2021 US Open – her first-ever major tournament title – having previously been ranked 150th in the world. She and Hamilton attended the prestigious Met Gala soon after, and the British player revealed the advice she received from the seven-time champion about living in the spotlight.
READ MORE: How the Hamilton vs Verstappen battle compares to the closest F1 title fights since 2010
"I met [Hamilton] in person at the Met Gala and we had a really good conversation there, and since then I've been looking up to him, following him, and supporting him… but it's cool – whenever we meet, it's really cool.
"He said: 'Be patient, you know, you've just got to ride the wave. It's all good, don't worry' – good reassurance. He's a really cool guy... [He's] been such a good role model for me in terms of helping me out through the next stages," she said.
There's also talk that Raducanu is among the favourites to win the BBC's Sports Personality of the Year award in her home country, the prize having gone to Hamilton in 2020 as he also received a knighthood. But she shrugged off her chances of winning the award.
"I just don't even think about it. For me, it's something that's so far out of the realms of possibility... No, definitely not. I am rooting for Lewis in the race [for Sports Personality]," said Raducanu.
READ MORE: What does Verstappen need to do to win the title over Hamilton in Saudi Arabia?
While Hamilton may have appreciated the compliment, his thoughts will now turn to this weekend, when he'll seek to stop Max Verstappen winning his first title at the maiden Saudi Arabian Grand Prix.
"It's been a hell of a year so to be at this point of the season and have back-to-back wins is a great feeling," said Hamilton. "We've still got our work cut out, but we're loving such a close battle and the challenge that it brings."
Jeddah hosts what is set to be the fastest-ever F1 street race on December 5.