Feature
How the Hamilton vs Verstappen battle compares to the closest F1 title fights since 2010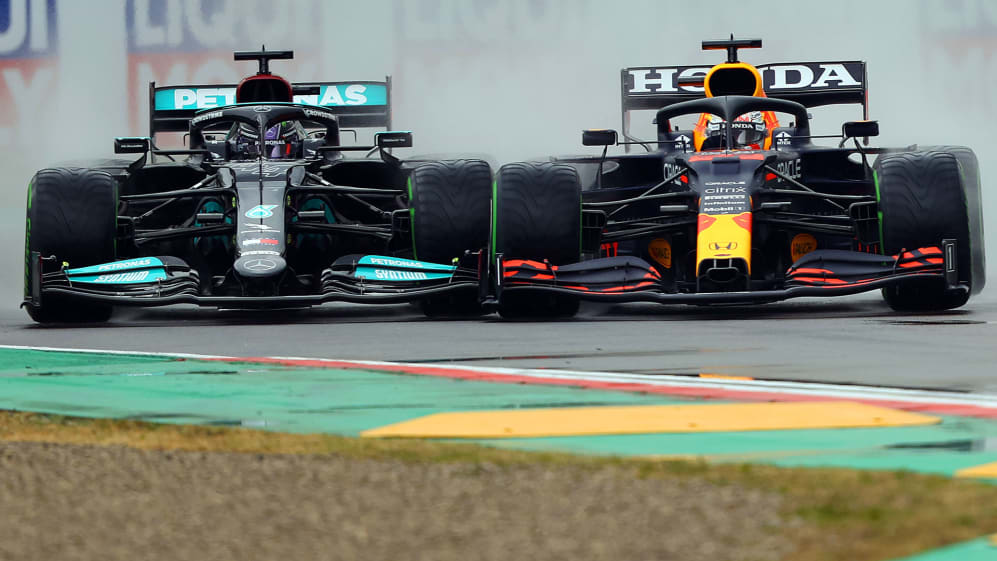 With just two races to go, F1's title fight is on a knife-edge. Red Bull's Max Verstappen heads Mercedes' Lewis Hamilton by just eight points. So, as the tension builds, we take a look at the tightest drivers' championship title run-ins since the points system changed for 2010…
2014
Lewis Hamilton led Nico Rosberg by 24 points
Champion: Hamilton
Victory in the United States Grand Prix was Hamilton's fifth triumph on the bounce, 10th of the season and 32nd of his career, the latter statistic moving him clear of Nigel Mansell as the most successful British driver of all time.
WATCH: All the key moments as the fierce Hamilton vs Rosberg rivalry unfolded
Team mate Rosberg was the only driver at that point standing between Hamilton and a first championship success with Mercedes. The German kept it interesting by winning the next event in Brazil, to cut the gap to 17, with a double points bounty of 50 available in Abu Dhabi.
But victory for Hamilton at Yas Marina, after polesitter Rosberg's race was ruined by a hybrid system problem, gave him the title – six years after his first, as he ended the year 67 clear at the top of the pile.
2016
Nico Rosberg led Lewis Hamilton by 19 points
Champion: Rosberg
Rosberg's championship in 2016 was built on a foundation that yielded a string of wins after a lay-off, as he won the opening four races of the season and followed that up with three wins in a row when the season resumed in Belgium after the summer break.
READ MORE: Mercedes threatened Hamilton and Rosberg with suspension at height of rivalry, reveals Wolff
Victory in Japan put him in the box seat, and while Hamilton won the next two races, Rosberg headed into the final two Grands Prix of the season knowing that a pair of seconds would be enough.
And he did just that, following Hamilton home in Brazil and then in Abu Dhabi – where Hamilton tried to back him up into Ferrari's Sebastian Vettel in one final roll of the dice – to emulate his father Keke's achievement.
2010
Fernando Alonso led Mark Webber by 11 points
Champion: Vettel (who trailed by 25 points)
This was one of the most open championship fights F1 had seen in years, with four drivers heading into the final two races still in with a shot of the title in what was the first year with the current points system.
WATCH: Webber reveals his biggest regret over the 2013 'Multi 21' battle
Fernando Alonso had the wind in his sails, having moved to the top of the championship standings with a wet weather win in Korea. Vettel was on the back foot, as engine failure in that race had forced him out of the lead and into retirement.
Alonso said at the time that "anything can happen in the next two races" – and he wasn't wrong. Vettel bounced back to win the next race in Brazil – ahead of Webber (who, along with Hamilton, also had a shot at the title) with Alonso third – and then won Abu Dhabi too, which was enough to snatch the championship lead for the first time that season, and yield his first drivers' title.
2012
Sebastian Vettel led Fernando Alonso by 10 points
Champion: Vettel
Tenacity is a trait that all F1 champions have, and Vettel has shown it in abundance, including in Abu Dhabi in 2012 when he recovered from a pit lane start – following his qualifying disqualification for not having enough fuel in his car to provide a sample – to take third and hang onto his championship lead with two Grands Prix to go that season.
WATCH: Onboard for Vettel's epic, incident-packed first 8 laps of Brazil 2012
He extended that advantage by beating Alonso to second next time out in Austin, and then delivered another impressive fightback from last to P6 in Brazil, having been first tagged by Kimi Raikkonen and then hit by Bruno Senna on Lap 1.
With Alonso second and unable to challenge Jenson Button for victory at Interlagos, that was enough for Vettel to become F1's youngest-ever three-time world champion.
2021
Max Verstappen leads Lewis Hamilton by eight points
Champion: ?
This title fight has been tense, with the young pretender Verstappen genuinely threatening Hamilton's long-held reign as the championship's number one.
For the most part, Red Bull have had the stronger car, but Mercedes have hung on in there to create a nail-biting showdown – the tightest F1 has seen since the new points system was introduced in 2010.
READ MORE: Did Qatar grid penalties actually aid Verstappen's title chances
Hamilton and Mercedes have the momentum, having won the last two Grands Prix, but it is Verstappen who has the lead – by eight points – and the Dutchman is the only one of the two who can leave Saudi Arabia as the champion. It's all to play for.