Video
The best onboard action from Abu Dhabi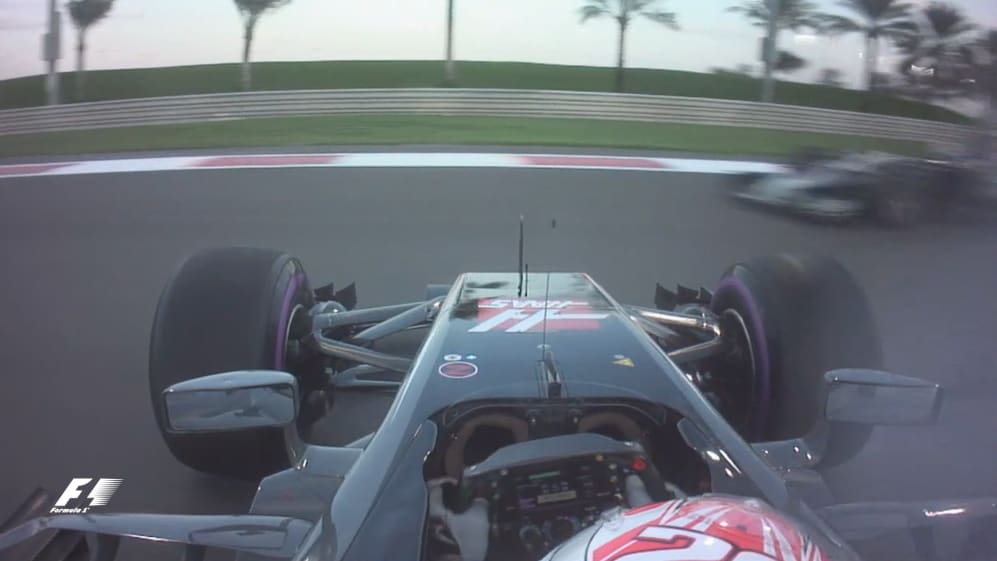 From Magnussen's manic start to Bottas's post-race donuts, we take a look at the best driver's-eye action from Abu Dhabi...
Having been involved in a first-lap crash in Brazil, the last thing Kevin Magnussen wanted in Abu Dhabi was another incident. Unfortunately, he got just that – and once again Stoffel Vandoorne was in close proximity! This time there was no contact between the Dane and the Belgian, though it was in trying to squeeze alongside the McLaren into Turn 1 that Magnussen lost grip and slithered wide. From there things went from bad to worse as his cold, dust-covered tyres cried enough mid-way around Turn 2, the spinning Haas only narrowly avoiding Stroll's Williams…
After edging Kimi Raikkonen to P4 on the grid at Yas Marina, Daniel Ricciardo had to fight hard to maintain the position on the first lap of the race – especially after the Iceman got a monster run on him coming out of Turn 10. A couple of laps later, with DRS assistance triggered, Raikkonen might have got the job done. As it was he only managed to get his nose ahead of the Red Bull for the briefest of moments.
After their race long battle in Brazil, old rivals Felipe Massa and Fernando Alonso were back at it again in Abu Dhabi. Having got ahead of the Brazilian off the line, Alonso was then powerless to prevent Massa from sweeping past on again on the run down to Turn 11 on the opening lap. However, this time the Spaniard would have the last laugh.
22 laps after their opening-lap tussle, with the sun now firmly below the horizon, Alonso and Massa were back at it, with the Spaniard - who'd shown strong pace following his own pit stop - catching the Brazilian napping as he came back onto the track. The final pass was several corners in the making, but knowing it was probably 'now or never', Alonso wasn't in the mood to let this chance slip by.
Alonso and Massa weren't the only former team mates squabbling on lap 1. Sergio Perez and Nico Hulkenberg had their own tete-a-tete, with the German - having dropped a position to the Mexican at the start - repassing the Force India off-track. Hulkenberg claimed - unsuccessfully - that he'd been pushed wide by Perez, but in the end it was academic. Even with a five-second penalty the Renault driver's pace was such that he ended up seven seconds up on Perez at the flag.
Pierre Gasly's post-race team radio tirade showed he was far from pleased with his performance at Yas Marina - and this moment was arguably the tipping point. Looking solid if unspectacular in P14, the young Frenchman made this mistake in the final sector and his race unravelled. Passed by both Magnussen's Haas and team mate Brendon Hartley's sister Toro Rosso, Gasly would never recover, eventually coming home in 16th.
As the race in Abu Dhabi passed half distance, race leader Valtteri Bottas began to come under increasing pressure from team mate Lewis Hamilton. But having closed right onto the tail of his Silver Arrow colleague, it was Hamilton, not Bottas, who cracked, with this small error - which came after a sustained period of pushing - ending his chances of beating the near-flawless Finn.
It only takes a split second for a race to come undone in F1, and so it proved for Carlos Sainz. Showing good pace and looking likely to score well, the Renault ace suffered a pit stop disaster, his improperly secured left-front wheel working loose as he chased rival Esteban Ocon out of the pit lane. A case of what could have been...
He may have scored points in Spain and Baku, but given Sauber's performance deficit – which has only grown as the season has gone on – Pascal Wehrlein's drive in Abu Dhabi was arguably his best of the year. With a down-on-power, year-old Ferrari engine in his Sauber, the German proved more than a match for the Haas of Kevin Magnussen, with its current-spec Ferrari unit, and even got ahead at one point - until the Dane made full use of both some extra horses and DRS assistance to power back past…
He may have missed out on snatching P2 in the championship - denying Mercedes a fourth consecutive one-two in the standings - but Valtteri Bottas was nonetheless overjoyed to finish his maiden season with the Silver Arrows with a third victory - and a hat-trick no less. But the best thing about winning the final race of the year? Not having to worry about protecting the engine and gearbox for the next race - and that means donuts!