Video
The best onboard action from Hungary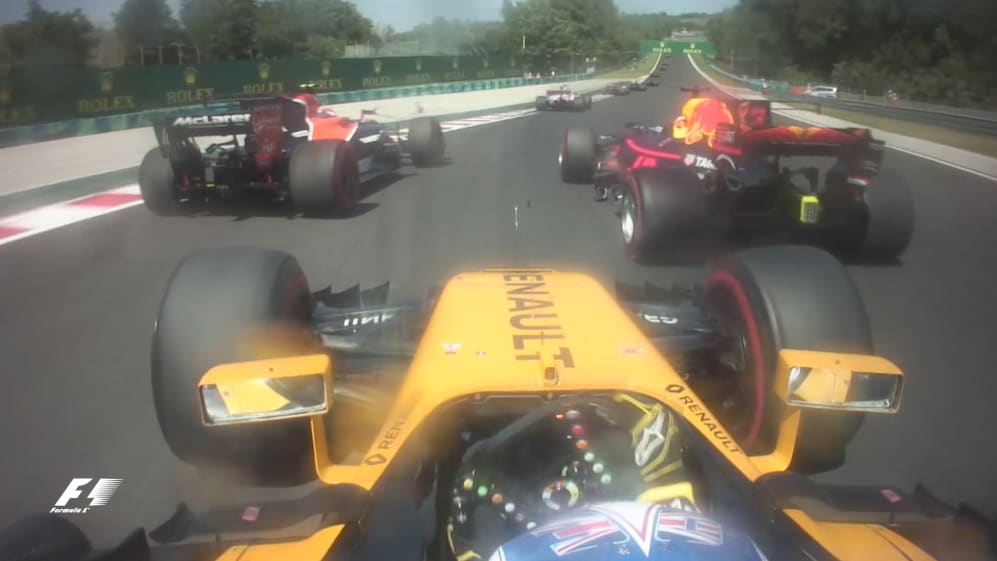 From the excitement and wheel-banging chaos of the first lap to bruising battles later on, Sunday's Hungarian Grand Prix provided more than its fair share of action. Here's our pick of the must-see moments - all from the driver's perspective...
When Max Verstappen entered Turn 1 considerably ahead of team mate Daniel Ricciardo, courtesy of a lightning getaway from P5, it seemed unlikely they'd be squabbling over the same patch of asphalt heading into Turn 2. But as the Dutchman ran wide at the tight right hander - partly having taken avoiding action of Kimi Raikkonen's slower Ferrari, partly because of Valtteri Bottas hanging tough on his inside - Ricciardo got a run on him… "We were both fighting for position in Turn 2, so we braked quite deep into the corner but I had Bottas in front of me so I locked the front," explained Verstappen, "and from there I was just a passenger." The question is, should he have been lunging up the inside of his team mate at all on the first lap? "I don't think he likes when a team mate gets ahead of him," was Ricciardo's take. "He had the whole race to repair the mistake. The pass wasn't on - it wasn't even a pass."
At a tight track like the Hungaroring the start was always going to be the most important part of the race, and unfortunately for Lewis Hamilton it didn't go his way. Lining up on the so-called dirty side of the grid, the Briton found himself jumped by Max Verstappen going into Turn 1 and the sister Red Bull of Daniel Ricciardo on the exit. He gained one position back when the same duo then came together, but had he not been stuck behind Verstappen in the opening stint, Mercedes might have been able to 'invert' their drivers earlier.
"If you can do what Hulkenberg did to Romain," uttered Kevin Magnussen (somewhat ironically as it turned out) in the wake of witnessing this coming together between his Haas team mate and Nico Hulkenberg's Renault on lap one, "then it's going to be a dirty race…" The stewards however clearly saw nothing 'dirty' in the German's actions, deciding against taking any disciplinary action. Was that the right call? Watch the side-by-side video above decide for yourself…
After his recent run of miserable luck, the last thing Jolyon Palmer needed was to become embroiled in someone else's opening lap accident. But were it not for his razor sharp reflexes, the Briton might well have joined Daniel Ricciardo in having an early bath, having only narrowly avoiding the Australian's Red Bull as it pirouetted helplessly across the track in his path. Despite running extremely wide, Palmer only dropped one position on the opening lap – but it could have been a whole lot worse…
After squabbles in Canada and full-on contact in Azerbaijan, those on the Force India pit wall must have closed their eyes as Sergio Perez and Esteban Ocon came together again on the opening lap in Hungary. Both drivers sustained damage in the clash (which as the sound from these onboards will attest, was not inconsiderable), but both still made it home in the top ten – the first time in their history Force India have done that in Hungary.
When the safety car peeled in at the end of lap 5, Fernando Alonso immediately went on the attack, eyeing up a pass on countryman Carlos Sainz around the outside at Turn 1. The Toro Rosso driver, who'd idolised Alonso as a child, kept the two-time world champion at bay by running him out wide with a nudge of his left rear tyre (a move Alonso thought was questionable, but the stewards thought was fair), which then put the McLaren driver under pressure from Sergio Perez. This was a battle that would run and run…
Thirty-one laps on from his failed passing attempt at Turn 1, and having also done battle with Sainz into and out of the pit lane, Alonso finally found a way past the man 14 years his junior with a superb move at Turn 2. Following directly on from a calculated lunge up the inside at Turn 1, Sainz was powerless to prevent the McLaren from sweeping around him on the downhill left hander. "It was very tough to defend from Fernando," said Sainz afterwards. "He was more on the pace of the leaders than the midfield."
The incident documented in the video above earned Kevin Magnussen a 5-second penalty for forcing Nico Hulkenberg off-track, and it also sparked a remarkable war of words between the two drivers in the post-race TV pen (with the Dane suggesting the German do something rather unpleasant). "When it comes to racing, he's just nasty," Hulkenberg said of his rival. "Hard defending is fine but when he does this, it's just ruthless and sending people into the wall. What he did there, opening up the steering, making me run wide, it's just being an ****** basically."
Having been in contention for points all day, Stoffel Vandoorne nearly blew his chance of a first top ten finish of the season when he overcooked his entry to his pit box as he came in to change tyres on lap 42. With his front jack man knocked back on his heels and the rest of his mechanics having to shuffle forwards, the Belgian lost several seconds - ruining any chance of an overcut, but thankfully for him not scuppering his ultimate quest for points.
With their underpowered, year-old Ferrari engines, Sauber's Pascal Wehrlein and Marcus Ericsson often find themselves fighting amongst themselves at the rear of the field. On this occasion there was only pride, rather than points, at stake - but that didn't lessen the ferocity of the pair's fight. Wehrlein ultimately took the bragging rights courtesy of this Alonso-like move at Turn 2 eight laps from home - a remarkable move, even if it was only for 15th.