Video
The best onboard action from Mexico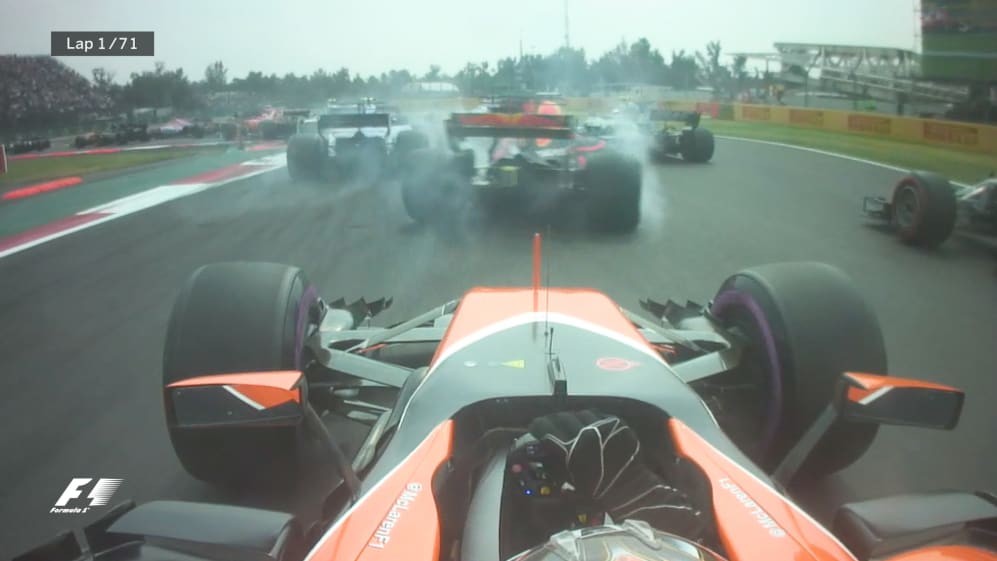 The Autodromo Hermanos Rodriguez isn't the easiest track on which to pass, but there was still plenty of wheel-to-wheel action in Sunday's race in Mexico. Here's our pick of the best - all from the driver's perspective of course...
Bottas takes his chance
We've already brought you the first-lap incident from Vettel's, Verstappen's and Hamilton's perspectives – but here's how it played out from Valtteri Bottas's viewpoint. As you can see, the Finn – who started fourth – was still firmly fourth by the first corner, but by anticipating trouble ahead he was in the perfect position to take advantage when it happened. And once second, he'd stay there until the flag.
Ricciardo charges (as promised)
Having been 'confused, annoyed and helpless' as he qualified down in seventh, Daniel Ricciardo was dealt another blow when Red Bull elected to change several engine components ahead of the race, dropping him to 16th on the grid. "I'm going to charge," the Aussie said before the race. "I'm going to use every rpm that I've got!" Sadly those rpm's only lasted five laps, with his engine crying enough having carried him up to P7. Five of those places were gained on a barnstorming opening lap, which you can watch in its entirety above. Look out for the near miss at Turn 2!
Vandoorne proves his mettle
Ricciardo had cheekily told Red Bull supremo Helmut Marko that he'd get up to P7 by the end of the opening lap. In the end that proved a bridge too far for the Honey Badger – and in fact it was McLaren's Stoffel Vandoorne [who trailed him for most of the lap] who made up the most places on the first tour, the Belgian moving from P19 to P13. How did he do it? As the video shows, with some extremely precise driving...
Alonso metes out his own punishment
"Please, please race director," Fernando Alonso had pleaded over team radio after Romain Grosjean had cut Turn 14 whilst trying to resist the irrepressible Spaniard. "Please please, it's very clear. I am losing the race here." Grosjean was eventually issued with a 5-second penalty for leaving the track and gaining a lasting advantage, but not before Alonso had taken matters into his own hands and elbowed his way past the Frenchman – bodywork flying – at Turn 1. The moral of the story? Don't make Fernando angry…
Vettel and Massa go wheel-to-wheel
Safe to say Sebastian Vettel was not best pleased with Felipe Massa's rather sturdy defence of P15 when the German tried to squeeze past on Lap 13, accusing the Brazilian of 'autoscooter' (or bumper car) tactics and pushing him off the track. What do you think? Did the Ferrari driver have a point or was it, as the stewards presumably felt, firm but fair racing?
Grosjean loses two places in quick succession
Haas's Romain Grosjean managed to last 31 laps on his first set of supersoft tyres, but that longevity came at a cost as on aging rubber he became easy prey. The best demonstration of his vulnerability is shown above, when Pierre Gasly and Felipe Massa mugged the struggling-for-traction Frenchman in quick succession, relegating him to P14. Unsurprisingly, Grosjean pitted at the end of the same lap.
Vettel comes from a long way back
Having dropped to the back of the field on Lap 1, Vettel – like Hamilton – spent most of his race either plotting or making passes. This one – on home favourite Sergio Perez – looked a little more off the cuff, the German coming from a long way back before diving up the inside and slamming on the anchors. Well, he did have nothing to lose…
Hamilton treads the outside path
After Sunday's race Lewis Hamilton described Mexico as 'the worst track to follow' adding that getting past people was 'a disaster'. However, you wouldn't know it on the evidence above, in which Hamilton makes an extremely tricky around-the-outside pass on Felipe Massa's Williams look like child's play. A simple car advantage? Not when you assessed the state of Hamilton's diffuser after the race...
Alonso and Hamilton roll back the years
In the three years Fernando Alonso has been back at McLaren, he's rarely had the chance to do battle with old foe Lewis Hamilton. But on Sunday we were offered a tantalising treat of both what used to be and what will hopefully be again, as the Spaniard duelled wheel-to-wheel with his former team mate for position. And what a duel it was, with both drivers exhibiting exquisite race craft as first Alonso repelled an attack and then Hamilton forced his way past to take P9. "What do you think, he went off the track or was it okay?" asked Alonso over team radio as Hamilton completed the move, seemingly more out of interest than hope of vindication. "It was good racing, but fair racing," replied his engineer. And we couldn't agree more.
Great recognises great
This year's title race has been a fraught, frenetic, occasionally ill-tempered, but largely utterly respectful affair. And that respect was in full effect after the chequered flag when a defeated Sebastian Vettel drew alongside Lewis Hamilton – the man who'd just equalled his tally of four world titles – and offered his immediate congratulations. A classy gesture from one true great to another.