Video
The best onboard action from the USA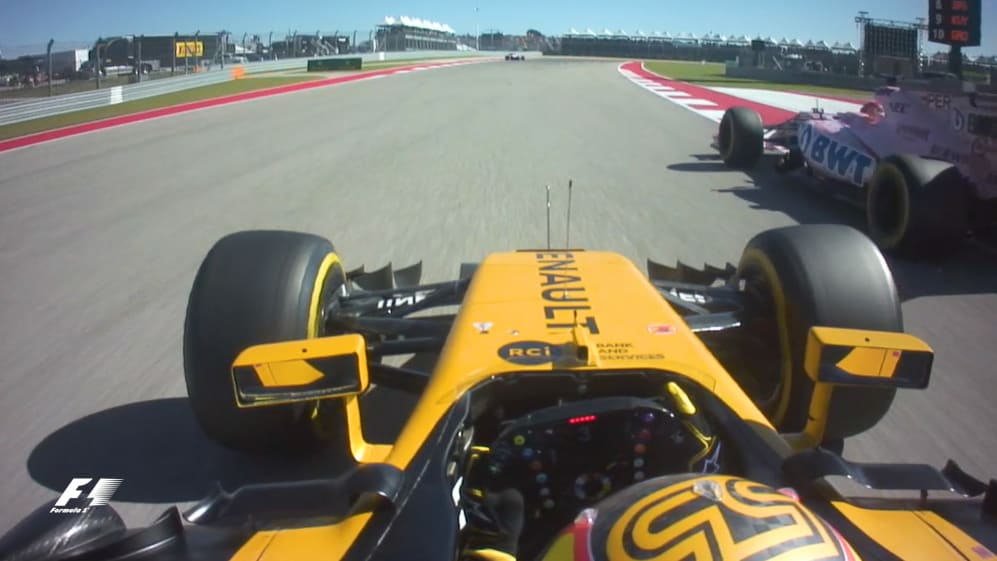 From start to finish the United States Grand Prix was chocked full of entertaining action. Here's our pick of the best - all from the driver's perspective of course...
After a nightmare run to Turn 1 in Singapore, a back-of-the-grid start in Malaysia, and a down-on-power getaway in Japan, Sebastian Vettel finally made the start of his dreams in Austin to beat title rival Lewis Hamilton – whose own start was by no means terrible – into Turn 1. As this split screen shows, Hamilton made a small effort to squeeze the Ferrari, but Vettel – with nothing to lose – was determined to make the corner his.
Kevin Magnussen started three places behind Pascal Wehrlein on the Austin grid, but by the mid-point of the first lap the duo found themselves squabbling over the same piece of tarmac. As you can see, having got himself alongside the Sauber approaching the braking zone for Turn 12, it seemed like Magnussen would complete a fairly standard pass up the inside. But Wehrlein stuck to his guns, braked later than the Dane and tried to tough it out around the outside. Some might say that in doing so he left himself vulnerable, but the German wasn't having any of that. "I left Kevin a lot of space," said Wehrlein after retiring his car from the damage sustained here. "It was quite an effort from him to still manage to crash into me…"
As soon as Red Bull confirmed Max Verstappen would be taking new power unit components in Austin – and thus starting down the tail-end of the grid – fireworks were almost guaranteed. As you can see (and hear!), from 16th on the grid the rapid Dutchman didn't actually get that great a start, bogging down with wheelspin before being uber careful into Turn 1. From there, however, he got his elbows out, passing Lance Stroll's Williams around the outside of Turn 2 and then the Saubers of Pascal Wehrlein and Marcus Ericsson respectively through the Esses and Turn 11 hairpin. They would prove the opening acts of a performance full of passes for the young Red Bull racer…
Daniel Ricciardo is rightly regarded as one of the best overtakers in F1, but try as he might, the Australian just couldn't force his way past Valtteri Bottas's Mercedes in the opening stages of Sunday's race. The Red Bull driver had clearly ear-marked Turn 1 as his best bet to make a move stick, and nearly made it happen with a forceful block pass on lap 2 only for Bottas, who'd run wide, to bravely stand his ground as the duo went wheel-to-wheel through Turn 2 and the opening part of the Esses. Two laps later Ricciardo dusted himself down and had another go at the same corner, this time attacking the Finn very late and from way back. As you can see, Bottas was quick to take avoiding action as the Red Bull ran straight on, and with his superior traction the Mercedes man again managed to keep his nose in front. Proof that great action doesn't necessarily mean changes of position.
When Sebastian Vettel jumped Lewis Hamilton at the start, it looked like we were set for a race long scrap for victory. In the end, however, Hamilton landed what would turn out to be the decisive blow less than six laps in. "Initially I thought I would wait for the pit stops (to overtake), but then I could see him pushing and I thought 'I'm pretty good on my tyres right now, he's going too quick through that corner, he's going to kill his tyres' – and that's what he did," said Hamilton. "If he'd backed off in those places he would have been able to keep me behind I'm certain, but he didn't. And then he made a few mistakes, started locking up, and I thought 'I've got this' [laughs]. I was a little bit surprised Sebastian didn't defend more, I would have…"
"He's a little bit close guys… why'd you allow him to get so close?" asked Lewis Hamilton to his engineer after the 4.5s advantage he'd held over Sebastian Vettel before the pit stops was reduced to a matter of metres as he excited the pit lane. The truth of the matter is that Hamilton made his stop three laps later than his German rival, and though he felt his tyres were still in good shape, he wasn't able to lap at the Ferrari driver's new-rubber rate. Luckily for the Briton, he had just enough of an advantage left to stay ahead, with Vettel's lairy wheel-spinning moment out of Turn 1 preventing him from building up a further head of steam.
In his post-race interviews, while he was still fuming at being handed a five-second time penalty, this was the battle that Max Verstappen chose to highlight as he raged against what he perceived as the inconsistent way the race stewards dealt with track limits violations. "I had a good fight with Bottas where he ran off track, came back on in front of me and I had to overtake him afterwards - but there are no penalties given," he reasoned. The difference, of course, in this scenario is that the driver running off track didn't have the upper hand for long…
Max Verstappen's last lap pass of Kimi Raikkonen looked to have sealed third for the Dutchman, but five laps earlier Sebastian Vettel - making the most of his fresh rubber after a late pit stop - had made the same position his with what was almost as audacious a move. How many other drivers would have spotted the ever tightening gap between Bottas's Mercedes and Stoffel Vandoorne's lapped McLaren, let alone gone for it? No-nonsense precision driving at its best.
One of Austin's finest battles occurred just over the half way point as the Force Indias of Esteban Ocon and Sergio Perez cruised up to the rear of Felipe Massa's yet-to-pit Williams. What added an extra frisson to the entertaining battle that followed was Perez's earlier protestations over team radio for him to be allowed to pass his team mate. The request was denied, but that didn't stop the Mexican waiting in the wings hoping to pick up the pieces…
Surprise is often the best form of attack in F1, so when Sebastian Vettel put a lap om Kevin Magnussen's Haas, Marcus Ericsson tried to use the opportunity to make his own move on the Dane for P13, albeit from a very long way back. "Car 20 [Magnussen] was clearly in front at the corner and entitled to have racing room," was the stewards' assessment as they handed Ericsson a five-second penalty. "Car 9 [Ericsson] should have yielded the space but did not and consequently was responsible for the collision."
Carlos Sainz said it was hard to imagine how his debut for Renault could have gone much better, and on this evidence you can understand why. The Spaniard exhibit exquisite race craft as he battled past Sergio Perez's Force India to take P7, with the final move coming into Turn 19 – hardly a normal overtaking place. Of course, had Perez have looked after his tyres better in the opening part of the stint – as Force India had urged – Sainz might have had an even tougher time squeezing ahead.
Arguably Sunday's most uncompromising pass came on the penultimate lap as Stoffel Vandoorne unceremoniously forced his way past Romain Grosjean's Haas into Turn 1. Turn your sound up and listen to the bump!
Just when you thought Sebastian Vettel's wheel-banging moment with Lewis Hamilton in Azerbaijan would end up as the year's most talked about on-track moment, along comes another highly controversial and emotive slice of action. Opinions have come from far and wide, and each has been argued passionately – even reigning world champion Nico Rosberg has weighed in with his own unique take. "Verstappen passing RAI (sic) was awesome!" he tweeted. "He cut the corner because RAI was turning into him and it looked like RAI would cause a crash #nopenalty." Whichever side of the fence you're on, there's no doubt this camera angle proved that Verstappen did stray outside track limits. Whether you agree with the stewards' decision is another matter entirely…