'The best one will finish in front' – Red Bull drivers give verdict on potential intra-team championship battle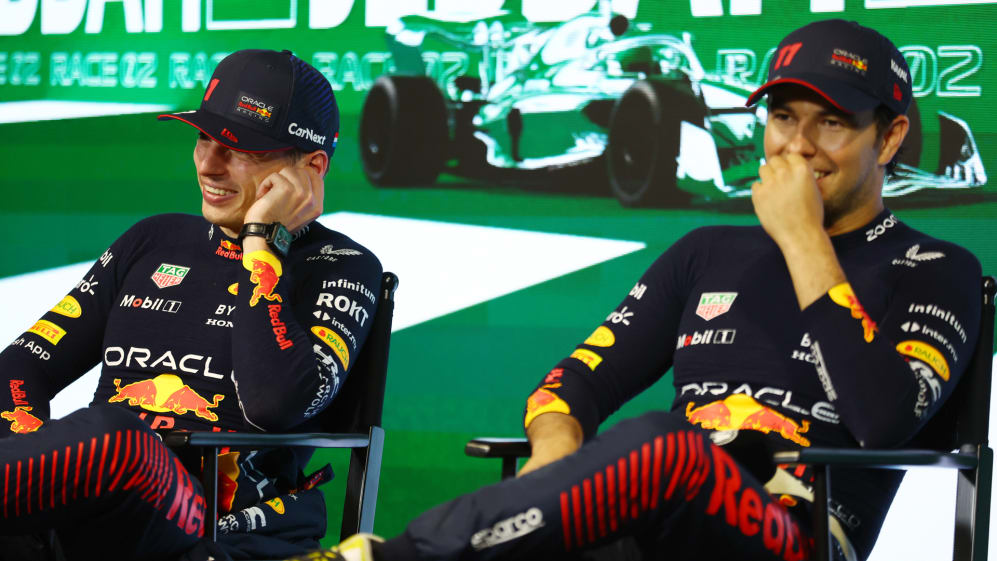 Red Bull's pair of drivers left Saudi Arabia separated by just one point in the championship as, even though Sergio Perez won last Sunday's race, Max Verstappen took P2 and the fastest lap bonus point to nudge himself into the lead. And now it seems that the two are ready to fight each other for the title.
Jeddah winner Perez is second in the standings, 13 points clear of Fernando Alonso – who took his 100th career podium on Sunday. As he sat next to Verstappen in the post-race press conference, the Mexican driver was asked whether his team mate was his main opponent for the 2023 drivers' championship.
STRATEGY UNPACKED: Bernie Collins dissects the fastest lap needle between Perez and Verstappen in Jeddah
"If that's the case, then it will be fantastic news for the team, because that means that we are pretty far ahead and it comes down to us, so it will mean that we are in a great position," he said.
Verstappen, meanwhile, responded: "Well, if that's the case it's fairly simple, right? We are allowed to race, so the best one will finish in front."
The chase for the fastest lap bonus point in Saudi Arabia did, however, cause some consternation, particularly for Perez, who was told he had the fastest lap and was then instructed to manage his pace in the closing laps at Jeddah.
Meanwhile Verstappen, who was concerned about the fragility of his driveshaft late in the race, had his fears allayed by the team and then swiped fastest lap off Perez.
"Yeah, I asked two laps from the end… where they told me to keep a certain pace. They told me I had the fastest lap and to keep the pace, a certain pace. So I thought the communication was the same to Max or something. We need to review because I got certainly the different information and I just couldn't push it there," said Perez.
SAY WHAT?! Russell's confusion, traffic chaos and joy for Perez all feature in the best team radio from Saudi Arabia
Verstappen, on the other hand, explained: "With a few laps ago, I asked what the fastest lap was. We were first of all free to race and of course we had a target lap time to the end. It's a point on the line, it was the same also in Bahrain, it got asked, so especially when it's just between the two cars, I think it's quite normal that you ask for what the fastest lap is."
The pair resume their battle in Australia on March 31-April 2 with just one point between them, as Verstappen aims to extend his championship lead – and Perez looks to take his team mate on for the title.
THIS WEEK IN F1: 10 quiz questions on the latest F1 news after the 2023 Saudi Arabian Grand Prix