Feature
Behind the scenes with Carlos Sainz: skydiving, singing and more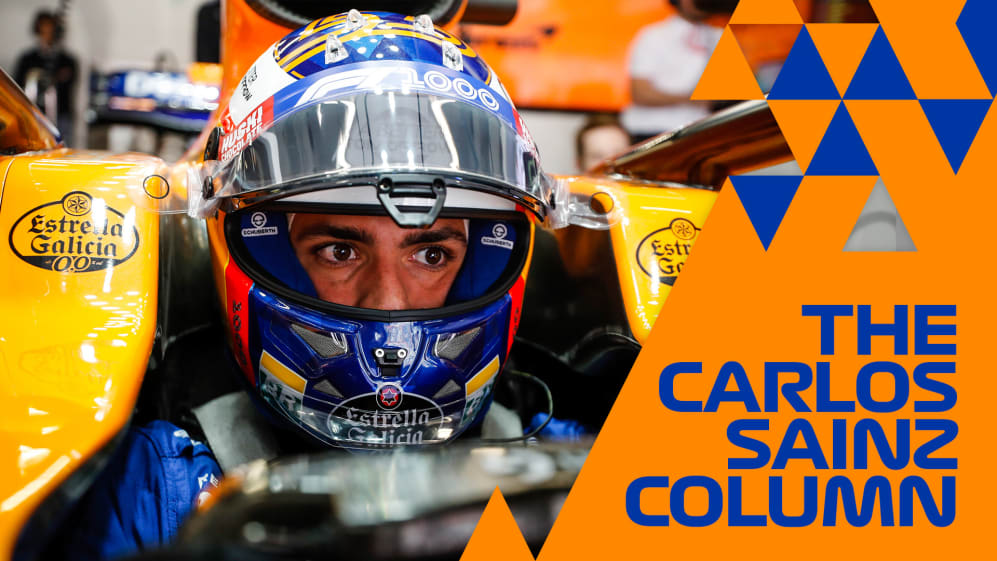 Hi everybody, it's Carlos Sainz and I'm delighted to bring you my first ever column. I wanted to do something to give fans an insight into life as a Formula 1 driver and to get to know me better. So I'm looking forward to taking you on the road with me during my first season with McLaren.
It had been a dream to join McLaren, a team that has so much history in Formula 1. The team has had a challenging few years but we share the same values of never giving up and fighting to be the best. It's in our DNA and to lead this project is a huge motivation. We've had a difficult first three races of 2019, but we can take so much encouragement from our raw performance. We're turning things around already this year, we're right in the midfield fight and have shown consistently that we have a car that is capable of scoring points. It's why I can't wait to get to Baku.
AUSTRALIA – Mini golf and breathalyser testing
But first, I want to take you back to Australia. It's the longest flight of the year and jetlag usually hits me hard. This year was no exception. So Rupert my trainer and Caco my manager, who you'll hear more about throughout the year, and I decided to head downtown to escape the hotel. We stumbled on a quirky indoor miigolf place. Inside, it was one of the weirdest places I have ever been too.
As you can see from the videos and pictures below, it was pretty cool. Each room was themed, so one hole was based in the living room of the Simpsons TV show while another was centred around computer games. It was just what I needed because it makes you stay awake and it makes you competitive.
I won, just in case you were wondering. I always want to win, even if it's mini golf, so that put me in a good mood for the rest of the weekend. You'll also see when I had a breathalyser test on my way out of the circuit (second time in two years because I had the same test in Spa last season!). Even F1 drivers get tested. Naturally, I passed!
I felt really good in the car and was confident in qualifying. But I got stuck behind the Williams, who had a puncture, on my final run and that was it – I was knocked out in Q1. Things looked up when I made a great start in the race, but when I was trying to overtake Lance Stroll, the MGU-K failed. Stroll finished ninth – and I think I could have been ahead so that was a few points lost.
BAHRAIN – Skydiving and misfortune
Ahead of the Bahrain Grand Prix, Lando Norris and I had the chance to do something pretty cool – indoor skydiving. We're really lucky to get opportunities like this and I can't wait to do it again. As you'll see in the video below from my facial expressions, I loved every minute of it.
Of the three so far, our car was strongest in Bahrain. I had a great lap in qualifying and managed seventh, less than a tenth behind a Red Bull and Haas. It was a great day for the team, as we got both cars into Q3 in what is one of our 'home' races. In the race, I got up to sixth and was catching Max Verstappen's Red Bull. I got a good run into Turn 4 and was well ahead before the braking zone. Then you saw what happened, but I would have never backed off from it. I got the worst of it, he could have got a puncture but escaped unscathed. Nevertheless, a problem in my gearbox meant I had to retire the car, so the end result would have been the same. It was unfortunate but the pace was encouraging.
BAHRAIN TEST – Warm ups, singing and driving alongside an idol
Ordinarily I would have flown home on Sunday night after the Bahrain Grand Prix, but there was a two-day test on the following Tuesday and Wednesday. It was a very important test for the team. We also had Fernando Alonso with us, too, which was a new experience for me. I have raced against Fernando in F1, but for the first time, we were working together. To share a garage with one of my idols and to share some comments on the car was awesome and I really enjoyed it.
Now below, you'll get an insight into my pre-session warm-up routine - and mine and Rupert's singing ability. The warm-up you see is the one I do before jumping in the car ahead of practice sessions, qualifying and the race. I stick to it in testing, but you'll notice it was a bit more relaxed! During a race weekend, I'm much more focused as you can imagine. You can see Rupert and me just having a laugh and singing English singing songs we learned as kids. I went to English schools, so when I was three or four, I was taught all the typical songs.
When Rupert tells me 'let's warm up the neck', I don't know why, but the song Head, Shoulders, Knees and Toes come to my head. So I just adapted it. From there, we just start snowballing into a series of jokes. It's just a bit of fun and makes the warm-up a bit more enjoyable on a tough day because in Bahrain, you usually wake up 9am on a race weekend, go to the beach at 12pm and then to track at 1pm. But in testing, you wake up at 7am, you go to the track at 7.30am and you do the warm-up at 8.30am when you would usually still be asleep! So it's all about making testing a bit more fun.
CHINA – Duck, bowling and a stroll along the Bund
This year, we are travelling a bit earlier to the races to make sure we get a better preparation and help me adjust better to the conditions and jetlag. I'm very lucky to get to travel the world, so I'm trying to make the most of it, otherwise you just go back to the hotel and stare at your phone until you go to sleep and then you head to the race track. Instead, I want to use fun experiences to relax before getting in the zone for the race weekend.
In China, we spent some time in the gym training before heading out for lunch. Peking duck is one of my favourite dishes. On the recommendation of the hotel, we found one in the middle of Shanghai. Let's say it was a unique place! Then in the evening, we took a stroll along the Bund. It's such a stunning skyline. Then we headed to an arcade and a game of bowling – which as you'll see wasn't so successful for me – before we finished off the night with a team dinner.
The Shanghai race weekend didn't quite work out as we hoped. We knew we could struggle because our car in long corners isn't as strong as in braking and traction. Friday was encouraging but in qualifying, we missed out on Q3 by a few tenths. In the race, you all know what happened. I tried to avoid an accident but there was nothing I could do. Daniil Kvyat just lost his car, pushed me off and he then made contact with Lando.
It hasn't been a great first three races, and it's definitely frustrating when you know you are comfortable with the car. But the pace of the car is strong and it's just a matter of time before we start getting points.
Thanks for reading my first column and hope you'll stay with me throughout the season for more videos, photos and behind the scenes insight. Now, onwards to Baku!