Video
The charge that left Hamilton 'struggling to stand' after Silverstone
"Driving a fighter jet" is how Lewis Hamilton described driving a lap of high-speed Silverstone in his Mercedes Silver Arrow. And the British star appeared to have his after-burners on as he rocketed through the field after getting spun around by Kimi Raikkonen on the opening lap of Sunday's British Grand Prix.
The incident dropped the Mercedes driver down to P18. But aided by a brace of Safety Cars and some breathless laps around the 5.8km Silverstone track, he brilliantly climbed to second by the chequered flag to stem the points loss to main rival and eventual winner Sebastian Vettel. You can watch every change of position in that flat-out charge above.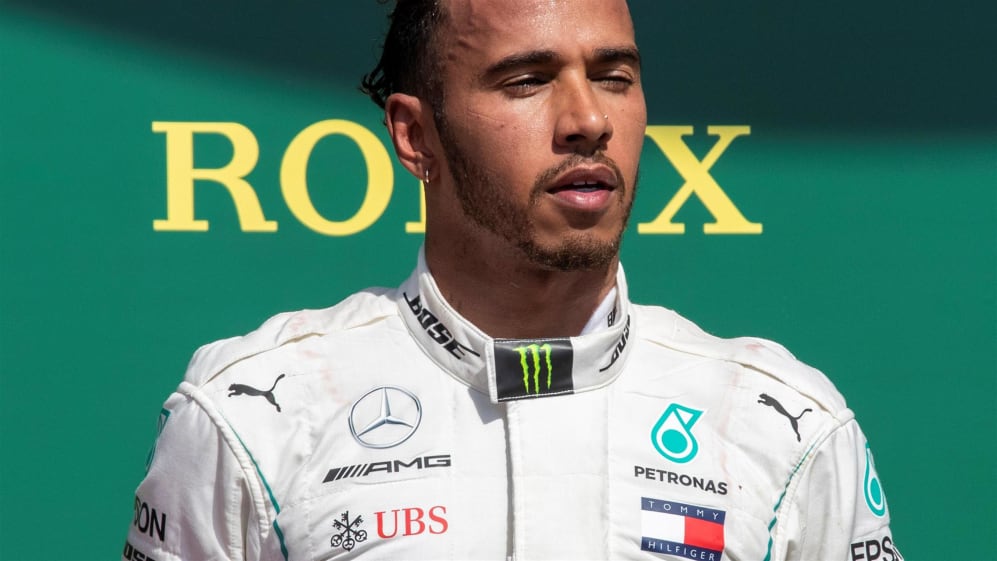 Onlookers observed that Hamilton looked angry when he got out of his car at the end of the race, but the British star was quick to clarify his post-race demeanour when asked if he'd felt aggrieved. "Not at all, no," he said.
"It's easy for you to sit and watch the race," added Hamilton. "I sweated my arse off in that race. I pushed absolutely 100, 1,000 per cent. Every bit of energy I had. I didn't have anything left when I came in. People expect you to get out of the car and wave and smile and all that. I gave everything I could, I was struggling to stand.
"It's so physical nowadays. It's different when you're in the lead and can control the pace. I was coming from last. So, I didn't have much to give at that time and needed to take a deep breath."
Hamilton later detailed in an Instagram story the extent to which he'd pushed in the race, telling his fans:
"I lost nearly 3kg trying to get back to the top today for you and for my team. I barely had energy to stand let alone talk. If you can't understand and appreciate that, then I fully understand. However, was nothing to do with anger, literally just exhausted both physically and emotionally. Thank [sic] to everyone for the incredible support this weekend, we win and we lose together! Onwards and upwards."