The return of an icon and lofty ambitions – 5 takeaways from Aston Martin's star-studded 2021 launch
Aston Martin delivered quite the spectacle as they revealed the car Sebastian Vettel and Lance Stroll will pilot for the iconic British carmaker's sensational return to F1 after 61 years. Here are our five takeaways from their star-studded launch…
1. We got a flavour of what is to come
There were high expectations for the Aston Martin launch on Wednesday, with owner Lawrence Stroll renowned for not doing things by half and boy did he and his team deliver the goods with a virtual extravaganza that had the vibe of F1 launches of old.
READ MORE: RAPID REACTION: Why Aston Martin's AMR21 looks like the most evolved 2021 car yet
James Bond actress Gemma Arterton led the event, at the car maker's automotive headquarters in Gaydon, with James Bond himself Daniel Craig and NFL legend Tom Brady swinging by, too.
The presentation was super slick, the intro video played up to Aston Martin's history in motorsport, and the Union Jack that was draped over the AMR21 to keep it under wraps showcased the company's roots.
This was a proper event, one which the likes of Red Bull would have delivered when they first broke onto the scene in F1 in the mid 2000s. Aston Martin and Stroll want to do things their way. This launch was just a flavour of what is to come in the future.
2. Top boss Stroll was front and centre
In many ways, Lawrence Stroll is the Aston Martin F1 Team, which is why he effectively hosted his event. The billionaire businessman has invested heavily in this operation and the British carmaker's brand – and he expects success.
Judging by the confidence that radiated from him on launch day, there are heady days to come for the Silverstone-based team that started out as a little operation set-up by the charismatic Eddie Jordan.
Stroll isn't holding back with his expectations. He wants World Championships within three to five years. He wants P3 in the constructors' this year. Anything else, he says, will be disappointing.
READ MORE: Aston Martin are back: See the first pictures of Vettel and Stroll's 2021 F1 car
Evidently, he's a tough taskmaster – but in setting lofty targets, he's hoping to inspire his staff to take the fight to juggernauts Mercedes, Red Bull and Ferrari – and make his operation part of the leading pack.
3. The AMR21 certainly looks fast
Aston Martin's green with a hint of pink livery is striking, but beneath it is a car that the team feels will help them kick on and achieve their minimum target of third in the constructors' championship.
Technical chief Andrew Green said they had used their two development tokens on changing the chassis, with the team also taking the opportunity to run Mercedes' 2020 rear end – as is acceptable by the rules.
More will become clear at their shakedown on Thursday and then at the test in Bahrain, but there are some interesting design additions – such as the bulge in the engine cover that mimics that of the Mercedes W12. It's clear there have pushed development of the aero surfaces – which the rules allow for free reign in terms of changes – to the absolute limit with their new machine.
If they understand their car quickly and get it operating sweetly, this could be a team that makes quite a statement this season.
READ MORE: Why Aston Martin's AMR21 looks like the most evolved 2021 car yet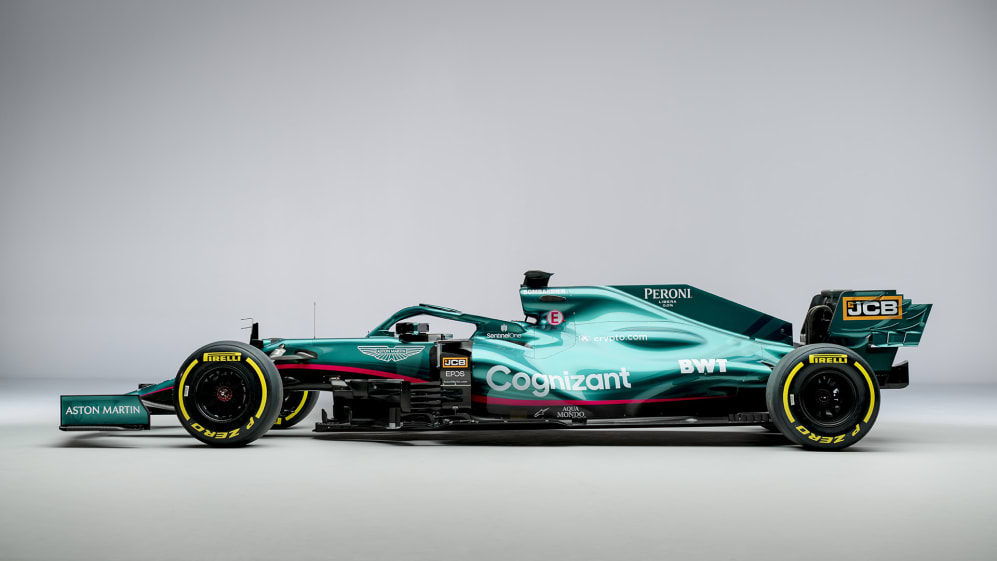 4. Vettel can't wait to get stuck in
Sebastian Vettel looked like a driver reborn when he faced the media ahead of the team's launch. There was a glint in the German's eye and a clear excitement to drive the car at Silverstone to see what he's got to play with this year.
He kept his expectations in check publicly, as he always has done, but you got the sense – when listening to him speak – that from what he's seen so far, this was the right move for him. And while he freely admitted he doesn't care what his critics say, he will internally want to prove to himself that he's still got what it takes to deliver on track.
With Aston setting a target of three to five years to win the title, this has to be a medium term project for Vettel if he wants to achieve more success in the sport. If the team deliver this year, and Vettel continues to enjoy the project as much as he has done since starting on January 1, he sees no reason why he won't be around for a while yet.
READ MORE: Vettel chomping at the bit to get behind the wheel of the AMR21 at Silverstone shakedown
5. Stroll sets his sights high
Lance Stroll was in fine spirits on a huge day for his family. He recognises the success his father has had in the past in business which is why he can be hopeful about achieving accolades with his team on track.
"How he's put this project together with Aston Martin and how it's transformed the team is so incredible," said Stroll. "He's just got an incredible vision, and he's had it since Day 1, and as an example we went from a team that qualified 17th and 18th in Hungary in 2019 to a team that qualified third and fourth in 2020.
"We improved 3.1s I believe in lap time, just put that into perspective, and that's down to the incredible job my dad's done to give the tools to the incredibly talented people at the factory and everyone who works in this team. They did such a good job for years punching above their weight, now we can really move forwards and it's exciting times ahead of us, so hat's off to Lawrence, it's amazing."
READ MORE: Stroll sets target of P3 in the constructors' for Aston Martin's first year back in F1
Stroll was punchy in setting a target of fifth in the drivers' championship but to do so he realises he needs to improve his consistency. He peaked a couple of times last year, such as in Turkey when he took pole and led for a large chunk of the race, so he feels he has what it takes to not just win races but given the right machinery, world championships. If he is to have that opportunity in the future, he must start delivering week in, week out.