Interview
The secret life of… Pierre Gasly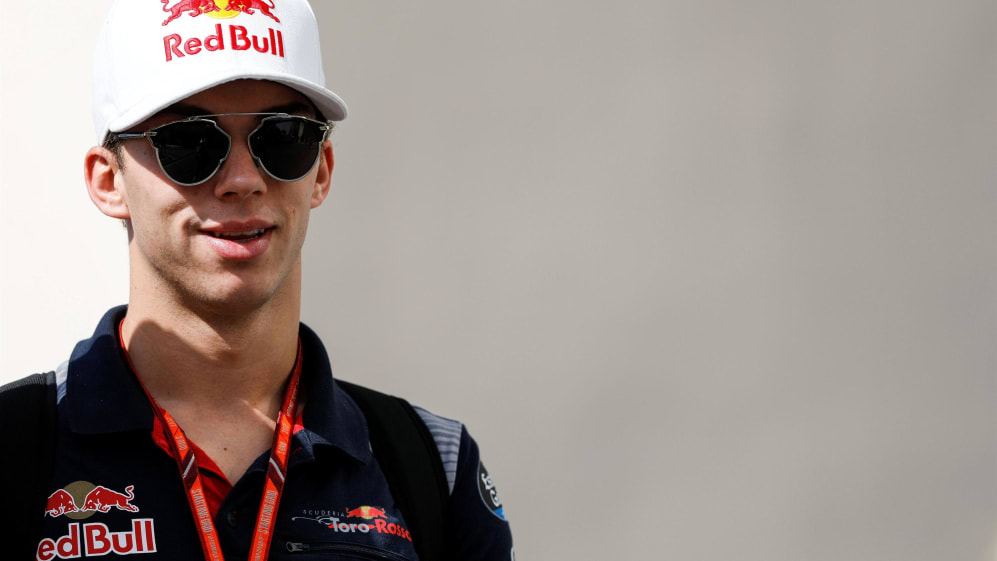 He hails from France, races for Toro Rosso, and celebrates his 22nd birthday this week. Want to know more than that about Pierre Gasly? We're here to help...
Q: Apart from driving a Formula 1 car, what is your favourite buzz? Pierre Gasly: Playing football. When I am at home I play with my friends. And I go to the matches of PSG (Paris Saint-Germain) to support them, as I have a friend who plays for them.
Q: Which film last made you cry? PG: It was a movie about the 2004 Tsunami in Thailand. It's called The Impossible.
Q: What are you afraid of? PG: Snakes. I really don't like them!
Q: What was the last book you read? PG: The Core: Better Life, Better Performance by Aki Hintsa [the late F1 health and fitness guru].
Q: What did your teachers say about you in your school report? PG: It was different between when I was in lower grade and later. In lower grade they wanted me to jump a year, but my mother opted against it as she thought that I would have more time enjoying other things. Later it was always: 'He's got good potential, but is almost never in school!' I was karting almost every weekend. I also always enjoyed playing the class clown, but as I got good marks I could afford to do that! (Laughs)
Q: Do you have any guilty pleasures? PG: I have many pleasures, but I don't feel guilty about any of them! The closest would be tiramisu. Every time I see it on a menu I cannot hold back.
Q: Do you collect anything? PG: I did in the past – collecting all my caps. But then they got so many and messed up my room, so I gave them away to friends or my mechanics. I want to start collecting again – trophies! (Laughs) I still have all of them from past years, but somehow they could start rolling in again. And I do like watches, but for a proper collection you need the money first.
Q: What do you miss most about home when you're travelling? PG: Family. I left home when I was 13 so didn't spend much time at home as a kid. So it always has been a pleasure to go back home. I have a big family – four brothers.
Q: What was your worst buy? PG: I have always been cautious about money. So far I have never been one to spend big money on stupid things. Well it sometimes happens when I go to the casino – playing roulette. I don't know why, but it gives me an excitement that I don't find in anything else other than driving a race car. Both make for a high adrenalin level.
Q: What was the most embarrassing moment of your race career? PG: Probably the typhoon in Japan [which, last year, cost Gasly the chance to win the Super Formula title at the final round). I lost out on the championship by half a point – for weather conditions! I would have preferred to lose by ten points for a reason rather than by half a point for a typhoon.
Q: When was the last time you were really angry? PG: It was in Austin 2016 when (Red Bull motorsport consultant) Helmut (Marko) told me that Daniil (Kvyat) was signed for 2017. I thought that was not fair: I had just won the GP2 championship. It was a mixture of being angry, disappointed and sad.
__Q: Which superpower would you prefer: being able to fly or being able to become invisible? __ PG: Both. If I need to know what is said in a meeting I can just sneak in – and on a race weekend I can just fly out of the paddock.
Q: Do you sing in the shower? PG: Yes, sometimes. But as I hardly remember a song, most of the time it's a mixture of many songs.
Q: Do you believe in love at first sight? PG: I am still 21, so I'll say yes. In ten years' time I guess I would answer with a no.
Q: You can invite three people to dinner, living or dead. Who do you invite? PG: Ayrton Senna, Michael Schumacher and Barack Obama. I think they all made a difference.
Q: What was the best thing about being a child? PG: You can make all the mess and are not held responsible for it.
Q: What should everyone try once in their lifetime? PG: Driving an F1 car.