Feature F1 Unlocked
THE STRATEGIST: Bernie Collins picks her top 5 best strategy calls from the first half of the season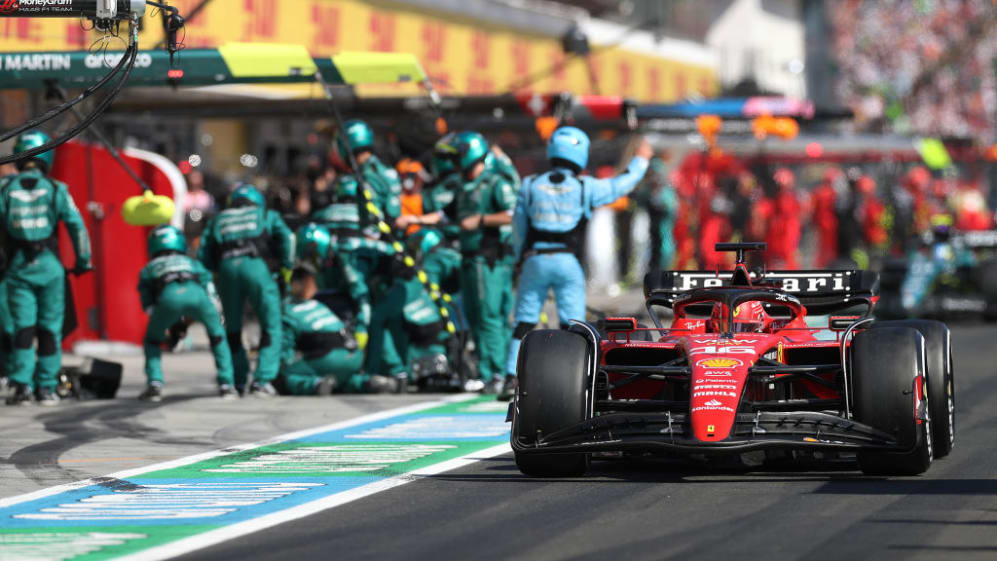 While Red Bull are enjoying a dominant season with their incredible RB19 – especially in the hands of Max Verstappen – the battle behind them is incredibly tight, with strategy more important than ever for the teams and drivers trying to gain an advantage.
Bernie Collins used to run strategy for Aston Martin, and while the teams are off on their summer break, she has picked out her top five strategy calls from the first half of the season, in reverse order…
5. Russell's dry tyre switch in Austria
The Sprint in Austria started on a damp but drying track with all drivers choosing intermediate tyres. At only 24 laps in length and with no pitstop required, that meant any stop the drivers did choose to make for dry tyres needed to be carefully timed in order to trade the pitstop time against the laps remaining to retake positions lost.
Running in P11 with nine laps to go, George Russell and Mercedes were the first to jump, having judged that being outside of the points it was worth the gamble.
READ MORE: Russell assesses 'a season of two halves' as he eyes a return to victory in the second half of the year
But with only nine laps to make up the 20.5 second pit loss and requiring overtakes on potentially 12 cars to get back to points it was a big call. Good communication between Russell and the pit wall allowed the decision to be taken quickly – and most importantly ahead of his rivals.
In the end 11 drivers switched to dry tyres but many actually lost positions because they made the move too late. Russell's early stop allowed him to undercut two drivers – Charles Leclerc and Alex Albon – as well as close the gap to overtake Lando Norris. Russell then raced Esteban Ocon to the line, finishing just 0.009s behind the Frenchman in a photo finish that nonetheless netted him P8 and the final point on offer.
4. Ricciardo's undercut in Budapest
The Hungarian Grand Prix saw the return of Daniel Ricciardo to the grid after he spent the first half of the year on the sidelines, following his earlier than expected departure from McLaren.
The Australian replaced Nyck de Vries in the AlphaTauri at Budapest and started an impressive P13 on the grid – but an incident in Turn 1 dropped him to the back of the field.
The tight and twisty Hungaroring is a very difficult circuit for overtaking so strategy is more important than ever for drivers hoping to make up positions. Running in P18, Ricciardo extended his first stint and stopped later than others, but after his first pit stop he remained in 18th behind a DRS train consisting of seven other cars, and with no opportunity to overtake.
READ MORE: Ricciardo credits former Red Bull race engineer for helping him rediscover his best form
While others in the group ahead waited for a more optimum second pit stop lap to avoid stopping directly into the path of leader Verstappen, Ricciardo stopped early – on Lap 29 – for a long final stint on the medium tyres.
In doing so he did take a blue flag from Verstappen that others avoided, but the reluctance of his rivals to cover Ricciardo's stop allowed him to undercut five drivers to finish P13. Still not a points scoring position but an impressive first drive out – and some great strategic thinking from the AlphaTauri pit wall.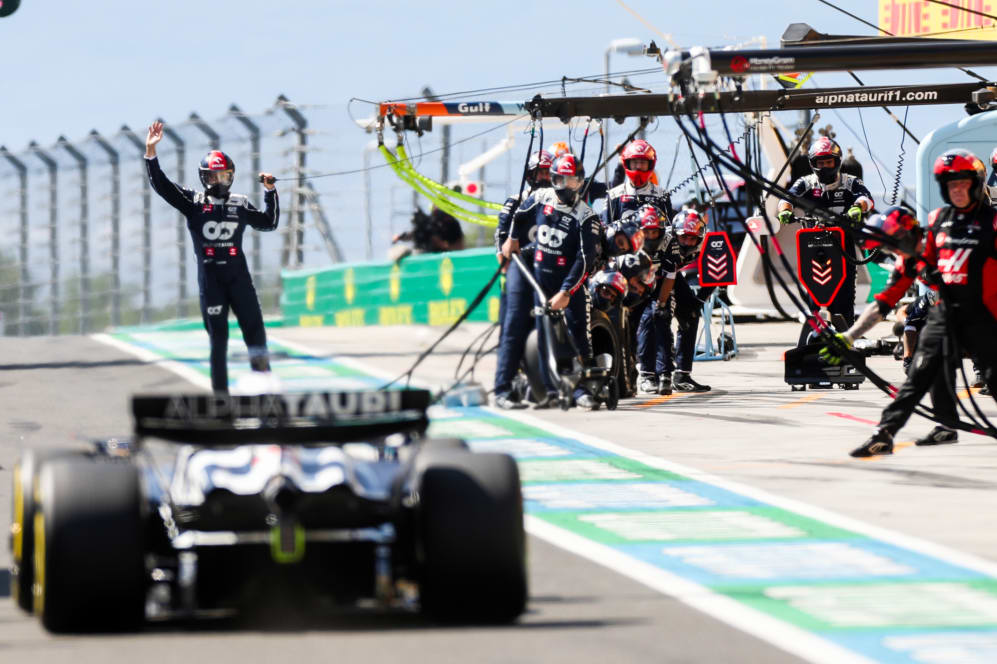 3. Norris' nine-place undercut at Spa
The Spa Sprint race weekend was almost entirely wet until Sunday. Both McLaren drivers ran a higher downforce rear wing which had benefits in the wet conditions earlier in the weekend, but then made racing incredibly difficult when the track was dry.
Norris' speed through the middle sector was no compensation for a severe deficit in straight line speed resulting in the British driver being overtaken multiple times in the opening stints. From a P7 grid position Norris had dropped to P16 in the middle stint – not through any driver nor strategy errors, but purely through straight line speed deficit which allowed others to easily overtake using DRS.
READ MORE: 'It was painful' – Norris describes McLaren's straight-line speed struggles after surprise P7 finish in Belgium
Norris and McLaren's only hope was to find sufficient free air to allow the speed in the middle sector to improve overall lap time. With rain approaching the circuit on the radar, while others extended their stint (not wishing to stop for dry tyres in case intermediates would soon be needed), Norris stopped for a fresh set of soft tyres. The new tyres combined with free air allowed Norris to gain significant time over others as light rain fell on the circuit.
The initial intention appears to have been to then complete a three-stop strategy, but realising that the additional stop would again create traffic, Norris and McLaren shifted focus to making it to the end on the softs he already had. It absolutely proved to be the right call as Norris was able to undercut a staggering nine drivers and finish P7 on a day when points seemed a fantasy after his drop down the order early on.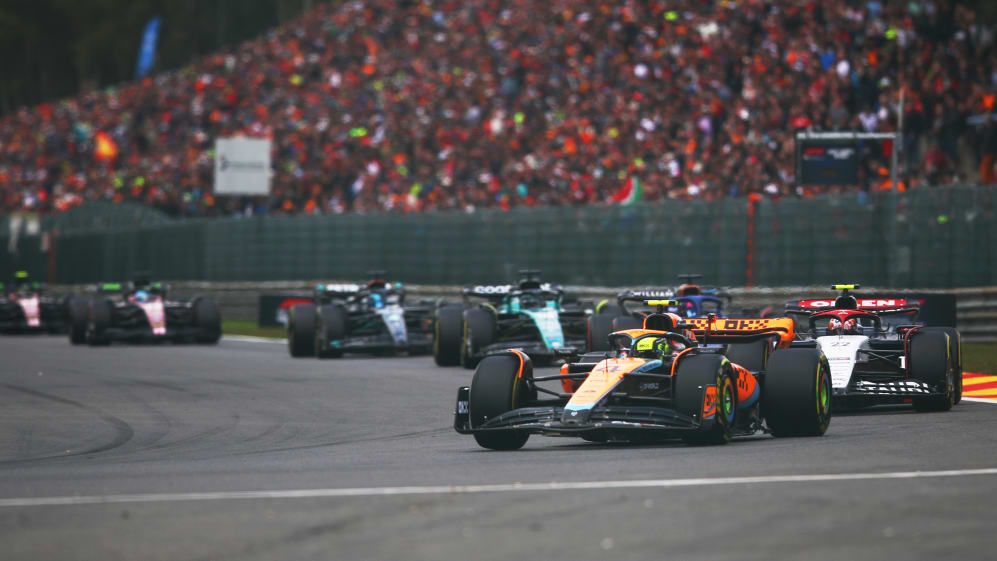 2. Ferrari buck the trend in Canada
The Circuit Gilles Villeneuve in Canada has the shortest pit loss time of any track on the F1 calendar, which often promotes multiple stop strategies – even more so when the Safety Car is deployed with the additional time saving attached. But the Montreal circuit also features high overtaking threshold and low tyre degradation which combine to place high importance on track position.
On Lap 12 George Russell's collision with the wall brought out a Safety Car and triggered all but two of the cars starting on the medium tyres to dive in for a pit stop while the field was running at well below normal racing speed.
QUIZ: Can you name the Grand Prix and the year from a single picture?
The two drivers who didn't stop were the two Ferraris of Charles Leclerc and Carlos Sainz. Having started in P10 and P11 respectively the decision to stay out under the Safety Car promoted them to P4 and P5. This allowed them to run in free air at their car's true pace and avoid losing time in traffic – but committed them both to a one stop-strategy.
Without traffic considerations, stopping under the Safety Car and committing to a two-stop strategy was quicker on paper – but the free air gained by Ferrari through staying out when others boxed allowed a P4 and P5 finish that would otherwise have most likely been impossible to achieve.
The strategy decision-making was improved by fully committing to it with both cars and not doing what many would have done by splitting the risk and stopping one driver under the Safety Car alongside everyone else.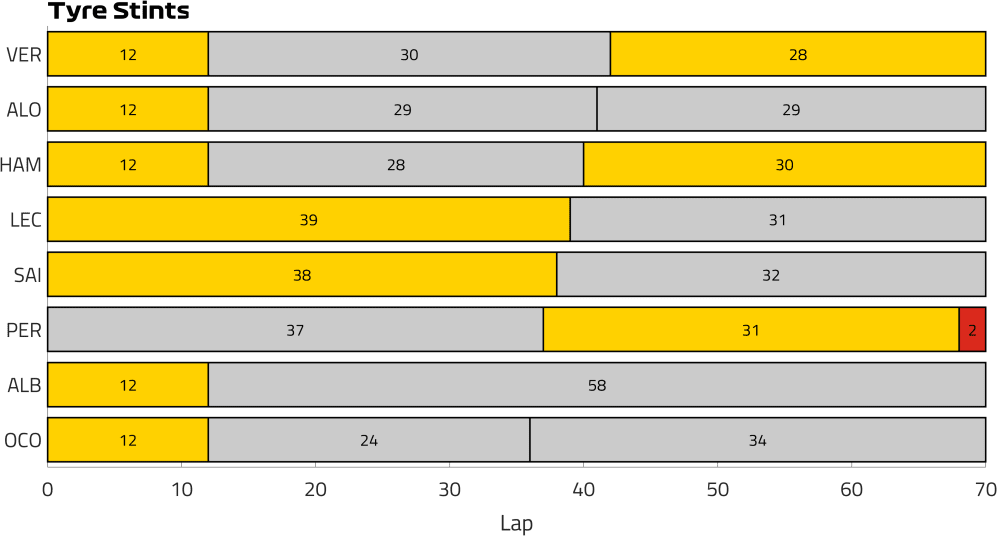 1. Albon's one-stop in Montreal
Alongside the variation in strategy from Ferrari, the Canadian Grand Prix provided a season-best (so far) finish for Alex Albon and Williams. Albon started in P9 and like all others who started on medium tyres – aside from Ferrari – stopped under the Lap 12 Safety Car to fit the hard tyre.
Post Safety Car deployment Albon was running in 12th having lost positions to Bottas and Sainz, who stayed out under the Safety Car. Realising that many drivers were now on a two-stop strategy and would need to stop again, Albon and Williams changed focus to tyre management and attempted a huge 58 lap stint on the Hard tyre.
READ MORE – TREMAYNE: Albon's Canada drive had me wondering how he'd be doing in the second RB19 if Red Bull had kept him
Williams car set-up featuring high straight line speed – even without DRS – all aided the attempt to defend position from cars and drivers that had stronger overall pace but poorer straight line speed.
Albon's brilliant execution of the one-stop strategy resulted in him gaining five positions in the second stint and defending these to the end to seal a P7 finish – a season best for both Albon and the team.
This one result in the first half of the season brought Williams six of the 11 points they currently have, making the difference between P9 and P7 in the constructors' championship. A great strategy and a great drive.
To read on, sign up to F1 Unlocked for free
You'll unlock this article and get access to:
Live leaderboard data
Epic experiences and rewards
Money-can't-buy competitions